I've sat down to write this a few times this evening, confident in the small sliver of time I carved out for myself by working double-time all afternoon. But so far I've averaged about two mouse-clicks before I'm called elsewhere. To doll out a spoonful of honey to a boy who can't stop coughing. To comfort a little girl who is suddenly making bedtime extremely difficult. To clean off that same little boy who, for the second time today, has worked himself into such a coughing fit that he winds up covered in vomit. To the freezer to polish off a carton of ice cream. Okay, so the last one wasn't really necessary. Or was it??
So the theme of these past few weeks has been flexibility, a term that carries so much more weight as our family grows. If you could see my calendar this past month - a plethora of crossings-out, write-ins, appointments and reschedules, travel and travel cut short. And the resulting things that don't show up on a calendar - the laundry that doesn't get folded, the meals that don't get cooked, the walks that don't get taken. I miss our routine. But I tell myself this is only temporary and there is still life happening in between all those lines in my calendar.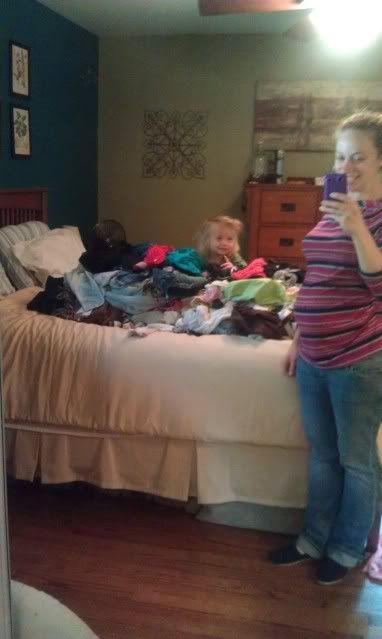 I've managed to keep up with the washing and drying, but folding is an entirely different story.
Like Mother's Day weekend for instance. My parents had plans to visit Miss (soon-to-be-aunt) Kylee in Ocean City, New Jersey along with Uncle Jared and Uncle Micah. So our friends Abi and Phil invited us to come to their house that same weekend and make a family event out of it. And since (a) we've had a visit to these friends on our before-baby-bucket-list for some time now and (b) they're pretty much the only people who invite our whole family to visit other than our parents, we heartily consented. Then Jon's Alaska trip came up and we had to push our departure back a day. And then Jon's work insisted he come in on the following Monday so we had to cut the weekend short another day. But we prevailed and, despite the brief interlude, it was a good time and an absolute blessing to spend 29 hours with such great friends!
Julia with Mr. Phil and "Lil Rae."
It wasn't exactly prime beach weather, but since we're die hards, we shivered our way through an afternoon break in the thunderstorms.
I think watching Julia try to catch bubbles was the highlight of the day!
Phil and Abi are excellent hosts and top-notch chefs. We ate well the whole weekend, a welcome break from the quesadillas, macaroni and cheese, and smoothies that make up our menu when Daddy is out of town. But I must say, the creme de la creme of the weekend was Mother's Day lunch - grilled pizza made by Phil and Jared.
We had a number of different kinds but the general consensus was that the bacon, date, feta pizza was the best!
And three gentlemen washing dishes afterwards.
It was nice to see this woman NOT in the kitchen for once!
Uncle Micah helped her pick me flowers!
And, of course, it's always a bonus to get to spend Mother's Day with the most amazing mama I know, my own!
She's such a good sport!
It's also good to know that someday my kids will grow up and actually smile for their Mother's Day picture. But until then ...
We were expecting to use the week after our visit to catch up on house stuff and life in general before packing the car again and heading north for our annual yard sale at my parents' house. But, in following our current theme, a few things came up and this time around we ended up leaving earlier and departing later than expected. Fortunately for us, Marmie and Poppa don't mind an extended visit one bit!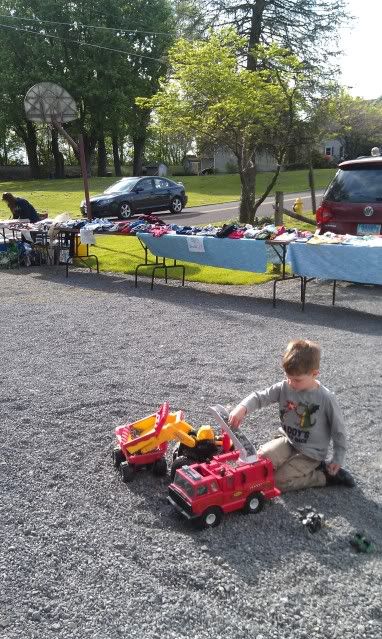 Perfect weather for a yard sale!
Our yard sale wasn't quite as successful as in years' past. But I was able to unload a good portion of baby clothes, and that's what my husband appreciated the most. Of course, there are always those items that you intended to sell but which somehow never make it out to the sales floor...
Reigniting our love for Jingle the dog.
And another bonus of this weekend back home is the local fishing tournament. Both boys caught 6 trout each!! And they also both won fishing rods. But since Jack is very much like his dad, he told the tournament people he didn't need a fishing rod because he already has one at home.
He kept swinging these things in my face. And then Poppa decided to skin and filet them right there by the yard sale check-out table... ew.