I don't know if it's the season, or the fact that we're in a more exciting location than we were last year, or if it's because we live in a much higher Coastie-concentrated area than we have in the past ... but we've been having lots of guests lately. And it's so nice! The hubby and I do so love to entertain. You don't need to ask him twice to grill up some of his famous "Stern's Chicken." And I'm always looking for an excuse to pull out "the good dishes." So there was no question that one of our first major projects was converting the former theater room to a guest room (with big closets for Jon's uniforms and my sewing/craft stuff).
Goodbye nasty theater screen wall!
Since this area has a large military population, and since Jon nearly always has a former classmate or two living within driving distance, we've reconnected with a few of his fellow Coastguardsmen and their wives. Being part of one of the smaller branches of service has its drawbacks, namely the community aspect. We've never lived on a base. I haven't been to a commissary or exchange since we left Virginia. I've never been involved in a spouses club. And I still don't know what all those acronyms stand for. So it's good for me to connect with some fellow military wives. And Jon is always on the look-out for a golfing buddy.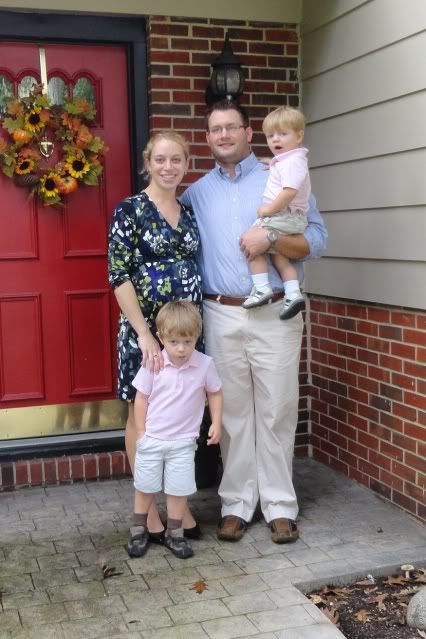 Welcome to our home!
Nonnie and Poppie came down over Labor Day to get one last visit with our family-of-four. Nonnie must be cleaning out the attic because she brought a small pile of Jon's kid-things. It took some coaxing but we were able to convince Jack to try on this suede vest that used to be his daddy's.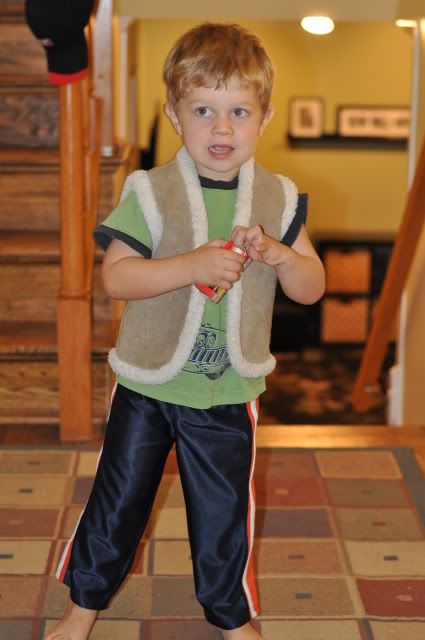 My kid, not in to dress-up?!?
And have I mentioned how much I LOVE the mall here? And I'm not just saying that because they have a train.
Yeah, a train runs through the mall. My boys love it! Ok well Jude didn't love it at first.
But he warmed up by the end.
Now he talks about trains and "choo choos" all the time!
My high school friend, Jori, is still within driving distance and so she stopped by for lunch the other week and a tour of the new digs. Jack loves Jori's visits. He usually saves her a seat at the table for the next week after she's been here. This particular get-together was extra-special because Mommy and Jori had apple crisp and tea for dessert... and Jack didn't want left out.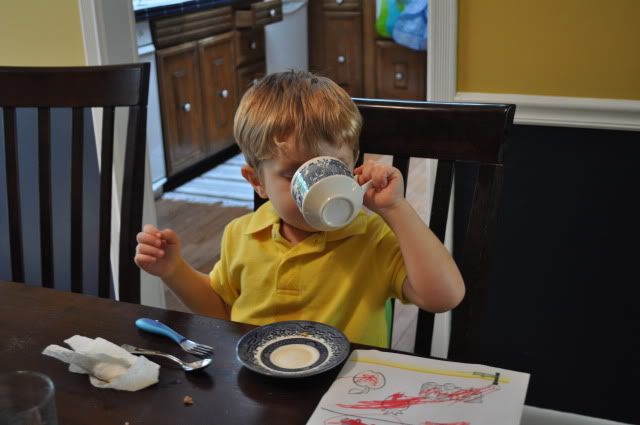 We're still working on the "pinky up" skill.
Let's just say the hubs was less than thrilled when Jack greeted him after work with, "Daddy, we have tea party!" And thank you Jori for teaching my son how to clink glasses, it's now his favorite dinner-table activity.
It's been over two years since my college roommate, Andi, got married. And that's the last time I saw her and our other college friend Elaine. So we were all excited to finally coordinate schedules and find a free day to spend together. Elaine and Andi drove down from the Philly area last weekend to meet my boys and explore the area.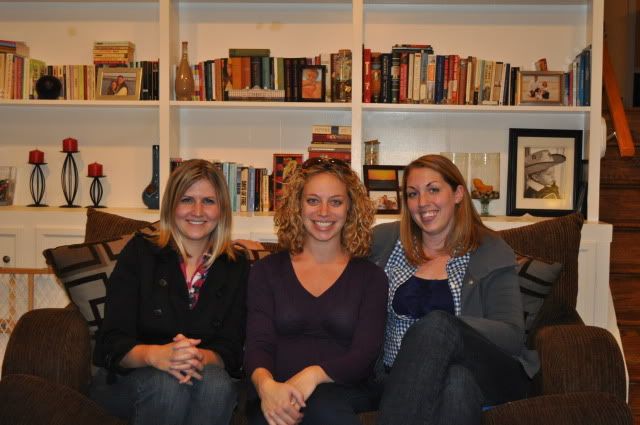 Andi, Me and Elaine
We spent Saturday walking around downtown Annapolis. It was fun to visit all the little shops. We didn't buy much, but I got several good ideas for Christmas presents and craft sessions.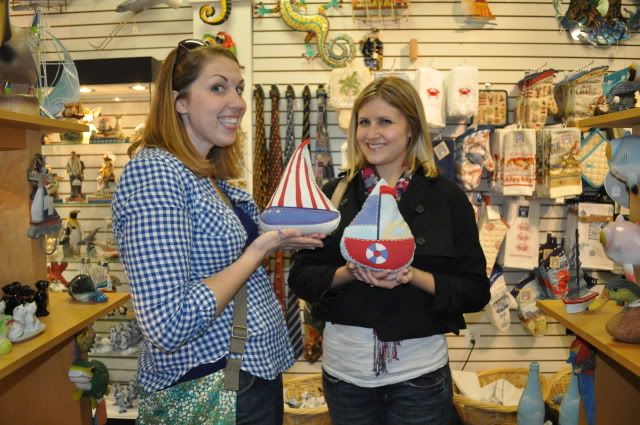 This is on my new "to-craft" list for the boys' room: canvas sailboat weighted doorstoppers.
And I was just a touch disappointed when my plans for a historical experience were foiled. Both sites we attempted to visit were closed, despite advertising "Open come on in!" Such a tease.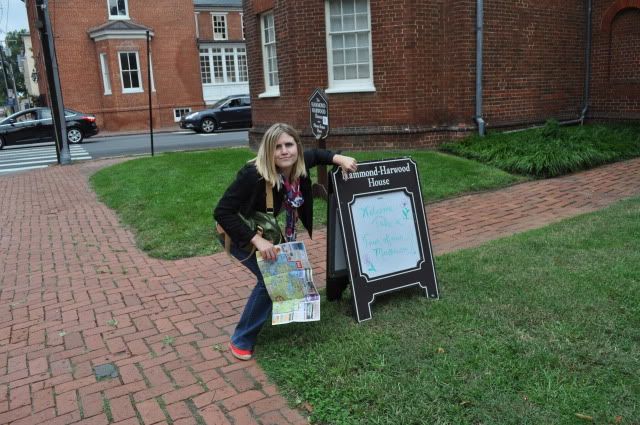 The historian/librarian was less-than-impressed with the false advertising.
We had some very special guests this weekend - Jon's grandparents from New York, Grammie and Grandpa! It's a long trip and our family of four can be a wild bunch, so we were honored that our boys' great-grandparents made the effort to visit us and see our new abode.
Jude, who is usually content to stay close to his mama, took a particular liking to Grandpa. During our first night of dinner he crawled up on his lap, grabbed his cheeks and pulled him in for a few of his famous slobbery, open-mouthed kisses.
We decided to check out the National Aquarium in Baltimore while they were here. It's a personal favorite from my childhood but I haven't been back in many, many years.
We talked up the visit all morning, telling Jack that we were going to see dolphins, sharks ... and Uncle Jared. Yup, our favorite "Maryland Uncle" met up with us for the day, and we appreciated the extra set of adult hands. It's always nice to outnumber the kiddos on outings.
I said, "Jack, show me your excited face!"
There it is!
Jude kept playing this game with Uncle Jared. We had no idea what he was doing but he thought it was hilarious.
The Dolphin Show was a huge hit! It was a little hard to keep Jack seated, or at least from jumping over the seat in front of him. And according to Uncle Jared the show his giddy little nephews put on was just as good as the one the dolphins did.
I was quite fond of the jellyfish exhibit. These creatures are truly beautiful and magnificent ... when you can view them behind the safety of some glass.
And Jack, well he liked it all, especially the sharks. And the turtles. And the alligators. And we all had a laugh when he decided to lay down next to one and attempt a friendship.
Jude slept through most of the aquarium tour, which was fine with me. Thankfully kids under age 3 are free. And just a note for those who may be planning to attend, there's no strollers allowed in the aquarium. If only we had done our research, we might had been prepared. Instead, I ended up with a soggy shoulder after Sleepy-Head slept over an hour in my arms. I can't complain though, there's nothing quite so peaceful as holding a peaceful sleeping, sighing baby.
That wraps up our social calendar for now. But the guest room is already set up and ready to go for Marmie and Poppa, who are anxiously waiting by the phone for their "Come quick!" call. It won't be long now. I've been thankful for the distraction of houseguests. I did have one rough night last week in which I thought we might not make it through 'til morning. But Baby Girl and I are back to normal, and we've been having such a fun time this weekend that I almost forgot I was pregnant. And so begins the waiting game. I would say this is where we all sit around and twiddle our thumbs, unable to make any more plans. But apparently my husband is feeling bold during these last days because he went ahead and scheduled some training this week and a trip to Virginia the following week. I won't be surprised if I end up driving myself to the birthing center this time around ... Only time will tell!