I've been living on the downside of 30 for over a week now, just waiting for something profound to say about this phase of life. And so far - nothing.
The truth is, we've been living like we're in our 30s for a while now. The high school advanced composition class essay I wrote on "Where I see myself 10 years from now" has been out-of-date for quite some time. I've picked up more degrees, jobs, and babies (oh the babies) than I ever expected at this point. And with that in mind, I think we'll keep the next 10 years wide open. No goals, other than to be wife and mama to the people I love most in all the world. To help them grow and achieve their own goals. To give them plenty of opportunities to fulfill their own "where I see myself 10 years from now" essays. And I'm learning, with that kind of perspective, 30 isn't so bad after all.
So what does 30 look like? It looks like going to bed before 11:00 and striving to be up first every morning, just for that sliver of quiet before the Littles rise. It looks like Target runs in the minivan, blasting Hillsong Kids and playing DJ for my guys, flipping only between tracks 1 (Jude's favorite) and 11 (Jack's favorite), while tickling Julia's toes so she doesn't fall asleep on the way home. It looks like finally cleaning out the high school field hockey t-shirts and college jeans to make room in the wardrobe for maternity shirts and nursing tanks. It looks like counting - counting to three to get Jude to take another bite of dinner, counting the number of seconds it takes Jack to change out of his jammies into his clothes (all by himself), counting as loudly as possible to get two small wrestlers' attention...
It also looks like compression hose and ice packs. Swollen ankles and bulging bellies. Tired eyes and deeper laugh lines. Oh, the laugh lines. Because no matter how difficult, how challenging, how exhausting these pre-midlife years have become, I've never been happier. There's just too much to be thankful for.
So while the big 30 looked just like any other day - whining kids, piles of laundry, a late-working husband, and the hecticness of packing up our family of five for a road trip - there was a celebration waiting on the other side.
And it looked very much like a page taken from one of my favorite novels.
Lady Marmie.
Michelle - the kitchen help.
My mamas and the amazing Michelle!
Tea bag cookies.
My mom worked hard to plan and execute a Jane Austen Regency style tea party for my friends and I (just ask her how long it took to copy and paste some quotes into Word!). And while I knew she and Jon had something planned for Saturday morning, I didn't know exactly what to expect. Until I found my first clue hanging in the closet.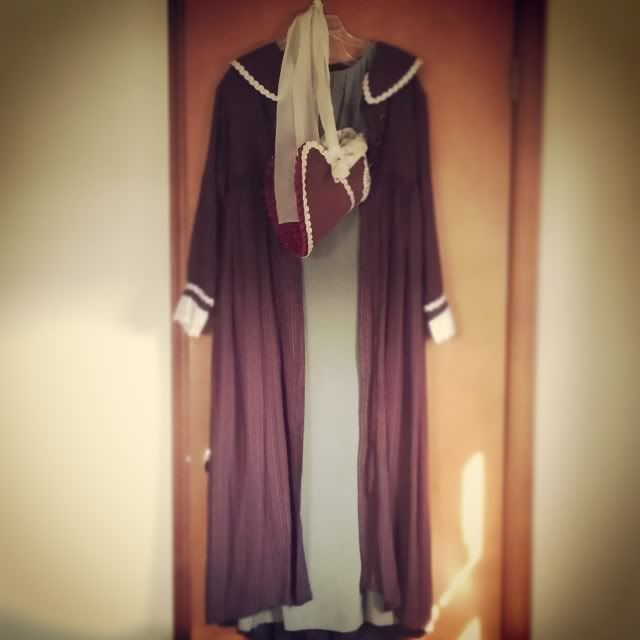 Growing up, my closest friends and I had healthy imaginations that we regularly indulged in "dress-up." On Thursdays the local thrift store had a fill-a-bag for $8 special. And so we'd raid the formal dress rack, roll those layers and layers of tulle and satin up into tight wads, and stuff as many in a bag as possible. And since neither my mom nor myself has had the heart to go through the trunks of memories still harbored away in our garage storage, most of those dresses are just the way I left them over 15 years ago.
Well, until Mom busted a few out for party decor and costume options. Because dressing-up was on the agenda, and the most hardcore guests dove right in.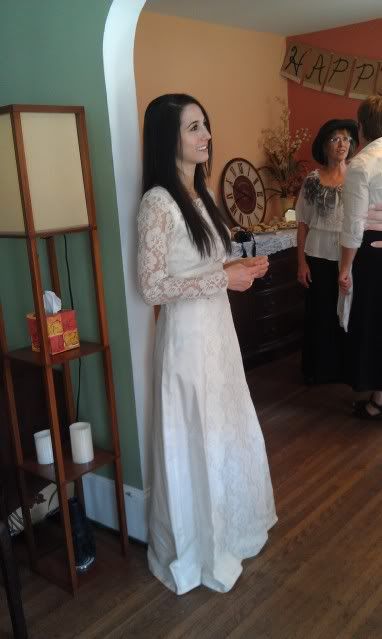 Alli rocking the 50-some year old wedding gown ... like a pro!
My future-sister-in-law diving right in ...
... or maybe she improvised.
Liling in a vintage bridesmaid dress.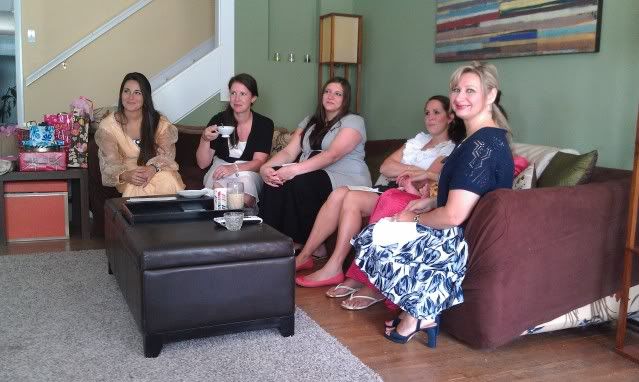 And then there was my number. It was a little hot, and I had a hard time hearing through the layers on my bonnet, but for a little while I got to walk in Jane Austen's shoes. Okay, so not really. My left foot was entirely too swollen to sport any Regency foot ware, but I got a sufficient taste regardless.
35 weeks - Regency dresses are so pregnancy-friendly.
But nothing quite like this guy. Who utterly shocked me when he walked into the room looking like this.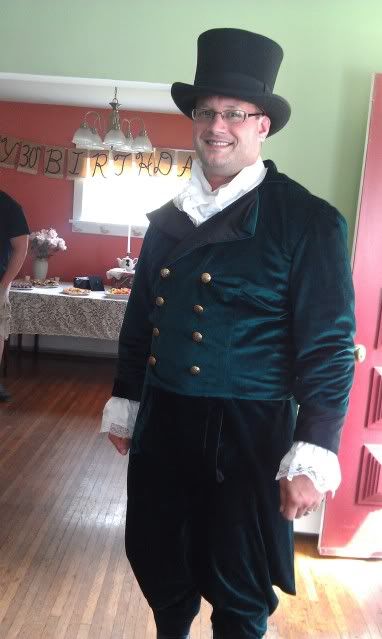 And reciting the famous Mr. Darcy proposal speech that he had been, unbeknownst to me, memorizing over breakfast that morning. Shocked, people, just shocked. Keep in mind this is the man that watches a periodic British film with me about once every 10 years, and then makes snarky comments throughout the entire movie. Now, that's true love right there.
Mama's girl.
Oh, yeah, all out in one breath!
In addition to typical tea party refreshments, we also played the word game featured in "Emma" and took a "Pride and Prejudice" quiz.
Notice anything wrong with this picture?
And then I was even more surprised, overwhelmed and abundantly blessed by lovely gifts from some even lovelier ladies. It's so nice to have such wonderful friends back "home" that continue to shower me with love even though I don't live there anymore.
So that is how my fourth decade has started out. We've been going non-stop since then, so I haven't had much time to dwell on my advanced age. And perhaps that's a good thing. What they say about kids keeping you young - it's all true!