I'll just cut to the chase. We chose ...
The charming split-level in a highly desirable neighborhood with fantastic schools, a great commute and perfect backyard for our boys!! It doesn't have a beach, which I find most disappointing. But it really is the best location we could ask for. This will be the first time in his career that Jon's commute will be less than 45 minutes. And every minute he doesn't have to spend sitting in his car is an extra minute he can spend with the boys and I. Plus, the house is just so darn cute!
Now, back to how this all came about. After walking through the house, we knew we really liked it. But we didn't want to make any rash decisions. Not long after, we found out we couldn't make any decisions at all when we hit some difficulties with Jon's orders and job transfer. We halted all house hunting for two weeks while we anxiously awaited confirmation of our upcoming move. It was nerve wracking to say the least. Looking back, I think it was just God orchestrating His perfect timing.
When we got back into the game the first thing we did was take another look at the house. We actually liked it even better the second time. The kitchen didn't seem too bad and we could easily picture our kids wrestling around on the floors. This could partly be attributed to the fact that three little boys currently reside there, triplets actually. Funny story here: When we stepped foot in the house the first time I immediately noticed a picture of three cute little blondes on the wall. After a while you couldn't miss them. There were pictures in each room. There were also two adorable little boys' bedrooms, toys in the den, a calendar detailing their extracurricular activities and their names scribbled on the swingset out back. By the time we were done with our tour I knew each boys' name, when they were born and how much they weighed (and no I wasn't being super-snoopy!!). So the realtor and I were standing out in the backyard and I asked if the swingset would convey and she said, "I would think so, it doesn't look like they have kids living at home anymore." Dude, what house were you just looking at?
So anyway. I love that the house has already been boy-tested for the past few years. I haven't met the mom but I can tell she's organized. And she keeps a clean house. And to do that with three boys, to spend the past 8 months keeping your house presentable at a moment's notice, that's no small feat. I have the highest regard for the current homeowners. This was the most
comfortable
house we looked at. I wonder if she watches "House Hunters" or "Designed to Sell" because they had everything right. Well, except for the cookies baking in the oven. But I think that would have been a little overkill anyway.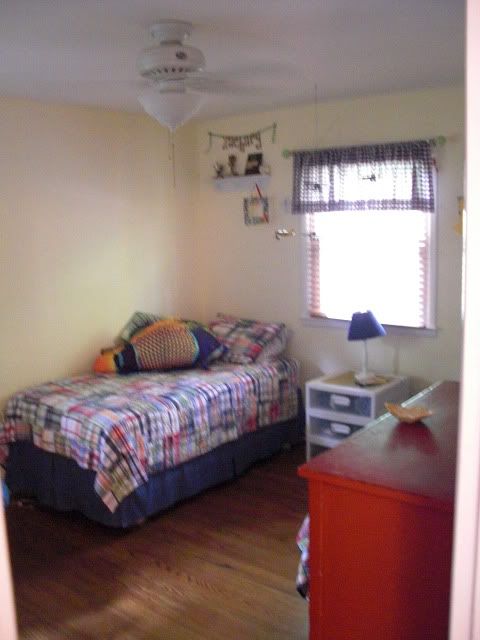 Sorry about the blurry pictures. My husband caught these quick in the middle of the inspection.
After seeing the house the second time we liked it even more, but still weren't ready to commit. We just wanted to make sure we were making the right decision. So we went home and prayed about it over the weekend, felt better and better about it. The face that our mortgage lender had just dropped our potential interest rate lower than ever was certainly motivating. So we decided to make an offer. We knew that the most recent appraisal had come in under their asking price (mainly because the home is currently considered only 3 bedrooms and the lower level square footage is not included in the living space) and we weren't willing to pay more than the house was worth, so we made a fairly low offer and then hoped and prayed a little longer. We asked God for specifically for 3 things: (1) that they would accept our first offer, (2) that we would get some closing cost assistance and (3) that we could sign the contract in enough time to get super low interest rate. At this point we were just under 6 weeks out from the day we needed to be moved out of our current home. Which was just the amount of time we needed to complete the closing process. If we didn't get this house, we knew we would be spending some time living back in PA until we found the right place.
Well, not only did they accept our offer, but God answered all our prayers. We got some closing cost assistance so we can save our cash for some bigger projects around the house and, even though interest rates went up overnight, we got the rate that was posted the day we made an offer. It was so humbling to watch God orchestrate every little detail!
I have to admit, knowing the house you love has been sitting on the market for so long and hasn't sold kinda makes you wonder if you're missing something. I like to think that God was just saving it for us. It reminds me of when I was little and my mom would pray that angels would come cover up the clothes in our size at yard sales so that no one would see them until after we got there. :) And let me tell you, we got some great clothes at yard sales!! So we really feel this is the place that God has for us, and the house seems to have some room for semi-easy improvements that will hopefully up it's value over the next 3 years.
For instance, our first project is to rip out this theater wall and put in a closet so we have a guest room. We definitely will be needing a guest room as soon as possible! This will also change the house from 3 bedrooms to 4 bedrooms, which is ideal for resale.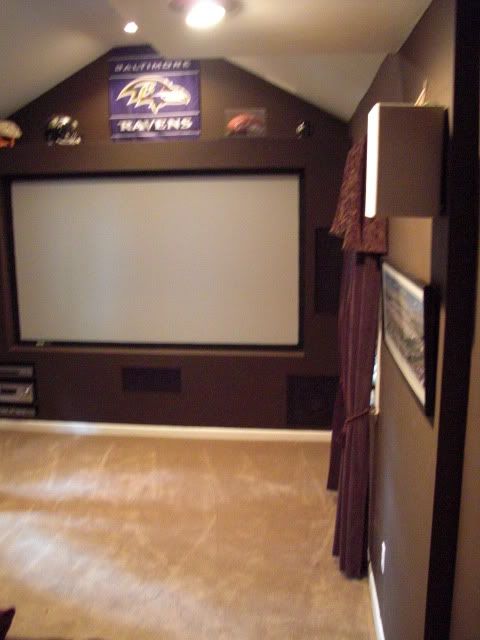 I've also mentioned the kitchen. It's not horrible, just small. I'm sure this was a major turn-off for potential buyers. No one likes a kitchen overhaul, especially not with a newborn on the way!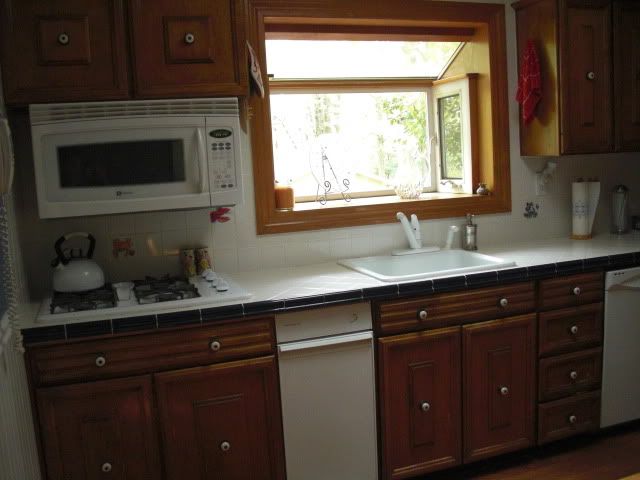 And Jon has big plans for the yard and landscaping. This little house is about to be the star of the block!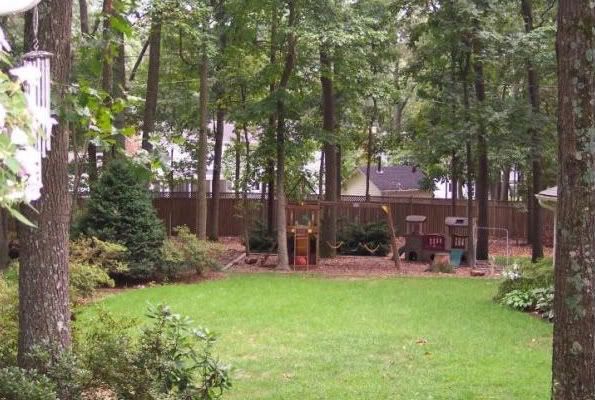 And it is "little," well at least compared to what we've been living in. We're going to have to downsize a bit. I'll be going from a big, walk-in pantry to a tall skinny cupboard. Jon and I currently share a huge, walk-in closet and I use a separate closet for my maternity clothes. The new house has one, regular closet for the master bedroom. Right now we have an oversized two-car garage, which is full of everything but our cars. We'll be transferring to a "half" garage and then a large shed in the backyard. And every room in the house but the laundry room is significantly smaller than our current place. But that's totally cool. Our present house is too big for us anyway and I'm looking forward to simplifying and enjoying the cozy life.
So we are very excited and extremely thankful for the way God has ordered our steps in this search. We really feel His timing couldn't have been more perfect, even though it didn't look that way for a while in the beginning. After the owners accepted our contract we had just enough time to finish the closing process with our bank and it still have a few days window to pack up and clean the old house and move into the new one. The packers will be here in less than a week and by mid-June we'll be sleeping under our own roof, the one we own. And I can't wait!