I'm big on anticipation. Which must be why my favorite holiday is Christmas Eve, why I enjoy pregnancy so much, and why I love a good Thursday evening. When I was in college my friends and would celebrate "Happy Thursdays" namely because it was the day before Friday, which was a celebration all its own. It was also a good excuse to step away from the books and do something unconventional - like tie-dye t-shirts or bake cookies.
Making cookies on Happy Thursday.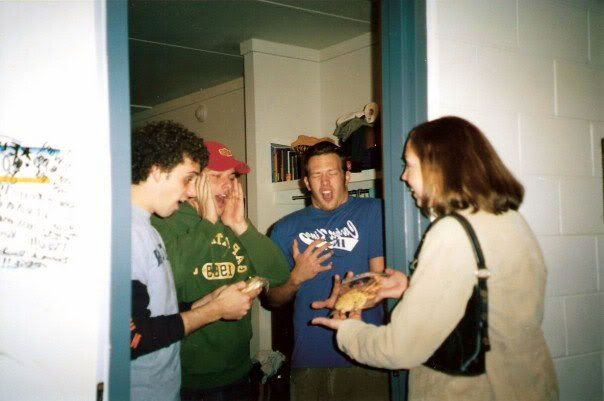 Naturally, we didn't just keep Thursday's happiness to ourselves. Sharing the cookie love with peers.
Thursdays are still a personal favorite. They are still the day before Friday, which marks the start of the weekend which means no work and lots of family time. They are also the only day during the week where the kids and I don't have anywhere to go. It's a mandatory home day - with ponytails, sweatpants and easy meals. And since Wednesday nights are church and we often don't get home until late, I can sometimes even score a late morning and a few extra minutes in bed.
Today was no exception. Well, aside from the sleeping-in part. Julia hasn't yet caught on, but she did lay in bed and look into my eyes for a good 30 minutes this morning while the boys still slept. And since I don't get much eye contact from my little sweetheart yet, I opted out of a little more sleep just to take it all in before she drifted off again.
It was beautiful here today, with just the right amount of wind to tossle the trees and send showers of leaves spiraling to the ground. And chilly too. I found a new reason to like the cooler weather - no more mosquitos! It was so nice to be outside with the boys and not have to slap ourselves every 5 seconds. Instead, we could just focus on having fun ... and sharing, and not pushing or shoving, and not throwing sticks ... ahhh, perfect fall days!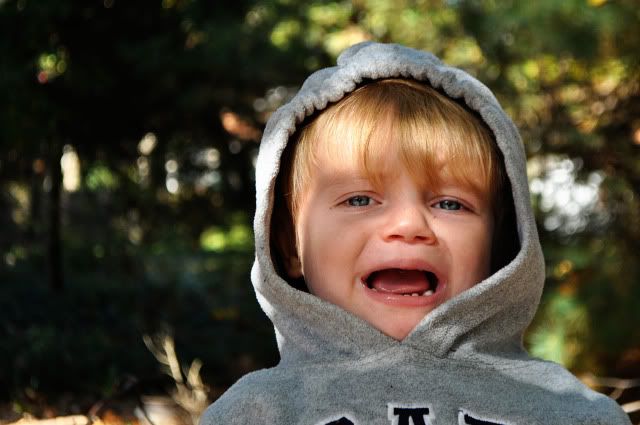 Oh Jude, what's wrong now?
The boys have discovered (for all you Anne of Green Gables fans) our very own "Rainbow Valley."
Okay, so I doubt this is what L.M. Montgomery had in mind when she wrote her novels, but it's the best we've got around here.
Basically, it's 10 feet of right-of-way at the end of our yard where the previous owners (and us as well) dumped all the yard debris. Several years worth of dead leaves! What's not to love?!
We had a good time exploring "Rainbow Valley" this morning, although the boys kept getting tempted to venture too far and cross over into "The Forgotten Swamp." i.e. the neighbor's yard. What is it with us and our neighbors on the right? Every house we have lived in so far has been located to the left of an abandoned or seriously neglected house.
Boys just need dirt and sticks to be happy.
And Baby Sister? Well, at first we attempted to carry her in our pocket.
We finally replaced the video monitor that was last seen in Jude's hand ... several months ago.
But she didn't like that.
So I decided the warmest, coziest place for her was in the carseat on the time-out stump.
And for all you babywearing fans think the warmest, coziest place for her would be in a sling or wrap. Well, I agree. But it's awfully hard to enforce sharing, mediate stick-sword fights, rescue small boys from swamps, slow down slide-speeders, retrieve balls from under bushes and take pictures of it all, when you have a small one strapped to your chest. And Julia didn't seem to mind one bit.
Speaking of retrieving balls, this is the Ball-Eating Bush behind our swingset. It's a beast. Up until recently Jack's been afraid of it. I mean,
it eats balls.
Soccer balls, kick balls, tennis balls ... we're constantly losing one under its branches. And then Jack announces it's "your turn" to get it out. Funny thing is, clearly this isn't a problem with just our family. Everytime I pull one of our balls out I end up finding a new one left behind by the previous owners. Apparently their kids weren't fans of the Big Bad Bush either. Well, today Jack mastered his fears. We discovered The Bush makes an excellent tunnel that I'm sure will require further exploration.
I love to see my kids' imaginations at work... even if they tend to repeat the same stories over and over again. Jack always grabs the steering wheel at the top of the swingset and says, "Bye Mom, I go to grocery store ... gonna get milk and eggs." And now Jude does his own little rendition accompanied by some sort of baby babble and a goodbye wave.
Or the giants. The giants are always stealing Jack's food. And we always have to look for them through the telescope. And if we're hungry? Well, we just go through the Chick-a-lay drive-thru and order a tasty pile of sticks and leaves.
"My pleasure!"
They certainly keep life interesting, and I can't wait to see what they come up with next.
Happy Thursday!