Last week was Jon's first week back to work... and my first week on my own with the three kids. To pump ourselves up for the big event, Julia and I watched "Les Miserables" on Sunday night.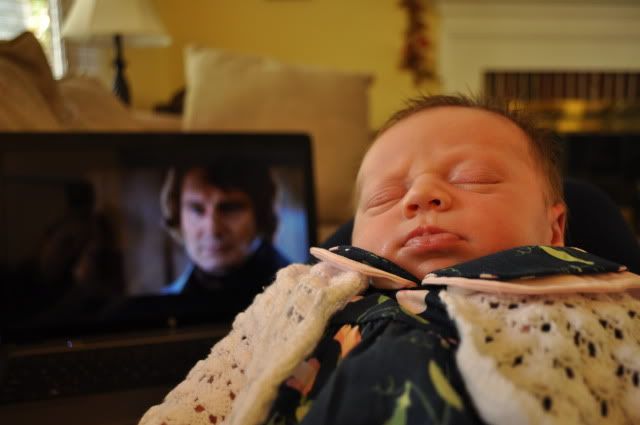 She was totally into the movie.
It wasn't until we were well into the movie that I remembered this wasn't the musical version, so there would be no "On My Own" duet. But the song was stuck in my head regardless. (And yes, we ladies watched the movie on the laptop because it was Sunday night and well, during football season Jon owns the TV on Sundays and Monday nights.)
Not only is Jon back to work, but he's also back to long days. Most of the time he doesn't get home until after 6pm. The boys are always excited to see him pull up and usually run out the door to greet him before he's had a chance to reach our sidewalk. Since he's gone most of the day and doesn't get much time with the kids during the week, Jon is really good about showering them with Daddy attention for the limited amount of time he does spend with them. Usually Jack and Jude follow him into the guest room and they all have a little wrestling session on the bed. And since my fuel tank is most certainly on E by the end of the day, Jon's been pulling the bedtime shift - getting the boys in their jammies and tucking them in.
As for the rest of the day, we're getting by. Actually, this first week has gone much better than I imagined it would. But Julia is also still sleeping a lot of the time right now. I'm sure things will look much different in a few months when she's awake more and can't be schlepped (how
do
you spell schlepped??) around everywhere.
But we're doing good. And I know it's only by God's grace and everyone's prayers. I can't tell you how many people have told me they were praying for us this week - thank you! It makes a huge difference.
Julia is a great baby... or maybe I'm just even more laid-back than I was for the past two, or better yet - numb to the whole process. Jack was a "sleep all day, up all night" infant. And Jude was the perfect "eat every 3 hours and sleep in between" infant (at least in the beginning). But the most challenging thing with Julia is that she's just not consistent. Occasionally, she'll play the "6 hour stretch" card at night (woo woo!!). But then she'll be awake every hour the following night. Most days, she sleeps fairly well in between feedings. But sometimes there will be several hours where she just won't let me put her down. Sometimes she's happy to be with her Daddy, other times no one else will do but Mama. Typically she eats every 3 hours. But there was one day last week where I felt like an all-you-can-eat buffet. So she's keeping me on my toes, I never know what to expect next.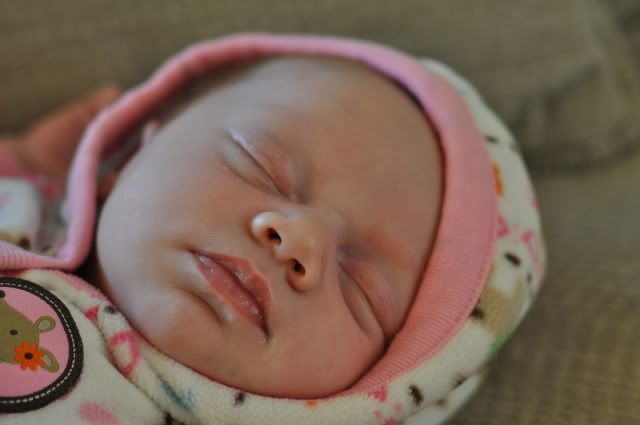 The best part - babies are so still and easy to photograph.
On the other hand, girlfriend's got a limited number of "looks" to photograph these days.
But really, it wouldn't matter if she was the worst baby on the planet. Because she's ours and I just love her so stinkin' much.
The good news is, for the most part, I feel fairly well rested. Some days are better than others, and my brain is just not as quick as it usually is, but at least I'm able to function during the day. Which is key when you've got two other kids to care for. Currently, Julia is the least of my worries. It's the other two that really make this "three three and under" thing a challenge. I've done the newborn thing before, it's an old hat I'm happy to wear.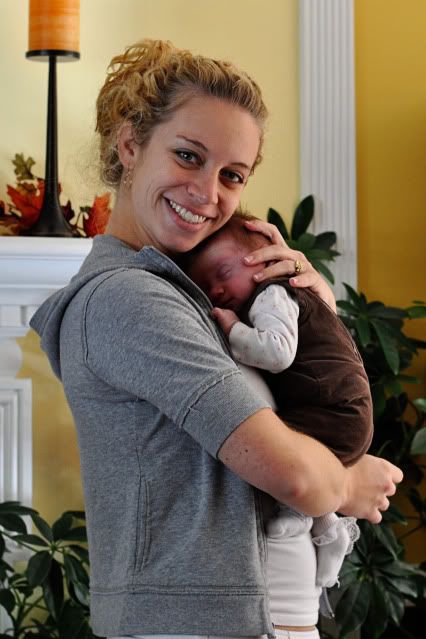 In my element!
But the three year old thing? That's new territory, and I'm having a hard time navigating those waters. I didn't expect to be dealing with sass already. But lately Jack's been talking back to us. The funny thing is it's, well, funny:
"Mom, I not a child (silent d)!" (What on earth does that mean?)
"Don't call me!!" (I think this means "Don't scold me.")
"I not tired!" (usually accompanied by stomps, tears and total breakdowns that indicate yes, you indeed are tired.)
Not to mention our eldest has suddenly taken to skipping out on naps several days out of the week. *sigh* I NEED that break.
And then there's the 18 month old. I've done that before but it doesn't make any difference because 18 month olds are a species all their own. And I don't know if I'll ever get used to it. Jude's curiosity is getting the better of him. He's always in our stuff - taking apart the wallet, dismantling the autumn candle display, plugging and unplugging devices, pushing the ice/water dispenser until there's a small lake on the floor...
No matter how many times you say "NO" he just doesn't get it. Or he'll just wave his finger and say "nah, nah" right back. And just when I want to pull out my hair and scream "I hate this age!" he does something so darn cute I want to keep him 18 months old forever.
So Jack and Jude are kinda in tough stages. And the two of them together really rocks my world, in a notsogood way. And that's what makes this current stage of life so tough. Because while I'm trying to nurse or calm the baby, Jack's giving Jude a bloody lip, or Jude is pulling the waffle maker around by the cord like it's a pet dog, or Jack is attempting to make a bridge up to the guest bed out of the full-length mirror (it shattered, in case you're wondering), or Jude is throwing seashells at his brother, or Jack is drawing on the bedsheets, or Jude is taking apart a dirty diaper...
Exhibit A: Son 1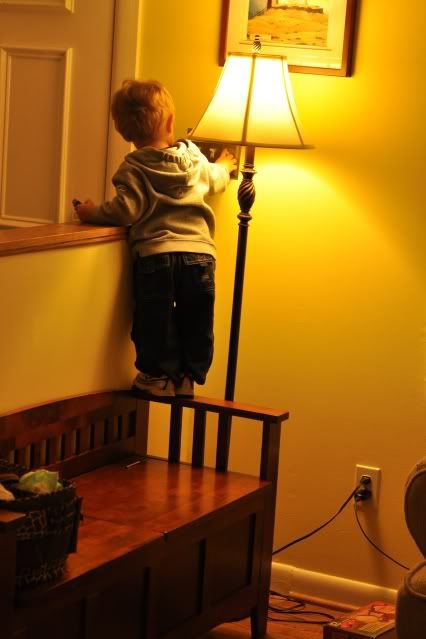 Exhibit B: Son 2, taken at nearly the same time as his brother's
And if I'm not taking care of the baby, and attempting something simple like getting a glass of water or using the restroom, Julia is almost always in grave danger. Twice I've caught Jack attempting to pick her up because she was crying. And a gazillion times a day I find Jude trying to push her "around the world" on her swing.
BUSTED!
But other than that, things are going well. I'm learning that even though Jon's not home during the day, I'm not reallly on my own. There are lots of people praying for us and cheering our family on. And while some days feel like utter failrues, at least we have the basic needs covered. Oh Maslow we are all over
that hierarchy
. We've got shelter, everyone is getting some sleep at night (although some are getting more than others), we're well fed (with a huge, massive thanks to all our friends that have made us meals - you've saved my life these past three weeks!), there are ample opportunities for "creativity" and "problem solving" like I never though I'd be doing 5 years ago, at the end of the day both Jon and I are feeling majorly accomplished and, most importantly, we've got a whole lotta love to go around.
Because while three little kids is three times the work, it's three times the love. And my heart is just bursting right now.