Cape Henlopen
is a family favorite. We've been their often over the years. I can only remember camping there once before myself, but it's been a popular stop on the way home from our beach house rental week and the perfect way to extend vacation to the very last drop. The State Park is located in the adorable, quaint Lewes, DE. I think I could really love that town. But since I usually have small children with me I haven't had a chance to really soak it up yet. It's also just a few miles north of Rehoboth Beach, where all the action is. Although things look a little different in September. And that's the way I like it. Easy to find parking, no crowds on the boardwalk and, most importantly, no waiting in line for ice cream. I think I'm going to start making a September beach trip an annual thing!
He wanted me to take a picture ... and then he refused to look at the camera.
Strictly window shopping here, I will never buy a hermit crab. Anyone have any statistics on their average lifespan? 10 days? 15? That's what I thought.
I need to just come right out and say it, we did not camp in a tent. I know, I know. I also think that anything other than a tent (or no shelter at all) shouldn't exactly be considered "camping." And I do love me some good, old fashioned camping. But not this time. And especially not without my handy hubby around. This time around we stayed in a "rustic cabin." In other words, we had a roof over our head, a bed, and electricity. That's about it. But it was a good thing because the weather forecast was a bit iffy that week, and we did end up with some big wind storms and rain showers.
Jude's been eyeing up the marshmallows for weeks, and then repeats to himself: "No, no. Those are for camping fire."
A little morning playdough action.
But that did not deter my children from hiking up a World War II observation tower each and every evening. Not only did they walk the whole way to "the tower" but also climbed all 115 steps themselves. And then proceeded to run laps around the top chasing each other. They had so much fun the first night they convinced Marmie or Poppa to take them every night thereafter. It became a post-dinner event and the perfect way to get them to finish their meals quickly!
The cabin consisted of two rooms. Marmie, Poppa and Jack slept in the front room, and Jude, Julia and I slept in the back. I did it that way because Jude and Julia are my early-risers. I just didn't realize how early that would be this week. Or that they would continually take turns waking each other up. The first night there Jude had a bad dream early in the morning. I got him calmed down and then Julia started crying. I got her calmed down and Jude said he had to go pee-pee. So I take them both outside and since I'm not about to walk to the bath house with two kids before the sun is even up, I let him take care of business right outside the cabin. It was all downhill from there and no one went back to sleep. Thankfully Poppa assumed responsibility for Jude and together they took many a sunrise bike ride. I kept Julia entertained each morning and Marmie watched over Jack, who has finally perfected the art of (what he calls) "grown up sleep" i.e. sleeping until 8am and beyond!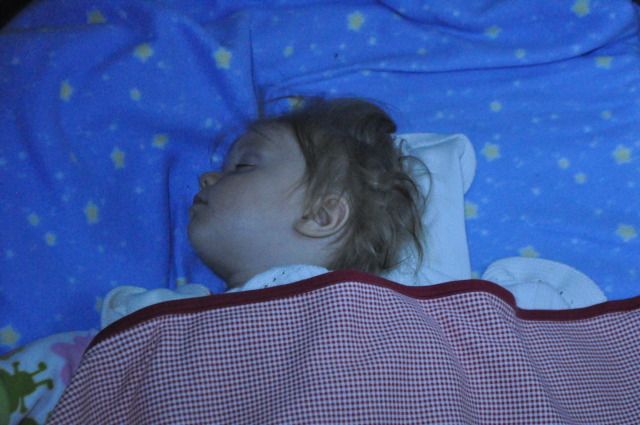 Chin up, Buttercup!
The first night was actually one of our better ones. Julia wasn't a fan of the unfamiliar sleeping quarters. She's also working on some teeth. So she was up a lot in the night. And in order to keep from waking Jude I'd just slip her in next to me. And then she'd insist on nursing. And then when I was certain she was asleep and would try to head that direction myself she'd throw a mini fit again. So we spent the better part of our evenings with her eating and me dozing off in between. And then Jude would start to stir and realize he was missing out on a party in Mommy's bed. So he'd sidle over to join us until Poppa came to the rescue!
"Please Marmie, don't put me in the ladybug with the boys!"
Speaking of my girl, she is (drumroll please...) taking steps while holding onto your hands. Okay, so I know there are 6 month olds that do this. But it's the closest we've got to mobility so far since that whole sliding backwards bit. You can tell she's pretty new at it. She doesn't bend her knees and kinda juts her foot out as far as it will, and then brings the next one up with so much force I'm certain her legs are connected by rubber bands.
But she's also our little drama queen. And the moment she loses your hand and *gasp* falls down, well her little world just caves in.
I think she would much prefer "swinging" as her official mode of transportation, if that were an option:
I think the fresh air and open spaces were refreshing for my boys!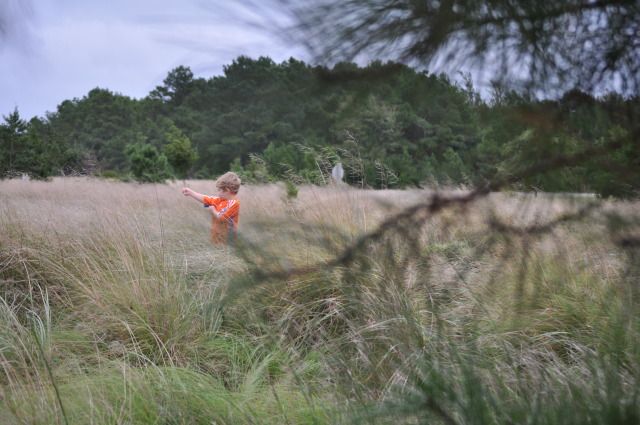 Hunting for deer.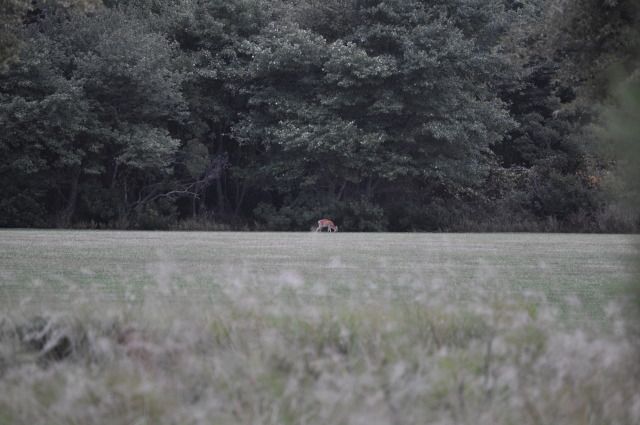 Spotted!
And although the weather was foreboding, it didn't keep us from seeking an adventure at the nearest playground.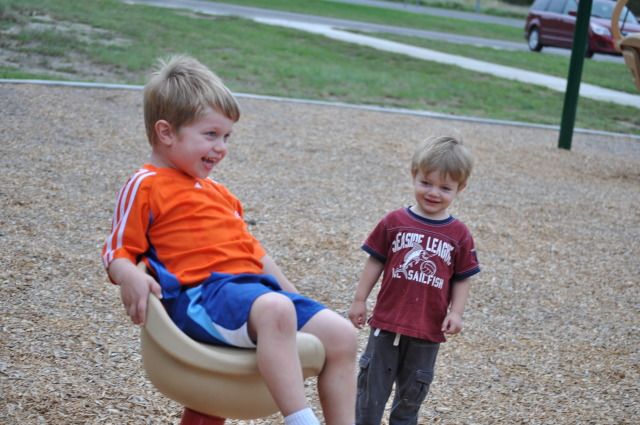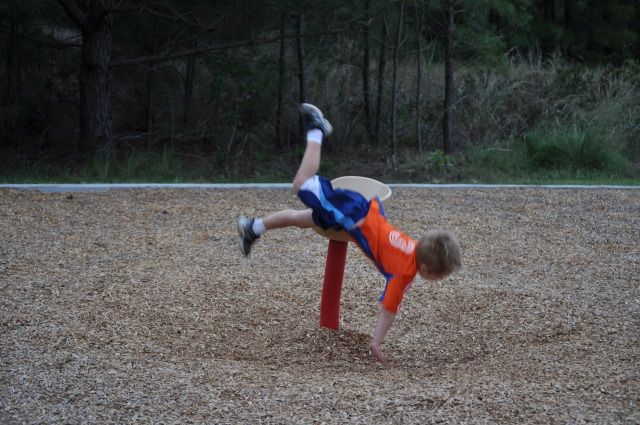 But while towers, playgrounds and nature centers are all fun, I had one thing on my mind - a suntan. The beach was my daily destination. I would have been happy with just a book and a chair (and two grandparents to keep an eye on the kiddos) but our last day there proved to have something a little more exciting in store for us. More on that next time ..