Well helllll-oooo September! What a perfect day. The breeze is blowing, the crickets are chirping and my thermometer reads 155 degrees. Hmmm, okay something is amiss here.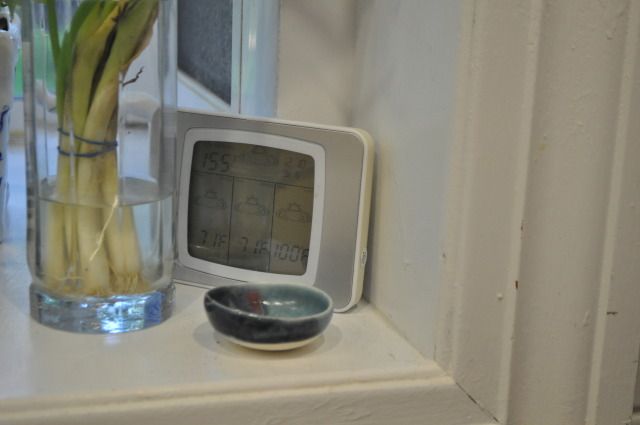 Perhaps a small child attacked the sensor with a squirt gun?
Because there is most certainly a nip in the air. I actually had to put a pair of socks on Julia before running out to the grocery store this evening. Poor thing was so confused, she kept kicking her feet and grabbing at her toes. And I don't think she liked being zipped up in her full jammy suit for bed either.
Earlier this week, when it was still hot. Check out that hair!!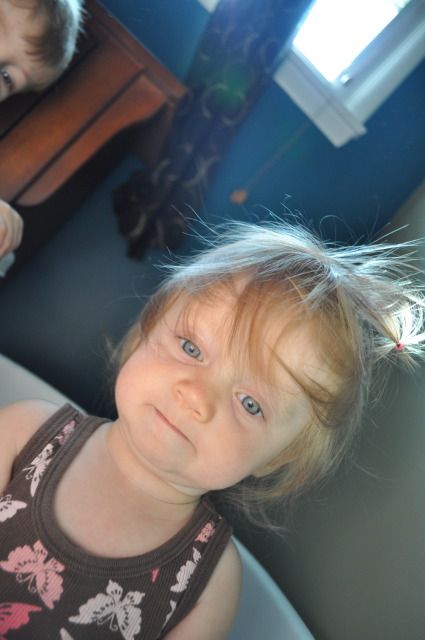 She did have it pulled back at one point ... see that little pink rubberband hanging on for dear life?
I celebrated the cooler temperatures with hot beverages. Not one, not two, but a grand total of three just today, although I had to switch to decaff after 3pm since I'm getting old and can't handle the jolt that late in the day. Not that I don't have plenty to do if I happen to pull a late shift, but it's the mornings that get me. Or my daughter in the mornings. She was up extra early this am with a running nose and a mask of hair plastered across her face that got caught up in dried boogies. Because sometimes the best part of waking up is having Mama suck out you nose and nuzzle you under her sheets for a final hour of shut-eye.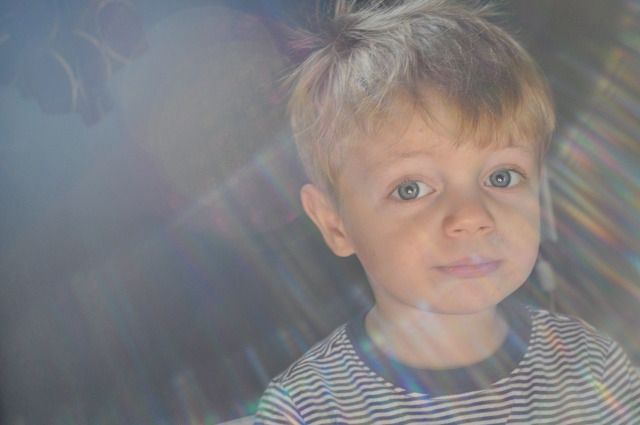 Lia's not the only one with nose issues. Jude's been walking around all weekend with his finger up his nostril. And then he'll yell (anywhere, anytime) "I got a BOOOOO - GER Mommy, a BOOO - GER!" and try to pass it off to me. Um, no thank you. Here's a tissue.
We're happy to have our husband/daddy/assistant housecleaner/lead disciplinarian/master gardener with us this week. He's been traveling 4 out of the last 5 weeks, but hey, who's counting? We still have a few more trips to go this fall but I've got some plans in the works to help alleviate my parenting responsibilities, so I guess the worst is officially behind us.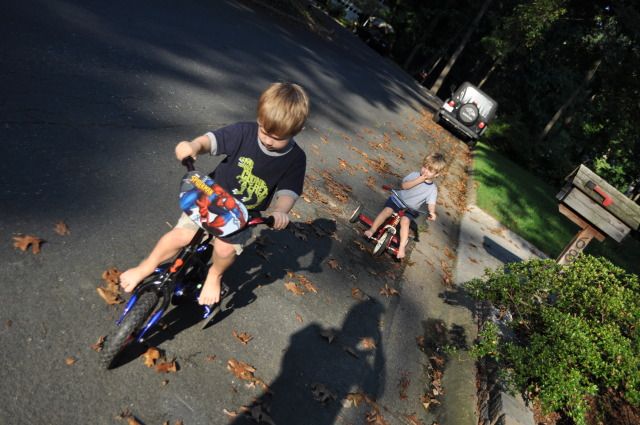 Jude. Finger. Nose.
We took a huge step in the parenting world this weekend: we bought a minivan. Not only that, but we traded in our cool, special-feature-laden SUV for a mom-mobile. It was a lot harder than I imagined. I always figured if you had three kids there was no reason to deny your need for spacious transportation. But now that we actually have one it's a little different. I'm convinced I feel 10 years older when I drive it. But in the end the downgrade was a good move. In addition to the fact that we don't
need
4-wheel drive here in Maryland, and that sliding doors are so much easier for carseat-swinging/toddler loading mamas, the minivan is a bit easier on the budget as well. Which is good because in a few weeks ... wait for it ... we're dropping down to one income.
Yup, that's right,
this
girl is going to be a stay-at-home(only)-mom. It's something that we've known was going to happen since I first got hired 4 years ago (although we never thought I'd still be working after we left Virginia anyway) since it was a temporary position to start with. We were (sorta) hoping something else would open up but ... it hasn't. So starting in October I can stop taking phone calls in my guest room closet. Or writing emails while nursing the baby. Or feeding my kids lunch in front of the TV while I teleconference into a meeting.
And I'm looking forward to it. I'll admit, it was a little hard to adjust to at first. I'm going to
really
miss my job. And my co-workers. And the opportunity to talk with other adults throughout the day. Oh yeah, and getting a paycheck. And what am I supposed to do with all this random knowledge about alternative routes to teacher licensure?! But at the end of the day it's going to be soooo good for me to just focus on these three:
You poor child, doesn't your Mama put shoes on your feet?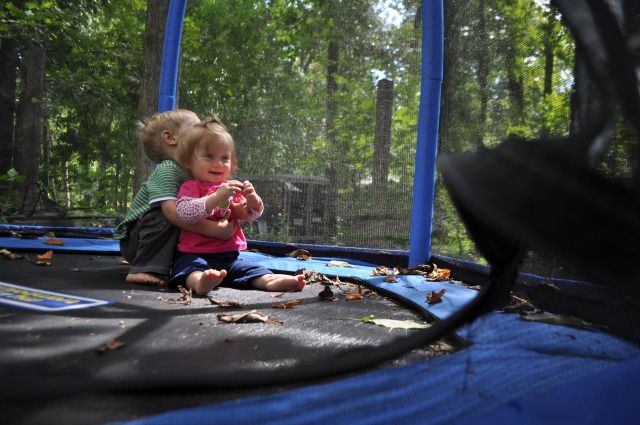 And just plain get my life in order. I've got big plans for organizing a cleaning schedule, meal planning, grocery budgeting and lots more baking and cooking! I want to spend more time doing educational things with Jack, reading books to Jude, and doing my daughter's hair. I can't wait to read more books and do more crafts. I'm joining a MOPs group at our church and we're gearing up to take a parenting class through our small group this fall.
So yeah, I've got big plans. And I think my husband has some big expectations as well (no more "busy day at work" excuses for me!). Yes, there are going to be some adjustments. I have to get used to driving around a bus, er, minivan. We decided not to send Jack to preschool this fall and instead have to hear him talk about "When I go back to school ..." or "I'm gonna tell Miss Bonnie about my new bunkbed tomorrow..." And we're probably not going to take that dream trip to the Cayman's this winter.
But it's all good. Fall is totally the new spring. And I'm never one to turn down a new beginning. I am a military wife after all!