One.
Our firstborn is busy growing and learning. But he has yet to catch on to pooping on the potty. We had one victory while at Nonnie and Poppie's last week. I was hoping that would be the start of a new trend but alas, he appears to have returned to his old habits since we've been home. I'm not quite sure what the issue is. I've heard stories of little boys who took years to finally go poopy on the potty but no one seems to have an explanation as to why. Fear? Ignorance? Foolishness? He knows what's expected of him, and he also knows he'll get a nice reward if he follows through, which is why he tends to walk around the house all day chanting, "Poopy in the potty, pick out a toy" or "Poopy in the potty, get a big treat!" (add sparkly eyes, big smile and head nod).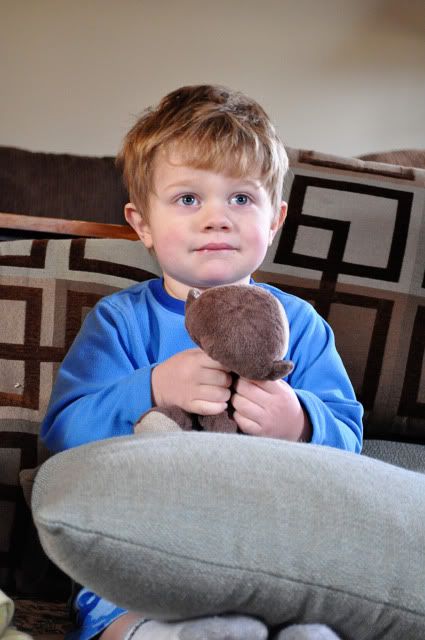 Oh the repeating stage, where every phrase I utter gets bounced back to me a few times over. "No pee pee in pants", "No, no play with toilet paper", "Bee-bee no touch." Unfortunately, we've also entered the first name stage, where Jack now tries to call his dad "Jon." I have no idea why he suddenly decided to start doing this, nor why he hasn't tried to call me "Janine" yet. But the funny part is he's clearly trying to mimic me since his version of "Joooon" sounds exactly like mine, he's only missing the head tilt and hands on the hips.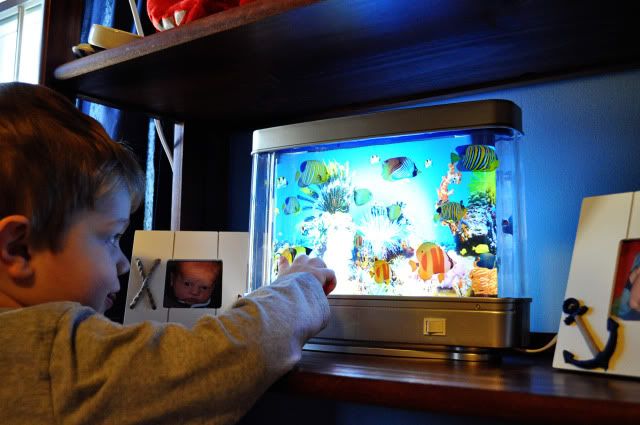 Yook Mama, Nemo!
The good news is, other than the poops, he remains virtually accident free. The bad news is this means he now wakes up in the middle of naps and nighttime sleep to go "pee pee 'gain." I suppose there are worse things a toddler can do, but for now we're going to work on cutting back on the pre-sleep water chugging.
Two.
Our second born is oh-so-close to crawling, but he's just not there yet. My kids are such late bloomers but I don't mind a bit. I know what it's like to have a crawler and I'm more than willing to put that off a little bit longer. He has worked out his own quirky mode of tranportation, particularly when a toy is just out of reach, where he'll scooch and slide his bottom all the way across the room just to get to it. In the meantime, he's got an excellent trainer. Jack loves to give Jude crawl lessons and can generally be found crawling circles around Jude saying, "Yook bee-bee, c'mon!"