Our littlest love turned 3 months today. Shocking, I know. The newborn stage is so fleeting...
Three months also marks the end of the "fourth trimester." As a mom the third time around, I believe in this concept even more. Especially because it is currently 8pm and my sweet daughter is sleeping soundly in her crib. Or the fact that she took all her naps in her own bed today. Or that she's been getting better and better at going to sleep all by herself, without me trying to all my tricks. It seems like in the past two weeks, despite the craziness that is Christmas and all the festivities that surround it, and despite the fact that she too is suffering from a terrible cold and cough, Baby Girl has been doing exceptionally well.
Jack excitedly came to tell me that he was sharing Monkey and Mr. Chimp with Julia. You can see how thrilled she is.
We seem to be getting over the gas issues too. We did have a few bad episodes over Christmas but that probably had more to do with my holiday eating habits than any problem on her end. And it's so much more relaxing. She's content, I'm content, the house is slightly more peaceful (well, as peaceful as it gets with two old brothers). And I feel like I'm starting to get my life back. I watched a few movies this weekend, worked on a project and am reading a book. I don't mean to sound self-centered but sometimes I don't think we give enough credit to "me time." It's amazing how much better I feel when I actually get a few hours a week to focus on something non- children, work, chore, etc. - related. Something just for me. And heaven knows we've been lacking in that area for the past 3 months.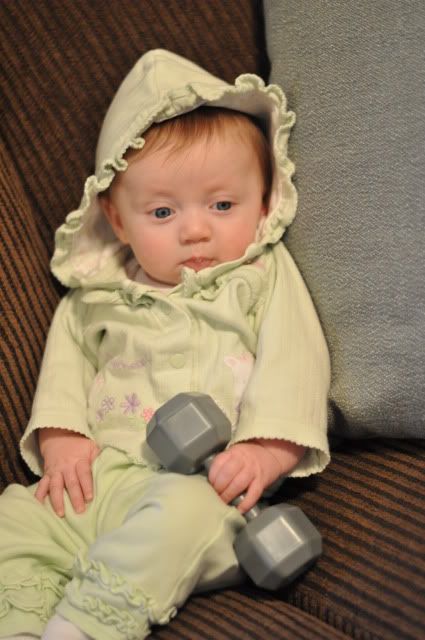 Julia's preparing for life with two older brothers ("rattle" compliments of Uncle Jared).
So the fourth trimester has ended. If she's anything like her brothers I'm gearing up for one heck of a fifth month. Which is why I'm jumping into projects, books and movies now while I have the chance. She
is
a lot like her brothers. Certain facial expressions will remind me of Jude. She's so stinkin' easy to nurse, like Jude. But she's very sensitive to overstimulation, like Jack. (We had a few screaming fits/nursing strikes over Christmas vacation after some very long days). And most people say she looks more like Jack. But she also has some quirks of her own. Unlike her brothers, she has yet to take a binky. And I generally don't even try anymore because I've seen how much work it is to break the habit later!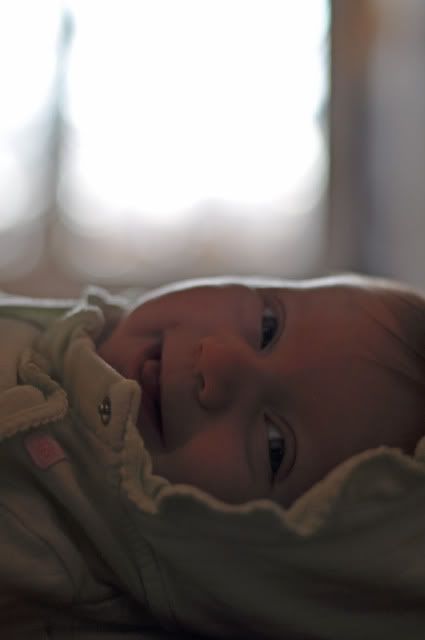 Also, she insists on being held upright (unless she's eating). The boys were always content in the cradle hold where I'd sway them to sleep. Not this one. She likes to be upright, front and center. She sprawls over my chest with her bottom resting on my arm. One hand clutching my shirt and the other wrapped around my arm. And then she nuzzles into my shoulder and breathes those sweet little baby puffs on my neck. And heaven forbid you try to sit down. My legs get so tired with this baby. Our wonderful little glider hardly gets used these days. And can I just say how sqeaky our nursery floor is? I never noticed it until we had a baby, that must be held standing, and walking, and pacing. And I can't seem to find a few quiet boards to tiptoe on.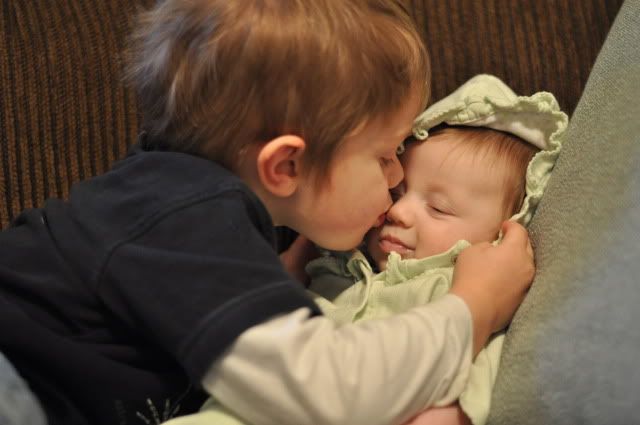 The boys shower her with kisses ... and germs, unfortunately.
But for the most part, those days are over now. She's already discovering new things she can do without me, even if they are as simple as going to sleep or calming herself down. She's already branching out on her own, gaining her own confidence. And she's already making her place in this crazy little family. I just wish I had more time to take her in, and all her beauty and grace, before she grows up too much and hardly needs me at all. I guess, while good, the end of the fourth trimester can be tough on mamas as well.