We're on our way home to Maryland now. Bags, gifts and kiddos packed like a Tetris game into our rental minivan (someone backed into my SUV a few weeks ago and it's been in the shop longer than we anticipated). We're meandering through mountains somewhere in south-central PA. We took a detour an hour ago when traffic was backed up for miles and miles. Baby Girl is only happy when the car is moving, so we set off in a different direction. It probably cost us an hour of driving time, but at least the little one is content. And although I have no clue where we are, it is most definitely beautiful. My favorite state always is.
There's a chorus of coughing coming from the three babies in the back, drowning out the "When I See an Elephant Fly" song wafting from the DVD player. And my arm is resting on a stack of napkins from Sheetz that my husband picked up after my initial pile of tissues ran out within the first 15 minutes of our drive. We are all sick. It wouldn't be Christmas vacation if we didn't come home coughing and snotting around. As hard as I tried to fight it, with as much Echinacea and Vitamin C that I've loaded my family up on, I still lost. This year especially. Among all the fun things we did and cool places we visited this week, we can also include the ER on that list. Jon ended up spending 4 hours there with Jack on Tuesday night. "They" think he has pneumonia. So now we have exactly three hours to get home, unpack and take all three of our offspring to the pediatrician before things get any worse.
Then we have to pick up our car from the shop, drop off the rental (which I've thoroughly enjoyed by the way, while it's not much to drive it sure is great for traveling!), scrape together something for dinner from whatever is left in the house, and get my sick little family in bed. There won't be much time for reflection any time soon, which is why I fished the laptop out from underneath a pile of Christmas cookies and settled in to enjoy a bit of "hands fee" time while the rest of my family is otherwise occupied. Because despite the busy schedule, runny noses, sleepless nights and gassy babies, Christmas vacation was still worth it. Being with family always is.
We spent Christmas Eve with Jon's family. This was the first time since before Jack was born that we were all home for Christmas. We're up to 9 grandkids now, 7 of which are boys.
Jack been very concerned about Jude's posing lately.
You can just imagine the chaos. Sometimes it's frustrating. Okay, most times it's frustrating. Julia starts screaming right when I sit down to eat, Jack spills his drink, Jude dumps his plate. Then there's present time. Trying to get all the kids to wait patiently for their turn. And then there's the one gift that everyone wants to play with… at the same time. Baby needs fed, diapers need changed, small boys need to CALM DOWN! *sigh*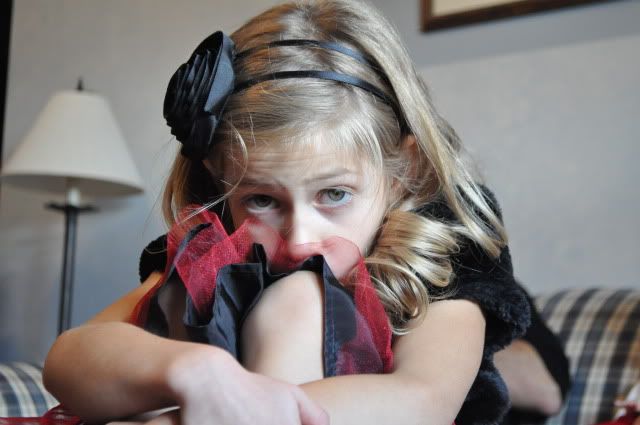 Julia's only female cousin - Aviel.
Taking it all in with Poppie.
But as my mother-in-law reminded us this week, Jesus always welcomed the children. I can just imagine the disciples, desperately trying to create order, to settle the kids, to push them to the back of the crowd where they could play quietly. But there was Jesus, welcoming the little ones, bringing them right to the forefront, including them in all he did. Certainly children don't make the holidays any easier but they certainly make it all worthwhile. Besides, I'm fairly certain Mary wasn't getting good nights of sleep during her first Christmas either.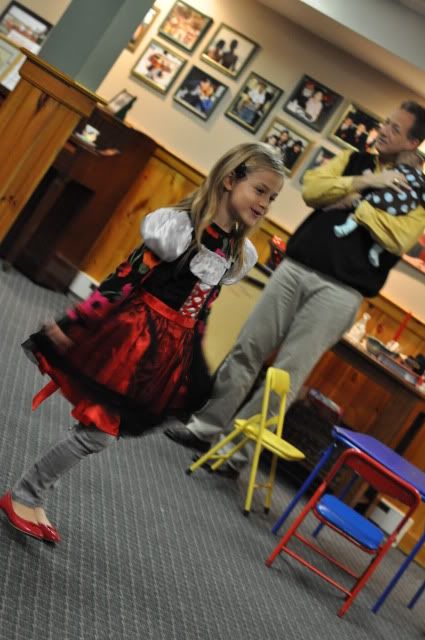 The cousins put on a play for us.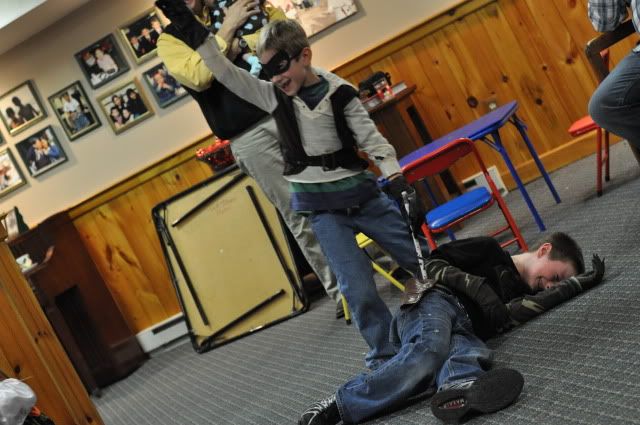 It involved one dance, and several fight scenes.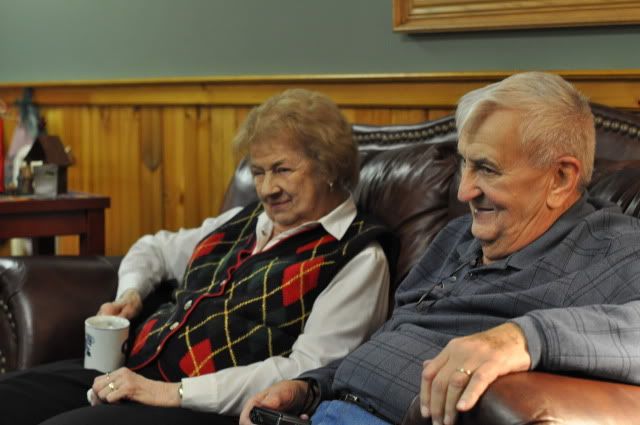 Grammie and Grandpa came for a visit too.
Christmas day was with my family, where my three are the only kids. We're still waiting on some additional cousins, okay so maybe we're still waiting on an aunt or two first. Every Christmas Eve I toast to a bigger family the next year and every year it backfires on me. Ironically, there was no toast this year. This time we waited until after church and lunch and naps … and before the kids got too hungry again, to start the festivities. Still a little busy, but certainly much more manageable when the adult to kid ratio is 4:1.
Funny thing about kids, they never do what you expect them too. All the adults were eagerly waiting to see Jack and Jude's reaction to their big gifts – a workbench and a play kitchen. The boys barely gave them a second glance, they were too interested in fighting over another toy. (Although now that the kitchen is all assembled I'm counting on it keeping my little Jude-bug occupied for many hours … and out of my own kitchen drawers!).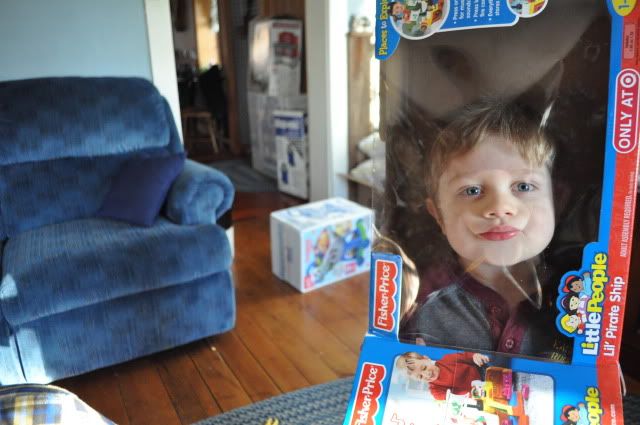 The boxes are always more fun than the gifts.
But there was more to this week than Christmas celebrations, dinners (oh lots of 'em), and game nights with some of our oldest friends.
Some of my oldest friends - Julia and Elaina are only 3 weeks apart.
Poppa has "the touch."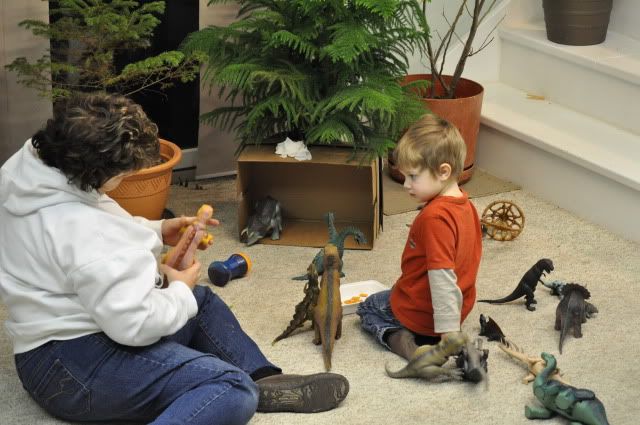 Marmie knows dinosaurs.
Since we both had off this week it was a great opportunity to introduce Jon to some of the local flavor. Yes, my husband and I grew up living only 20 miles apart. But our experiences are slightly different. On Mondays my mom would often take us kids to the local livestock auction for some up-close views of cows, pigs, goats, chickens, etc. It's probably been close to 20 years since I was last there. Not that it mattered, the place hasn't changed a bit. The place where the actual auctioning takes place is like a small amphitheater, which a few rows of old theater seats and a couple of borrowed bench seats from some old retired vans. But the real fun is beyond the double doors, where you can watch the trucks come in to unload their animals. And yards and yards of catwalk high above the pens. No pictures because I didn't bring my camera, I was too busy trying to make sure my kids didn't climb over the railing, and there were Amish everywhere whom I did not wish to offend.
Speaking of our buggy-driving friends, we also took Jon to the Lewisburg Farmer's Market. If I'm ever home on a Wednesday I make sure to stop here, but Jon had never been. The guys love the hot sausage and the pickle guy. I'm a big fan of the hand rolled pretzels and reserve sharp cheddar (aged 8 years!). And my new favorite stop is Toy Cow Creamery for some delicious raw milk (I'd post a link but again, they're Amish, so no website). This beverage is so creamy and delicious, it's a shame my current home state has outlawed it for consumption.
We also hit up some fun for the kids. Namely, Treasure Castle in South Williamsport. Jon kept saying, "I wish this was here when I was a kid." It's pretty incredible, especially for our little corner of the world.
And I thought my kitchen window was pretty cool...
Can you tell this place used to be a church?
Treasure Castle isn't just for little boys ...
And the Milton Model Train Museum, which a friend was able to get opened just for us! I was quite amazed at the set-up, so you can imagine how my little train-lovers felt about room full of choo-choos.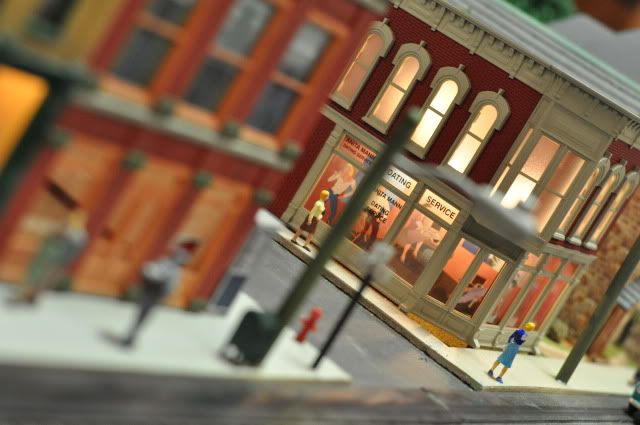 Anita Mann Dating Service :)
Needless to say, we're tired. A happy sort of tired. A "we just accomplished so much in so little time now we get to rest" sort of tired. You can bet what we'll be doing to ring in the new year this weekend … sleeping. But that's not to say we're not excited about it all. If it's anything like the end of 2011, I have a feeling 2012 is going to be a very good year.