The Handsome Coastie was in California all week and so, since it's been a month since my parents have seen the kids (and they've grown and changed so much since then, of course), Marmie and Poppa decided to make the trip down. It was a typical Marmie and Poppa visit. My mom cooked all the meals, finished my pile of laundry to be ironed, and gave the kids tubbies every night. Meanwhile Poppa took the boys on bike rides, built train tracks and he and the kids dusted my floors.
Other than a visit to the mall to "attempt" some Christmas shopping and an evening at Homestead Gardens to "ooo and awe" over their Christmas displays (and say "no touching" every 5 seconds), we pretty much hung out at home and enjoyed the quiet fall evenings.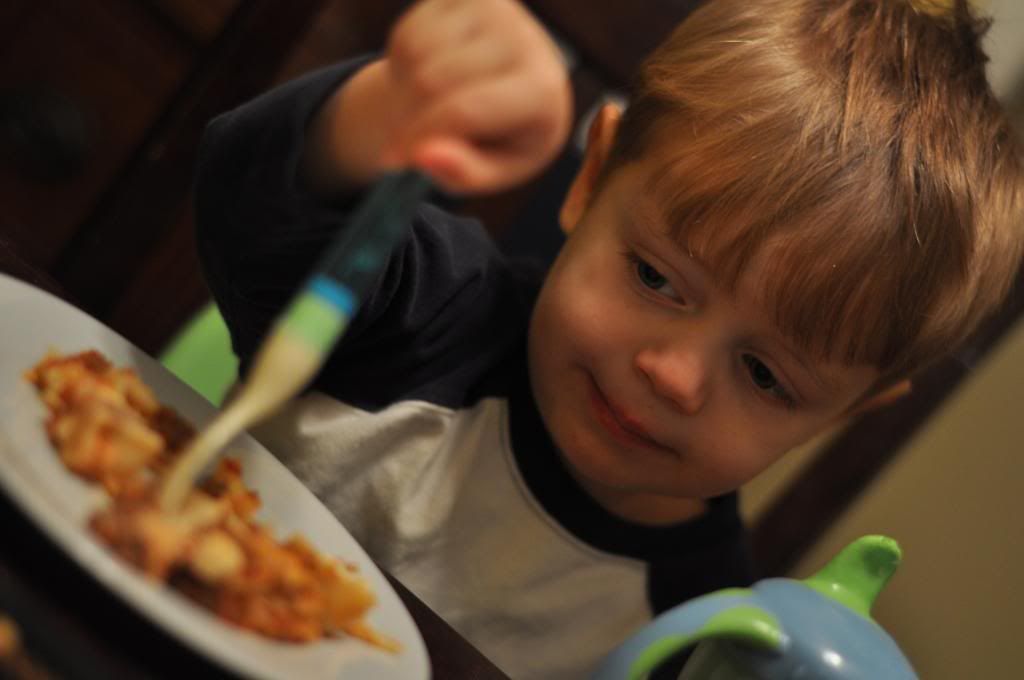 Well, except for that time a bird flew in the house. I don't know what it is about my house that attracts birds but this seems to be happening a lot. This one was a bit more curious and actually headed upstairs and inspected a number of my plants. It took some work but we were finally able to chase him out the front door. So we were telling Uncle Jared the story when he came for dinner the next night. As he's about to leave we jokingly tell him he needs to duck out as quickly as possible so no birds fly in the open door. Of course, he opens the door and our old friend is back in a flash. This time we were better prepared and had all the lights off and doorways blocked in record time. He found his way out yet again but not without first pooping on my couch. Ew.
I handed her the doll three times to get a picture ...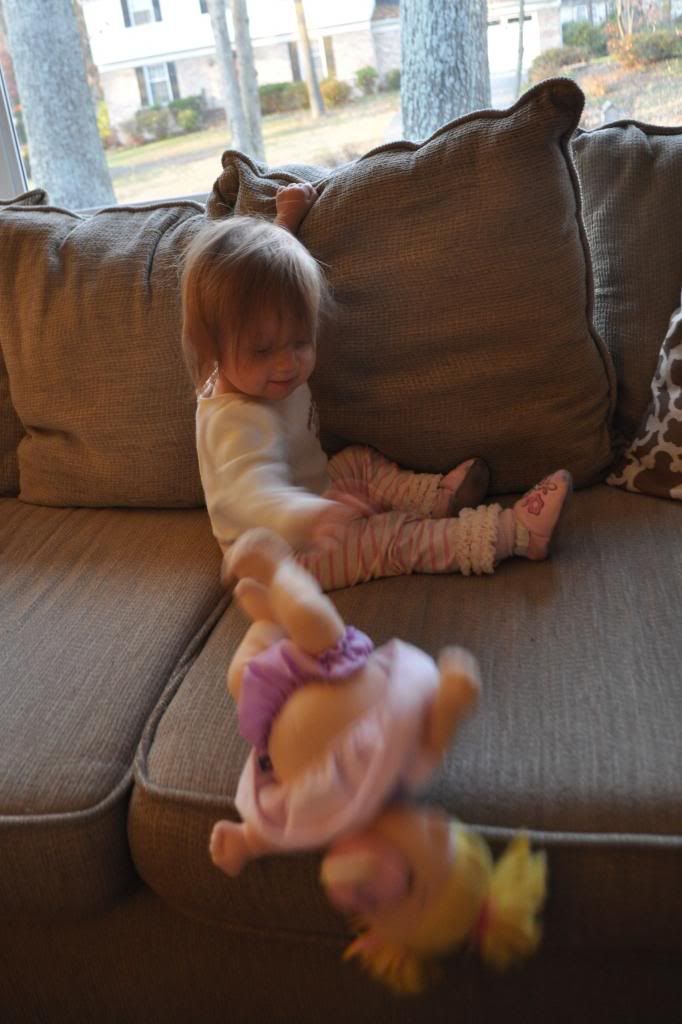 .... and she threw Baby Stella off the couch every time. Such a lover!
The break was certainly nice, so what I'm thankful for most this week was a visit from Marmie and Poppa. And while we're on the subject, might as well bring up our dear "Thankful Tree" or as Jude says "Fankle Tree."

A few of our friends have done a tree and I saw it on Pinterest last year. We've been reviewing the "Fruit of the Spirit" over the last few weeks in our house and this month was the perfect time to segway into a lesson on gratitude. Fun fact, did you know thankfulness is not a Fruit of the Spirit? Neither is obedience. I tell ya, I was a tad put out when I realized we wouldn't be hitting that one anytime soon. I digress.
Jack and I just went out and gathered a few branches after the storm the other week and shoved them in a pot. I printed off a few leaf shapes onto cardstock that we use as stencils. I also had a stack, and I mean STACK, of paper that the boys have painted and colored on but was hesitant to throw out. I figured this was an excellent use for it. So rather than toss them out for good we've been using these sheets to make our leaves.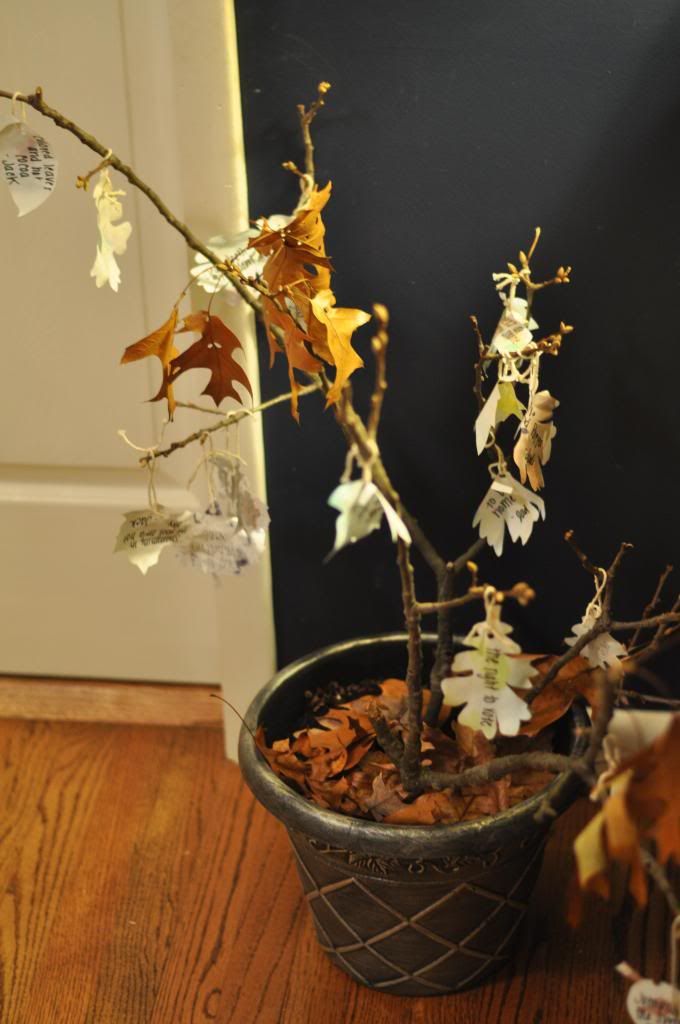 Jack has enjoyed practicing his hole punching and string cutting skills. He kinds likes to cut string every free chance he gets, we're on a bit of a scissor high these days.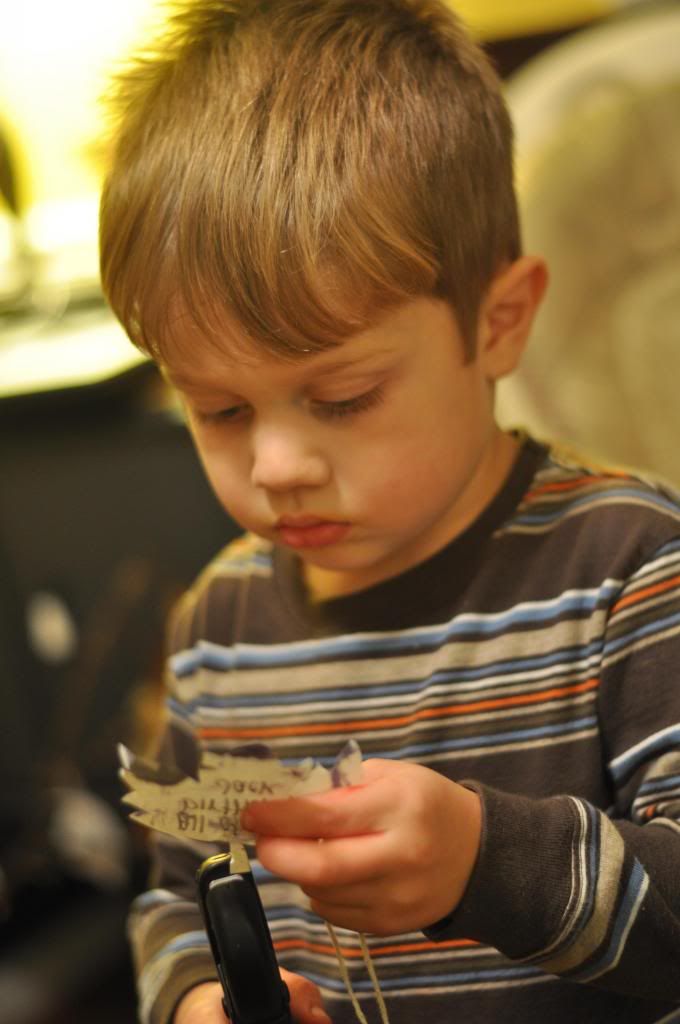 In theory, we would all sit down at dinner each night and say one thing we are thankful for, take turns writing it on a leaf and then make a ceremony of hanging each leaf on the tree. In reality, we often forget to do it. Actually, unbeknownst to me, Jon moved the Thankful Tree outside to make more room when we had guests last week. And then we accidentally left it out there. In the rain. So our tree is a bit worse for the wear and our leaves are slightly washed out.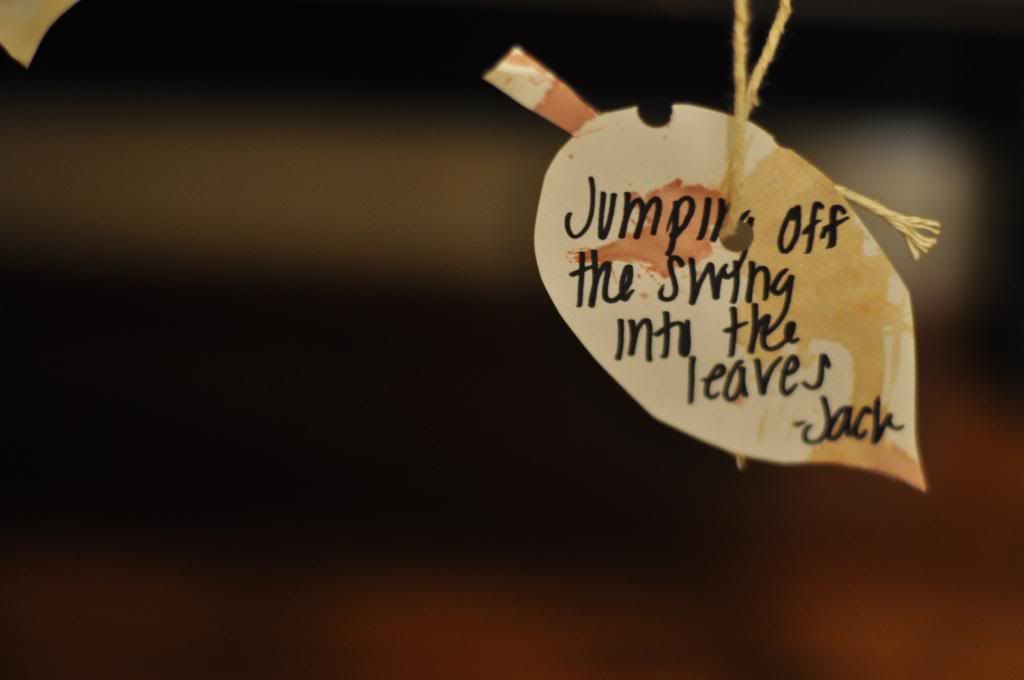 I must confess, I use this time of thanksgiving to my advantage. I'll try to encourage future good behavior by stating I'm thankful for "Good listeners at the grocery store" or "Boys who cleaned their plates at dinner!" I think Jack is starting to get it though. His interpretation of "things I'm thankful for" is more like "things I really like." And his timing is a little off. For instance, one time he mentioned he was thankful for school (he hasn't gone to school in 6 months). And he often mentions he's thankful for the pool on a hot summer day. But at the end of the day, I think it's starting to sink in.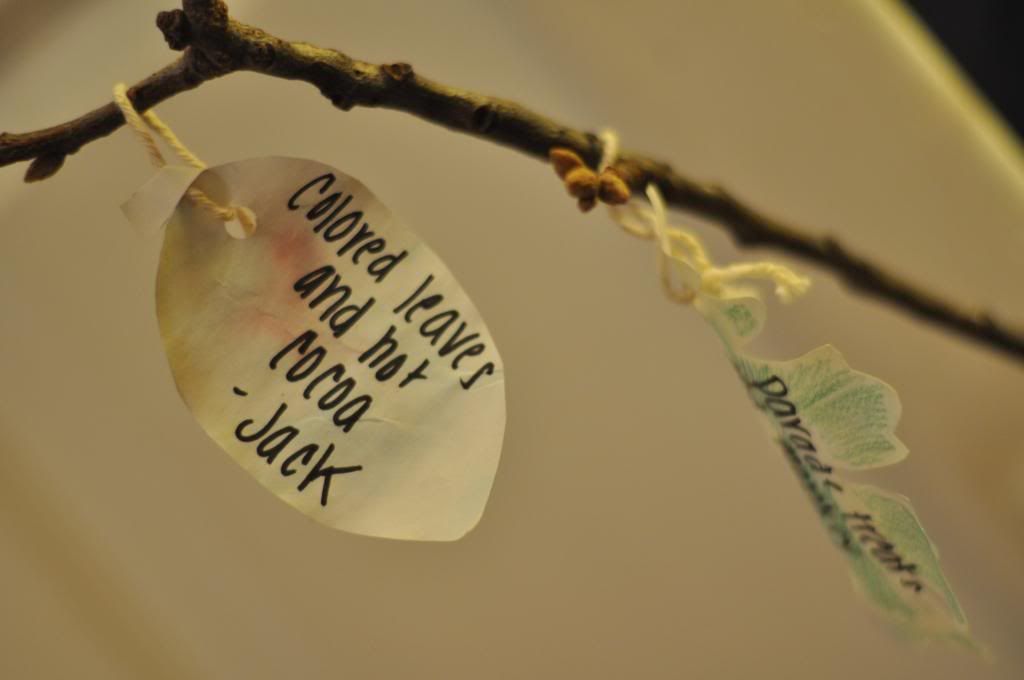 Jude on the other hand, has no idea what's going on. But he sure likes to talk about it. He'll say, "Jack, what you fankle for, Jack? What you fankle for?" And I'll say, "Jude, what are you thankful for?" And he'll say, "I fankle for, I fankle for... ahh, hahahaha!" By the time I get an answer from him it is ALWAYS: the swing. Jude is thankful for the swing every day of his little life.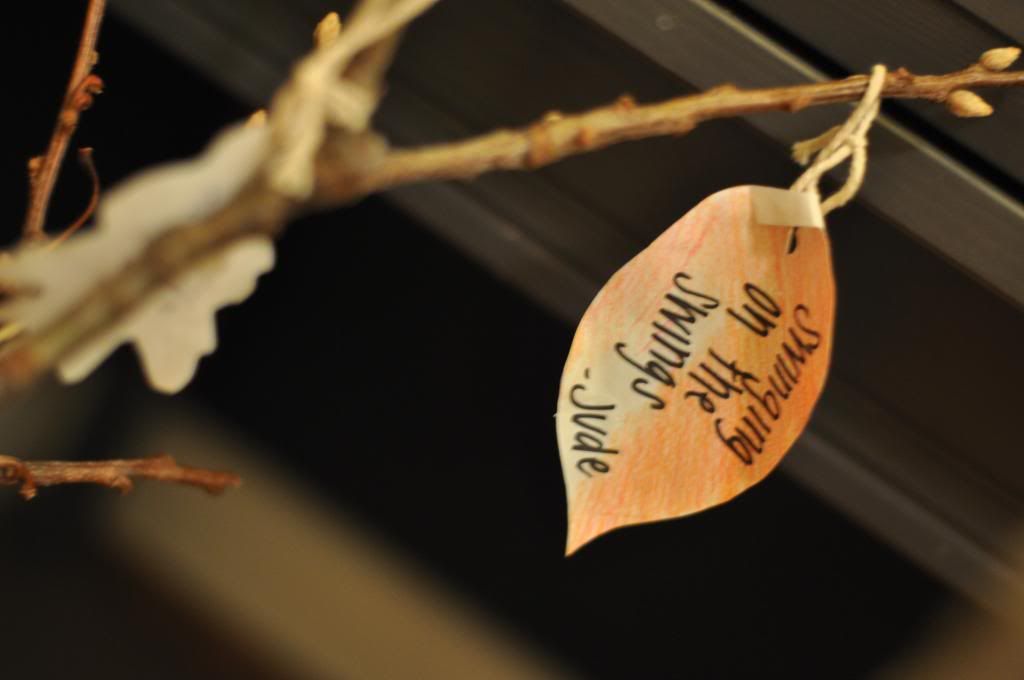 I will say, the funny thing about these character training lessons is how much they end up being for my benefit. One evening we were having a particularly bad dinner hour. Jon was working late, Julia was screaming, the boys were throwing food ... and Jack chose that moment to ask me what I was thankful for. What I really wanted to say was "Nothing, I'm not feeling very thankful right now!" But I knew if I did, he'd probably turn around and say the same thing to me the next day. Because he always follows my lead. And so I'm learning, in this act of cultivating an attitude of gratitude, that there is always something to be thankful for. Like so many other character traits, gratitude is not a feeling, it's a choice. And this has been the perfect season to really focus on those things, big and little, for which we're grateful. And it certainly doesn't hurt to hear my 4 year old, at the most random moments, yell "THANK YOU Mommy, THANK YOU for this delicious dinner!!" Oh yes, it's clicking!