As we head into these final days of the year, it seems like every day is a Christmas Eve. With 3 kids in the house there's no denying the anticipation and excitment that each new open "door" on the advent calendar brings. There's also no denying the increase in energy and volume and sheer craziness that come with these days leading up to Christmas. In short, I'm one exhausted mama.

These are the kind of things that have been occuring lately.
Jon's vacation started on the 20th, his birthday (more on that later). It was also the day of my first midwife appointment. I had been looking forward to this day for weeks. I know better now, that first appointments are usually very anticlimatic. But nonetheless, it's just nice to have someone else to validate your condition, talk it over, make it seem more real. And I was really hoping to get a glimpse of that little heartbeat before we started our holiday travels.


Baby #4 at 6.5 weeks.
I'll admit, I was also looking forward to a little alone time. I packed the book I'm currently reading into my bag and was just about to leave the house, a little bit early just to ensure some quiet reading time in the waiting room, when the midwive's office called and asked to reschedule. So not only will I not be getting that elusive first appointment until well into the new year, but I also found out there won't be a first trimester ultrasound this time around either. Major bummer.
I know they're not necessary, and for once I feel like my due date is probably pretty accurate. But it would just be nice to catch a glimpse of the little one, and confirm that is indeed only one! It seems like ages since the doctor sat down with my pregnancy test results, I'm looking forward to another pregnancy milestone - one that doesn't include falling asleep on the couch in the middle of the day or throwing up before I'd had a chance to eat breakast.
Oh well, it's Christmas and there are plenty other diversions going on for the next two weeks. Not to mention the prospect of 10 days of neither having to plan or cook meals, or even shop for groceries. I'm not sure who's more grateful about that right now, me or my family.
You can tell it's December around here because of all the times the UPS truck stops at our house. I almost feel bad, but c'mon, as a mama of 3 little ones, I do the majority of my shopping online. Jon's catching on too. He's managed to find all sorts of treasures on Amazon this year - a mug that looks like a toilet for Uncle Micah, some sort of buzzer that you can stick to the bottom of the toilet seat, and a piece of fake poop to gross everyone out (can you tell he's a sucker for that feature on Amazon that makes recommendations based on your past purchases?
Anyway, funny story about the poop. It arrived in the mail just as we were about to heard out on our date night last week. So Jon handed it off to Jared, who was babysitting with Miss Kylee that night, to have a little fun with that night. So Jared put it on the toilet seat upstairs. Miss Kylee took Jude up to go potty later in the evening and came back downstairs to a smirking Jared, but never said a word. Apparently Jared forgot until we asked him about it the following morning. After a search of the bathroom the fake poop was no where to be found. We eventually found out from Miss Kylee that she did indeed believe it was a real terd, but then efficiently wrapped it in toilet paper and flushed it down the toilet. The take-away from this story is (a) Miss Kylee is going to make an excellent mother and (b) poop on the toilet in our boys' bathroom isn't really that unusual.
I guess we'll know better next time. I've no doubt that a new piece of fake poop will be showing up on our doorstep soon since Jon has been lamenting his loss ever since the day it arrived.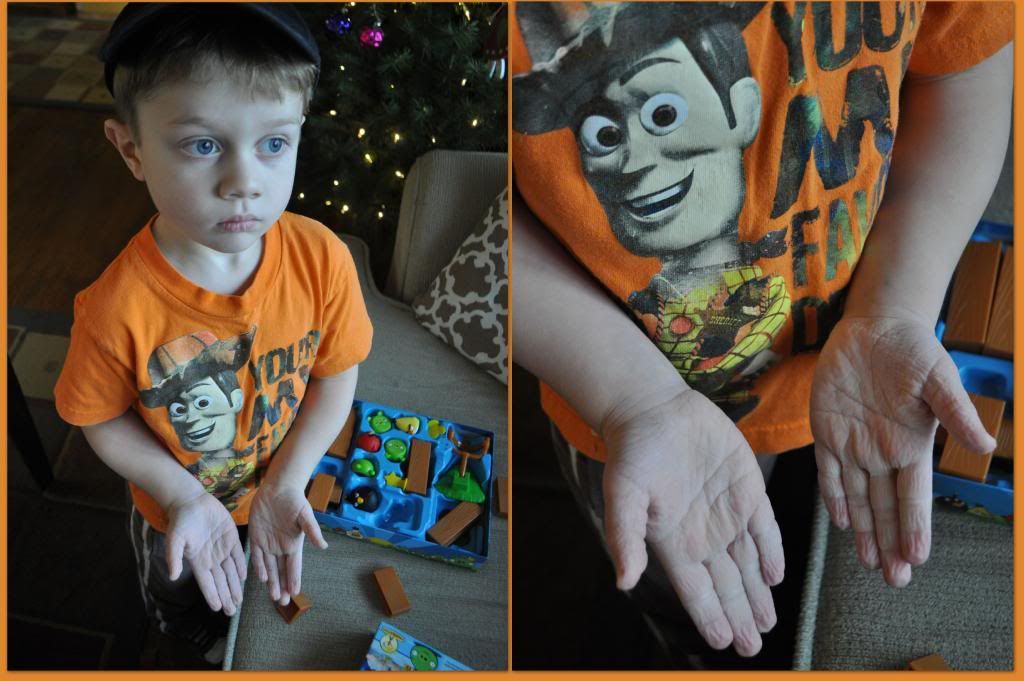 Jack got a Coast Guard tubby toy for Christmas, two hours later we had to drag him out of the tub with pruny hands.
Because of all the other festivities going on this coming week, we went ahead with our family's Christmas celebration on Friday. Which meant that Jon's birthday was also our faux Christmas Eve. We sat down to a dinner of Pickled Eggs and Beets, Deviled Eggs, Bacon-Wrapped Water Chestnuts and Ham and Cream Cheese Pickle Bites, all of which Jon specifically requested for his meal. Afterwards we bundled up, poured hot chocolate and packed up some Christmas-sy Rice Krispy Treats as we drove around and looked at Christmas lights.
After we got back we settled down with egg nog and a (abridged) version of the Christmas story. And then, as tradition permits, we were each allowed to open one present.
Oh, and in other exciting holiday news, our baby is walking!
I stood her up the morning Uncle Jared and Miss Kylee were visiting, said "Let's see you walk." And she did. Six steps for the very first time.
Now Jack has fun reaching for her and watching her walk into his open arms.
Well, we're delving into the next 10 days of holiday madness with two feet (and some hefty doses of Vitamin C and Echinacea). I'm sure we'll end up exhausted and ready for some quiet time at home, but for now we're feeding off all the excitement and anticipation that three children bring to this happiest of seasons! Merry Christmas from our family to yours!