On Saturday we met up with some Coastie friends to attend the 30th Annual Eastport Yacht Club Lights Parade in downtown Annapolis. Since this happens right on the water by the Naval Academy, and we can get on there and park for FREE, that is just what we did. And it was perfect!
So a word about my photos: My camera flash broke, which isn't a big deal because I never use it and I have an external flash. But I've also never used that and clearly have no idea what I'm doing. I'm going to need some lessons from people who know over the holidays, until then here are *the best* of what I could capture, and that is not saying much!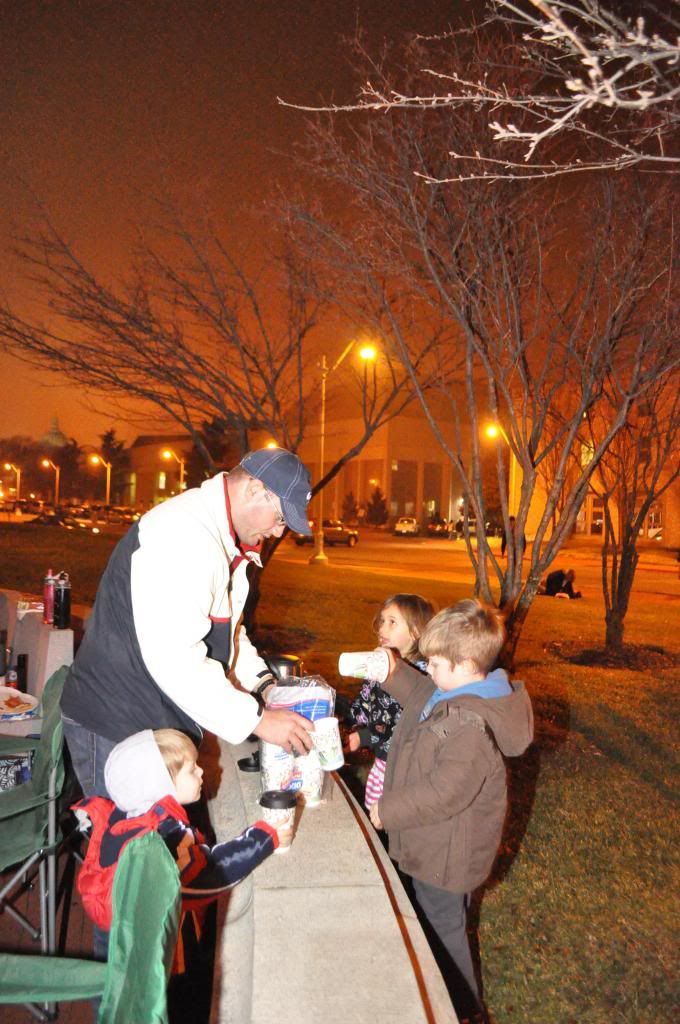 The hot cocoa bar.
We arrived an hour early, found a great spot complete with bench and trees for the boys to climb, and set up our spread. Yup, a Christmas tailgate of sorts (and I though those two words would never work together). There was pizza, of course. And veggies and dip (there should have been apples and caramel but
someone
left the apples in the fridge and only brought the caramel, doh!). And special gingerbread cookies that the boys and I had been working on. Oh, and hot chocolate to keep us toasty warm.
A word about hot chocolate. In my family, it was always a tradition on Christmas morning to drink homemade hot cocoa out of our personal Santa mugs. Except, no offense mom, but her homemade hot cocoa recipe was the pits. And we couldn't start opening presents until the cocoa was drained. As we kids got older we finally convinced our parents that it was one tradition that needed to go. And from then on I was convinced store bought hot chocolate packets were the way to go. Well, no longer my friends! I will freely admit I've been wrong, so wrong. There are many, many great homemade recipes out there that I've tried over the years. But I think this weekend's has been my favorite. And if you're curious, check it out
here
. Oh my heavens my heart just lurched in my chest thinking about it...
Anyway, back to the parade. It was a beautiful evening, this was our first time attending the lights parade but I've heard that previous parade evenings have included snow, sleet, rain and wind. We had none of that. Chilly enough to see your breath, but not too warm to take away from the winter festivities.
One downfall to living in this area: Ravens territory.
The event lasted two hours, during which the boats would circle the harbor several times, so you had plenty of opportunities to yell, wave, snap pictures and see all the lights. About halfway through new boats were added. Apparently it was a contest, and
winners were announced
, but since they are only listed by the name of the boat (and not their decor) I have no idea who won.
An Irish theme.
I do have a few of my personal picks though.
For my brothers, who force us to watch "A Christmas Story" every year.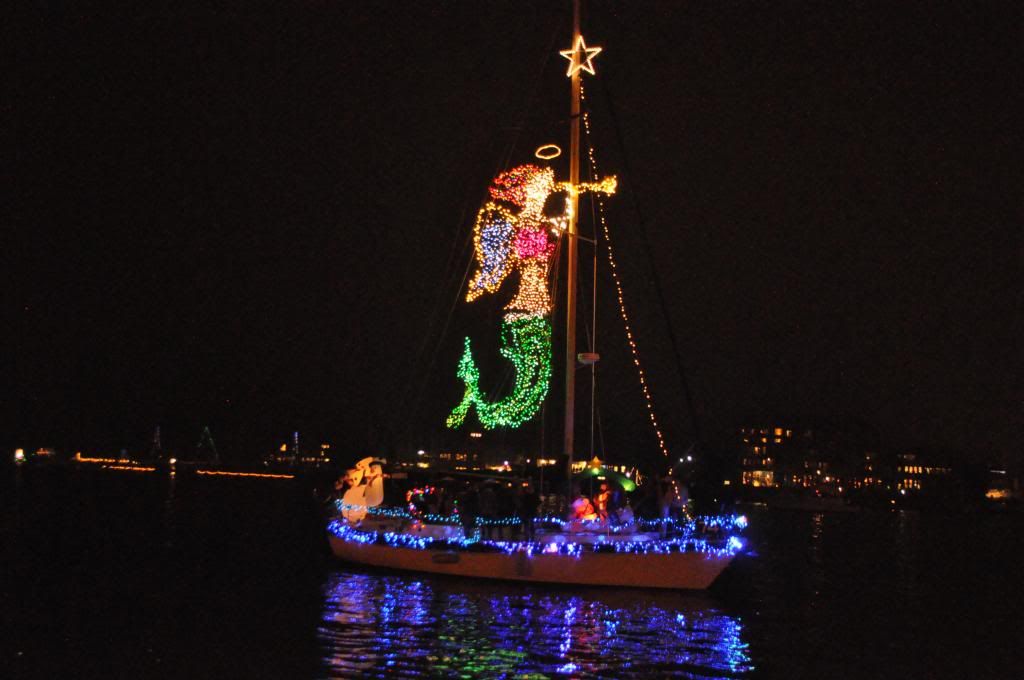 What Jack calls "an angel with a tail."
I loved Rudolph out in front of this one.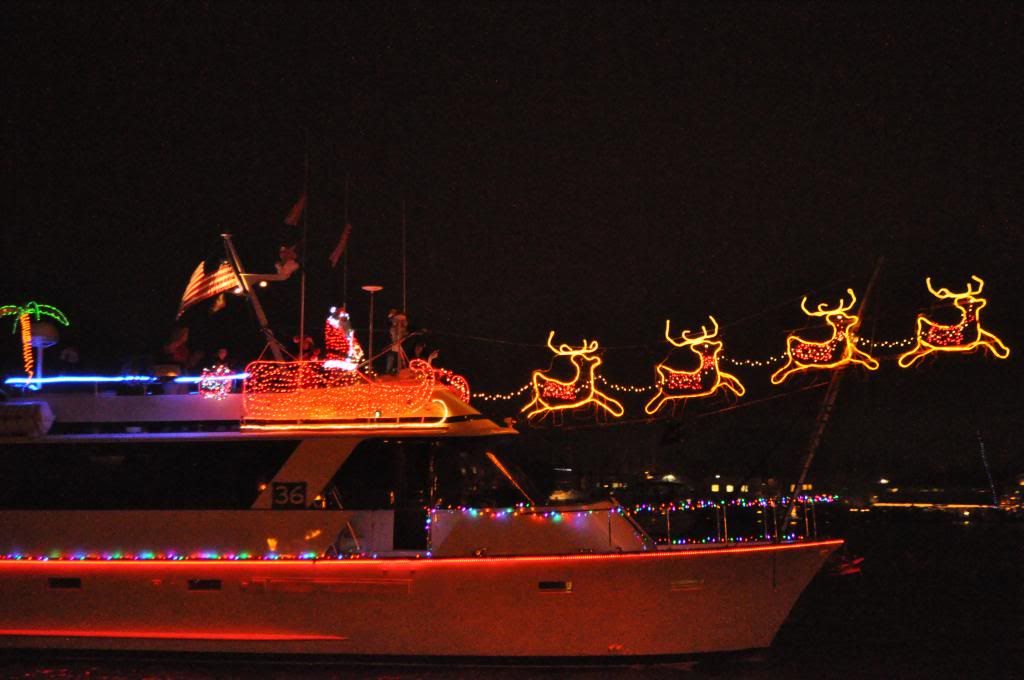 But the best part was the man dressed in light-up Santa suit!
This one was playing Frank Sinatra music and had people dancing on the boat!
My top pick, a lighthouse complete with flashing light, fog horn and wave noises!
Parade aside, the highlight of the evening was when I asked if Jon would take Julia, since I had been holding her most of the night and wanted to take some pictures. Just as I handed her off I looked up to see Jude, silhouetted against the Naval Academy, back arched, shirt pulled up to his armpits and the street lights reflecting off an arc of yellow urine. I yelled, "Jon, he's peeing!" To which my hubby replied, "Sorry, I'm holding Julia." And by then all 300 people around us were well aware of what was going on as well. By the time I reached Jude he had fully emptied his bladder and was enjoying the laughter he'd garnered from the crowd. Our little showman.
He held on to her the rest of the night and left me to handle the boys.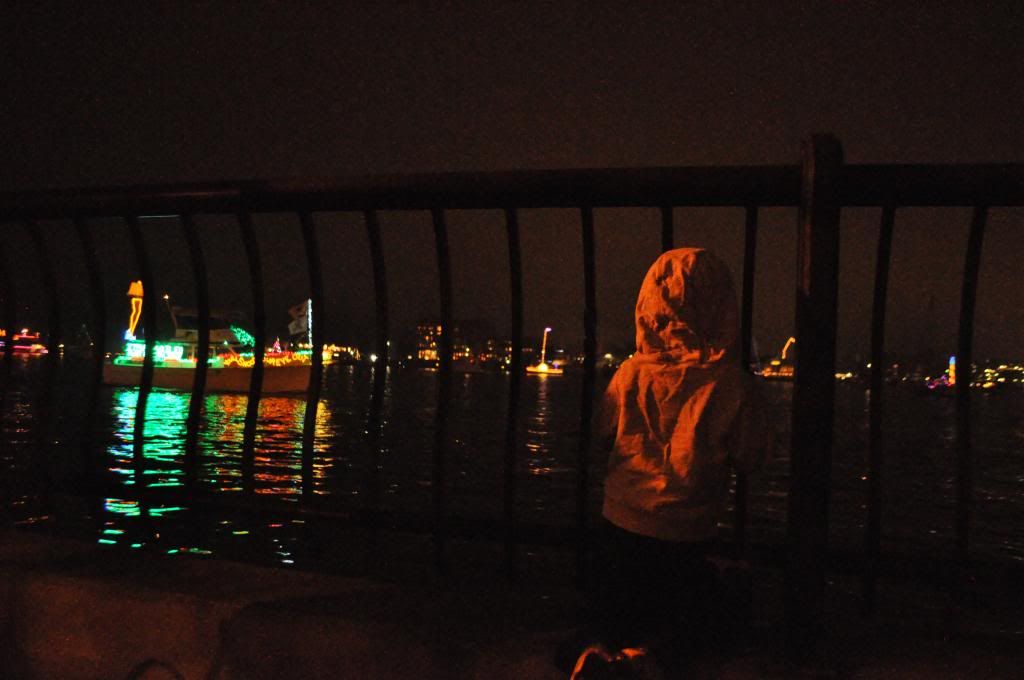 Keeping Jude close.
Lawn watering incident aside, we had such a great time! Two of my favorites - Christmas lights and boats - in one evening! It's always fun finding new ways to ring in the holiday season, especially when you're fairly new to an area. And Annapolis always delivers, I can see why the Navy folks call this their "dream tour!"