Rest and recuperation, and respite and rejuvanation and a little romance ... The hubby and I were able to get away for a short trip, just the two of us, this past week and it was soooo wonderful!
Jon had military training in Pennsylvania last week and rather than stay home and try to take care of the boys on my own in my current state, we invited ourselves up to spend the week up at Marmie and Poppa's where we all three were all well taken care of. After Jon's training ended he met back up with us, we kissed the kiddos goodbye, and were off for a rare 36 hours of alone time - the first we've had together since Jack was born!
I'll admit, it was a little more difficult to leave the boys than I anticipated. We've only left Jack overnight once before, when we were in the hospital having Jude. And I've never left Jude for more than a few hours. Not to mention he's still nursing, and still not doing so well with other milk alternatives. Plus he just seems so young, I was afraid he wouldn't understand that Mommy was going away but would be back. But apparently all went well! The boys spent all day Thursday with Marmie and Poppa, who took them to a castle playland, and then spent the night and next day at Nonnie and Poppie's. And despite the fact that Jude appears to be cutting at least 7 teeth right now, and has been up in the night a lot more lately, he slept straight through for Nonnie. And then he took a two hour nap the next morning. Unheard of!!
But enough of the boys, this trip was about Jon and I! We wanted to do a little something to celebrate our 5 year anniversary coming up in two weeks. Since we're not going to the Cayman's this fall anymore like we had hoped, since we can't make plans this summer with the move and Jon's new job, and since I wasn't willing to leave Jude for too long at this point, we found a quaint little bed and breakfast in New Jersey to visit for one night.
Woolverton Inn
was nearly perfect!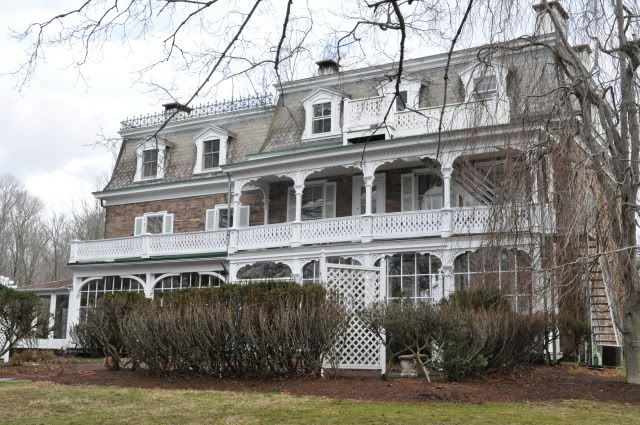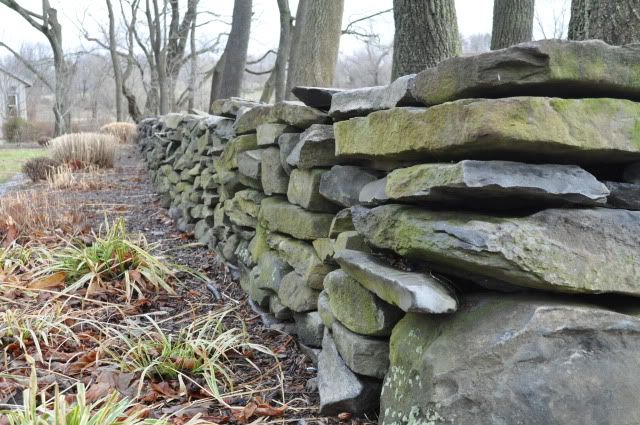 I need to go ahead and apologize for the quality of these pictures. I am so preggo-brained right now I should really just stick with a point-and-shoot for the rest of this pregnancy, or at least trimester. Instead, I managed to take a handful of pictures on a completely absurd setting and not realize it until we were in the car and on our way home. Pfff...
This was our cottage.
So anyway, the only problem with our getaway was that it rained the entire day and night we were there. It kind of made for a dreary visit, and we weren't able to do much exploring of the grounds like I was looking forward to. But when your goal is just to relax and enjoy the peace and serenity a little rain on the roof wasn't so bad.
Our lovely room.
These windows look out onto the sheep pasture.
Loved the fireplace!
The cupaloo above the bed.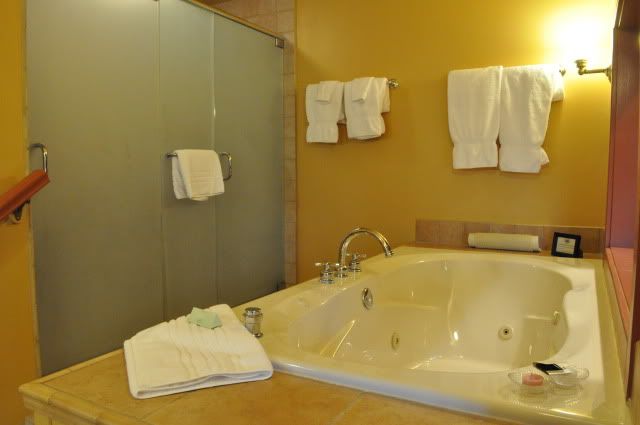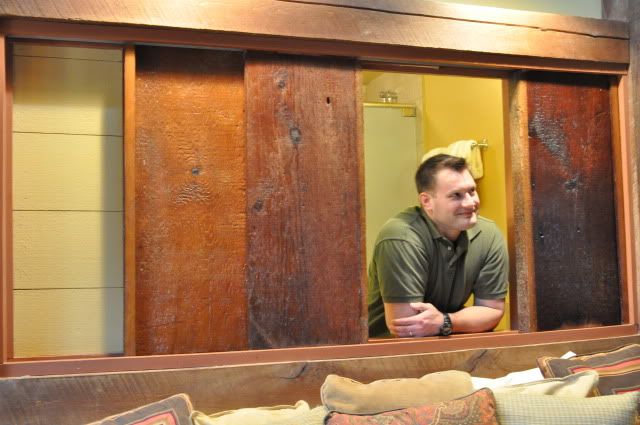 Barn doors looking out from the whirlpool tub to the fireplace.


<><> >>
Fresh flowers in all the rooms!
<><> >>
We ventured out in the downpour to visit
The Inn at Phillips Mill
for dinner. I was a little skeptical after reading some of the reviews but it ended up being an ideal anniversary dinner. Phillips Mill is an old stone barn converted into an inn and restaurant. We sat in the glassed in porch with a fire roaring behind us. Since it was a weeknight in March, we were the only couple there for a little while. Another older couple arrived soon after, and the host seated them right behind us. And not that we mind being close to other people but this was an extremely chatty pair, who proceeded to pour forth their life's history, complete with pictures, for the next hour. So much for a quiet dinner.
The food, on the other hand, was magnificent! I tried to take photos, like all those cool foodie bloggers do, but between the candlelight and my shaky grip they all came out fuzzy. So picture an almond dusted brie with mandarin orange reduction and a trio of smoked seafood with dill creme fraiche for starters. I had a crispy fresh house salad with the most delicious tomatoes (and I'm not typically a tomato eater!) and Jon had crawlfish bisque, which he claims was the best soup he's ever tasted! Dinner was fillet of beef with blue cheese butter for me and black angus dry-rubbed strip steak with a red wine sauce for Jon. After all that we were feeling lively and went for dessert, which I later regretted but it felt right at the moment! - some chocolate, vanilla strawberry cake for Jon and orange creme brulee for me. Baby #3 is only the size of a grape these days but he/she was definitely hurting for space after that meal!
It continued to rain all through the night, which resounded on the cupaloo above our bed. Add to that a cozy fire and no TV, and we had a relaxing evening of reading and playing Scrabble.
Oh and did I mention the fabulous featherbed, terry-cloth robes and complimentary drinks? Heaven.
The next morning the rain had stopped and since we slept with the windows open we awakened to the sound of bleating sheep. The sheep pasture is actually right outside of the cottage where we stayed and they can walk right up to your window. I just love sheep and the way they remind me of England!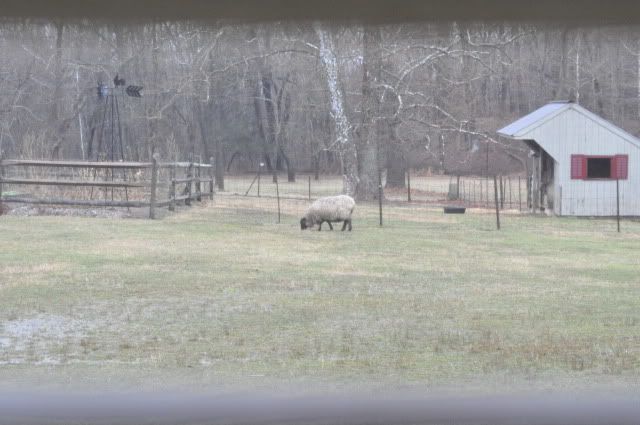 View from our window ... I took more pictures of the sheep up close but alas, they did not turn out.
Other view from our window.
You can order breakfast in bed or eat in the manor, which is what we did. It's served in one of the main rooms in the house but during the warmer months you can also eat out on the porch.
Breakfast room.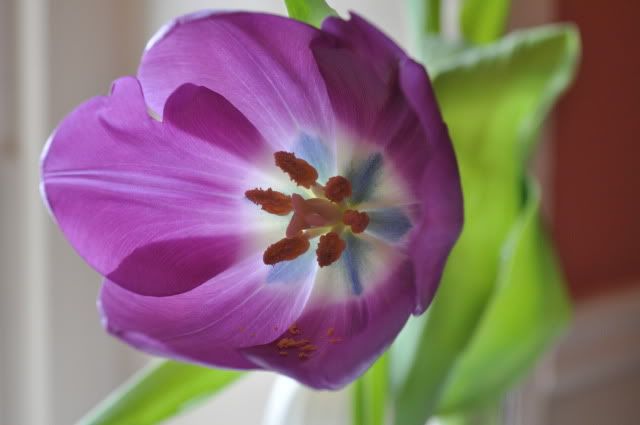 Fresh flowers.
Breakfast was everything I was hoping it would be and more! Chocolate cherry almond muffins, homemade granola with yogurt and lemon ricotta hotcakes with fresh fruit and apricot glazed pork sausage. Mm mmm!!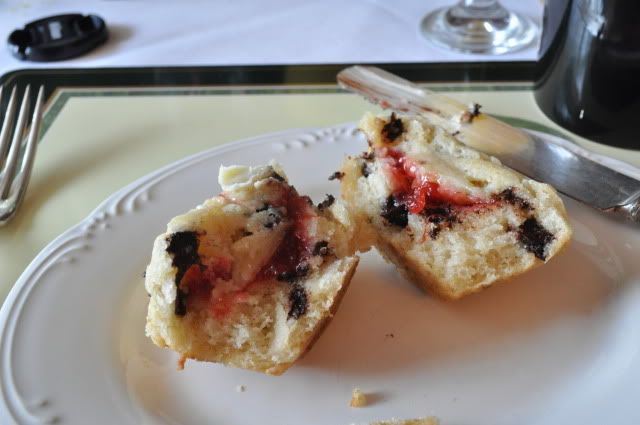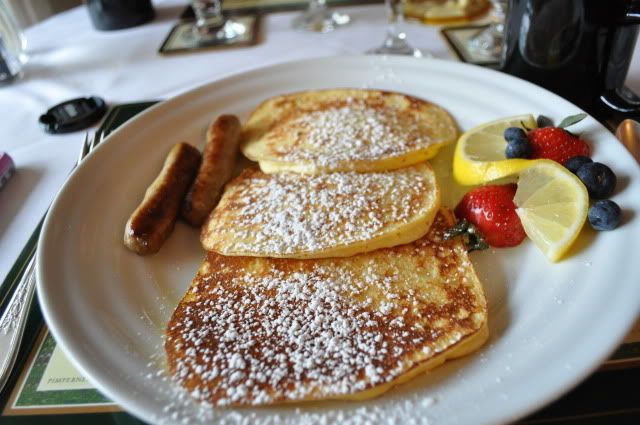 The ground was too soggy for exploring and we wanted to soak up our last hour in the room. We loved it so much we hated to say goodbye. I should add here that my husband was completely opposed to staying in a bed and breakfast a few months ago. I think this latest pregnancy has evoked some sympathetic feelings and he finally gave in to my request. I actually wanted to stay in the manor house (it's a little cheaper and the house looked amazing). But after touring the other rooms I'm really glad we ended up in the cottage we chose. Actually we were supposed to be in a different one but when we checked in they had an opening in the Hunterdon, which was Jon's favorite, so we were able to move over there. And let's just say the man was impressed. He loved the antique furniture so much he was eager to hit the town and find some for our own home. And we did. We now own a lovely little 1930s hutch, which is currently in my in-laws attic until we have enough room in our car to bring it back down to our house. :)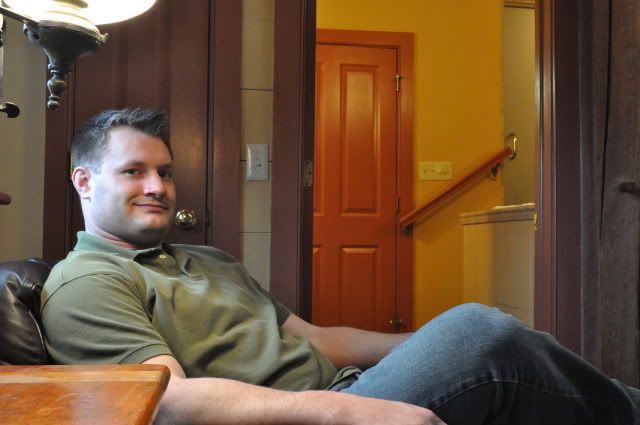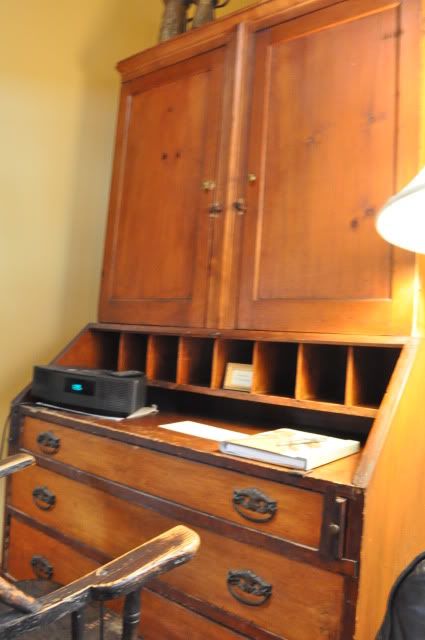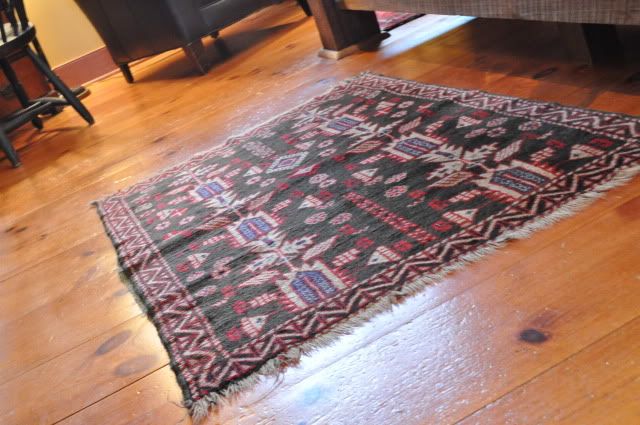 So after checking out we decided to hit the town. Although Woolverton Inn is in New Jersey, it is right on the Delaware River, which means it's just a hop, skip and a jump to Pennsylvania. We drove over to New Hope to walk the streets. New Hope is a very cute down, with lots of little shops to explore, but I have to say I was a tad disappointed. Many of the stores weren't even open (for the season) and those that were didn't open their doors until noon. And although I love shopping handmade and local ... well, these prices were just not in my range. So we just admired.
We also made a quick stop in Lambertville, NJ, which is where my college roommate had her wedding reception almost two years ago. And then Jon wanted to check out Washington's Crossing, which he willingly re-enacted for the camera.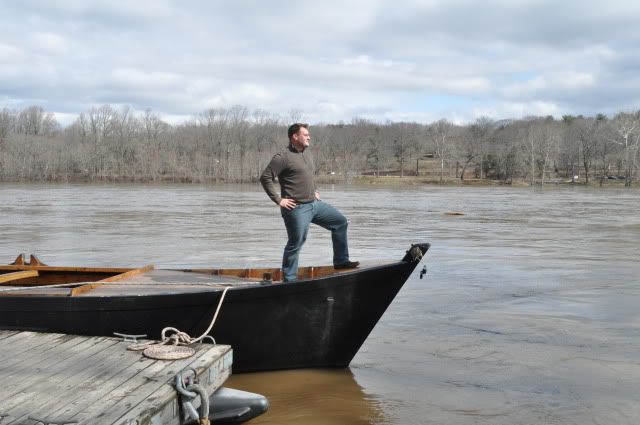 We really wanted to climb Bowman's Tower and get a view of the valley but it was closed. Notice a theme here? I guess there's a reason it's called "low season."
My most favorite part of the day was just driving through Buck's County. I have never seen so many stone farmhouses before in my life! Or just plain lovely houses period. It's just another thing I miss about Pennsylvania, people really take pride in their homes... and it shows!
Drive-by shooting.
We made it back to Jon's parents' house just as the boys were wrapping up dinner. Ohhhh it was so good to see them, and hold them and kiss those cheeks! It was an amazing 36 hours, and a much needed break for the two of us, but I am oh so happy to be back with our other half!