Sometimes, okay most times, I get a little nervous when I think about this fall and being responsible for three little tots. I tend to get most nervous on Mondays and Tuesdays because those are Jon's long days. The days where I'm on my own from wake-up to bedtime, through all meals, naptimes, tubby times and book readings. Until they finally stop chatting in their beds and I can stumble right on by the pile of dirty dishes in the sink, collapse on the couch, flip on HGTV and marvel at how exhausted I am. I mean, it's just two kids!
And most moms don't have it as good as I do, since the other three days a week my husband is working from home and can lend a hand when the boys are screaming for lunch and Mommy ends up spending 30 minutes on the phone listening to a prospective student go on and on about her health, financial and relationship issues, despite the fact that this same person began the conversation with "I only have a minute but ..." By the time I got off the phone Jack was already down for his nap and Jon was working on the washing the lunch dishes. Yeah, I have it good. For now.
Jon recently spoke with his new boss and it would seem that we can expect long work hours in his new job and loads of traveling. And not just a few days here and there. I believe a two month stint 1,000 miles away was mentioned. "Dear Mr. Coast Guard Captain Sir, I'm going to have a newborn, in addition to a very spirited, highly active 3 year old, and his sensitive, mama's boy 18 month old brother. You cannot take my husband away from me for two months!!" Needless to say, I'm already scouring Craigslist for potential Mother's Helper applicants. And "guest bedroom" has moved to the top of our housing "must have" list since we now have an open invitation for either set of grandparents to come and go as they please, and stay for as long as possible.
Other than that, I try not to think about it. I try to just focus on the here and now, and heaven knows there's plenty to focus one. So where are we now?
Now, we're really into tape measures. As in, we've already broke two and have been caught devising a way to retrieve a third one from Daddy's tool box. Clever boy.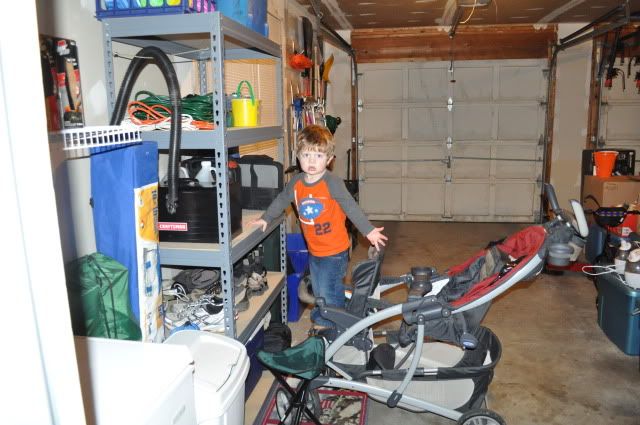 He figured this one out all on his own folks. Just can't figure out how to open the toolbox.
Now, we have a shorter haircut, compliments of Daddy. (Might be a long while before we attempt that again!!)
Now, we are suffering a bit of cabin fever. The weather's been cold and rainy this past week and some of us are bouncing of the walls, literally. Jack has taught himself how to do foward rolls and does them the whole way across the house. Of course, when we are able to get outside after a rain shower, the results can be traumatic. Poor Jack. He was having so much fun running through the drainage ditch ... until he fell face first into the mud.
For days afterward he would randomly start telling the story: "Puddle ... eyes. Eyes in the puddle."