I had such a sweet and precious Valentine's Day (or Balentimes as Jack would say) this year. It's funny, Jon's been traveling so much lately, we're approaching our 6 year anniversary, and with three little ones running around I'd hardly call these the "honeymoon" years. I wasn't expecting this Valentine's to be anything special. But I'm learning to see things through my kids' eyes. And especially now that Jack is in preschool and seemingly facing a holiday party every other week, I don't want to miss out on any "teachable" opportunities. No, we don't have a lot of romance going on around here. But I don't think that's what St. Valentine had in mind anyway. His story is fairly hazy, but love abounds in so many forms. And it's safe to say we have a WHOLE LOT of love in this house. And I don't mind celebrating that a bit.
Sadly, I didn't get to do much decorating this year. I'm playing single mom many days, and Julia has finally hit her 4-month growth spurt. I'm excited to see her flourishing and eager to eat, and after over 2 months of her sleeping through the night I can't really complain about our recent 3am trysts or eating-every-two-hours days. It will be over soon, but for now it makes for an occupied, tired mama. So we got one craft accomplished this year: crayon shaving hearts.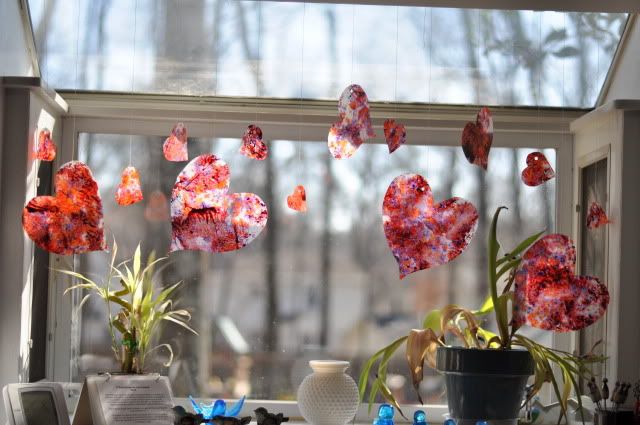 Hubby got me tulips a few weeks ago for no apparent reason (which are now no longer blooming) so I was curious to see what he'd be getting me for Valentine's this year...
I was reminded of these on Pinterest but I must give the real credit to my mom, who used to do something similiar with my brothers and I when we were little. While not exactly a "toddler-friendly" craft, Jack was a little help with shaving the crayons. And he was right there next to me as I ironed each piece together. They're perfect hanging in our sunny kitchen window. And while these are the only holiday decor in the house, it doesn't really matter because truth be told, we all like to wear our hearts on our sleeves these days. I swear this little lady has had more kisses in her 4.5 months than most girls get in a lifetime.
In school, Valentine's Day was my favorite holiday. I just loved getting my very own "mail" in that lovely foil-covered shoebox. I guess I'm kinda a "words of affirmation" girl because I would proudly bring that box home each year, spread the Valentines out over a table, and read each of them over and over again. More than likely over-analyzing each and every Hallmark cliche sentiment. I thought really hard and long over the Valentines I handed out, and I was sure each of my fellow classmates did as well. Surely, "be mine?" meant much more than one initially thought! And then I carefully slid each Valentine into it's own baseball-card-sleeve that I stored in my awesome Lisa Frank Trapper Keeper. I'm not sure where that Trapper Keeper is today, but I'm quite certain I never threw it out.
So yes, I was looking forward to Jack's Valentines much, much more than he was. No store-bought sentiments for my guy, I wanted to go all out this year. I found
this cute idea on
Pinterest and knew it was perfect for my Monkey-lovin' boy. Remember "Monkey"? Well he has multiplied this past year. We've now added "Mr. Chimp" and "Monchichi" to Jack's bed pals bunch.
I'm not sure what you'd call this gang. They're not exactly lovies. Half the time we forget to put them in bed with Jack. And while he sometimes uses a missing monkey as an excuse to not go to sleep right away, he'll also just as often refuse to have them in bed with him. Regardless, we hold a special place in our hearts for monkeys. We also try to keep things healthy when possible, so I decided to substitute banana runts for banana chips. I dried them myself in our dehydrator. Good thing we had plenty of leftovers after the project because they were a big hit with ALL my guys!
Surprisingly, this project turned into a great lesson for my preschooler. The craft is composted entirely of shapes - a big circle, a heart, an oval, and two little circles. Jack got to practice identifying his shapes and counting how many we had completed, how many were left, how many had fallen on the floor, etc.
I would add a dab of glue and he would set the piece on top (and then I would discreetly adjust it when he wasn't looking). Good times were had by all, and as most of Jack's school friends know, he really is BANANAS for them!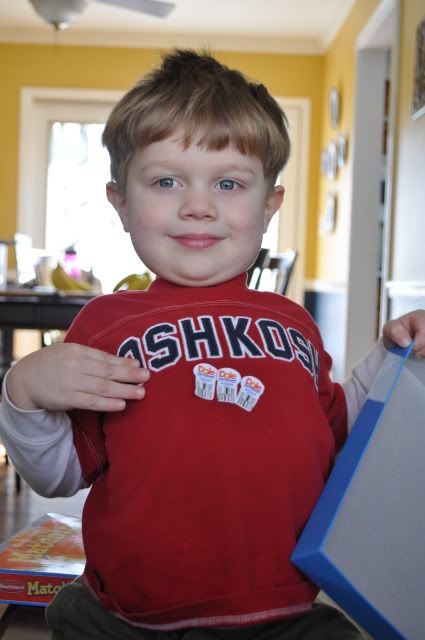 Jack loves stickers ... all kinds.
And we had to squeeze in a project for our favorite Daddy! The kids and I have never been to his office, but I have no doubt it's a bit drab. So we wanted to make him something to help brighten up and give him an excuse to show off his beauitful babies.
I love daddy/office decor. Up until his retirement this past summer my own dad still had, sitting on his desk at work, a construction paper Pirates baseball cap that I made for him in second grade. After 15 years it was faded and close to crumbling, but he must have thought it was special! We decided to make our daddy a handpainted picture frame that he can re-use for many more years to come.
This frame is resting on my Valentine's "bouquet" this year - a blackberry bush! I'm so excited to plant it!
The beginning of this week was a little tough. I can't always pinpoint the reason, but some days are just more difficult than others. But we did manage to have heart pancakes for breakfast (leftover from Jon's batch over the weekend), heart-shaped grilled cheese for lunch, and heart-shaped brownies for dessert at dinner.
The boys' plates...
... and my plate of scraps.
We even got to take a special meal to some church friends that day. Which was perfect, because all the talk about hearts gave me ample opportunity to discuss what it means to show love and be kind to others. And while it's often easy to act loving to our friends and neighbors, sometimes it's a little more difficult to do so at home with, oh let's say, our brothers!! So that's another thing we've been practicing. But not just showing love to brothers and sisters,
saying
it too. Especially when we may have hurt or upset them.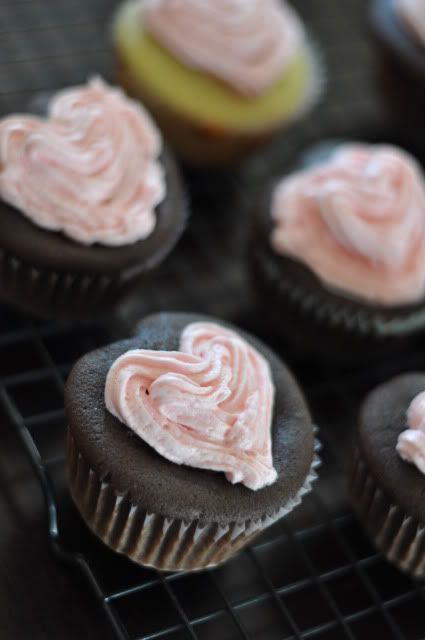 Cupcakes for our Small Group dessert. I tried using a marble to make heart-shaped cupcakes but it didn't work out that well.
So yes, that was our Valentines holiday. I'm a bit "hearted" out. The hubs is due back any minute and I am very relieved because this single parenting thing is no joke. It will be nice to have someone else around to clean up the puddle of water on the floor when I forget to lock the refrigerator water dispenser, or another person to help keep food on plates at dinner time, or perhaps I'll even get a few quiet minutes to myself to start planning out the next holiday. Any ideas on how to tie clovers and leprechauns into being kind to one another? Because that's the theme we've kinda been stuck on these past few months. Happy Belated Balentimes from our family to yours!