The best thing that's happened to me between my last two babies is ... my smartphone. Love that thing. Because while everyone else is downstairs laughing and having fun, and I'm upstairs nursing an easily distracted baby, I can still check with my friends on Facebook. Or while my boys are running laps around the room or racing cars over the couch, and I'm sitting there holding a baby, I can keep up with my work email, or take a few turns in "Word With Friends." And when I'm up feeding a baby in the wee hours of the morning, when all the rest of the world is sleeping and not updating Facebook or Twitter, or taking turns in Words With Friends, I have Pinterest. Because Pinterest is the second best thing that's happened to me between my last two babies.
And so, since my hubby was out of town most of this week and the kids and I all had colds, and Jude has been getting me up at night for no apparent reason... And because we were mostly in survival mode and just trying to make it through 'til bedtime, just letting dishes pile up in the sink, laundry pile up in the hampers and dirt pile up on the rugs... I don't have many pictures or stories from the week. Instead, I'll share a few of my latest Pinterest inspired projects around the house.
Probably the most "pretty" of my projects, I made this
felt rosette wreath
for the winter months. I wanted something to hang on my door after Christmas and before Valentine's day, that still exuded the feel of winter. I love this wreath, but unfortunately it doesn't work on the front door since it's not weatherproof. That's okay, I kinda like it in front of the mirror. And that means I'll just have to find a new idea for the front door.
We're having some houseguests over this weekend so I'm trying to get the place all shaped up. That includes following my husband around the house and nagging him to hang up that picture that's been sitting on the floor for weeks now. Like this sweet Jane Austen quote my friend Megan crafted for Julia's room:
I also finally updated my kids photo shelf to include our third child.
Okay, who am I kidding? I've got nothing to hide. This is what's really going on beneath that lovely photo shelf.
And I spray painted this frame from our storage space to show off our little family. It's not exactly from Pinterest, but the font I used for the captions is, along with the font I used on our Christmas card greeting. I got them, along with a bunch of of other fantastic, fun fonts from
here
.
And of course, the house needs to be clean for our guests. That's been nearly impossible this week while my wingman was gone, but I have big plans to tackle it all tomorrow with lots of new ideas from Pinterest. I'm starting to get into making my own cleaners, natural remedies, vintage concoctions, etc. So I took some Christmas money and purchased a few essential oils to get my little practice started.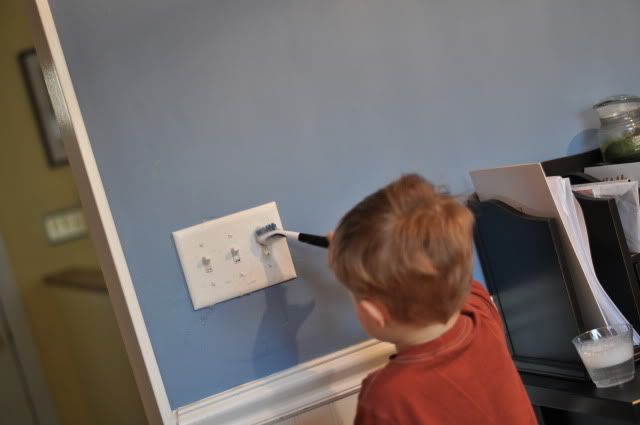 He thinks he's painting, but really he's scrubbing the grody light switches.
Just a few days of sharing a bathroom with a potty-trained little boy will have you re-thinking your bathroom cleaning routine. And by "potty-trained" I mean "3-foot-radius-around-the-potty-trained." And then there's the toothpaste, spilled soap, water marks, etc. It's not like I actually enjoy cleaning my bathroom, and I certainly don't want to do it every day. But I also don't need the regular reminder that I'm the only adult around for the majority of the time. It's also nice to have a quick, easy way to spruce things up when you know someone is stopping by. Enter:
homemade ready wipes
. Thanks to my overwhelming supply of old hospital receiving blankets, I have plenty of reuseable "wipes" to store under the bathroom sink. A quick swipe with one of these and the toilet or sink are fresh and clean again.
One of my favorite blogs for natural alternatives around the house is
http://www.diynatural.com/
. A lot of homemade cleaner recipes call for essentail oils, and while not necessarily "essential" they certainly add a boost of cleaning power. But if you don't want to invest in oils, I did find a great alternative - orange-infused vinegar! All you do is stick your orange peelings in a jar (this time of year we always have oranges around!) and fill the jar with white vinegar. Give it a few shakes every once in a while and in a few weeks - wa-la, a powerful cleanser! I use this in place of regular white vinegar in any cleaning recipe. I love it on my wood floors. Yes, it smells a touch like vinegar, but it also has a little citrusy scent. The combination just seems fresh to me!
The one on the left is in-process. The one on the right is from last winter
I mentioned a while back that I was experimenting with homemade laundry detergent. I'm still trying to tweak my formula. It seems okay for me, but I like unscented detergent. Jon hates it because he prefers to SMELL clean a mile away. And it doesn't get the job done on the boys' really messy clothes. I'm hoping a clothesline this spring will help with some of that but for now we're in laundry limbo. My original attempt at
homemade dishwasher detergent
is still a smashing success and has been fabulously cleaning my dishes for months now!
One other fantastic cleaning tip I found on Pinterest was for my stove burners. I didn't even realize they were dirty until I saw
this blog
and pictures of what they are supposed to be like. Unfortunately, this task involves ammonia. I've never cleaned with ammonia before, and went out and bought it special just for this chore. Conclusion: It's nasty. My husband was complaining about the fumes from the floor below! Supposedly it works well on the oven too, maybe I'll try it the next time we go on vacation and no one is home to breathe it in!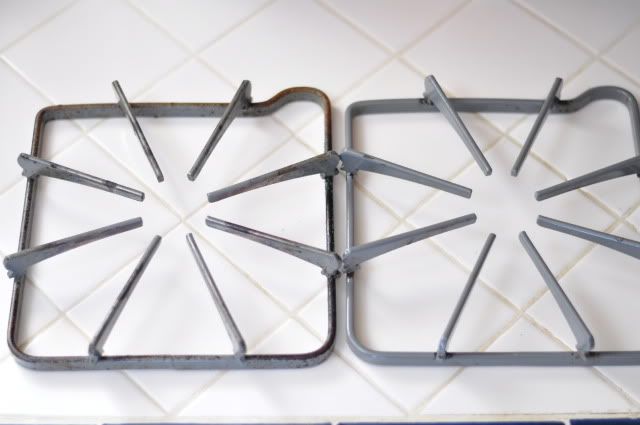 Left - before, right - after. I was in too much of a hurry to scrub so mine aren't as clean as they could be.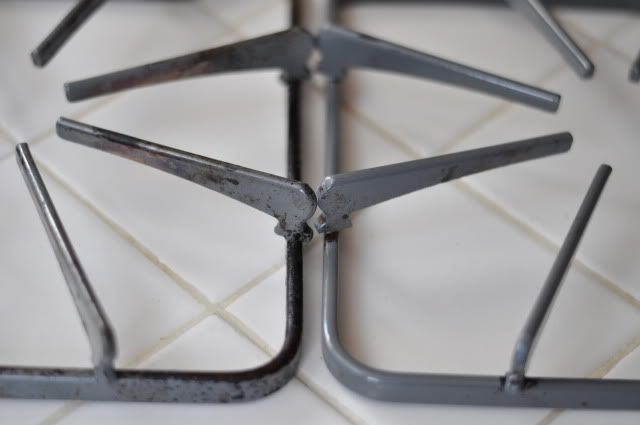 I know what you're thinking. Nice burners Janine, but your tile countertops could really use a good scrub too. I know, I know. It's next on the list. Because fortunately I have the solution to that problem also on Pinterest, you can find it along with other cleaning ideas at
http://pinterest.com/j9tillman/squeaky-clean/
.
One of my most successful experiments was
homemade hair gel
. As a curly girl, I've been struggling to find an effective (and affordable) hair gel since Suave stopped making their spray gel while I was back in college. Last week, I found it: 1 teaspoon gelatin, 1 cup water and a few drops of lavendar for a nice refreshing scent. While this gel was okay as a "solid" I prefer spray gel. So I just put it in an old bottle, filled the rest with water and shook it up. And so, for less $.30, I have an entire bottle of spray gel. And it works well too!
Speaking of hair, I don't use shampoo very often. I read
this blog article
early last year and it's been baking soda and vinegar (and occasionally a deep conditioner) ever since. I actually like my hair much better without shampoo. It's more compatible with my curls and easier on my wallet!
Around the same time I stopped using shampoo I started the
Oil Cleansing Method
. I like it, I think it's wonderful, but when I started doing it I only had two kids. Sad, but true, I just don't have time to pamper my face. So while I don't use it much currently, it's certainly on my list of lifelong practices.
And while we're on the subject of bathing, I can't leave out my little sweeties! I made up
this baby body
and hair wash today and Julia has already tested it out and deemed it lovely!
I'm totally into foaming pumps now. My sister-in-law mentioned something about them when she was visiting. Even if you don't make your own soaps it's still a great way to stretch out what you do have because you can water it down. Plus it's perfect for my kids who never have the patience to really work up a lather!
And I've fallen in love with coconut oil!
Amazon was running a good deal
on it the other week, and then I found this site that lists
160 uses for coconut oil
and figured it was worth a try! I use it on my face and hands. I use it on my kids. I use it on Julia's cradle cap. Both Jack and I use it to treat keratosis. I use it to remove make-up. I use it in my cooking and baking or in smoothies. And I've only just scratched the surface!
Anyway, if you're looking for more natural bath and beauty tips you can check out my board at
http://pinterest.com/j9tillman/au-naturel/
.
While Pinterest is full of great ideas for cleaning and organizing my mom, it's no replacement for my master cleaner and organizer - the hubs. He's home now, just walked in the door. All is right in the world. I can sleep well knowing my life will be back on track tomorrow morning ... and that we'll have clean dishes to eat off of and washed clothes to wear by the afternoon. It's clear, I can't do this parenting thing alone! So glad I don't have to.