We had a special treat last weekend - Marmie, Poppa and (in Jack's words) "two friends" came to visit and have dinner. I was a bit nervous because one half of the "two friends" has two sweet daughters and two equally sweet grandaughters... and she was about to spend a day with my two extremely excited little boys! Eek!
Eagerly waiting for our guests' car to pull up.
It also slipped my mind that we were having our HVAC ducts cleaned that day. The cleaners assured me that the process would not be dusty, but I don't think they were prepared for what our little, neglected house had to offer. Because by the time my parents and "two friends" walked through the door, a layer of dust had covered all the rooms that I had just spent the morning cleaning. And to add to our first impression, there were vents on the floor, trim ripped off the wall, a monsterous vacuum snaking it's way around the house, and two strange men walking in and out of every room. Ah yes, welcome to our home!
Thankfully it was a glorious day and Poppa took the boys on a refreshing walk. And I'm relieved to finally cross "clean the ducts" off our homeowners to-do list! Everything was put back to order in time for dinner. Although the kiddos were just a wee bit excited to have guests, they were fairly well-behaved. What we didn't know was that a few days earlier Jack and Jude had been "playing" in the guest room and somehow set the alarm clock to go off at 12:30am. So the boys managed to cause a ruckus hours
after
they had gone to bed. Never a moment's peace I tell you!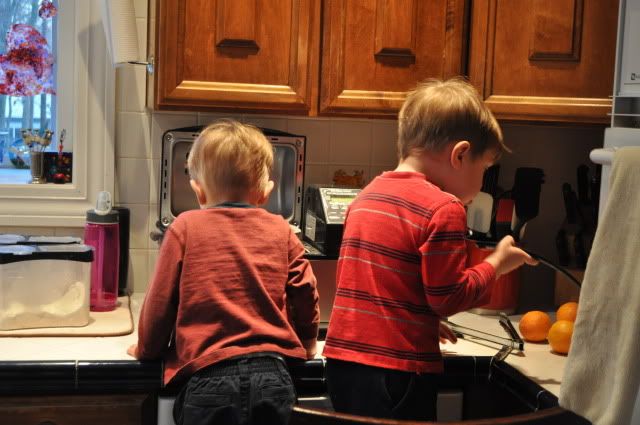 It's amazing this loaf of bread turned out okay!
Jon took our guests to the airport the following morning so they could fly out and catch their cruise. And then he left later in the week for the west coast. Yes, that's right. While Jon was enjoying sunny California and my parents were soaking up the gorgeous Caribbean weather... I was in Maryland, managing three children.
We decided to make the best of this misfortune and learn a little geography lesson. First, Jack and I pulled out his trusty Sesame Street Word Book (that's fallen apart and been taped together on several occasions!) to point out the "big plane" that Marmie and Poppa (and two friends!) got on to take them to the "big boat" that would sail out in the ocean.
And then we put together his United States map puzzle and found California (where Daddy's plane flew), Florida (where Marmie and Poppa got on a boat), Virginia (where we used to live when Jack was a baby), Maryland (where we live now) and Pennsylvania (where Mommy was a princess). Don't ask me where that last one came from, I tried to tell him Pennsylvania was where Nonnie and Poppie live, where his aunts, uncles and cousins are, where we go to visit all the time, where Mommy and Daddy grew up. But for some reason he got it into his head that I used to be a princess in Pennsylvania and when Jack gets stuck on something that's the end of it.
We did make it through the week unscathed. It certainly helped having a few warmer days, a fun playdate on the books and Jack's best day of school EVER. (Phew, so glad to finally be gaining ground there!!)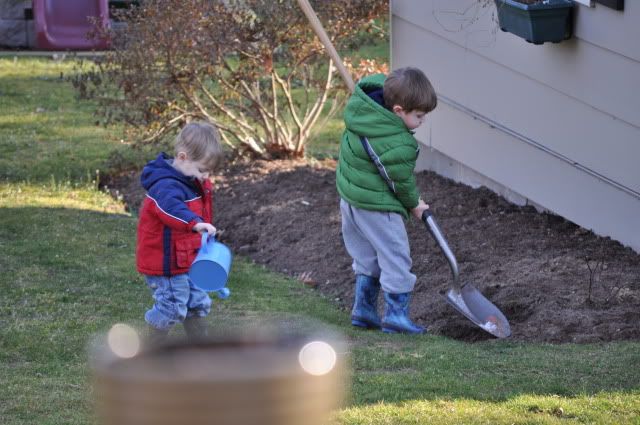 Re-enacting the planting of the blackberry bush.
We're thankful to all be healthy this week (here's to saving money in tissues!), happy to have Marmie and Poppa only a phone call away (I can't tell you how many times I had to stop myself from calling one of them with a question last week), and glad to have Daddy home for dinner in the evenings (and not just because I hate throwing out leftovers!). Now, I think it's my turn to go on a trip!