Last Friday, as in a week and 3 days ago (since we're still working on a minimum one week delay in blogging these days) I had to go into "the office." We're prepping for a big audit and Friday was my committee's assigned day to work. I didn't know how long it would take and since I can't leave Julia for more than a few hours, we decided to make a family trip out of it. And since Jon doesn't exactly watch all 3 kids for more than a few minutes at a time, we decided to bring in the reinforcements. Marmie and Poppa were all to happy to return to the beach with us. And since we were making it a mini-vacation, we decided to find a place to stay and beach-it-up for a few days.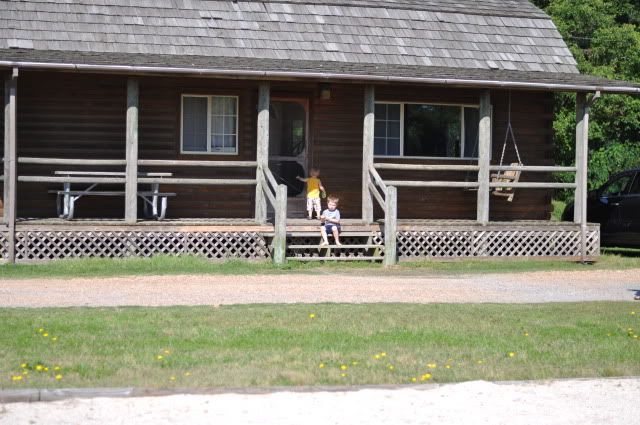 We ended up finding the best deal by renting a cabin at Fort Story. Two bedrooms plus a loft with a full kitchen. I'd say the accomodations were "adequate." The beds were wildly uncomfortable. But I just kept reminding myself of all the money we were saving on two hotel rooms and not having to eat every meal out. And Jack and Jude were pretty excited about "the cabin" as well. It did help to have a playground right out in front where we got to observe Jack's interesting knack for making friends.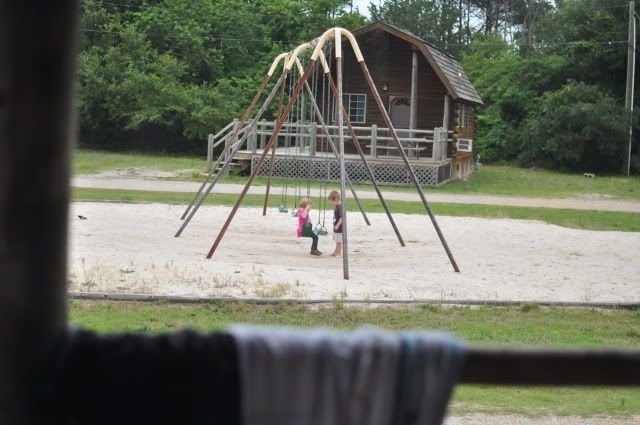 He literally just walked up to the girl and stood there, unmoving. Jack, that is not how you make friends.
We also had views of the Cape Henry Lighthouses. You may remember, this is the beach where Jon and I got engaged. I like to call it "Proposal Point." We had planned on taking a walk out there to re-live the moment but never got around to it. Marmie and Poppa did though and caught a magnificent sunset. Unfortunately, we were back at the cabin trying to put little ones too bed.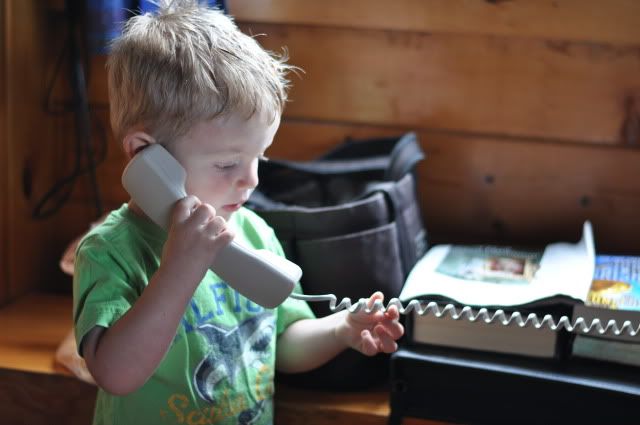 "Uh-wo?"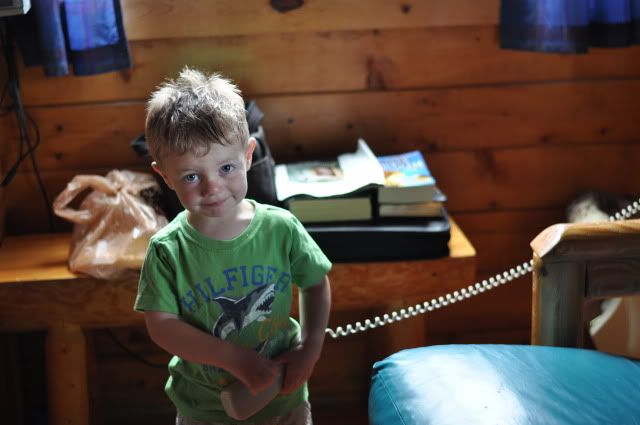 "'Scuse me mom, a little privacy please?"
Speaking of which, it was an interesting process. The bedrooms weren't very big. In our case, just enough room for a double bed and Julia's pack 'n play. Which meant the boys would be sleeping in the loft. First of all, the boys have never slept together in the same bed. Second of all, Jude has never slept in a "big" bed except to take a nap at Uncle Micah's house. The loft was large enough that we didn't have to worry about then rolling from the second floor, but anything beyond that was fair game.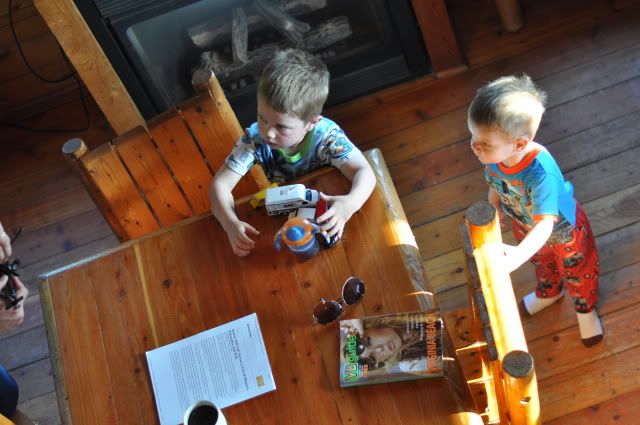 View from the loft.
We pushed the beds together and up against the wall just for added security. Ironically, Jude had no problems staying in his bed (after he was asleep, I mean). Jack, on the other hand, rolled out the first morning we were there. Thereby waking the entire house with his pre-6am cries.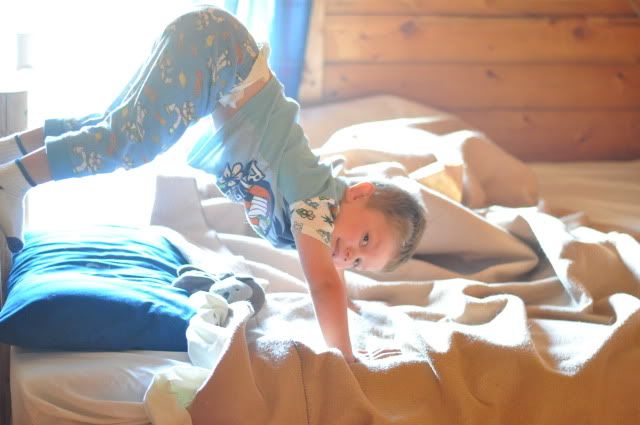 Other than that incident, once asleep the kids were fine. It was getting them to that point that was hard work. And by "them" I really mean Jude because now that Jack has pretty much given up on naps, he falls asleep instantly and stays that way straight through 'til morning. Not Jude. He has to talk and peek out the window and ask a gazillion questions about "Where Poppa go? Where Daddy go? Where Marmie go? I see Poppa's truck!... new kitchen!"
The only way to see him through to dreamland was for me to lie down next to him and wait through his 99 questions until he finally got too tired to ask and drifted off to sleep. And then I had to lay there some more because Jude-bug is my sensitive one and a simple creaking floor board can rouse him out of preliminary sleep mode. You'd think the kid would be exhausted after all the fun we had. But unlike Jack he did take some good naps ... albeit on Poppa while we were out at the beach. The nice part was we didn't have to leave. The bad part was being locked onto a beach chair for two hours holding a slumbering child.
The cabins are not very close to the beach so we had to drive there first, and then walk, walk, walk from the parking lot to the waterfront. I think it was actually closer to leave base, drive to one of the oceanfront streets and walk from there (which we did at one point). But the nice thing about the bay are the small waves, perfect for little boys just getting their feet wet.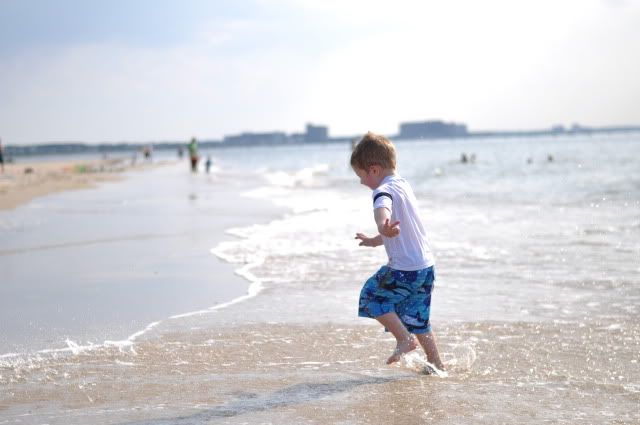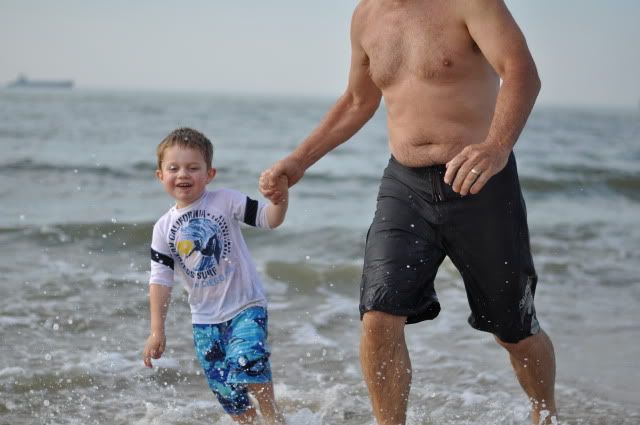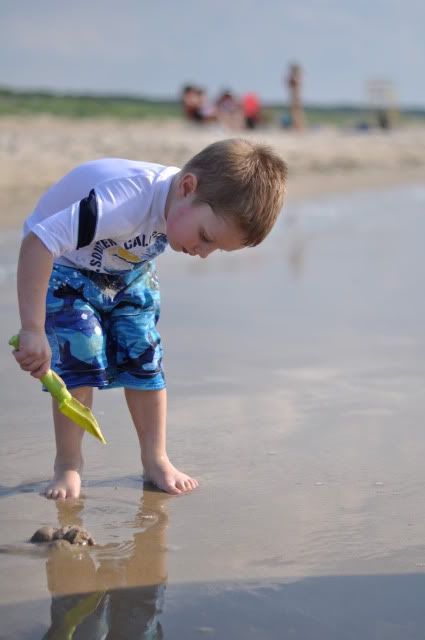 Of course, Jack jumped right in. Jude was much more cautioius. I was a little worried after our first evening, he didn't want anything to do with the ocean. But sometimes I don't give my son enough credit. By the next morning he was right out there in the "waves" asking Poppa to throw him "again, again!"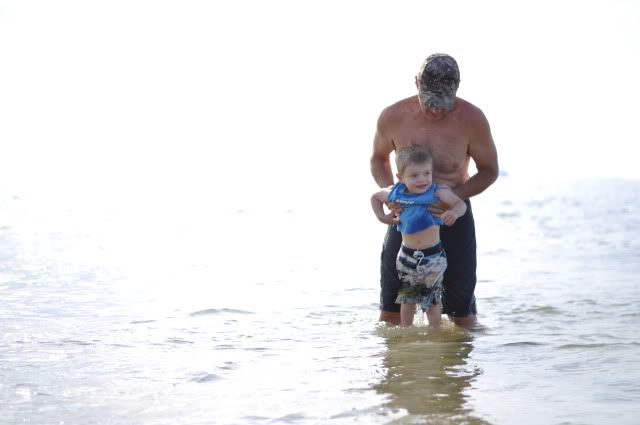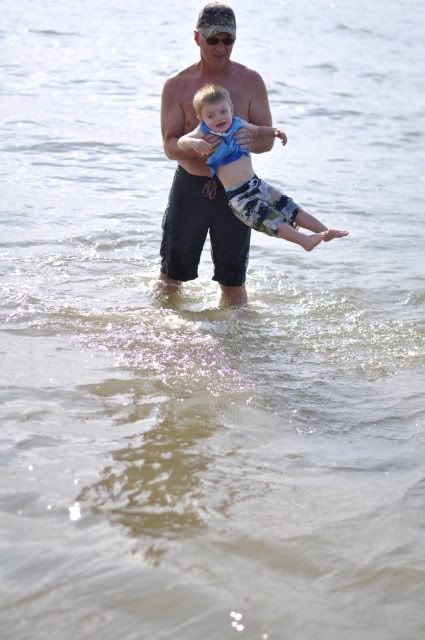 Julia had her first sample of the water too. She's only 8 months behind her brothers in this experience. And obviously she did not appreciate it.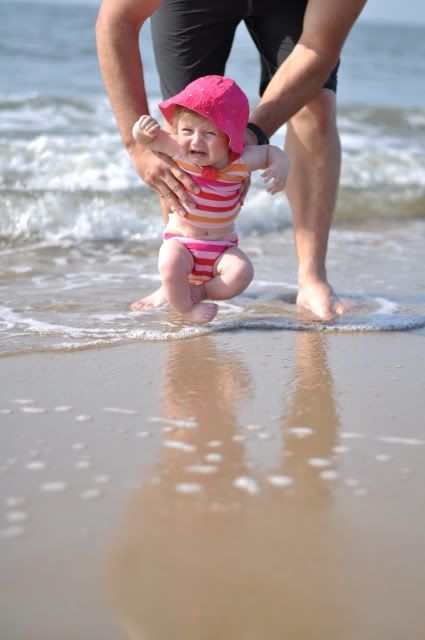 She was most happy to sit in her little Pea Pod and suck on sand toys.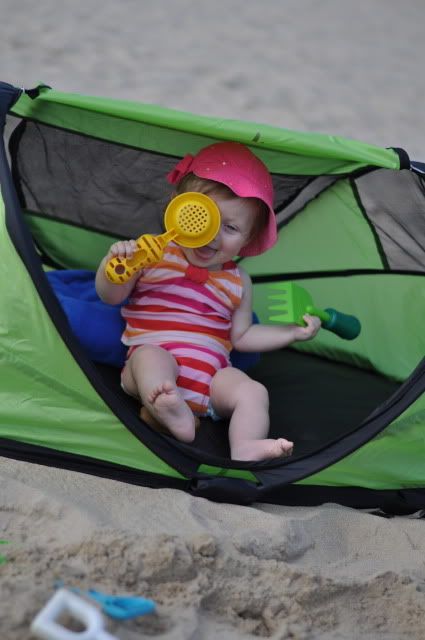 But back to the real reason we were in Virginia Beach - work. Thanks to Jack I was up at and at 'em early that morning and ready to do the old commute for the first time in 2 years. My meeting started at 9 and was to last an unknown length of time. I would also be leaving my 8 month old daughter, who still nurses about every 3 hours, has never taken a bottle, occasionally will take a sip or two of water from one particular sippy cup, but will gnaw on crackers and eat a little bit of baby food. Marmie was upbeat and ready for the challenge. I had been pumping late at night that week just to get enough for one feeding (made even more annoying by the fact that I have to scald all my milk because of excess lipase). So my going to work that morning was even more signifcant since I would be leaving behind Julia, approximately 5 ounces of "liquid gold" and one positive Marmie.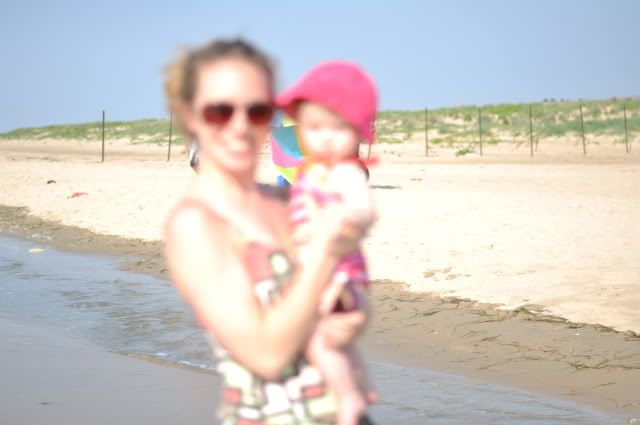 Oh look, a picture of me! (I won't out the photographer, but let's just say it's the same person who cut off all the heads on my Prom 2011 photos.
Of course, all went well, because Julia is my third child and has perfected, from the womb, the art of "roll with it." She didn't drink much milk but Marmie was able to mix it in with some rice cereal and at least fill her up enough to last until I got back that afternoon. So yes, work went smoothly. We finished quickly. And I was reunited with my daugher after a record-setting 5 hours apart. And then got to practice my "nurse-on-the-beach-during-increasingly-large-gusts-of-wind" moves.
Because it was very windy that day. Umbrellas were flying across the beach, sand was getting in the kids' eyes and it was impossible to read a book with only one hand (while holding a baby of course). And the sand flies were horrible. They'd bite your ankles and poor Jude would start randomly dancing and crying "ouchy, ouchy" ...
We ended up wrapping Jude up in towels and he soon fell asleep on Poppa. Jon was getting burnt so he took Julia back to the cabin. And then Jack, Marmie and I stuck out the rest of the day because we didn't want to miss out on one minute of beach time. Unfortunately, our efforts backfired for poor Jack. While he looked totally normal that night, just a little spot of sunburn on his cheek, he woke up the next morning covered, head to toe, in a rash - sun poisoning.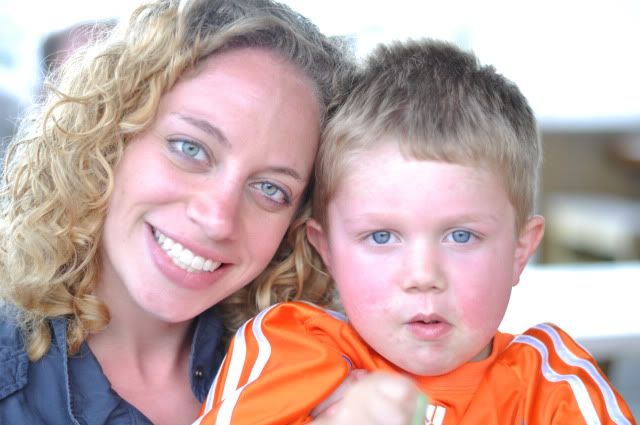 My slightly swollen, splotchy, rashy little/big boy.
Although it was itchy and somewhat uncomfortable, the worst part of it all was that he couldn't be out in the sun anymore. And that meant no beach. Jon volunteered to take him on a special Daddy/Son trip to the Virginia aquarium that day while the rest of us headed to the oceanfront, just feeling a little guilty our little beach buddy wouldn't be joining us.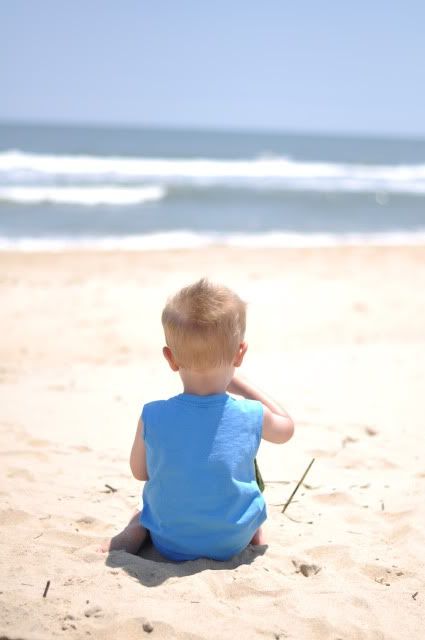 It was a fantastic beach day. No flies, not too hot and just a tad windy. There was even an air show going on all afternoon with fly-overs and appearances by the Blue Angels.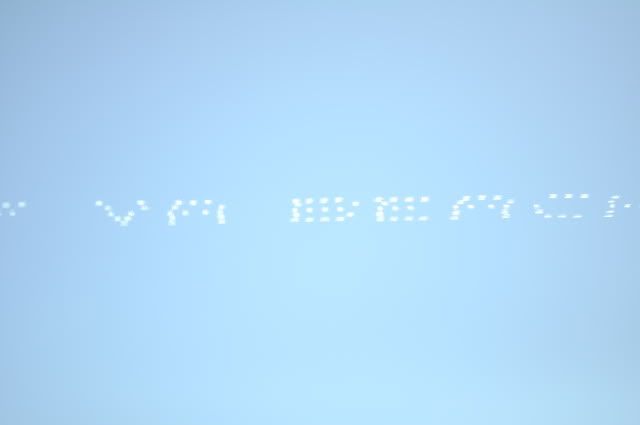 Although the waves were a mite too big for our Jude-bug, he was more than content to sit on the beach and play in the sand. It was a little too windy for swimming anyway.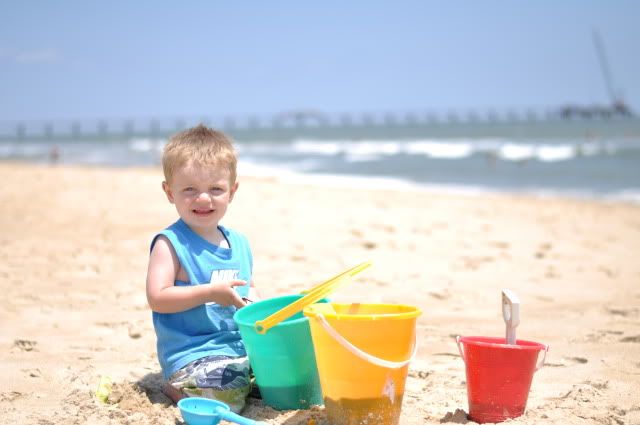 Poppa also took him on some loooonnnnnggg walks. He was so worn out he took yet another great nap on Poppa's shoulder that afternoon.
When Julia was content I decided to relax by cracking open a good book - "Bonhoeffer" by Eric Metaxas. I've finished it since then (all 550-some pages) but it is very good. It's also quite large, and I was worried it would create strange tan lines on my legs since it's not exactly the kind of literature you hold with one hand. But in the end it didn't matter because in between nursing and holding a napping Julia (under some towels to keep the sun and wind out of her face) I didn't get much of a tan anyway.
We spent the whole day at the beach and got back with just enough time to get ready for dinner out at our favorite restaurant, you guessed it - Dockside. Where we got to eat, well, dockside. Right on the water. We followed this up with another favorite stop, our old stomping grounds - Chick's Beach.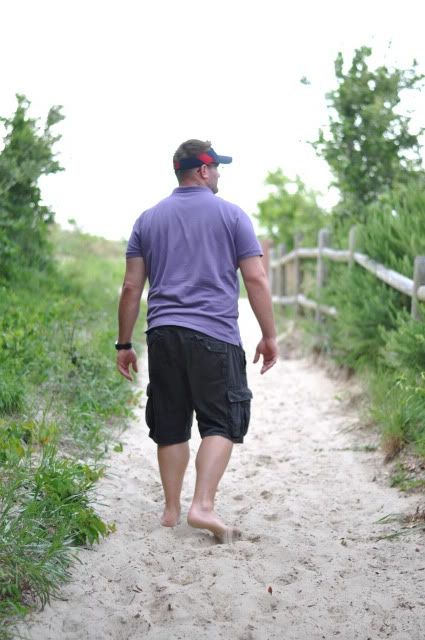 First we had to cruise up and down our old street to find a place to park. When we got out to the sand we were a little disappointed to see that our sacred place has kinda shrunk. I mean, it's like a quarter of the size it used to be. Which also made it somewhat more "crowded." But it was nice to be back all the same.
The "boys" caught a crab (this is Jack running away).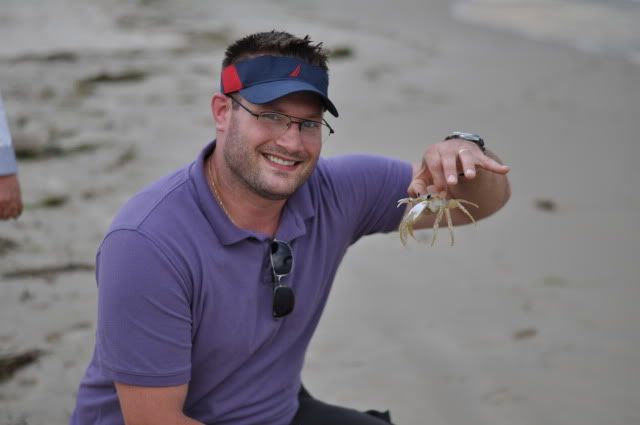 During our sunset walk I kept thinking back to all the times we had spent out there - lonely afternoons as a newlywed with a deployed husband, watching the boats cruise through the Bay Bridge Tunnel, lots and lots of sunset walks as a very pregnant mama, and plenty of trips with family and friends who came to visit. It was bittersweet. Virginia Beach was such a special time in our lives. And while that lifestyle would probably not suit us well now, we'll always have fond memories.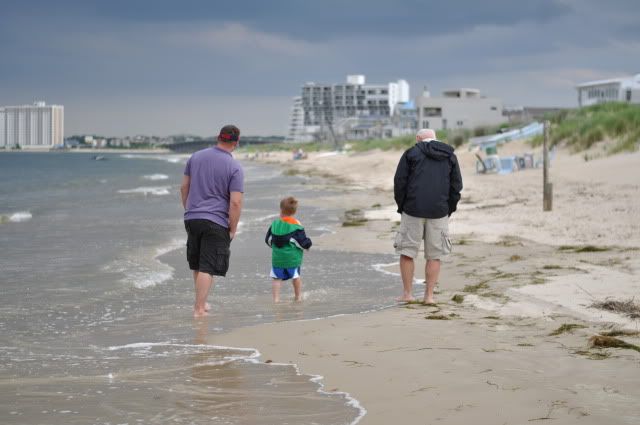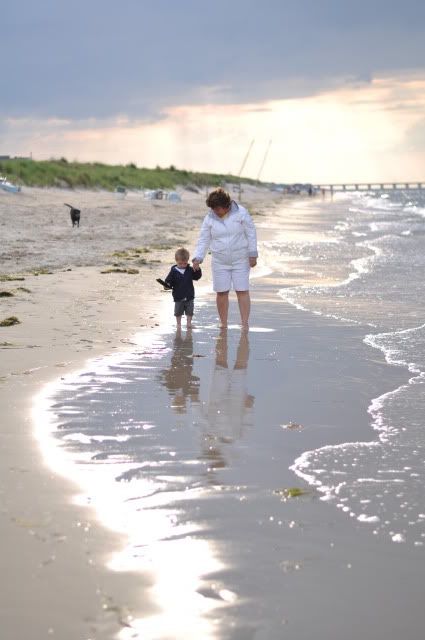 Partway through our walk I thought to myself, "You know what would make this night complete? Seeing Dylan the dog." And guess what? We did!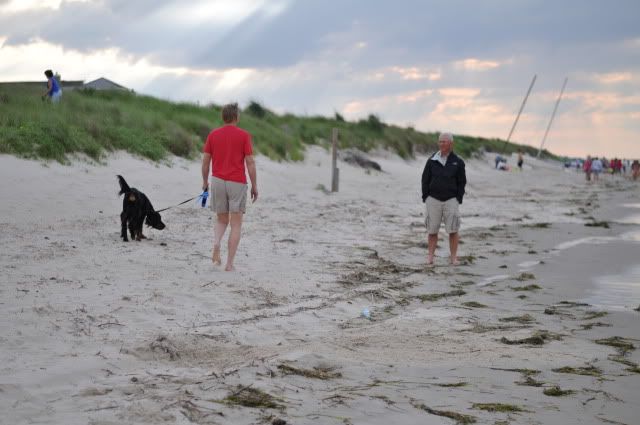 There's Dylan. You know how they say dogs and owners look alike? Totally this guy!
I don't really know Dylan or his owner very well, but we used to cross paths on many a sunset walk. Dylan is a very friendly, sweet and disobedient dog. Everyone knew his name because his owner would have to yell it down the beach 20 times. But Dylan never paid attention. He reminds me so much of those days gone by. It was good to see him well and still his happy self.
We parted ways on Sunday morning - Marmie and Poppa to the oceanfront to watch another air show and our little family to Williamsburg to get a visit in with Jon's aunt and uncle. After that stop the boys slept most of the way home and we enjoyed the break! The weekend was good. The perfect segway into summer. May has been a very trying month - 5 cases of strep throat, Jon's heart condition, the boys' skin rash, a couple of out-of-state road trips and a stressful kitchen renovation. Needless to say, we welcome June with open arms. I think it's going to be a good summer.