This month we celebrate one year as homeowners. And we've loved it! Yes it's been a sometimes painful, often pricey adventure. But there's nothing like having a place to call your own.
We've done a lot to the nest over the past 12 months. Some big - like converting the theater to a guest room. And some not so obvious - like updating electrical units or replacing one teeny, tiny piece of the heating system (that of course cost a fortune!). But of course, the biggest overhaul to date was the most important room in the house - the kitchen!
This is a long post with a lot of pictures of our kitchen (and no stories about the kids), so if you're not interested you can move on. I won't be offended, I won't even know! I will be including a lot of details just in case someone is interested. I researched a lot of blogs before we started this renovation and I know how much I appreaiated all the details so I'll attempt to return the favor!
And now, for your viewing pleasure ...
(I used a wide-angle attachment for some of these so that you could see the whole room at once, ergo some of the distoration and vignetting.)
Before:
A lot of people questioned our decision, since the kitchen "wasn't really that bad." True. But it wasn't great either. The cupboards were useable, but somewhat shoddy (we're guessing they were the originals from the 1960s).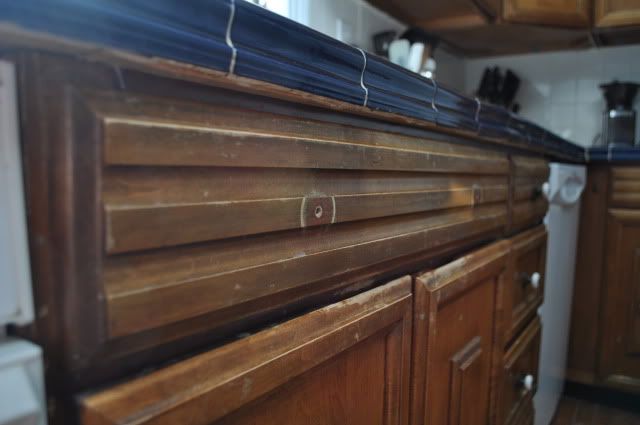 We had thought about keeping the cabinets and just painting them white, but we also wanted to add cabinetry along the empty wall (that previous owners used as a space for their table) as well as remove appliances like the trash compactor and wall oven.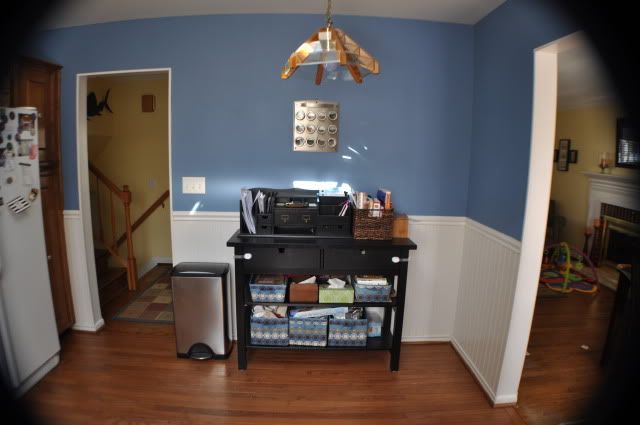 Empty wall where the old owners kept a table and where we kept ... a lot of junk.
The cabinet hardware, while charming, also kept coming off.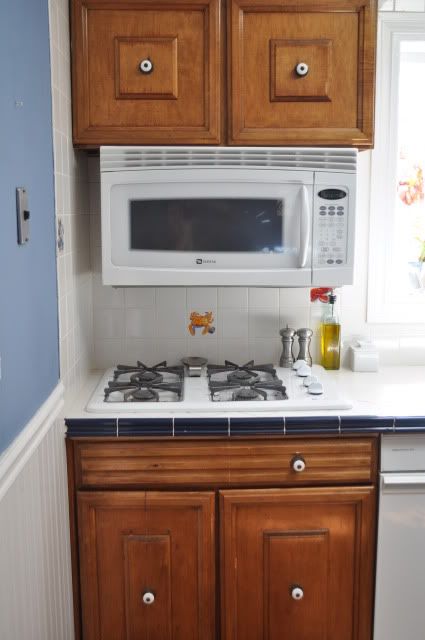 It looks like a black eye.
And the counters, oh the counters. White tile. Not only did they make it difficult to roll out dough, but also impossible to clean. I was not a fan.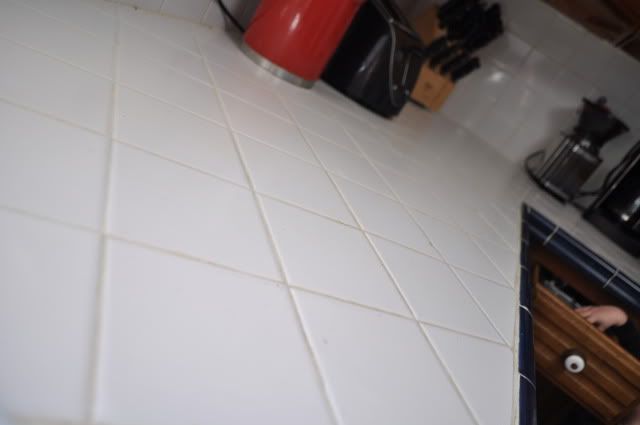 I was totally a fan of this "Chesapeake Bay inspired" tile though, Hubby had to rip it out of my cold, clenched fingers before I'd let it come off the wall... okay, just kidding!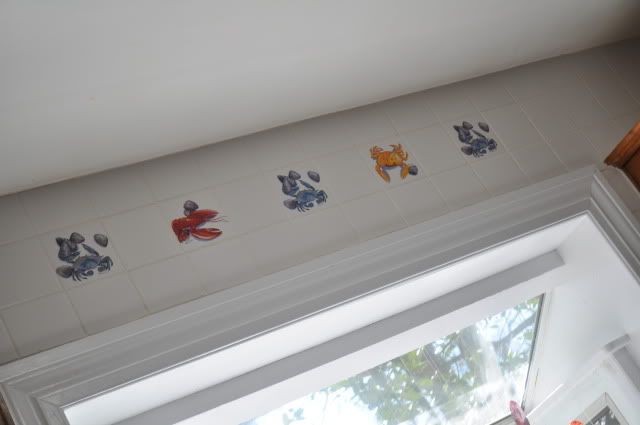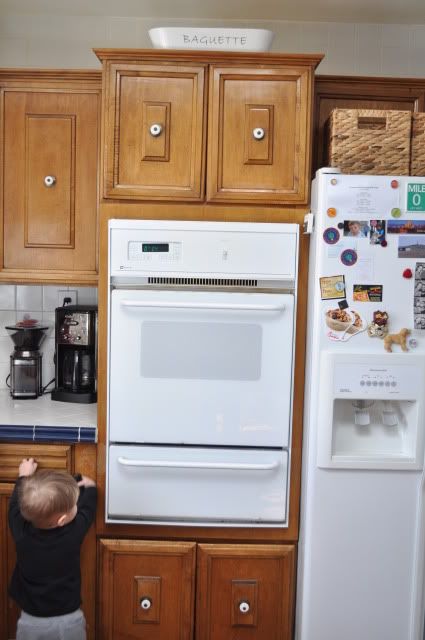 Wall oven = gone, to create more counterspace. It always drove me crazy that the cabinets above the fridge were back farther (we have baskets in front of them because they weren't useable).
But honestly, the main reason we went forward with this kitchen overhaul was for resale. Yes, even though we finally have a place to call our own, we are constantly thinking of "the other" when it comes to house projects. Since we're only here a few years we knew an updated kitchen would be key to a (hopefully) quick sale. You'll find we thinkg of "the other" when it came to finishing touches as well, and is also the main reason we kept things as neutral as possible.
We also purchased this house for way below asking price with the intention of using the money we saved to renovate the kitchen. Personally, it's why I think the house remained on the market for as long as it did (that and God sent his angels to save it just for us!). And so, rather than wait until we were moving out to make things all new and fancy, we decided to go ahead now while we would still be around to enjoy it.
And so, drumroll please...
After: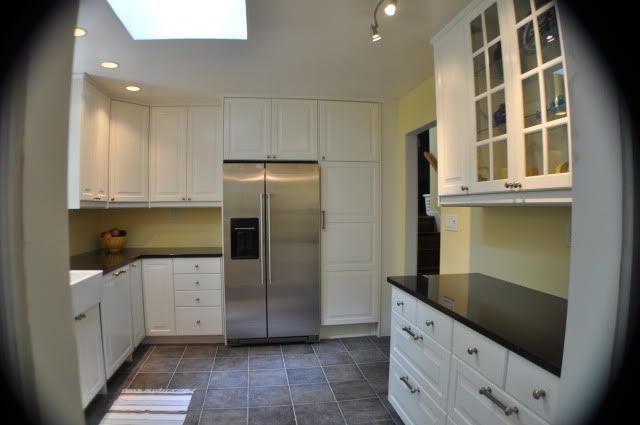 This was a kitchen renovation on a strict budget. We decided to go with IKEA cabinets and hardware. Since we bought during their March sale we got everything 20% off! Originally we were going to purchase appliances through Lowe's using our military discount, but eventually decided to use IKEA appliances as well. So far, I'm quite happy with them. They are made by Whirlpool, just without the label. And personally, I prefer not to have a label on my appliances! The only items not from IKEA are the countertops, faucet and flooring.
We went with an IKEA contracted installer (there's only one in the area) as part of a package deal. It took a lot of going back and forth until we got the numbers where we needed them to be. In the end, we ended up doing all the demolition and removal (and by "we" I mean my husband) as well as our own flooring contractor and they provided us with a kitchen planner/designer, order and delivery of the materials, installation, and a plumber and electrician to move lines/outlets.
So just keep in mind, when you see those signs at IKEA that say the entire kitchen cost $6000, that's true... if you're planning to do all the demo, plumbing, electric and installation yourself. And not do a floor, counter or backsplash. Even with all that you're still saving thousands as compared to a conventional kitchen remodel, but it's also not going to be a custom kitchen. For us, we were willing to swap out "the little touches" for something affordable.
Also keep in mind the timetable. It sounds so quick. A day or two to demo, a day for the plumber, a day for the electrician, two days for the cabinets, a day to install the appliances. Well, not exactly. Our total project took about a month, the start date also got delayed a few times as well. It was more like:
One week of demolition
One whole day for delivery of materials (where they sat for over a week)
One whole day dedicated to one hour of an electrician's time
One whole day dedicated to two hours of a plumber's time
Two days for cabinet installation
Two days for flooring installation
One day for countertop measuring
Ten day wait while countertop was being fabricated
One day for countertop installation
One day for finishing touches on cabinets - trim, toekicks, leveling, etc.
One day for appliance installation and hook-ups
And a bunch of random days and weekend in between
And two more days of quick visits by the installer for last minute touch-ups!
Meanwhile, we're eating dinner on our couch (when we're not eating out) and washing dishes in the laundry sink. So aggravating.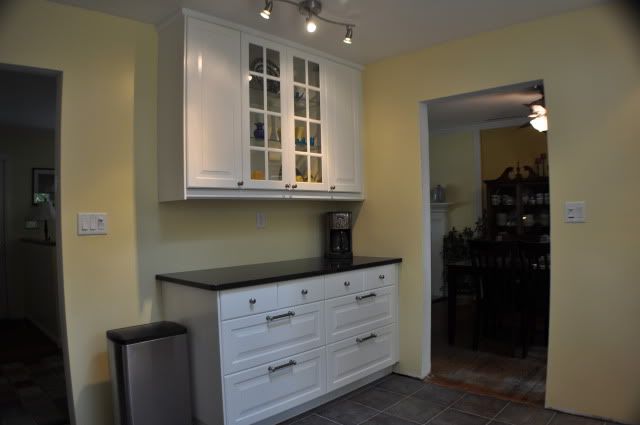 As you may be able to tell, we're not entirely finished yet. Jon needs to add the trim around the bottom of the walls. After that's done the flooring guy can come back and install the thresholds. We are also planning on adding a backsplash sometime soon (just waiting to replenish the coffers!).

In order to create a little more counterspace, we got rid of the wall oven (which was located next to the refrigerator - can we say "conflict of interest"?) and instead went with a slide-in range. This is where a microwave should be, unlike the previous kitchen in which it was placed oddly low which made it look monstrously huge (and made stirring pots on the back burners a bit of a feat.)
As much as I love the white, black and stainless, I'm worried it makes things a bit "cold." So I'm open to ideas to warm it up. The hand-embroidered artwork above was a TJ Maxx splurge. So much so that I couldn't bring myself to put it in the cart ... so my husband did it for me. It's a good thing because I love it to pieces. We got the little birdy handtowel (below) at TJ Maxx as well.
Love my farmhouse sink! I wasn't so sure at first. I knew I liked the way it looked, and I'll admit to being the original advocate. But then I was afraid that it would be too shallow and/or get scratched easily. Yes, it is a bit shallow. And it's also only a single (I wasn't willing to surrender any more counterspace next to the stove) but so far it's not a huge issue. In fact, it forces me to keep up with the dishes more often. As for the scratches, none so far... but it's only been a week.

C'mon, isn't that the sweetest little spot to wash dishes by? The birds agree too. Somehow one flew into my house yesterday and spent a good 30 minutes banging its head into the window.
The IKEA faucets didn't look so great so we went with a Moen from Lowe's. In order to avoid having to cut holes in the sink we made sure it was only a one-hole mount. The end of the faucet comes off and doubles as the sprayer. I love it! Unfortunately, so do my boys.
Oh, and one more gem you can't see - a garbage disposal! After a whole year of not having one I'm in dishwashing heaven! Just in case you, like we, were told it's not possible to have a garbage disposal when your have septic - not true! It was the best last-minute-and-may-have-pushed-us-slightly-over-budget decision we made. :)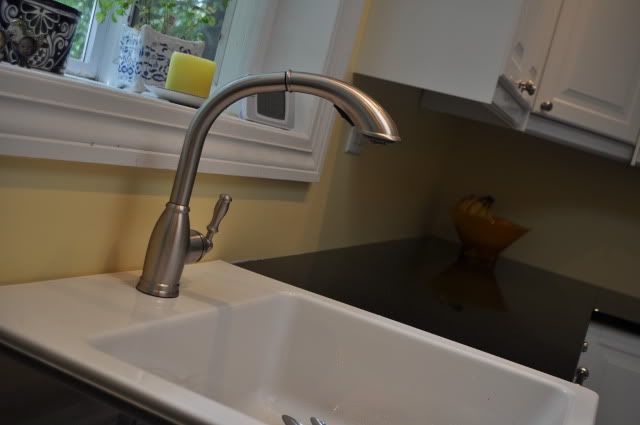 The counters are a dark (black) granite from a local outlet. My original thought was for something nearly white or carerra marble-esque (and all the ladies sigh), but Jon was adamantly opposed. And since black was my second-choice, that's what we went with. We did not do a granite backsplash. The plan is to have tile go from the bottom of the cupboards to the edge of the granite... someday.
To the right of the sink is an "integrated dishwasher." Ooooo, that's code for secret! Okay, not really. In fact, I think it's quite obvious that the big cabinet with horizontal hardware is not where we keep the cereal. But I do like that it at least matches the rest of the cabinetry.

This is a counter-depth fridge. They are smaller than a traditional fridge but more expensive (go figure!). They're good if you want to free up some floor space. That wasn't exactly an issue for us, but we just like the way it looks - flush against the cabinetry. It's also an excellent place to display toddler boy handprints. Okay, so that's not exactly a selling point. I knew stainless steel would be a magnet for smudges, but I had to have it anyway. Again, not a big deal. I just use a damp micro-fiber towel on it about 50 times a day ... or maybe only when I know guests are coming.
This is the new part of the kitchen and the reason it is no longer considered "eat-in" (which hopefully won't bother any potential buyers). We had thought about making this a bar area with stools, but it got too difficult with the doorway to the dining room. Plus I really needed these extra-large drawers for my pots and pans storage since I didn't have any on the other side of the room next to the range.
Look at these drawers! I can fit all my pots, pans, bowls and bakeware in here! I could even fit small children!
When we first sat down with the kitchen planner she asked if we wanted some glass pane cupboards since they're all trendy right now. We assured her that no, we didn't need to display our sippy cups and Disney dinnerware. But the more we thought about it the more we liked it. We decided to go with two right in the center. The plan is to use them to display some of my special dishes and blue/yellow decor. Everything is just kind of thrown up there right now so don't judge! Since all the white pieces blend in to the background I'm
thinking
about putting some wallpaper in the back, ya know, just to make it
pop!
I have a feeling Jon will vote that one down... we'll see.
This is an IKEA light fixture too. We needed something to replace the hideous chandelier that hung there previously and that wouldn't interfere with the cupboard doors opening. We actually bought this a few months ago and Jon hooked it up himself. Easy and cheap!
We went with the taller wall cabinets. I think it makes the room look larger and the ceiling higher, but mainly I just wanted more storage space. No, I cannot reach the top shelf (I can barely reach the middle one). Yes, I have to use a stool several times a day. But we always have a stool out in our kitchen anyway. And I don't mind. I'd rather use a stool to reach something at the very top of my kitchen then have to round it up from some other room in the house because it didn't fit!

Just to illustrate the amount of space in these babies (and not to show you what's in my cupboards because that's kinda embarrassing)...
And the pantry. I'm sold on these pull-out shelves. It makes reaching something in the way back so much easier!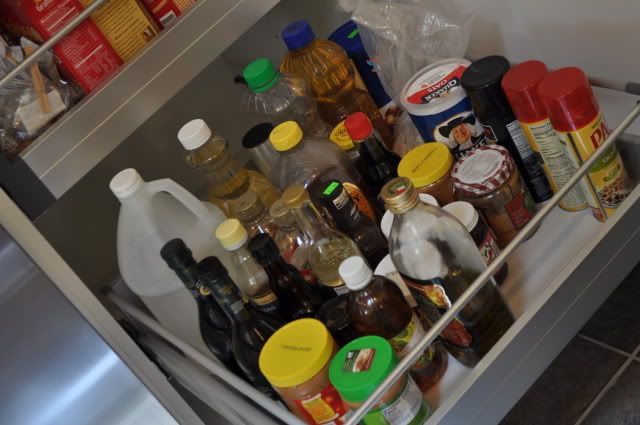 Last order of business - the floor. Ugh. If you remember, we originally had hardwood. Not to be confused with "original hardwood" which it was not. It was slightly different than the other hardwoods (and not nearly as pretty) and about an inch higher. We had planned on holding off on the floor until later, but that wasn't an option since the new flooring had to go under the fridge, range and dishwasher. We had hoped there would be original hardwoods underneath the unoriginal hardwoods ... but there wasn't. Just some old, nasty linoleum which looked very original, especially since it was half-disintegrated.
Underneath the linoleum was particle board (which you cannot put tile on). So Jon had to rip up another layer. I would have loved a new hardwood floor in the kitchen. I think they're warm, cozy and so farmy. But a.) they're expensive and b.) we probably could not have got a perfect match and I just couldn't handle that. We looked at a few other options but liked the look of slate second best. And then we found out that you really can't install slate in a kitchen. Apparently you can only install it in show room kitchens that people take pictures of and put on Pinterest to make you drool over and then get all disappointed when you find out it can't be done in the real world. But I'm not bitter. Instead we went with a slate-like ceramic tile. We almost chose something called Dura-Ceramic (a mixture of laminate and crushed stone) because it's cheaper, warmer underfoot, easier to install and Jon wouldn't have had to do as much prep work. But after only 10 minutes of reading reviews online we decided that was a "no."
I think this was a good choice. Julia seems quite pleased with it as well!
And there you go - the floor to ceiling kitchen remodel. What a project! One we'll probably never do again, at least not while we're living in the house! I'm very happy with the end product. The kids and I have been cooking and baking up a storm this past week, just trying to make up for lost time. And Jude has been known to throw out the term "new kitchen" several times a day, in the middle of random conversation, for no apparent reason at all. That's how excited we are about it! In fact, I may be letting the front door open more often than usual just in case the old owners do one of their infamous drive-bys in hopes that they'll catch a glimpse! She would probably say the same thing she said last time she "dropped by": "Is that ... yellow?? ... I love yellow!"