So we left off with my waving goodbye to the boys as they headed off to Marmie and Poppa's house. Now I don't want anyone to get this confused with Grandy Camp, that's not 'til later this summer. This was just a spontaneous break for Jon and I, and it wasn't even my birthday yet! It worked out because Jon was traveling again all that week, including my birthday, so I had decided earlier that the kids and I would head to PA for a few days. And this plan just meant I'd have a quieter drive up on Monday!
Now if you're like my husband, you're probably thinking, "Geez, Janine, see your parents enough this summer?" But you have to understand, we're at a temporary place in life where I am able to drive to visit my family. We weren't there a few years ago and we might not be there a few years from now, so I'm taking advantage of it while I can. And we're also at a temporary stage in life where we have the flexibility for these visits - my parents are retired but still able to travel, my job can be taken anywhere, and I don't have to work around school schedules. And finally, my kids are only young once. And they're too fun not to share. And maybe I like the break every now and again.
So Julia and I spent a VERY quiet day at home Monday before making the drive. I got a lot done but it was still very strange. I ended up borrowing an audio book from the library just for something to do on the trip. And it worked out that she slept most of the way and I had an easy 3 hour drive.
When we got there it was cold! I had only packed shorts and short sleeve shirts for the kids and the expected 90 degree weather but the first day was in the 60s. So we had a bonfire and foil-pack dinners.
But after that first night things quickly heated up and in typical Marmie and Poppa fashion we had a jammed pack schedule.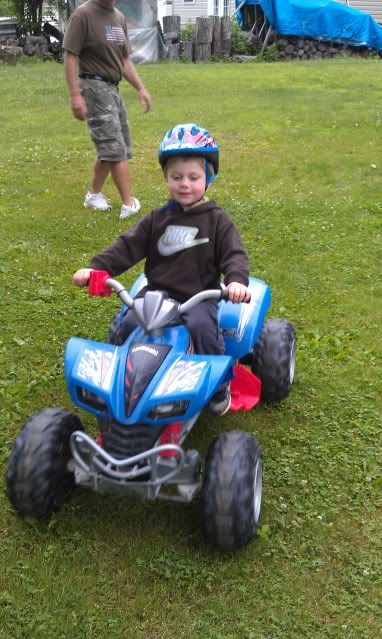 Yard sale prize! Now to figure out how to get it home.
On Tuesday night we headed over to Knoebels, a.k.a. "The Fun Park."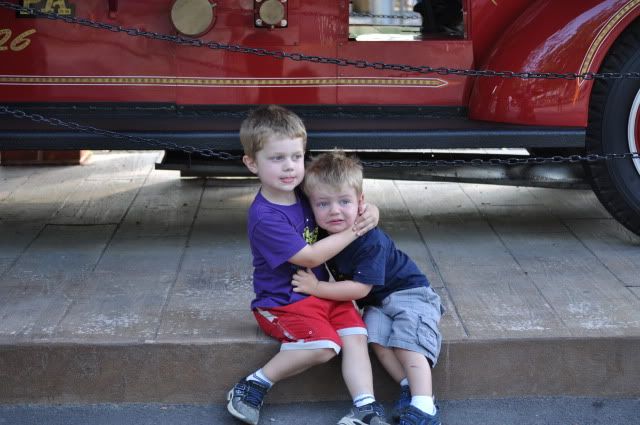 See how much fun Jude is having?!?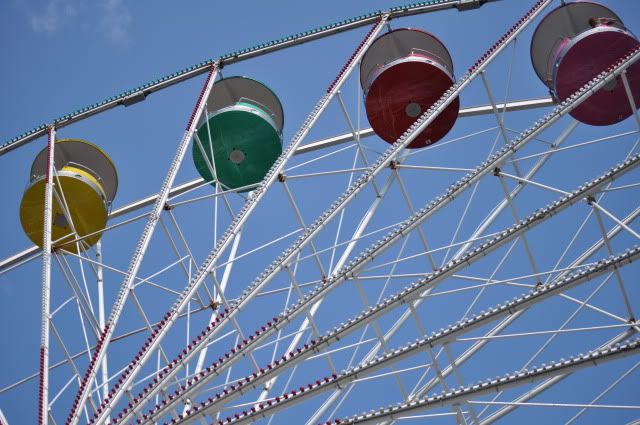 First stop: Ferris Wheel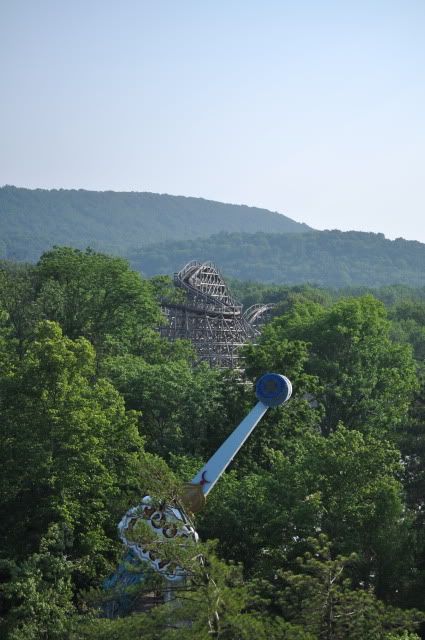 Check out those amazing Central PA views!
Poppa had a fat envelope of tickets leftover from previous years that were burning a hole in his pocket. And we all enjoy a huge toddler smile and kiddie giggles every once in a while.
Unsure.
Sure.
First time on a rollercoaster.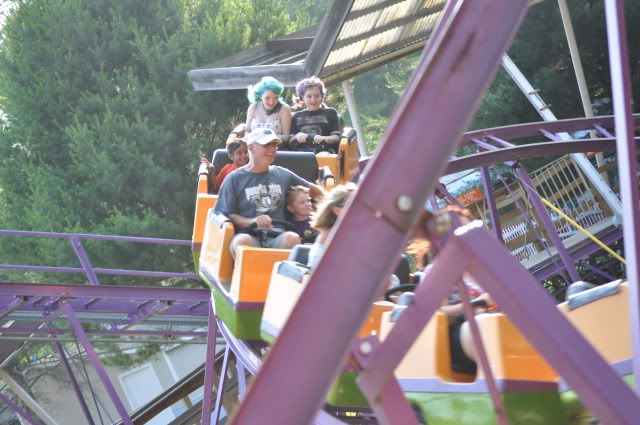 Poppa had fun too!
Too young to ride, and thankfully too young to realize what she's missing out on!
I love that these two can ride together now.
Magic Carpet Ride - they've been using the same "magic carpets" since I was Jack's age.
On Wednesday I opted to go to the local farmer's market with Julia while the grandparents took the boys fishing. From what I heard they had a very successful day. And Jack finally had a chance to test out his new fishing rod.
"Mom, 'patient' means waiting quietly."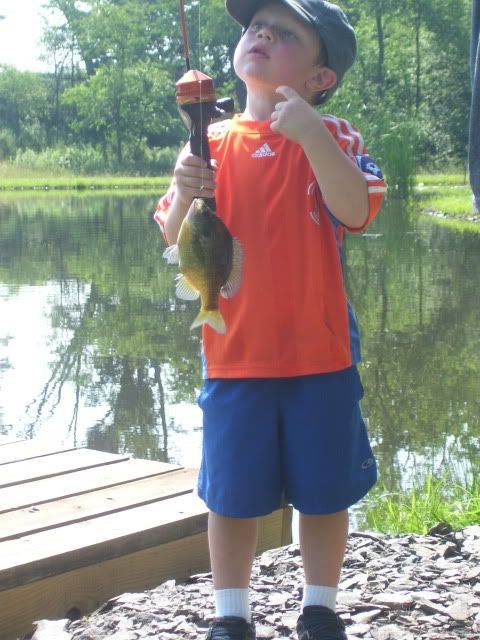 As part of my birthday present my parents got me a "make-over" and a gift card for some new make-up. Confession: other than a few random things I've picked up from Target the last time I really bought make-up was in high school. Eek. I decided it was time to ditch the Mary Kay foundation I've had since my senior year and start over from scratch. It was fun to feel a little pampered, and Julia enjoyed waving to everyone that walked past while I got "done over." Other than the initial "I think I just spent way too much money on my looks" feeling that lasted for a few hours, I'm pretty happy with my new goods!
From there we went to Nonnie and Poppie's to let the boys go swimming and get in a visit with their other grandparents. We also go to see Aunt Katie, Aunt Rachel and a few of the cousins. It's just so convenient having all our family in the same place!
And then Thursday, the day I turned 29. I'm still young enough to admit my age, I think. Or maybe I just don't care. But I've got one more year of my 20s and when you put it like that it sounds awful young. We decided a visit to R.B. Winter State Park was in order. It was a glorious day, the long country drive was a gift in itself, and the cold lake water immensely refreshing. Plus it was a beach (as far as Pennsylvania beaches go) and you know my family simply loves the beach.
I hadn't been to "Halfway Dam" (no idea why it's also called that) since elementary school, when we used to visit every year on the last day of school. If you haven't been there in that long either, let me tell you, it's definitely improved.
Sneaky Jude!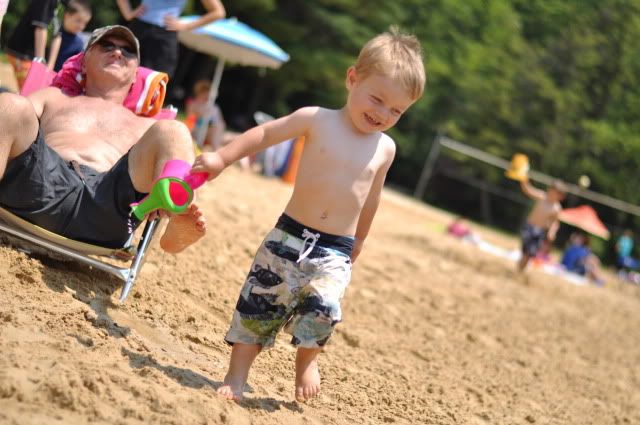 Too bad I forgot my swimsuit. And sunscreen. So I spent most of the day under the umbrella holding a napping baby. But heck, look at that view!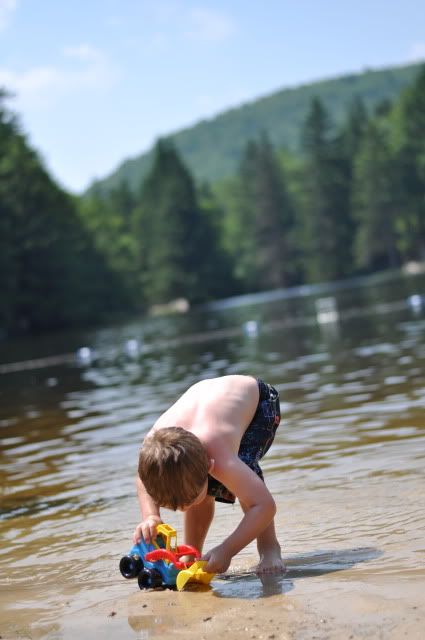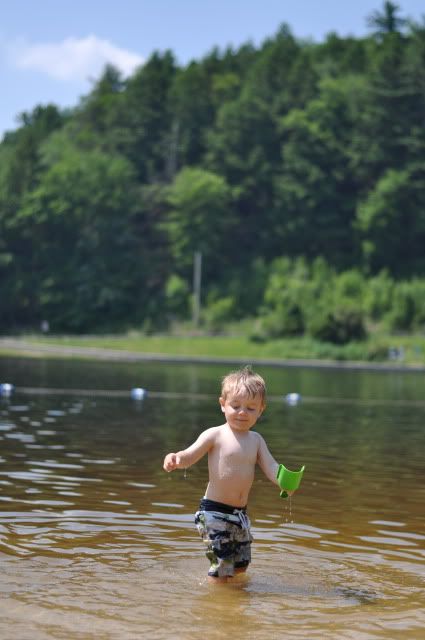 We finished off the visit (and 6 days of birthday celebration) with dinner at The Fence. I timed my departure perfectly. It had been a long day and an even longer week. The boys were exhausted. So I had the kids already in their jammies when we left and knew Jon would be there to help me carry sleeping babies to their beds when we arrived home. Turned out, the boys never slept and Jon was two hours late. Jude started screaming as soon as he recognized our exit (for some reason he thought we were going to "the beach" not home) and both boys threw fits when they found out they would be going right to bed. Meanwhile I had a hungry, just-wants-some-time-with-mommy girl who had maxed out her patience. Strange, I can travel with 3 little kids. Several-hundred mile drives are nothing for me anymore. Pit stops at the gas station and raised eyebrows from fellow travelers as I cart my brood back to the restroom - no biggie. But coming home, getting everyone ready and in their beds, unloading the car and unpacking all the bags. THAT it tough. But really, in the end? Well worth it.
And that's how I'll close out my 28th year. It's been a good one, lots have happened over the past 12 months. I am not in the place I envisioned I would be at this age. But I'm definitely some place better. And I can honestly say I've never been happier. (Okay, there are a few days when I also think I've never been so miserable, but overall? So happy.) And while I loved the celebrations, presents, sweet messages and just knowing that so many out there were thinking of me on my day, my real gifts were right here all along - letting me know that "maybe when I get older I can drive the car!" informing me that the "beach" is "DAT WAY, DAT WAYYYYYY!!!!" and fighting to keep her eyes open to lock with mine just one more time before giving in to dreamland. Gosh, I love those kids. Can't wait to spend another year with them.