School's out for the summer! Here's our eldest the morning before his last day of preschool. Can you tell he found the neighbor's sprinkler in the time it took me to lock the front door? *sigh*
You may remember my
first day of school post
approximately 9 months ago ... and the utter failure of that morning when I got everyone all excited only to find out too late that school had been canceled due to flooding. Well I'm happy to say things have only improved since then (which wasn't too difficult).
Jack started out in the 2 year olds' class. It was rough going for a few months it didn't help that he was bigger and rougher than most of his classmates. After a few weeks it didn't even seem like he enjoyed going anymore, and that's saying a lot for our super-social little guy. Thankfully halfway through the year (after his stunning performance in the Christmas program) they bumped him up to the 3 year olds class. Things improved immediately under his new teacher. He was happy to go to school again, learning lots of new things and constantly talking about his friends and "best favorites."
We did have a few behavioral issues - hitting, spitting, not following directions. By this age Jack knew what was expected of him and had proven he could have good days. So we started instituting a daily reward for a "good day." Ever since then he has done fantastic! It's amazing what one little treat can do!
Note from Jack's teacher on the last day of school. :)
Even though we enrolled Jack in preschool for the social aspect (and also to give me a small break during the week), he has learned many new things like his colors, shapes, numbers and letters. He can even write his own name now. But more importantly his social skills have dramatically improved! I no longer dread taking him to the playground either! Of course, a lot of this comes with age too. He's bigger and smarter, he understands more, he can reason ... he can be reasonable. Sometimes I'll watch him sitting still (for a very short while) with his chin resting on his hands and he'll tell me "I'm just thinkin' mom, just thinkin'."
Of course, not everything is fine and dandy. As I wrote this last sentence I happened to glance out the window and see my son with his pants down "watering" the flowers below the deck. Oh, geez.
"Jack, the bathroom is right upstairs, what are you doing?"
"I just pee-pee outside 'cuz that's what Jack do!"
Anyway, back to the end of school. It's a bittersweet time. Jack already misses his teachers and friends, and I already miss having something to keep him busy. We're only one week in and I'm already out of ideas for summer entertaining. We are doing a bit of "summer school." I figure it's a good chance for me to keep my no-longer-napping son quiet and focused for at least a small portion of the day.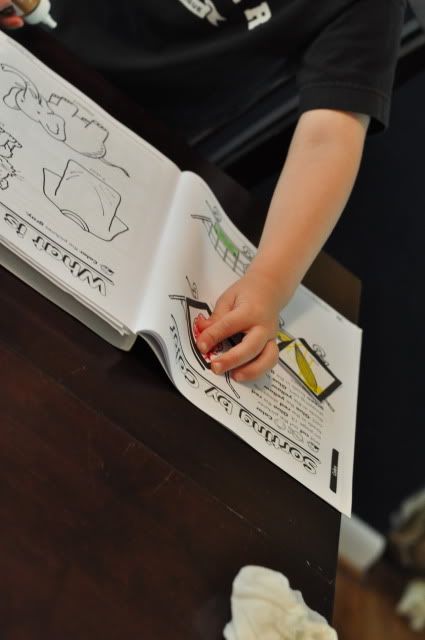 We're pretty sure we're going to send Jack to public school when he starts kindergarten in 2 years. But I'm certainly keeping the homeschool option open, especially if we end up living abroad or in an area with sketchy schools. But I can say one thing after this week, if God does have homeschooling in our future, He's going to have to do a major work on me and my (lack of) patience. I was not meant to be an early educator!
So yes, school's out, summer is here, and mama is very tired already. Is it vacation time yet?