We have guests coming this weekend. I have an entire house to clean, food to prep and activities to plan. So of course, the natural thing to do is ignore my list and sit down to blog my final thoughts on last week's vacation.
First things first, can I just say how excited I am that my big little guy just loves the ocean?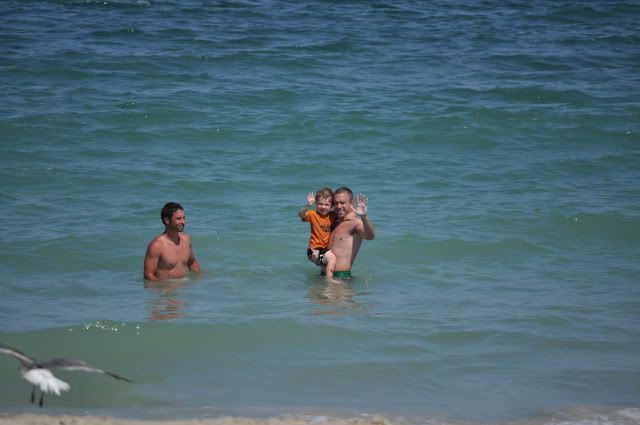 Up until last week he was a little apprehensive of big waves. But thanks to the multitude of "big boys" that were around to lend a hand, Jack spent a large portion of his time in the water. He even learned how to dunk his head. Jack's love language is "words of affirmation" so we all made sure to tell him how impressed we were and he made sure to tell us all that he was "so brave."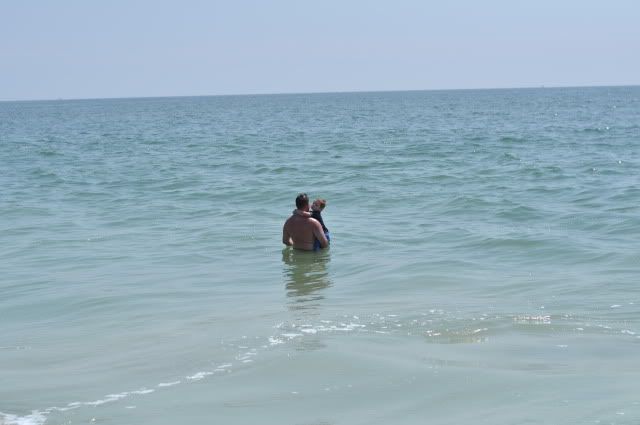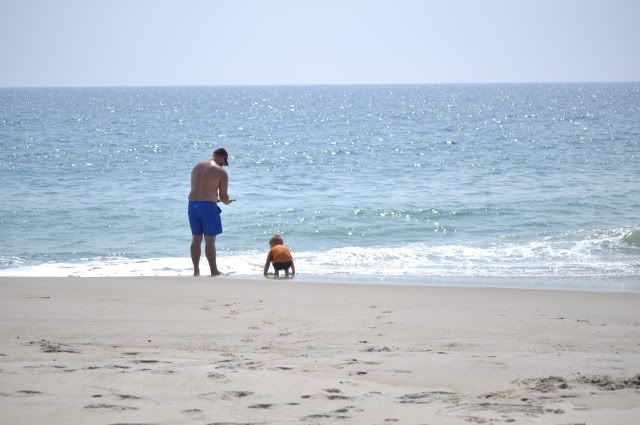 Jude went in the water too. Poor thing got wiped out with Poppa once, but I was happy to see it didn't scar him for life. I refuse to take my boys out in the water by myself. Once beyond where the waves crash I can barely stand and the last thing I'd want is to be responsible for a wipe out and have a child never trust me again. But that also meant every time I tried to cool off one of my guys would be standing at the water's edge with a sad look on his face, pleading to join mama.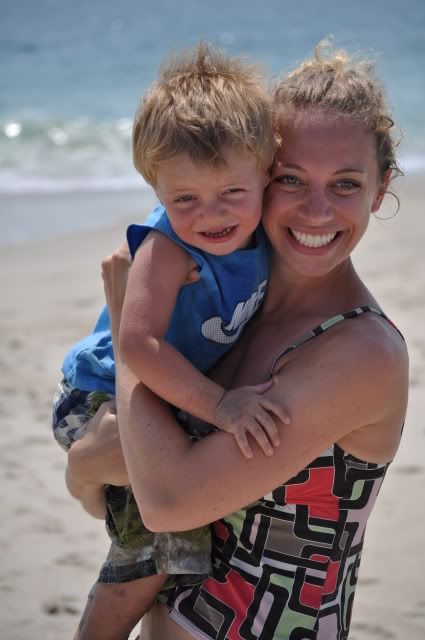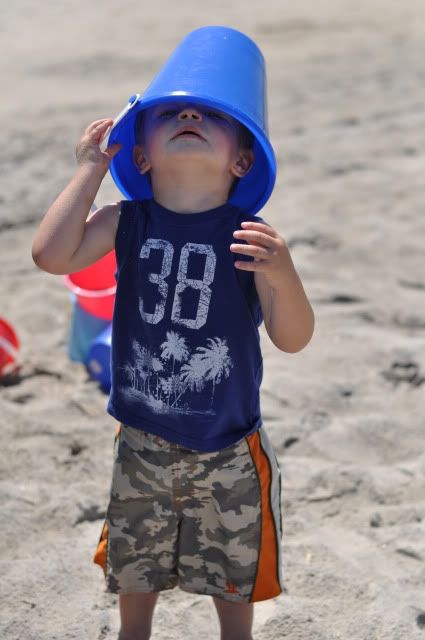 And then there's Julia. Still not a fan. If I even walked to the edge and she felt a spray of sea water on her legs she's start clawing at my shoulder and gripping my swimsuit.
I confess, I did make her put her toes in a few times. She cried. Oh well. I don't want to be "that mom" but I also don't want to encourage fear in my kiddos. By the last day at the beach she was able to stand toes in the lapping water as long as I held her close and constantly whispered sweet nothings in her ear. See, so not "that mom." The rest of the time, she lounged in her pontoon.
Or we took turns holding her under the umbrella and making her giggle.
Lia can really turn on the charm. She does this thing, when she notices you looking her way, kinda tilts her head, smiles shyly and bats her eyes, and if she's really feeling bold she'll even throw in one of her "hails" ... And she had plenty of guys to practice on this week.
She's fully aware that we all find her completely irresistable!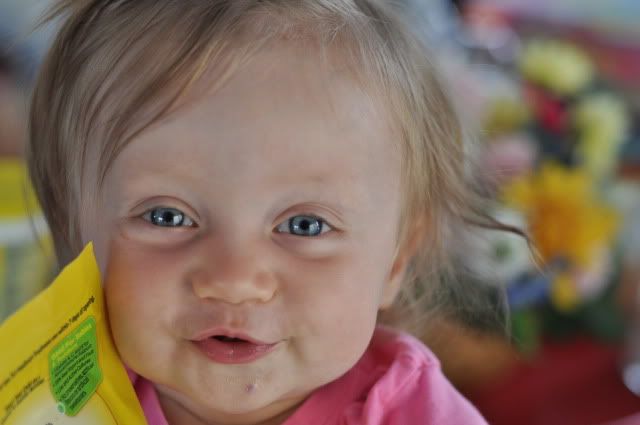 We really had perfect weather. There was one rainy morning in which we just took a little more time getting around for the beach. Poppa and I took the boys for a bike ride. It was my first time riding a bike with a kid on the backseat. Shoulda got a picture. But I was concentrating on pedaling and not stopping EVER for risk of falling.
Another day we got kicked off the beach early for thunder. Lots of thunder in the distance, but only a handful of raindrops where we were. We decided to take the party out on the deck where we were delivered peanuts and bottles of water by Jack, petted a lovely little caterpillar...
And entertained by this girl.
Heyyyy!!!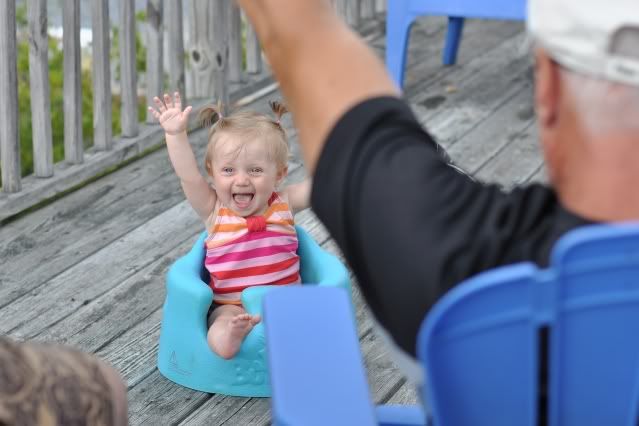 (No "future cheerleader" comments please.)
After long days at the beach we kept most of the evenings low key. Like spending time on the deck reading books and watching the sun set.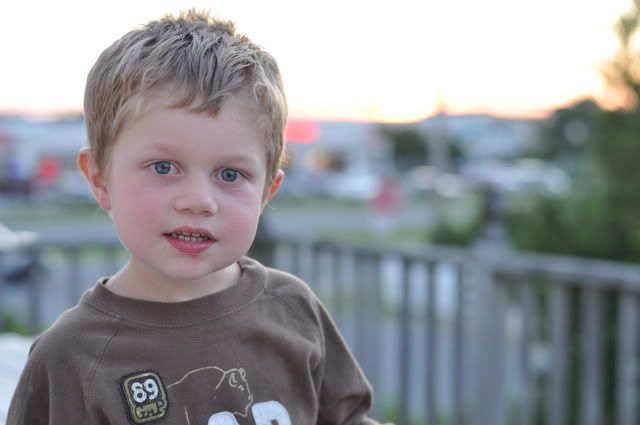 The boys went crabbing a few times and us ladies stayed back for a "chick flick." This year it was "The Magic of Ordinary Day." Dontcha just love that title, might have to borrow it for a blog post sometime.
For the mighty Fourth of July we walked a few feet down to the beach, faced our chairs north and waited ... patiently.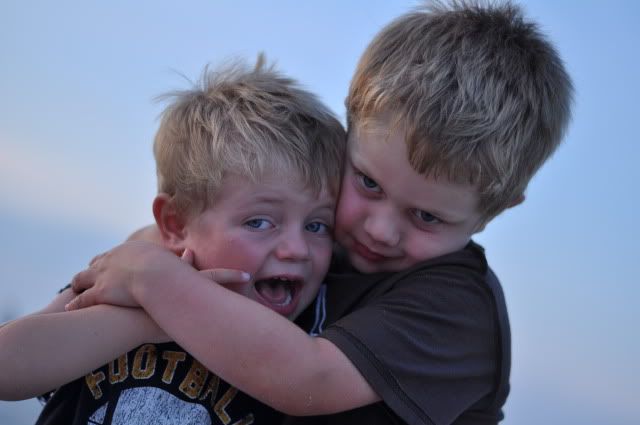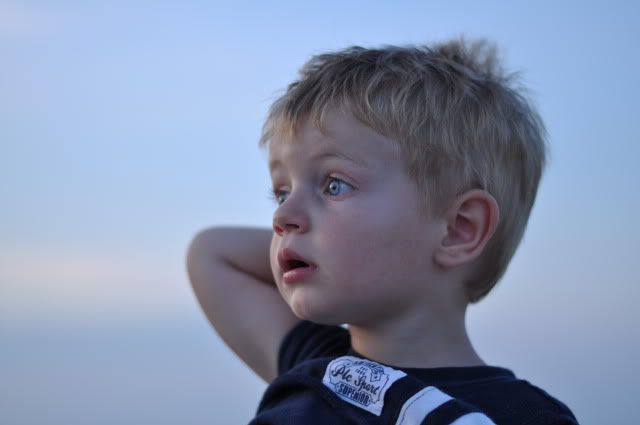 In the meantime, Mr. Landon caught a fish.
And Poppa caught a shark.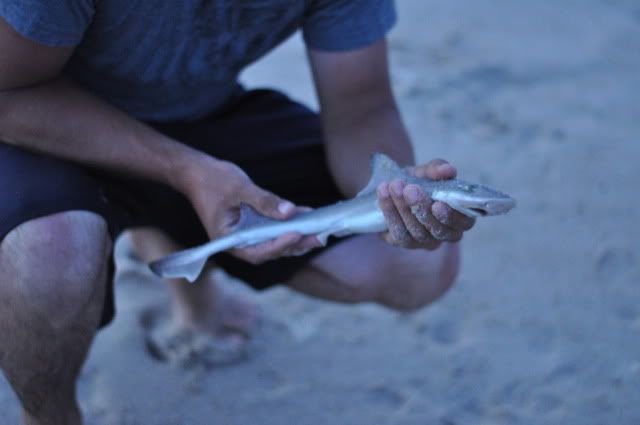 And Jude caught a few interesting looks.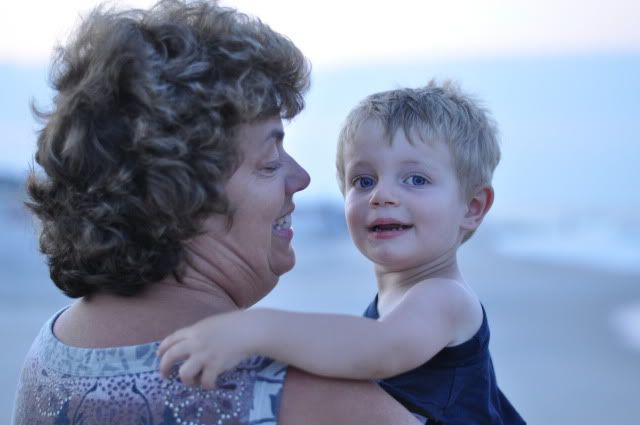 No pictures of the fireworks though because I was too busy manning children and Uncle Jared never posts photos for me to steal.
We weren't complete bums though. We did venture out on the town one evening. We regretted it at about 9pm when everyone had to go to the bathroom (again) at the same time, and we waited in line to get ice cream and for some reason Jack decided he DID NOT want sprinkles (I know, right?) but it was already too late and he thought the entire block should be aware that he did not want sprinkles...
But before then it went okay. I mean, there were 8 adults and 3 kids, that should be manageable right? South Bethany is close to Rehobeth and Ocean City, both which have excellent board walks. But we stuck close with Bethany's little downtown and I'm totally happy with that. I have two stores that I like to visit each year - the silver shop with cool, cheap jewelry and the beachy trinket store that you could spend a year in and still never see all the stuff that's tucked away on those shelves. We hit up both and then thought the kids deserved a break at the arcade.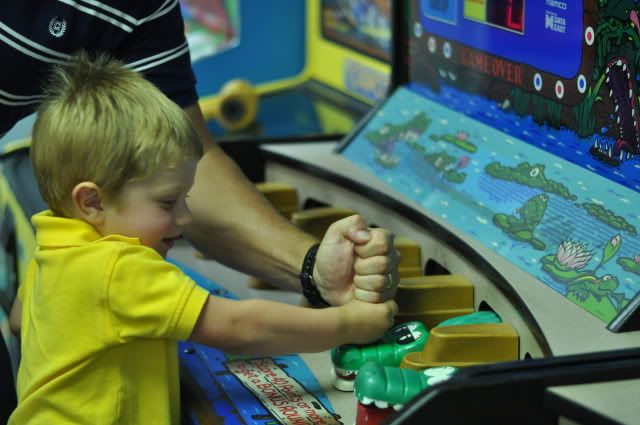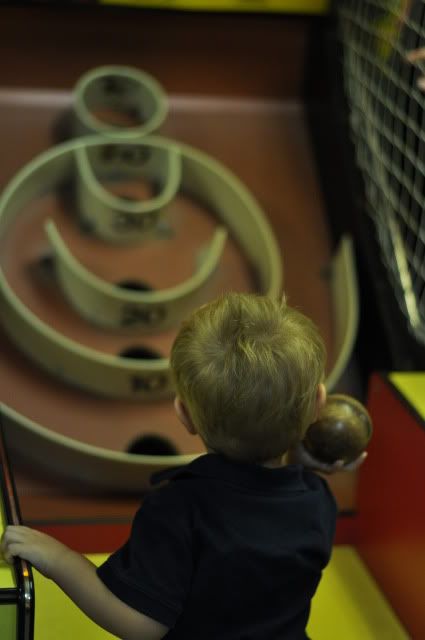 Arcardes are so funny. I mean, really. Have they changed at all in the past 30 years?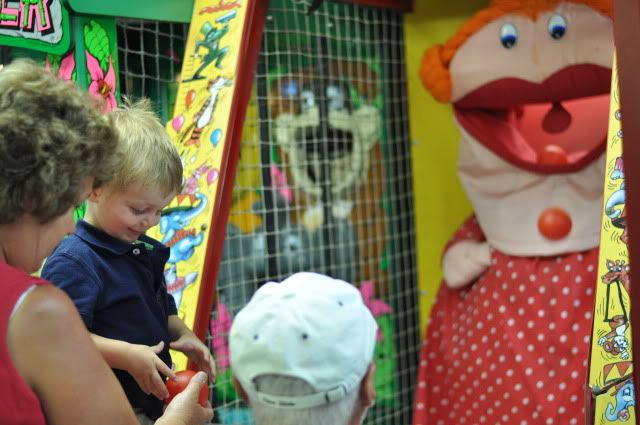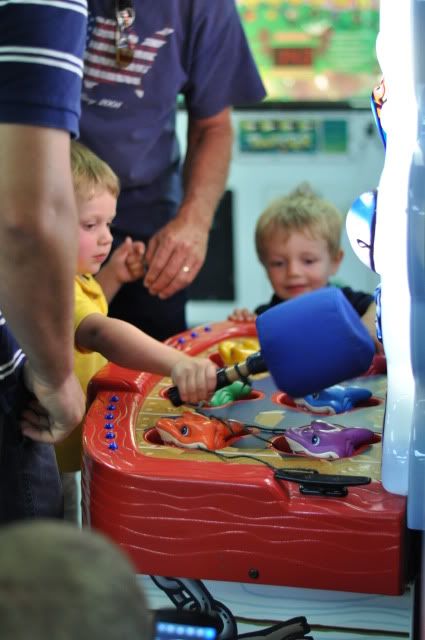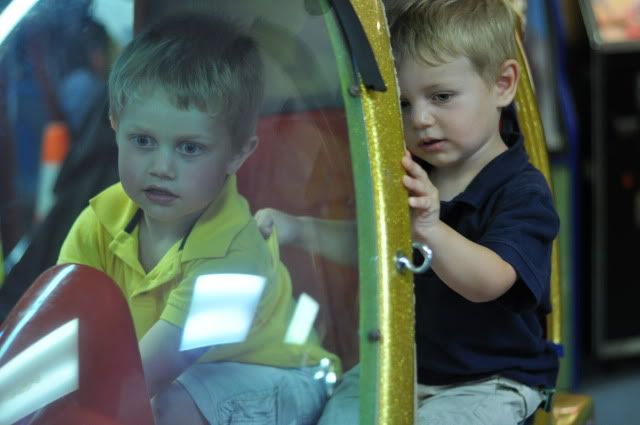 Love how Jude is hanging on to Jack's shirt. :)
We ended up with a big ole pile of tickets that purchased us a very tiny pile of junky toys, most of which are already broken, and two happy little boys. That's what counts, right?
I had one final item on my vacation wishlist ... a family photo shoot. You know how that goes.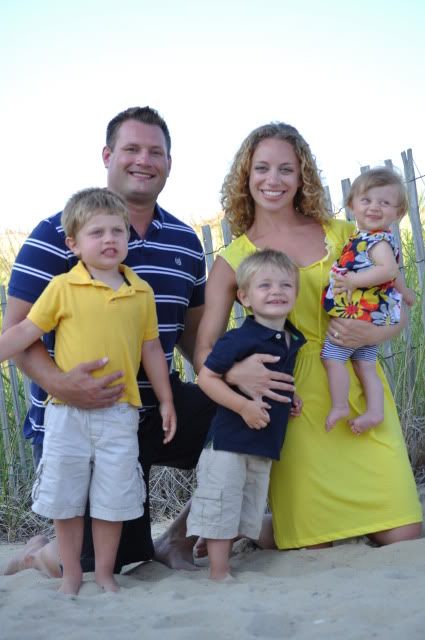 Jack decided he did not want his photo taken and that all of posterity should be aware of it ... forever.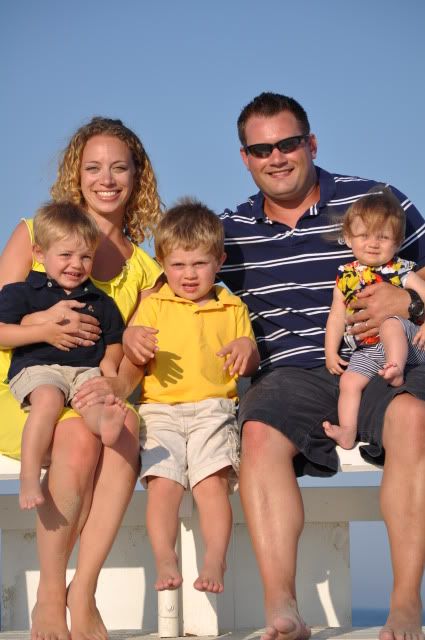 This is what I had pictured in my mind
, and this is what I got.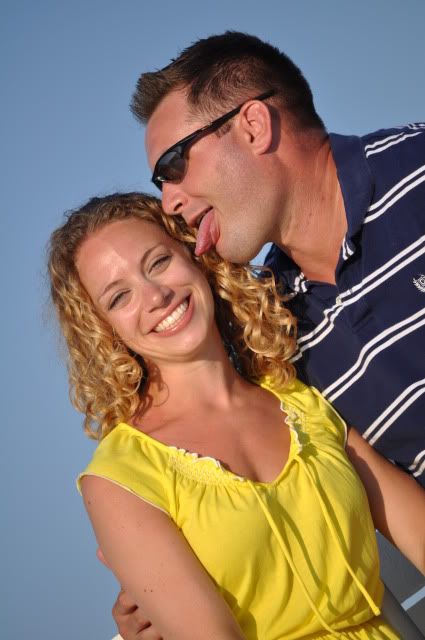 Oh well, I tried.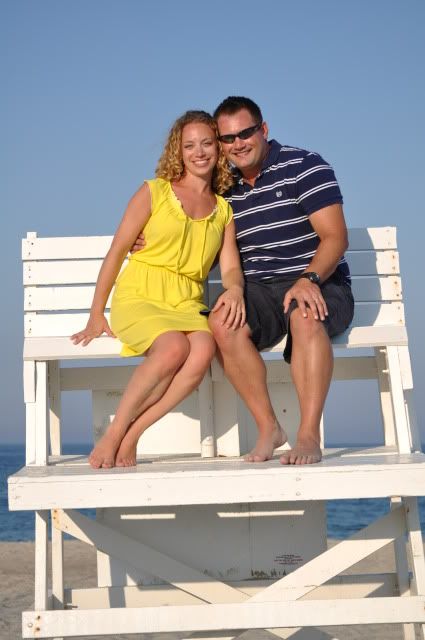 And, what was actually a lighting test, turned out to be a special treat. A picture of me. All by myself. Rare indeed. Look, there's not even a child grazing my skirt. Sometimes I forget that girl even exists.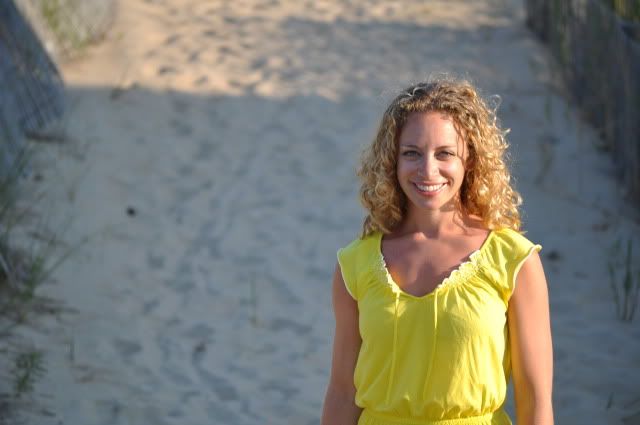 Just goes to show you that you never know what's going to happen on vacation!