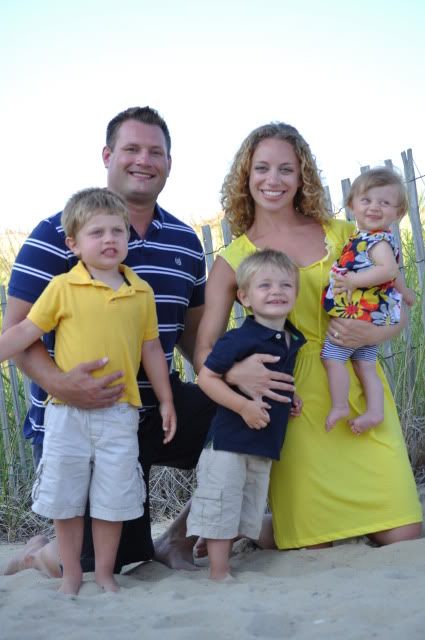 Annnnd we're back. Back from a week of sun, sand, ocean, tan lines and very tired children. I've got lots of pictures and stories to share but I think this will be a multi-part series, bite sized if you will. That way we can all savor the sweet, salty aftertaste of vacation just a little longer... and I can get back to the unpacking and cleaning a little faster. And so, rewinding to the previous week ...
We broke our family rule and told the kids we were going to the beach a few days early. Honestly, last week was so bad, such a mommy low, that I needed something to brighten up the days. Plus, it was a good lesson for Jack in counting and days of the week. Friday finally arrived and although I had major plans all week to get ahead on packing and cleaning, it just didn't happen. Jon was supposed to be traveling until late Friday night but that trip got cancelled. Instead he worked late all week but still wasn't able to mentally check-in until Friday evening anyway.
But when Daddy finally got home you could sense the change in the atmosphere. Although we had our work cut out for us that evening, vacation had officially begun!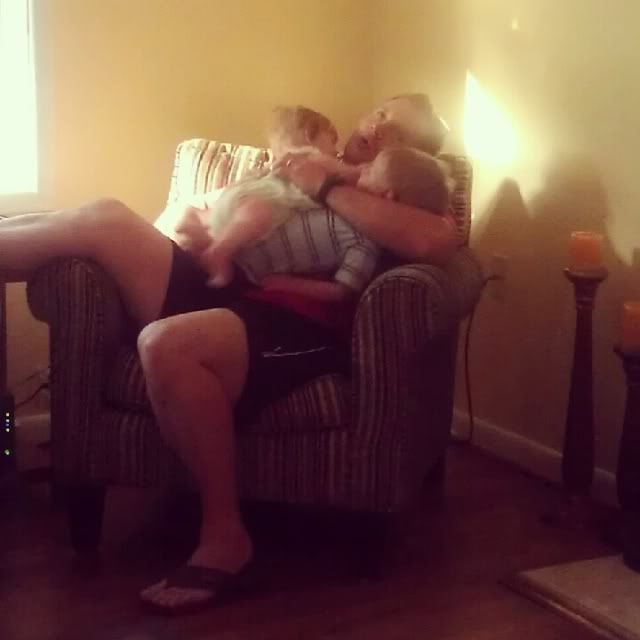 He's whistling, when the Handsome Coastie whistles, you know it's a good day.
We got the kids all down to bed and were finally able to focus on packing and cleaning. The plan was to get everything done that night so that we could wake up extra early, hit the road right away, and beat the beach traffic headed over the Bay Bridge (which is where we got waylaid last year). It was a busy night - long on work and short on time. We finished the packing by 11:30 (this is late in our house) and I was just starting on the vacuuming when I heard a whooshing sound. I figured Jon was watering the outside plants with the hose and simultaneously spraying down the house. And that's when the lights started to flicker. Keep in mind, this was one of those ridiculously hot days. Jon was outside watching the neighborhood lights go on and off thinking "there's no way I'll sleep tonight without AC" and I was inside hearing my vacuum sputter on and off thinking "there's no way I can leave for vacation tomorrow with my carpet half-cleaned."
The power popped on and off enough that I could finish my chore and then I headed upstairs to find Jon and the source of the whooshing. He was outside, watching the trees bend and sway, and branches and leaves swirl all around our yard. The wind picked up and while we were both praying we wouldn't lose power that night we were also cheering on the coming storm and rain. Jon was worried about his once-lovely lawn and I was anxious to see my new rain barrel fill up! We both stood at the back door, staring out at the darkness, willing the rain to come. And then we heard a "boom." Almost like the time last year when a huge limb fell on our roof and shook the whole house, except not quite as bad. We looked around but didn't see anything. It wouldn't be until the next morning that we'd discover that little "boom" was a huge limb that fell on Jon's car, his new car. The limb hit the roof, smacked the windshield and bounced onto the hood. Leaving behind a trail of dents, scratches and shattered glass. Oops. There are occasionally a few days a year where we hate our tree-filled neighborhood. This was one of them. But we didn't know about the car yet. We wouldn't know until early the next morning.
We had plans to wake up around 5:30am, get everything ready, then get the kids out of bed and immediately load them in the car. We pictured their sleepy excitement, slightly disoriented at first, rubbing the sleep out of their eyes that would soon sparkle at the first mention of "the beach." I dreamed about the anticipation going to bed that night. Of course, it didn't work out that way. Instead, Jude woke us up at 5am crying and, as we would soon discover, sitting in a puddle of barf. Jack followed suit in a few minutes and the giddy, sparkled-eyes boys I had imagined a few hours later quickly became whining, tummy-grabbing, up-chucking, quite unexcited little boys. It was around this time that Jon discovered his mangled car. But, in very un-Jon-like fashion, he turned his back on the car, the limb-littered lawn and the huge branch blocking our neighborhood street and finished the last few bits of packing. We loaded up our sick kiddos, took the other route out of the neighborhood and pointed the car east. And in record time too. We made it to the Bay Bridge by 6:50am and traffic barely slowed. Of course, there wasn't a single restaurant or gas station open on the way there. It would appear that our neck of the woods was one of the very few to still have power. We thought we'd be able to cruise through the toll booths too, but apparently collecting tolls is high-priority in this county because that is the only spot that had electricity.
Crossing this bridge always means we're headed someplace fun!
We made it across the bay and decided a leasurely stop at Chick-Fil-A was in order for some breakfast. We also were no longer in a rush. Driving from Baltimore/Annapolis to the Delaware Beaches is a tricky situation. Normally a little more than 2 hours away, weekend traffic and two-lane roads can quickly extend the drive by several hours. We wanted to avoid traffic but we also didn't want to reach our beach house too early and end up with tired, hungry (and sick!) kids without a house to check-in to. It ended up not being a problem though. In addition to our breakfast stop we also made a second pit-stop, lasting equally as long, to clean up a sick 2-year old and his vomit coated car seat. How ironc, two years ago on the way to vacation we made a similar stop with Jude after he had pooped and smeared it all over his chair. Yes, Jude is quite the traveler.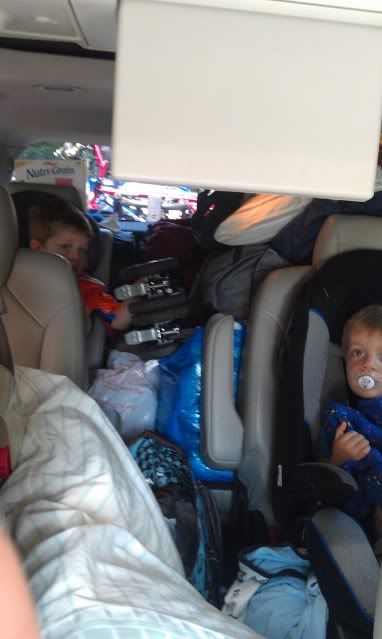 Packed to the max!
Of course, vomit doesn't exactly clean up well with baby wipes and we spent the remainder of our drive trying not to breathe through our nose. But ... we made it. And since our house was empty they let us check in early, like 4 hours early. So we quickly unloaded and headed to the beach hoping the sun would ease tired souls and sick bodies. And the sun delivered. While I wouldn't say our first day at the beach was "fun" it certainly was restful.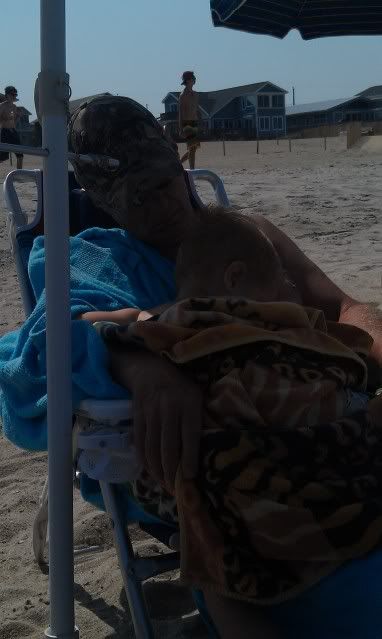 Jack slept on Daddy, Jude slept on Poppa and Julia slept on me. And all the adults slept a little too. (It was only the 6 of us on the first day since everyone else was at a wedding). Since Jack feel asleep half-standing Jon eventually moved him to a reclined beach chair where he laid and stared off at the waves for quite some time, completely un-Jack-like. We soon found out why when he leaned over and threw up a day's worth of food into the sand. I tried to sit next to him, rubbing his back while also blocking the view of our vomiting son from our refined neighbors, and quickly buried his little "spill" with a pile of sand.
Ah yes, vacation. All I ever wanted. It didn't exactly start out pretty, and it certainly wasn't what I had in mind. But we were there, and we had a full week ahead of us, and the sun would rise again tomorrow. Because the sun always rises at the beach, and even a little earlier than at home!