Day 4
Hello Mommy and Daddy,
Jude and I are doing fine here in Pennsylvania. We have gotten used to the traffic sounds at night and Poppa even left Jude's bedroom door open last night. Marmie thought he would wake up from all the jake-breaking they hear through the back windows but we slept until 7:30.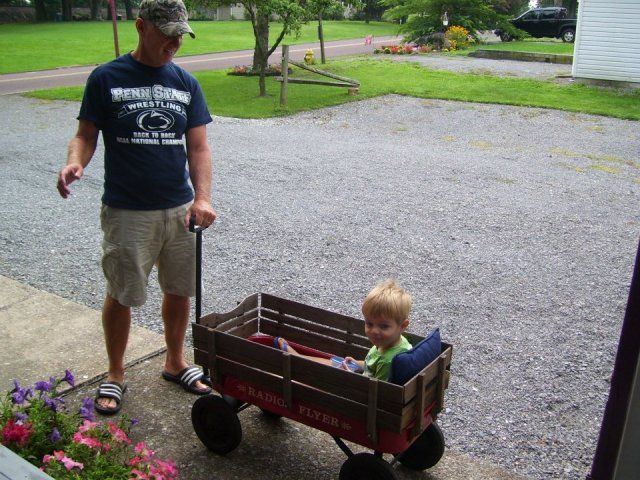 After cereal and Nick Jr. we headed to Half-Way Dam.
Marmie packed a picnic lunch and Poppa made sure we had Jude's binky and blankie so he could work his naptime magic... which he did soon after lunch. Jude told him he was ready for his nap, so they took off for a walk through the woods and when they returned a few minutes later, voila!
I made lots of new friends and Poppa helped us make a huge pond. We spent a lot of time mending breaches in the walls (because Jude liked to walk through them) and filling buckets of water up to make it 8 inches deep.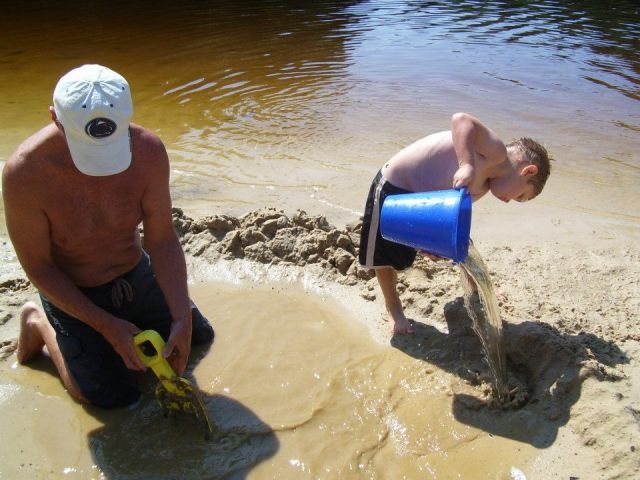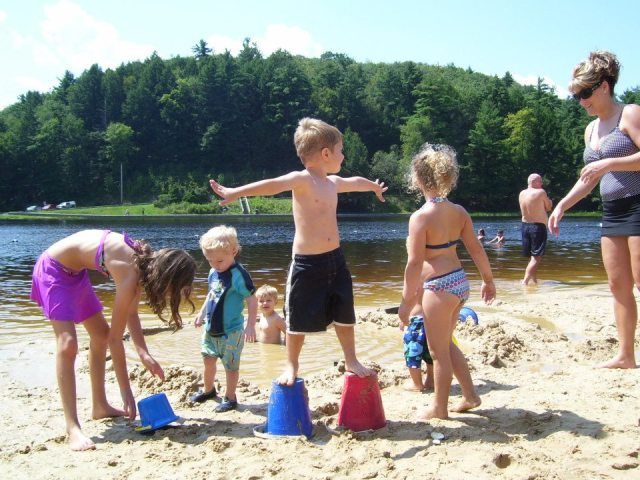 Jude and I actually ended up mud-wrestling after all the water drained out!
Poppa made a game of killing flies all day--this particular breed is very stupid, he says, because he could swat them one after the other!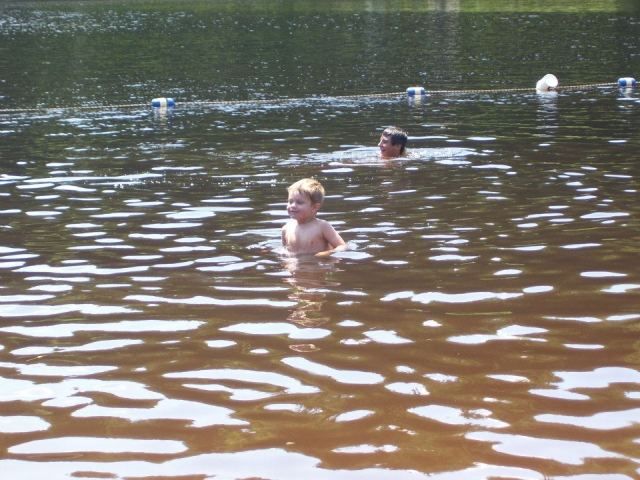 We stayed five hours and then picked up dinner at Wendy's. I had a baked potato and nuggets, Jude wanted fries and nuggets. Then we played at the "duck park".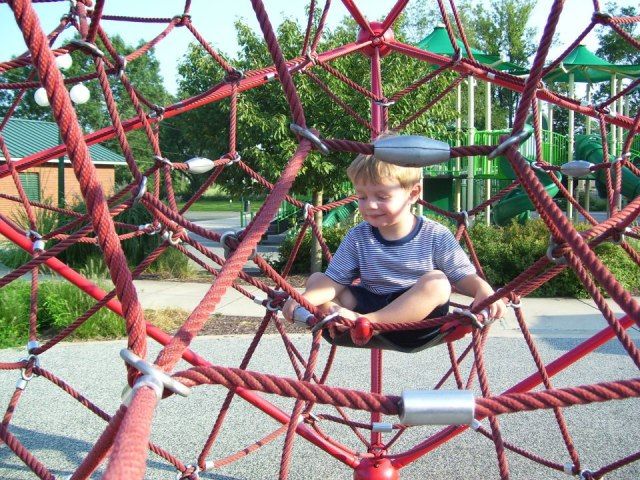 I made a new friend and ended up playing hide-and-seek with her. We had loooooong tubbies because we were soooooooo dirty and Marmie put my pajama's on Jude by mistake. He made it perfectly clear that he was NOT going to wear those to bed!
Oh, I forgot to tell you that as we were leaving the beach, we met a boy also named Jude!!! He wanted to shake Jude's hand, but Jude was too shy! Well, Marmie is ready for bed and so I must say goodbye. I told Marmie we would stay with her five days and then go back to Maryland!
Love, Jack
Day 5
Hey There Mommy and Daddy,
Well we decided to end our camp with a trip to Knoebel's even though the weather report was not very good. It ended up that it only rained the first few minutes after we arrived and the last few minutes as we dashed to the truck to go home.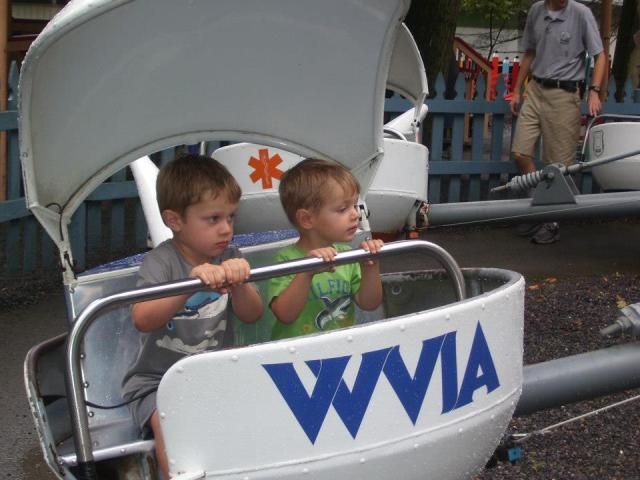 Good thing Marmie packed our pajamas, cause we were both asleep before we pulled in the driveway. Poppa just picked me up and plopped me in bed beside Monkey.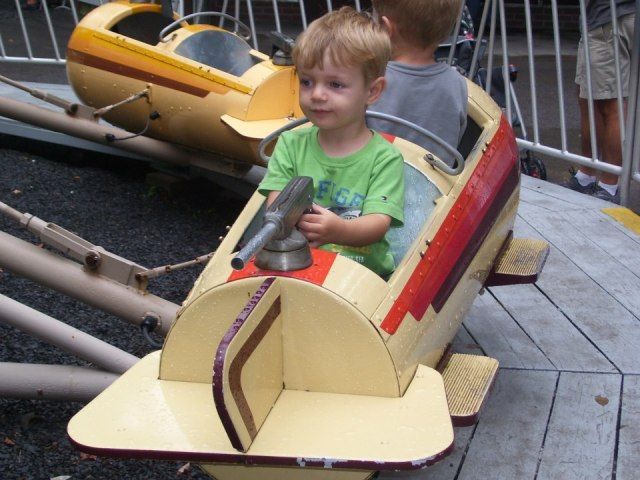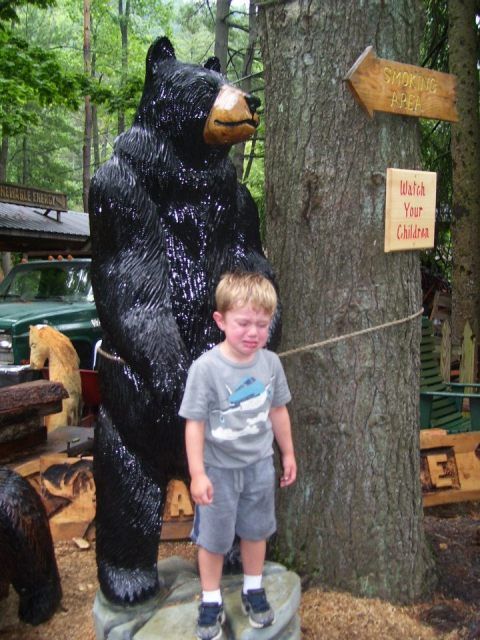 It's all fun and games until someone asks you to get your picture taken with the bear.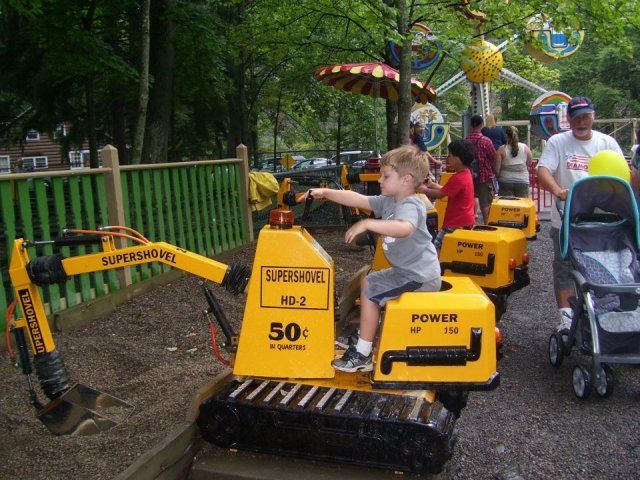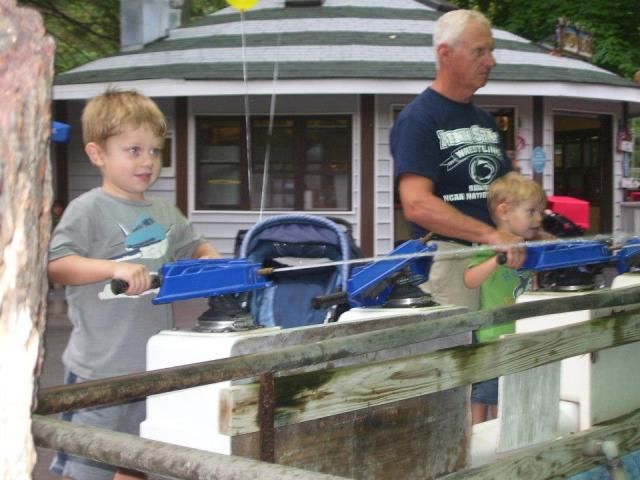 Marmie and I smashed into Poppa and Jude's car lots of times at the Bumper Cars. I really liked screaming through the tunnel on the train. Jude rode the airplane all by himself and even remembered to pull back on the "throttle".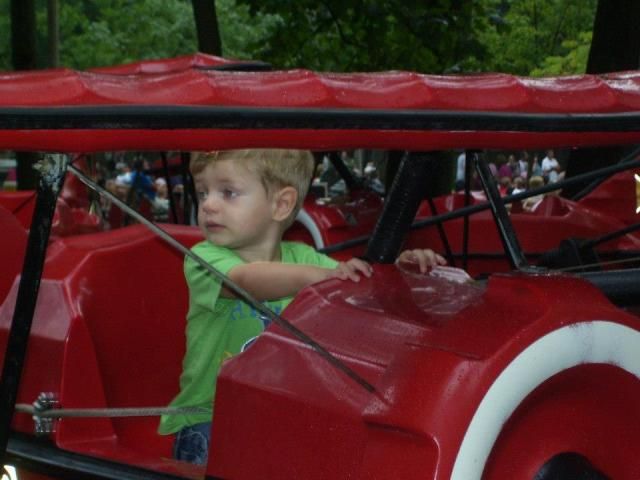 Poppa and I were the only ones playing the horse Race game so I won. Jude and I each got to pick two vehicles like the one on Cars because a little girl gave us her extra tickets. I drove the miniature cars and told Marmie the green one was the Coast Guard ship like Daddy was on.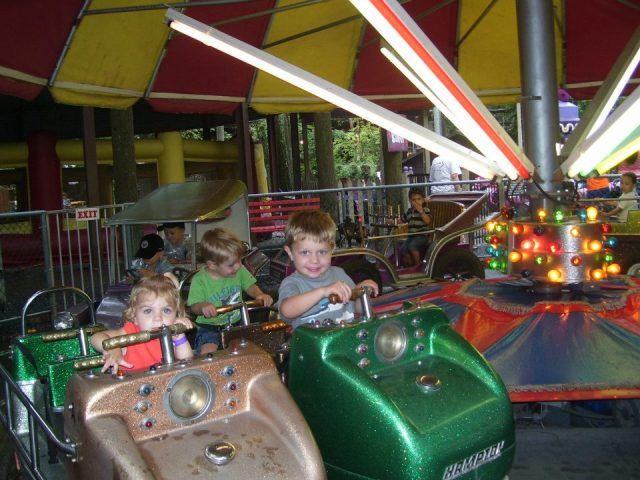 We rode the big antique cars and the merry-go-round too.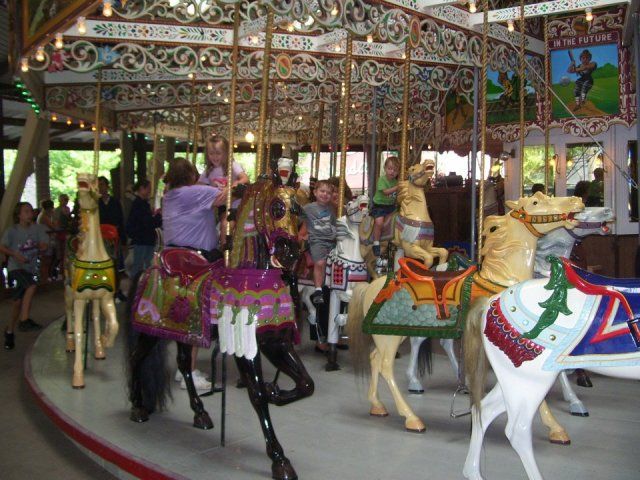 I picked the biggest horse (the one that was in the "up" position) and rode right beside Jude. Jude smiled the whole time. Of course we ended the evening sharing a huge banana split. (Poppa ordered the biggest size too!)
And then took one last train ride through the woods before heading home.
Good-night! See you tomorrow afternoon!
Love, Jackster
And so ends another successful Grandy Camp. I'm already looking forward to next year's camp. Or maybe Camp 2.5 this winter. Or maybe we could work out a monthly mini-camp. Okay, I'll stop now. I really did miss these fellas. And although my life is cleaner and less stressful when they're gone, it's much fuller more meaningful when they're home!