I'd like to tell you I got loads and loads done during Grandy Camp, but the truth is I mainly just worked and cleaned. And cleaned. And cleaned. And then I did more work and enjoyed a house that stayed clean for longer than a hot second.
It's a very odd feeling having your family reduced by 3/5s for a several days. Two years ago, when it was just Jack and I during the day, having one small child around was not a "break." But these days, only having one baby around is a HUGE break. To the point where I almost didn't know what to do with myself.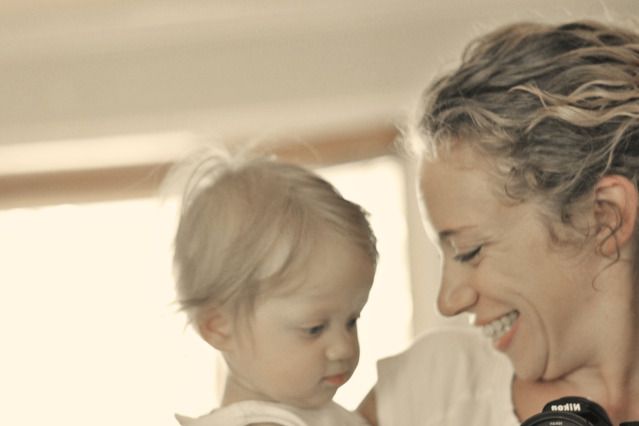 Well okay, I knew what to do, I had a whole list of things to do, but I was so unaccustomed to long stretches of "free time" that I wasn't quite as productive as I had dreamed. Suffice it to say, it's a very weird feeling. To not be needed as much as I'm used to. So I was glad to still have my girl around to keep me grounded.
But oh, did I miss those boys! Oddly enough, not as much as
last year
. Perhaps I'm older and more aware now. Perhaps I realize what a gift 5 days of reduced-motherhood is. Or perhaps I realize what a gift my two little guys are and how much joy it brings me to share that gift. And on that note, thank you Mom and Dad for taking such good care of my boys and for giving them a wonderful week in Pennsylvania!
By the time Friday rolled around I was good on all my work, the house was clean, my husband was back in the state and we were all a little exhausted. But it was Friday night, we only had one sweet angel under our care, and we didn't know when such a situation would present itself again. So we deemed it a "date night" and Julia and I anxiously awaited our man to get home from work and whisk us away to dinner.
Once again, the opportunity was a bit overwhelming and being the excellent decision-maker that I am *cough, cough*, I had no idea which establishment on my list to hit-up that night. Jon had only to say "Where could we go that we would never take the boys?" when it suddenly hit me. I knew exactly where we would eat that night. And it danced its way across my mind in the form of two words: lettuce wraps. Okay, so that's not the name of the restaurant. But it was all that was on my mind. See I knew we had to do PF Changs because
the last time we went there,
in Las Vegas, I ended up blinking back tears because the experience was so horrible. And we only had one child back then. We've never been back. Until last Friday.
And it went much better this time around. There was actually a free concert going on in the streets so we got to eat outside on the veranda and enjoy our lettuce wraps to the tune of Irish music. And Julia got to bob her head and scream to her heart's content and no one even noticed over the bagpipes. And of course she was fantastic, despite the fact that we were out well past her bedtime. If I had to bring a baby along on a date it might as well be our Lia!
Marmie and Poppa brought the rest of our family home on Saturday. I saw them pull in out the window, opened the door and the next thing I know Jack's running towards me for one of his powerful, almost-knocks-you-off-your-feet hugs. Jude was not far behind him, until he got about halfway, at which point he suddenly changed his mind, turned around and ran to hide between Marmie's legs. Oh wonderful, my kid doesn't even want to see me. I guess that means he had a good time at the grandparents. He eventually warmed up. And aside from asking a few times a day "Where Marmie/Poppa go?" he seems to enjoy being back home again.
In other exciting news, the kids weren't the only thing in the back of my parents' truck. Marmie and Poppa also brought us back a bunkbed for the boys! We had been looking for months. I checked out a few Craigslist ads but all the good ones were scooped up in less than a day and the rest ... well, they just weren't "the one." So when Marmie called one Saturday morning while out yard saling, out of breath with excitement, I knew it must be good. Introducing, the Jolly Roger: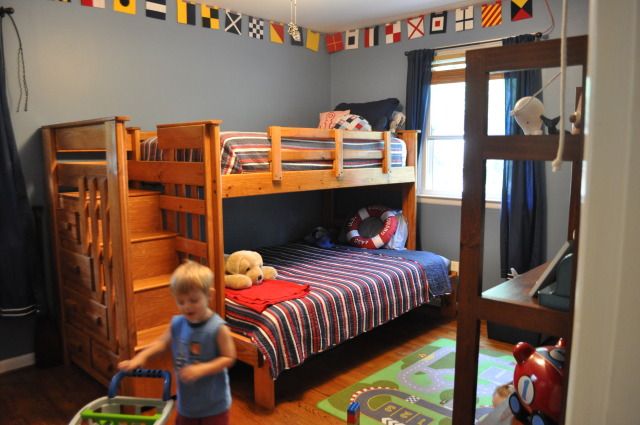 Yup, this thing is so big we decided to name it after a ship.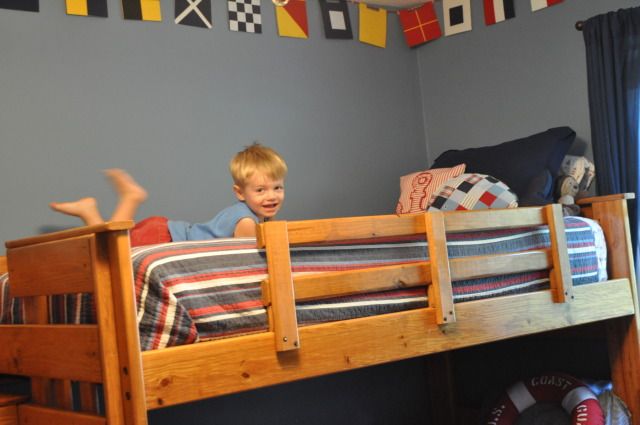 I mean, it even has its own staircase (that also doubles as a dresser). The boys are wild about it. Of course, we've already had our share of injuries courtesy of the steps (Jude got a major fat lip this evening). And we also have to constantly remind Jack to be aware of the fan blads (yikes!). And surprisingly, despite the fact that my petite little 2 year old has a double bed all to himself, Jude's fallen out of bed several times (a few extra pillows and giant stuffed dog have helped!). Oh, and there was that first night when Jude REFUSED to go to sleep for two hours until we finally conceded to a night-light. But other than all that, we're starting to settle in nicely. And the extra playing space has been a nice bonus too!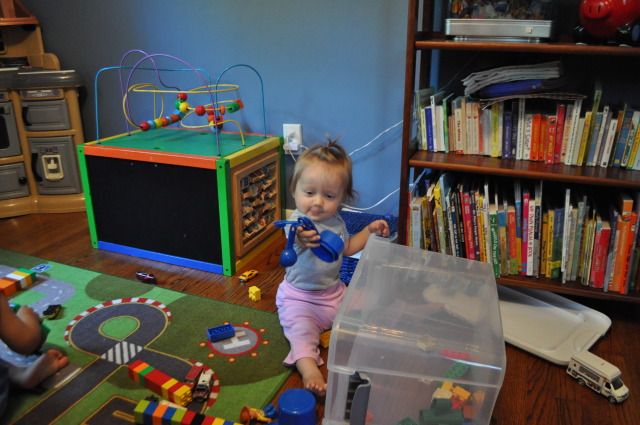 And I don't know if it's the new bed or an overly exciting week at the grandparents', but these crazy cats have been sleeping in until 8-8:30am the past few mornings! Too bad their little sister has been starting her days between 5-6am. Maybe we should get her a bunkbed too.
So thank you Jolly Roger bed for keeping the home-life exciting. We all know
what Jack thinks about living in Maryland
. I can only imagine how it feels to come back from several-fun-activities-a-day at Grandy Camp to an exhausted mama that is exceptional at putting the "stay" in stay-at-home-mom. Sweet dreams fellas! Board your bed and sail straight on 'til morning!