We made a trip up to Pennsylvania this weekend. We finally had an opportunity to stay with Jon's parents, which we haven't done in a while. And I just love a relaxing weekend at my in-law's house in the mountains. Thanks to Julia, I got to watch the fog lift out of the valley every morning during our visit. It was lovely, but the extra sleep would have been helpful for all we wanted to accomplish during our short stay.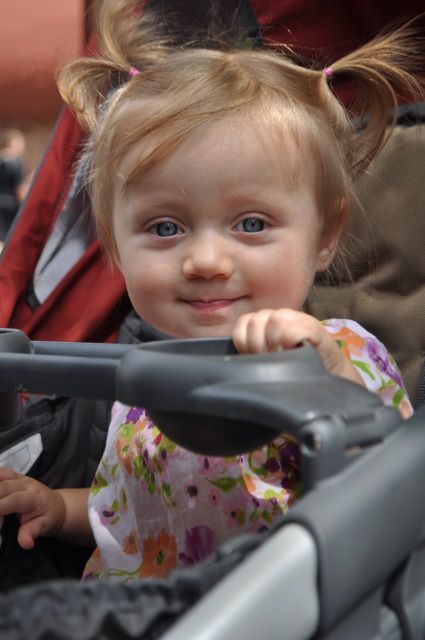 She loves PA too!
Now that both Jon's sisters live in PA it's easy for us all to get together when we're in town. And that's precisely what we did, for a dandy summer barbecue, some swimming, and a bonfire with s'mores.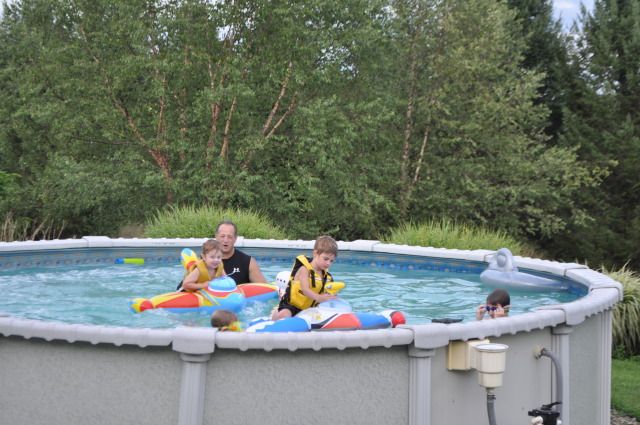 But the real reason we made the drive was for Jon's dad's company picnic at ... you guessed it, Knoebels! Is anyone tired of hearing about our trips to Knoebels yet? Okay, good. Because I have a few pictures to share.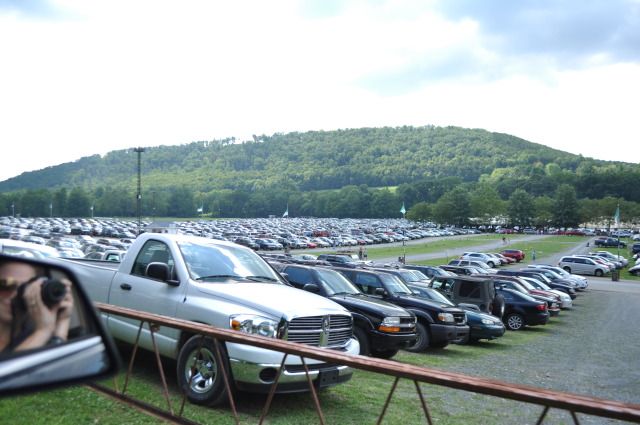 Everytime I go to Knoebels I try to see it through the eyes of someone who has never been there ... so, how 'bout this unpaved, slightly inclined parking lot with a beautiful mountain backdrop?



To say we had fun would be an understatement. There's just so much going on at this place of wonder and joy!
Nonnie was brave and volunteered to chaperone the first ride of the day.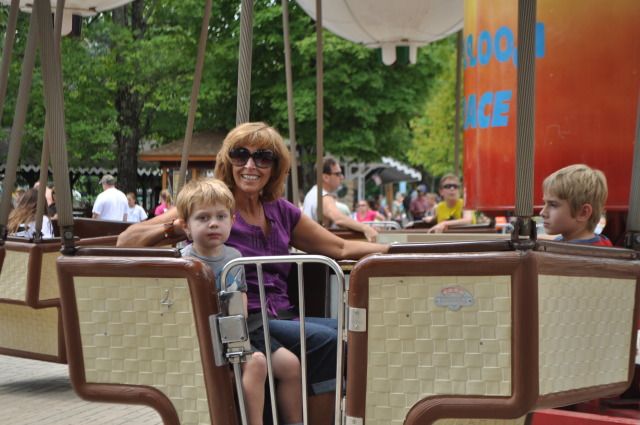 I think she started to regret that choice somewhere between the first and second full circle...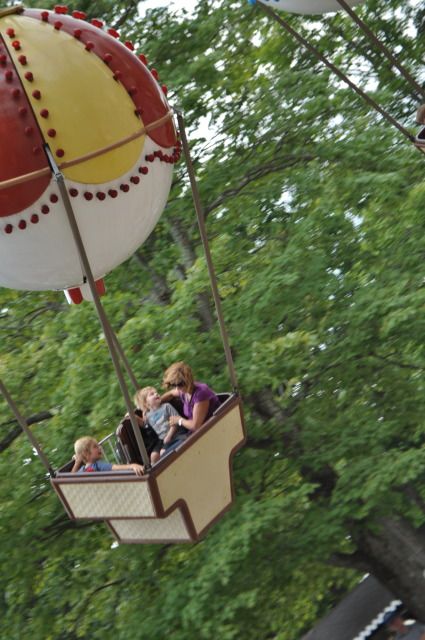 And so many people to share all that "fun, food and fantasy" with! My family joined us, along with a few mutual friends.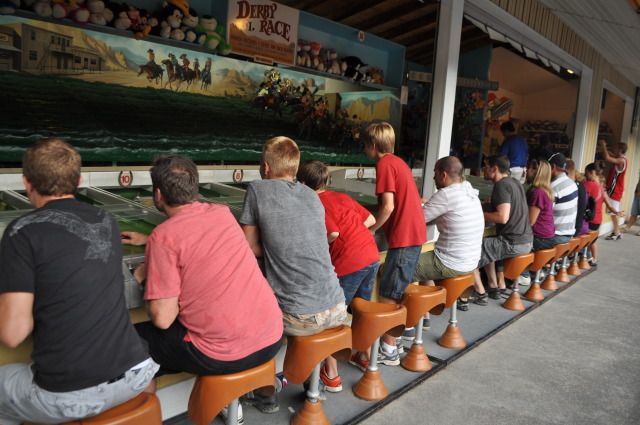 Someone I know was bound to win this race ... since I know everyone playing.
I even got a few minutes with my friend Megan, which is saying a lot since we're now trying to manage 7 children between the two of us.
Photo by Meg.
Photo of "Photo by Meg."
I've said this before, but one of the advantages of having kids is that you have an excuse to ride the kiddie rides with them.
Sorry for the blown-out lighting. I was putting a baby to sleep and forgot to change the mode before passing off the camera.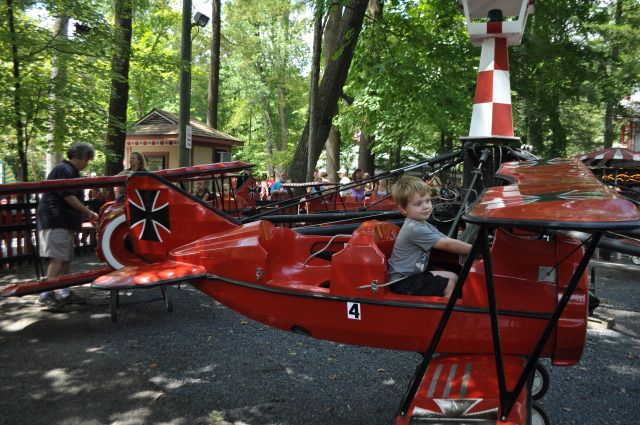 Jack is starting to enjoy more rides that Jude can't go on. But the sweet thing didn't seem bothered a bit. He was just happy when it was finally his turn.
Someone's daddy was taking the shuttle slide a little too seriously! Aspiring Olympic toboggan-ee?
Jack continues to impress me with his courage.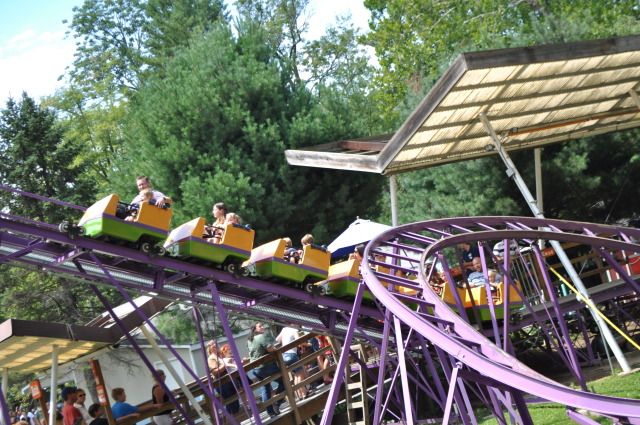 That's him in the front seat with Daddy!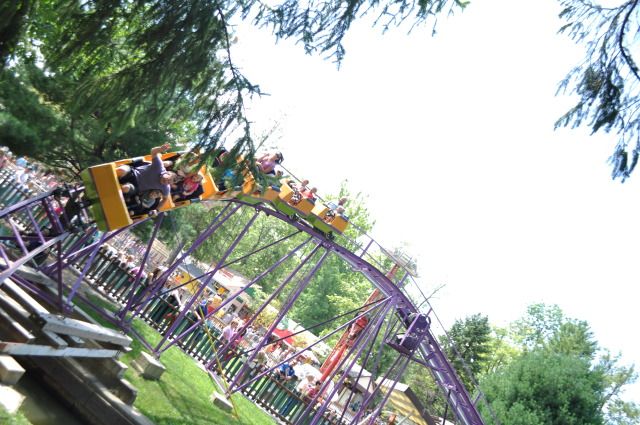 He's not the only one having fun!
I thought the Kiddie Coaster would be the epitome of his bravery. But he surprised us all with his interest in the "logs."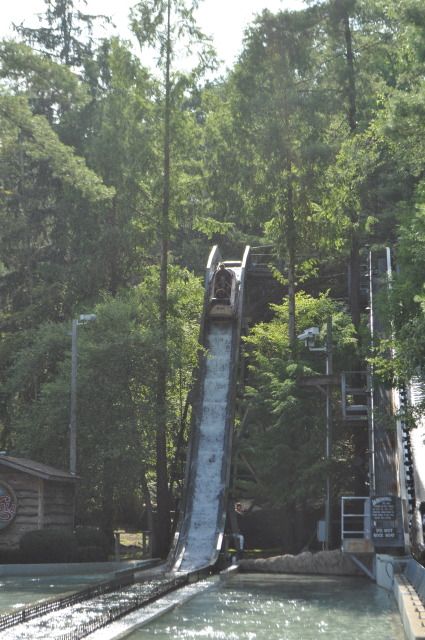 So we let him try it out ...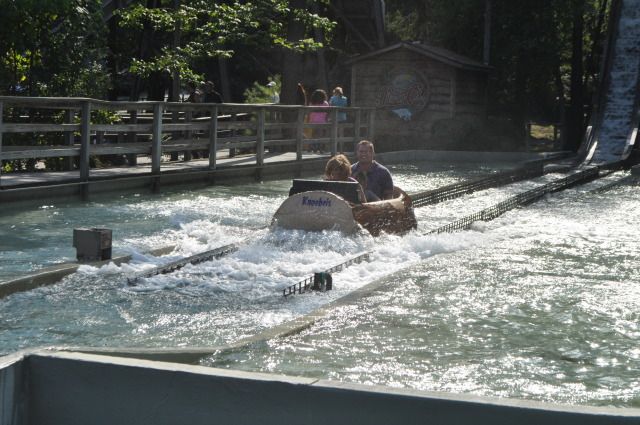 ... and he loved it.
Watching for Jack.
This one got a gold medal for "cheerful disposition despite lack of naps!"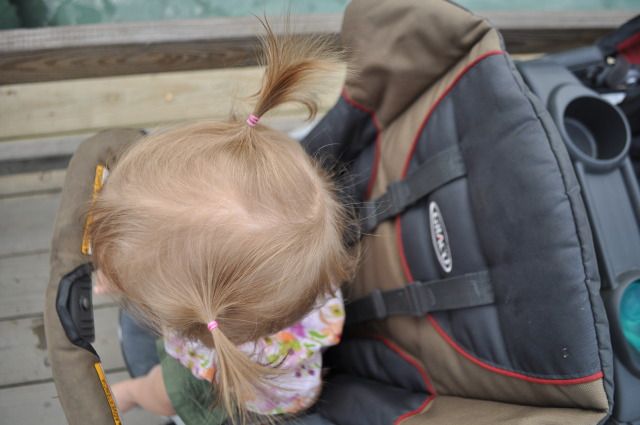 Oh heavens I love her!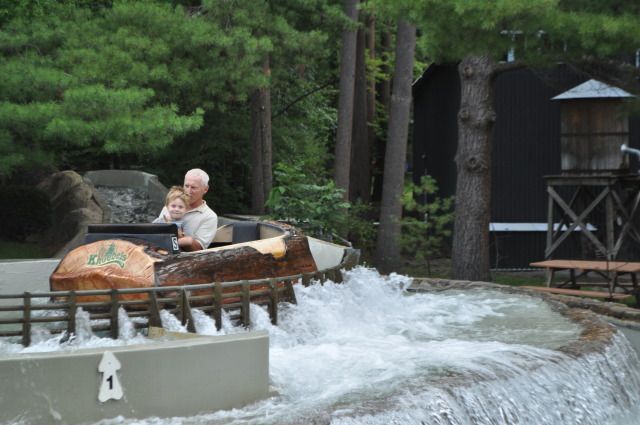 Lucky for Jack, there was no shortage of riding partners.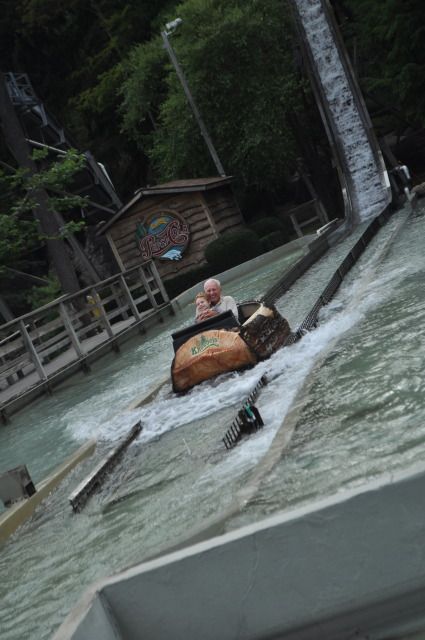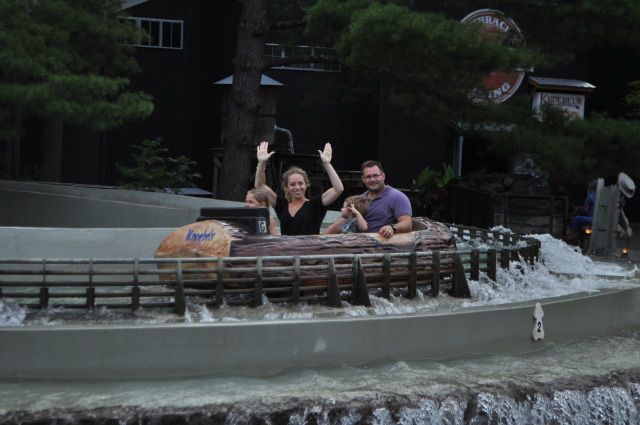 Okay, so Jack's not the only one who loves the flume. Prepare to be inundated...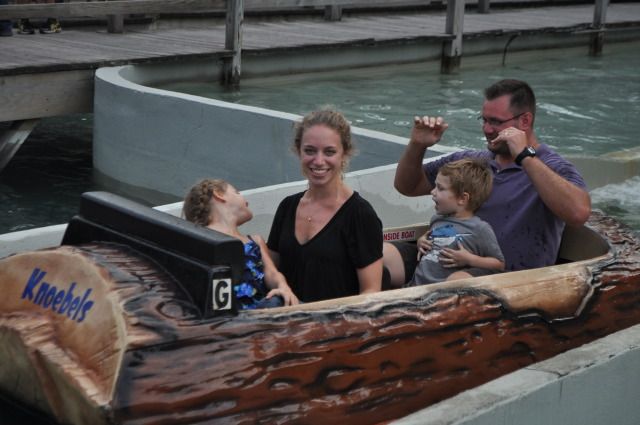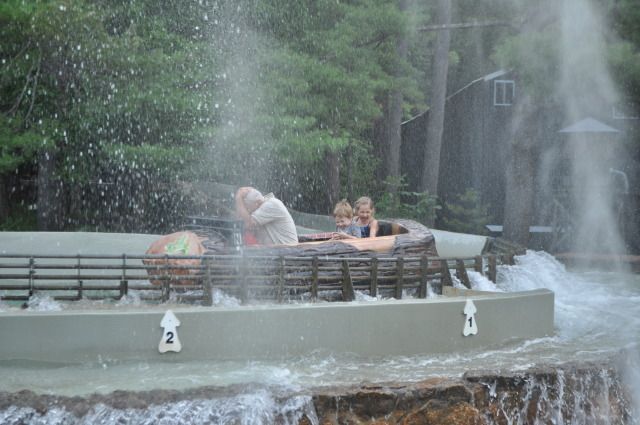 News alert: You can now pay a quarter to spray riders with water!!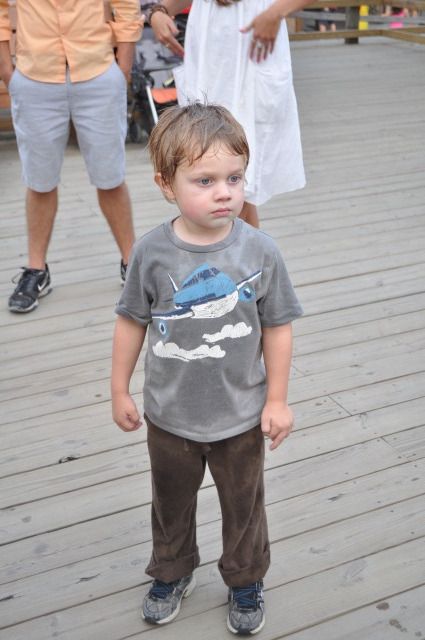 This is Jack's happy face.
But apparently even the Flume got old too quickly. And so the culminating event of the evening had to be when Jack rode the Phoenix. Jon claims he took him over to it "just to see" if he was tall enough to ride. He was, but just barely. Next thing I know they're both missing and last seen in line. Apparently Jack turned to Poppie and said, "You're riding with me, Buddy!" By the time I got up there he was just boarding the cart. He was excited and I was nervous. Really nervous. I think I was 7 when I first rode the Phoenix, and it was pretty scary. I mean, I'm 28 and have rode that thing about a hundred times and it still gives me butterflies. So to watch my baby get pulled up that loooonnnng slow hill? Killer. I think I held my breath for 2 minutes and 10 seconds. At that point, he pulled back in, completely safe and just a little excited that he conquered "the huge mountain!" No pictures, since I was in line myself and because he would have been flying by too fast. But for those of you who have never done Knoebels (*gasp*, do you really exist?) you can get an idea of Jack's point of view
here
.
Don't worry Kozmo, we'll be back. I'm sure of it.
Of course, before we knew it the sun was setting and a cool mountain breeze was settling in around the park. We didn't get to accomplish all we wanted to, but we also had some very tired kiddos on our hands. After a trip on the ferris wheel with ALL our kids (even Julia, who I had in a death grip so no pictures of that either). We headed to off to that fancy parking lot, packed up and headed out. The kids fell asleep in the car within seconds. Which was good, because they definitely needed their rest. Jack and Jude have a very full week coming up ... at Grandy Camp!
Oh yes, stay posted, more to come!