We celebrated Jack's "half birthday" on Tuesday. As you may
recall from last year
, I have an affinity for half-birthdays. Oddly enough, this year's celebration bore an strange resemblance to its predecessor.
For starters, Jack opted
not
to take a nap on his 1/2 b-day. This is just one of those mysteries that will remain unsolved in Mommy-land, why some days, for some unknown reason, some kids just won't go to sleep. Instead he laid up in bed for almost two hours talking to himself. I eventually felt bad and invited him down to help me make cupcakes. He was all too happy to oblige.
He dumped and stirred, and flung and spilled ... and then faithfully guarded the oven door while they baked, inserting an occasional "Mmm mm, so good" when necessary. Then we got them out and set them on the counter to cool. And they sat there the rest of the day, tempting the little half-birthday boy, until celebration time.
Jack was still dealing with a bit of "the bug" so he wasn't eating too well this particular day. I knew I couldn't give him a chocolate cupcake with no dinner to precede it, on Mama-principle alone, so I coaxed and bribed and all manner of threatened him to take just a few bites here and there, ultimately relying on quick glimpses of his special cupcake to encourage him to take another bite. Dinner lasted a very long time. But that was okay because Jon was running late and we couldn't initiate the festivites, or sing the happy half-birthday song, without him there to help!
So I stalled as long as I could, had him help me clear the table, water flowers, watch out the window for Daddy... It worked fine for a while, but I was getting tired of warding off Jack's requests for a "cuck-cake" and Jack was too. So he started acting out and I believe instigated a Jude-injury at this point because soon Jack and Mommy were having a serious, tear-filled chat on the stairs during time-out when Daddy walked in yelling all sorts of "happy half-birthdays" and "Jack I gotta surprise for you!" from the hall. Which pretty much nullified my corrective moment but was a welcome relief just the same.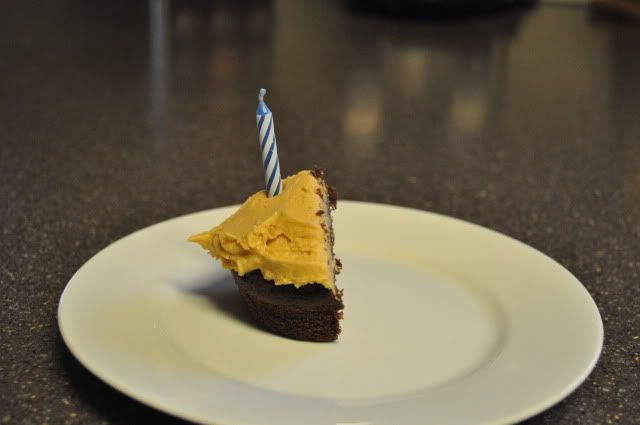 Jack got a half cupcake for his special day ... his mama had several halves that evening.
All this to say that, since we quickly whisked out the cupcakes and started into our song, Jack was still recovering from his emotional upheaval. Ergo he is a tad tearful in his "Happy Half-Birthday" pictures.
He pulled himself together in time to attempt a few blows at the candle, but all to no avail.
He eventually decided, much to my horror, it would be much easier to just put the flame out with his fingers.
So what is the 2.5 version of ou firstborn like? Well, Jack has given us a run for our money these past few weeks. Oh wait, kids come free. Well, it's been tough regardless. Ever since we got back from our Pennsylvania trip he's been extremely active. More active than usual, and usually he's pretty active so you can just imagine what levels we're reaching now.
He's bouncing off the walls, or the furniture. He's learned how to do forward rolls and will just roll and roll around the room. He's suddenly interested in running - "I running Mama, I running!" Thankfully when it's nice outside, we can just open the back door and let him loose. He's climbing over people and things. He's renewed his interest in "Jack's 'ole bed", has figured out how to climb up and into his crib on the other side of his room and more than once I've found him up there jumping away. He can't get down by himself yet though ... tee hee. :)
His boisterousness is encroaching on baby brother territory too. I feel like I spend half my day issuing Jack restraining orders against his brother. He head butts, he lays on Jude, he jumps over him or will run circles around him and always accidentally clips his foot or steps on his hand, he gets a running starts to body-slam Jude's walker and pushes it across the room until it bounces off the couch, and just the other week he somehow managed to tip Jude's walker over and "baby brudder" ended up head first on the floor. The funny thing is, Jude almost always laughs. It's hard to explain to Jack how serious his actions are when he only thinks he and "brudder Jude" are having fun!
But occasionally the incident will end in disaster and Jack will soon come running saying "Brudder Jude crying sad! Brudder Jude crying sad!"
"Yes I hear Jude crying, now what did you do to him?!"
He's also decided he doesn't need to obey mommy and daddy the first time they say something, or the second time. Or ever. So he'll either ignore us completely, look at us and smile and go on doing whatever he was doing, or say "Why Mommy? Why Mommy? Why?" Oh the repetition. That amazing ability to repeat the same phrase over and over and over until you finally get the answer you want ... or something else you weren't expecting. He's definitely got the talent. And some of those oft repeated phrases?
"What doing Mama, what doing?"
"Mama tie-yerd, Mama tie-yerd... Jack tie-yerd too."
"Wass wrong Mama, wass wrong?"
"Daddy awr-fice, Daddy in a awr-fice."
"Where Daddy go?"
"No touching Jude, no touching!"
"I hear me a bird!"
"I yike it, Jack yike it!!"
But he's oh so cute. And this age is so incredible to watch. He's growing and learning and becoming more and more of a little boy. And trying so hard to grow faster and do all the things that Mommy and Daddy do. Like open the fridge and help yourself to a snack (but leave the frig door wide open and a trail of strawberry leaves leading right to your seat in the playroom). Or be the first to greet Jude at the end of a nap - "Baby Jude wake-im-up!" Or scrub himself off in the tub. Or help Daddy mow the lawn. You always know he's up to the challenge when he starts announce "Jack's turn, Jack's turn!" or "I helping Mama!"
He's often a challenge, occasionally an exasperation, but always, always a joy. Love this kid!