What a week! We are worn out from three road trips in four days time. And the youngest half of our family has been dealing with some major overtired-cranky-tudes lately. The rest of us are just beat. Beat and behind. I think I'm behind in just about every area of my life right now - my house is a disaster, the ironing pile takes up half the laundry room, I only got to 1/3 of my 30 phone calls for work today and I haven't been keeping up with my blog. But we'll work on that now. Because it's Friday, the kiddos are in bed, I spent the better part of the day folding clothes with one hand and returning phone calls with the other, the Royal Wedding is on TLC, and I treated myself to some tea biscuits and sparkling grape juice just for the occasion. So while the fashionistas are covering the attendees dresses, I'll cover the exhausting yet fulfilling events of the past few days.
Handsome grandboys!
Our first roadtrip was, of course, to Pennsylania. After Jude's birthday party we celebrated Easter with Jon's family.
Jude is wearing the same Easter outfit at 12 months that Jack wore at 6 months. So convenient!
Although it was drizzling, the mountains were still exuding spring and new life. After church, the grandboys had a little Easter Egg hunt at Nonnie and Poppie's. It was Jack's first experience, and after a little encouraging he really caught on!
It was a bit tough keeping up with the older cousins, but that's okay. We didn't need all that candy lying around the house anyway!
Assessing his bounty.
This is as close to egg hunting that Jude could get.
Of course, it wouldn't be Easter without our traditional Egg Fights. Both Jack and Jude got to participate this year. Jude had no idea what was going on, but Jack was pretty excited.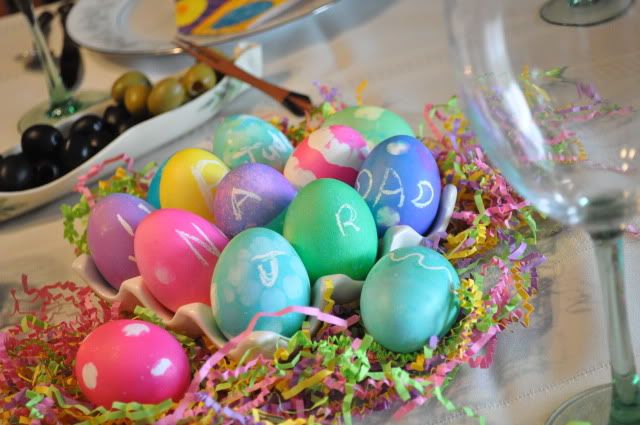 Poppie (with assistance from Jude) was the winner!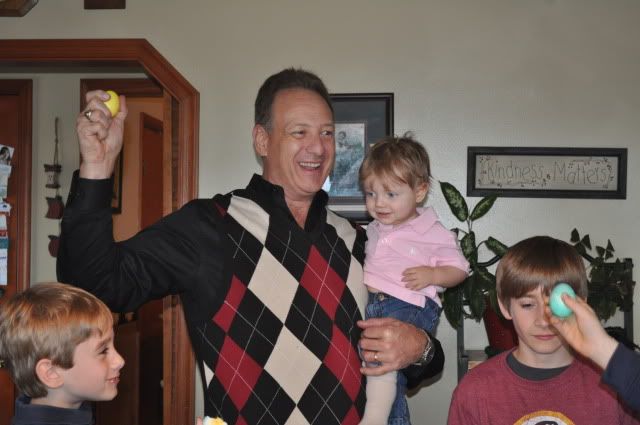 We ended up taking two cars to Pennsylvania for the weekend so we could bring a truckload of things for my parents yard sale and so we could bring back the antique hutch we bought during our little anniversary trip in March. So Jon drove up and back by himself with the truck, and I had the honor of driving with the boys on my own. It wasn't easy, but it certainly wasn't as bad as I thought it would get. Jude was the most difficult, and the main reason we ended up pulling over several times on this trip. But sometimes pulling over just wasn't an option for several miles, and I quickly learned just how difficult it is to concentrate on driving with a little one screaming in the backseat. I breathed a huge sigh of relief when both boys finally drifted off to sleep... until we hit a major rainstorm. We ended up getting back to Maryland around 11pm, which is a bit late for this mama, who was more than ready to crawl into bed and stay there until well into the next day.
Of course, the boys had a different idea. Do kids ever sleep in?? Jon had class on Monday and came right home to work on a final presentation for the next day. He ended up coming to bed at 2am, and then waking up a 5am for class. He was so exhausted by the time he got home that he spent the rest of the evening vegging on the couch. Which meant I was on my own with our two little offspring, who were still recovering from the weekend.
But there wasn't much time for recovering because we were up again at 4am the next morning for a trip to Virginia Beach. I had a meeting at work and since we'll be moving another hour farther from my office, and I'll have a new little one to care for in a few months, I figured I should get my work visits in now while I can. Rather than stay home alone with the boys all day, Jon decided we'd make a family day of it. And I'm glad we did, because it was so good to visit our old grounds and catch up with some friends!
With the big move coming up Jon and I have been reminiscing about old Virginia days and all the things we miss about our first home. The conversation usually turns to food. I've been longing to visit our favorite seafood restaurant - Dockside, and Jon has been dreaming about his Yama sushi. So these were two things on our hit list. And of course we couldn't go all that way without a visit to the beach!
Jon entertained the boys while I took care of things at the office, and then we at lunch with my boss and co-worker at Dockside. I'm sure my British professor boss was really impressed with my sons' abilities to fling food, spill drinks and escape highchairs. Certainly made for an interesting dinner.
We drove through our old neighborhood, noted all the things that had changed and all the things that were so familiar, and parked on our old block for a little beach visit. Jack was too cute. He's been talking about the beach for months now. He knows where we keep the sunscreen and every once in a while he'll bring me a bottle and ask if we can go to the beach. I bought him some flip flops this week and he was tickled pink with his "beach shoes." So as soon as we let him out of the car and pointed him in the direction of the water, he grabbed his little bag of toys and headed off on his own. He knew just what to do!
I knew Jack would love the beach, but I just wasn't sure what Jude would think. I was surprised to find that my sensitive, doesn't handle new situations too well little guy LOVED not only the sand, but also the water, which was freezing! He played on his own with a bucket and sand for a while, and then giggled with his toes in the frigid ocean. He was adorable and I'm already looking forward to our family beach vacation this summer!
But the trip did make me a little sad. We miss our old backyard so much. I so wish my boys could have days like this just a little more often.
Of course, we couldn't go home without touching base with our Virginia Beach besties - Janine and Brian. And get a peak at their new house! It's been so long since Jack and Abbie have hung out, I wasn't sure if they'd remember eachother. But they seemed to hit it off well.
And this cutie! Sweet little Nate has grown up so much since I've last seen him!
The day ended too quickly and we soon found ourselves back in the car. I'm sure my kids are beginning to think we live in the car and occasionally visit our house, because after pulling in the driveway at yet another late hour, we pulled back out again less than 14 hours later for a house-hunting trip in upper Maryland.
By this point, our kids were pretty well maxed out. We took a second look at our favorite house. The current owners have tiplet boys, which means they have lots of cool boy toys and a great backyard playset that Jack refers to as "the park." You can imagine how excited he was to be there again ... and how not-so-excited he was when it was time to go. His sentiments carried out well into the rest of the day. Both Jon and I were exasperated by the time we got back home. We just kept having to remind ourselves that our kids were suffering from severe overtiredness/lack of routine/too much Easter candy... and so were we.
So today was "lay low and catch-up" day and tomorrow will be too. Actually it will probably take the whole of next week to catch up, but it should happen because there are no more road trips scheduled for the next week and we have an awful lot to take care of during our last few weeks in the 'Burb Nest!
Happy weekend!