... and some tips in case you ever want to throw your own!
We went home to Pennsylvania this weekend to celebrate Jude's birthday and Easter with our family. Despite the damp, chilly weather, good times were had by all.
Even though we didn't really start working on plans for Jude's party until recently, it's something I've been thinking about since long before he was born. Our second baby's due date fell right before opening day of trout season in Pennsylvania last year. Which is kinda a big deal back home, and definitely a big deal in my little family of fisherman. So when we started wondering if Jude's arrival was going to interfere with Poppa and the Uncles' fishing plans, I knew we had a party theme.
Originally we had planned on a breezy outdoor party in the springtime, with real-live fishing at the nearby creek. But the weather forecast convinced us otherwise, and we moved the party to my in-laws' basement.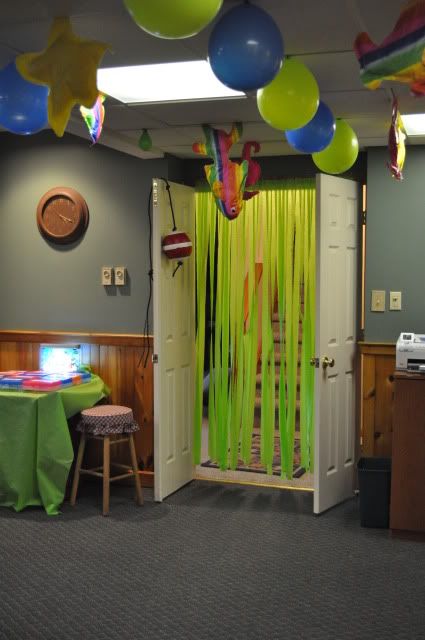 The vinyl tablecloth rainbow fish, starfish and seahorses were made by Marmie a few years ago for G.G. Ma's beach themed 80th birthday party.
And
my favorite party planner/wedding coordinator/cricut guru
outdid herself with the paper goods again. In fact, she designed, printed and cut the menu cards, tackle box labels and faux fishing licenses the morning of the party, whilst 3/4 of her brood was suffering from the stomach bug.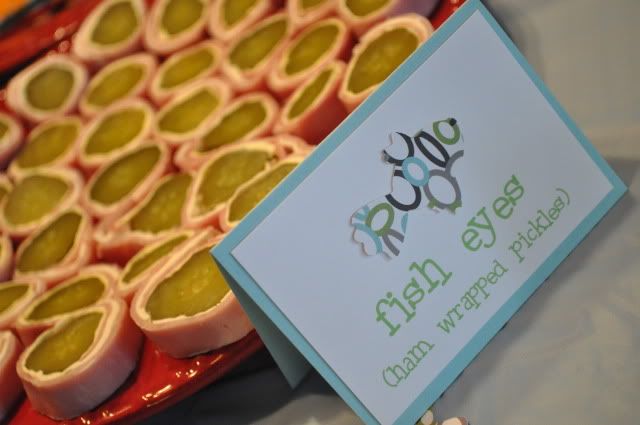 A personal favorite of many - dill pickles wrapped in cream cheese smothered ham. Mmmm.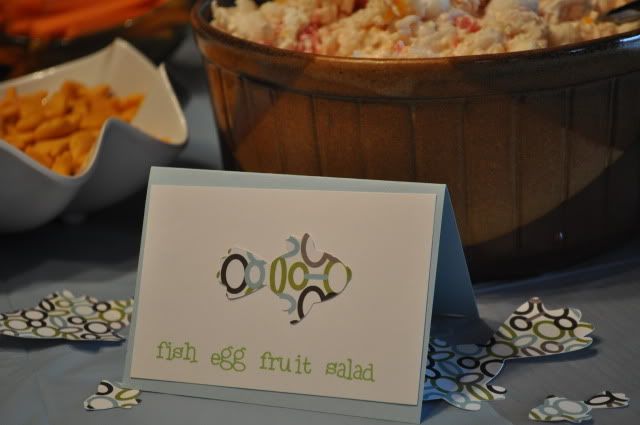 Otherwise known as Rosa Marina or Frog Eye Salad.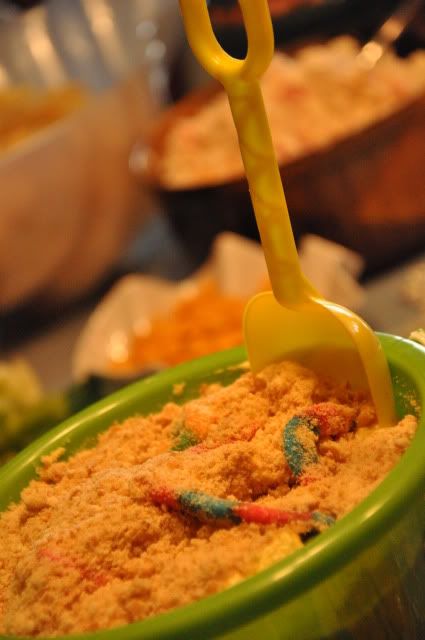 Sand a.k.a. vanilla pudding and Nilla wafers.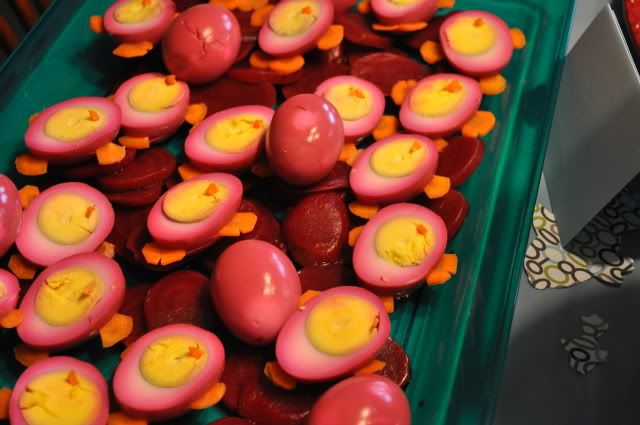 Pickled blowfish ... or pickled eggs and beets.
I'd like to say I had this party all worked out weeks ago, but alas it was not so. Things have been so busy and stressful in our house these past few weeks, I just haven't been able to get to everything that I wanted to. Plus my pregnancy hormone-marinated brain was just not functioning at its peak. I somehow managed to write up a menu, go shopping, create a fishing rod pinata set-up, put together tackle boxes, tag licenses on to hats and assemble a few plates a food ... all in a few hours before the party. The grandma's took care of a lot of the cooking. And Marmie proved her creative cake decorating mastery yet again with Jude's fish cake.
And Jon and his dad took over the balloon blowing and decorating. I'm still not quite sure how it all came together.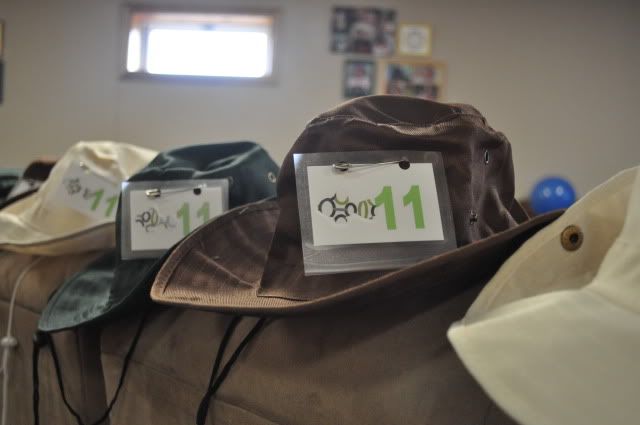 Hats from Oriental Trading, ordered by the dozen they came out to around $2 each. The nice thing about these is that they are kid-sized.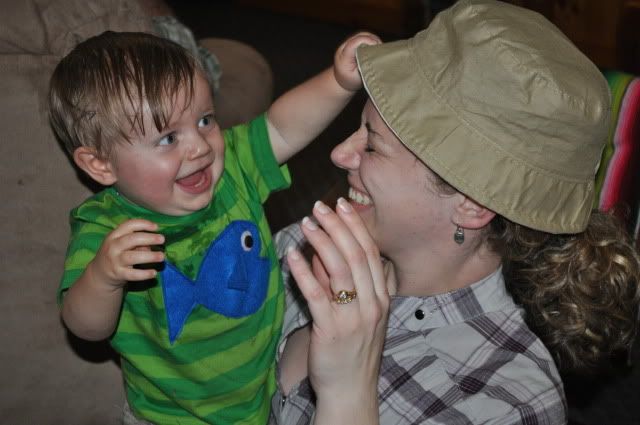 A few days later I found my own hat at the Dollar Store.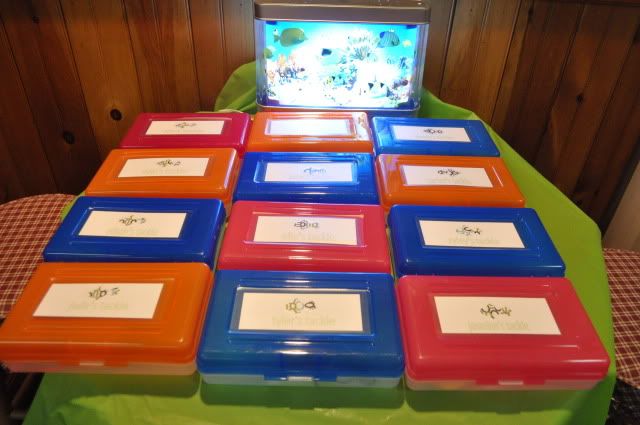 Each child also got a "tackle box", also from the Dollar Store. Each box had some fish, worm and frog candy "bait" as well as a light stick, bouncy ball "bobber" and bug that grows in water. This is also what the kids used to store their pinata swag in.
But it did come together and we had a fun time, despite the fact that weren't planning to go as "big" as we did. I mean, it's a 1 year olds' birthday, he's not going to remember a thing. And the 48 hours leading up to the party found me vowing to never do it again. But I will, in 18 months, because I did with the first two and I'm determined to keep things as fair as possible. Jack and Jude's next birthday parties may be a much, much longer way off though.

Jude was more concerned with getting the hat off his head than with his birthday cake.
After spending an hour scrubbing cake out of the carpet at Jack's first birthday party, Jon was much more prepared this time around. He put a plastic tablecloth under Jude's chair to catch the droppings. ... And then Jude threw the cake and icing over his shoulder and completely superseded the plastic boundary.
He really wasn't that interested in the cake. He rubbed some in his hair and then threw the rest out of the way. Jude is very much into making healthy choices these days.
Despite the fact that we couldn't go fishing in the real creek, the kiddos had an opportunity to try their own little hands at the plastic pond. At the end of the day the little party-goers could take home some of their "catch" to use in their own bath tub ponds.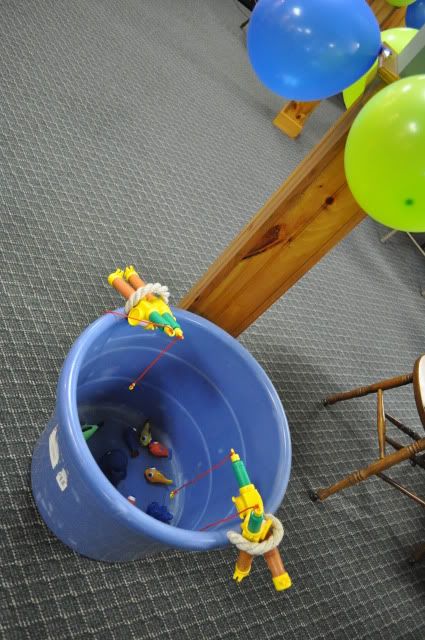 Magnetic fishing rods were from Marmie's classroom. The bath toy fish were from the Dollar Store (3/$1). We just poked a hole in the top and slipped in a paper clip.
Turns out Jude is quite the pro. Who knew the Birthday Boy was such an avid sportsman?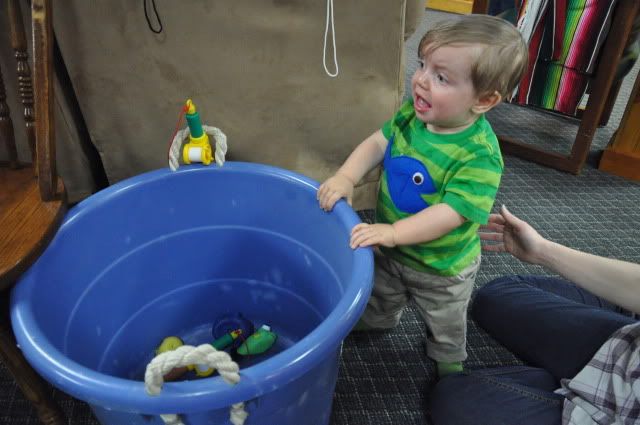 Jude's shirt: $4 from Target that I sewed a few pieces of felt onto and added a button for the eye.

He caught one!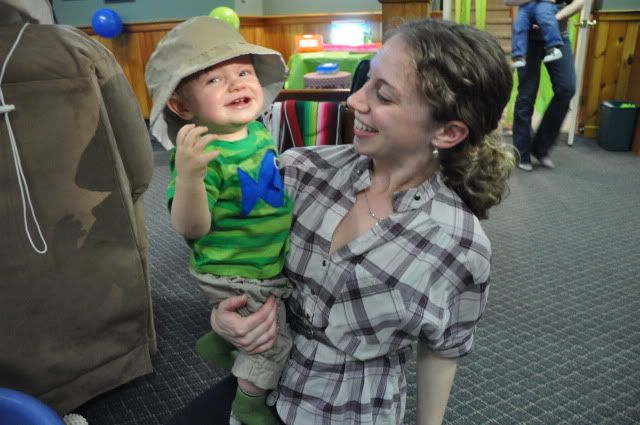 This is the part where my thrilled birthday boy starts telling me how big the fish he caught was.
Our other activity was a fish pinata. I had a hard time trying to balance celebrating a 1 year olds birthday with his other kiddo guests - ranging in age from 18 months to 10 years. I don't think the boys' older cousins were really in to using a magnet to snag a rubber tubby toy in a bucket, but just about everyone enjoys a pinata. To even the playing field, instead of whacking the poor fish with a stick, I cut a trap door in the bottom, attached 12 fishing lines to the inside of the door, and tied them off to individual "rods." On the count of three everyone pulled to "reel" in the big one. Surprisingly, it took a few seconds for the door to open, which only added to the suspense.
Fish Pinata from Amazon.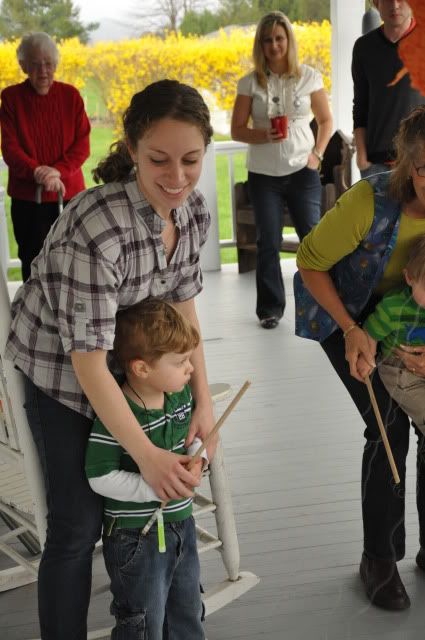 Good thing Jack brought his light stick so we could see our line!
The big kids knew what to do right away. This was Jack's first pinata experience but after some coaching he soon caught on ... and immediately collected all the boxes of "Dots" for his Mama, since they are her favorite. All the commotion was a little much for our sensitive Birthday Boy though, and he just kinda sank into Nonni's arms and cried. Poor boy!
But for the most part he did very well with all the attention and activity that comes with being star of a party. And in the end the hard work was worth it. Worth celebrating this amazing little guy and all the joy he's brought us this past year. And worth getting to party with some very special friends and family, whom we wish we could see more often than we do! Happy Birthday baby Jude!