We hit 18 weeks on Wednesday! And that means soon we'll find out if #3 is a boy or girl. I'm not saying when my big ultrasound is because we're going to have to keep the results a secret for a "a little while" until we have an opportunity to tell our frineds and family. And the last thing Jon needs (or myself for that matter) are phone calls and texts trying to eek it out of us! Just plan on us making an announcement in about two weeks.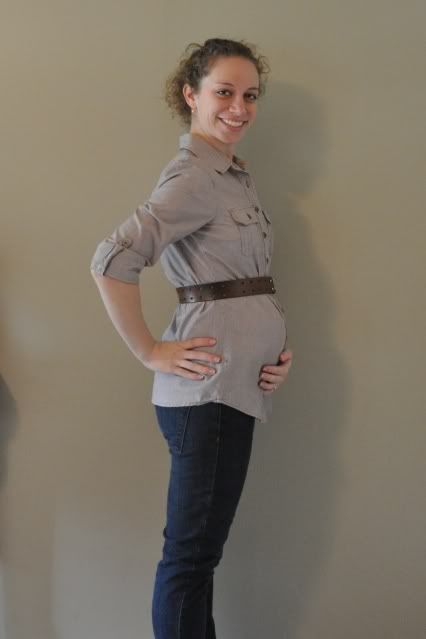 This is technically 17.5 weeks.
But before we get to that, I FINALLY had a doctor's appointment this week. This is my third appointment.
The first
was just an ultrasound to determine the due date and
the second
was just a big waste of time (over an hour wait for someone to check my eyes, ears and throat??).
After that experience I decided it was time to move on from military healthcare. Mainly because I can right now. Our area currently has a program where you can continue to use your full military benefits at certain civilian clinics. Who then, in turn, can you give you a referral to a civilian OB and wa-la! I now find myself at a Birthing Center. Woo hoo I'm so excited! Jon isn't as thrilled, but I'm sure he'll come around.
So after a lot of paperwork and referrals and driving to Annapolis and back and waiting for appointments, I finally got in to meet my midwife yesterday. And then I had to wait over an hour since there was a birth going on upstairs. Which isn't a big deal, I'm sadly growing more and more accustomed to hanging out in waiting rooms for long periods of time. So basically we just talked a long time about history and this pregnancy. The center offers tours/orientation once a week so hopefully once we move and find a babysitter Jon and I can make a visit to fully understand the process, but for now I'm just happy to finally, FINALLY hear this baby's heartbeat. Even though I've been feeling some kicks and flips for a few days now, I just wanted to hear that sweet sound.
It took a while to find, and once she'd find it baby was off moving again. This same thing happened with Jude too, you can actually hear the baby swishing and moving, which is kinda cool. But at the same time I really just wanted him/her to lay still so we could catch a few beats! We finally did, a strong 155 bpm. EXACTLY what both my boys were at this stage. And precisely what my trusty website,
http://www.babybpm.com/
predicts to be a boy: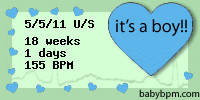 So now I have to wonder yet again: Is this heartrate thing really accurate or just a fun game? And even if it isn't, does the fact that both my previous boys had the same heartrate mean anything? Or will all my babies be fairly consistent with one another? So really, I'm just left with more questions at this point. And that's fun, it's all part of the anticipation building.
And anticipation it is! The midwife asked if we were going to find out. Yes, we are definitely finding out this time around, because the results could potentially rock our world. Ok, so maybe not that dramatic. But if this baby is a sweet little girl, mama has some clothes to buy and a cute nursery in our new house just waiting to be decked out. And since I'm the only one with kids in my family (and my mom's the only one with kids in her's), a little girl would be somethin' special. And since, out of the 8 grandchildren in Jon's family, only one is currently a little lady, well we all know what they're hoping for.
Then there's our little family. Jude has no opinion. Jack used to say he was getting a "sister" but lately he's switched that to "brudder." Jon thinks/hopes it's a girl. And I just can't make up my mind. At first I was thinking girl and just for kicks I'm already planning out her nursery and scanning Etsy for little treasures. But about halfway through my first trimester I started feeling like it was a boy. If I had to go with my gut, I'd say boy. But now I'm wondering if my gut is just too worn out from two other boy pregnancies and can no longer read the signals. And everytime we're around our family I think it's a girl because that's mainly what we talk about. There's not much to say about a third boy except (1) my grocery bill is going to be killer in a few years and (2) we'll save some money on weddings. Oh and (3) WE HAVEN'T GOT A NAME!
You'd probably think I was at least
hoping
for a girl right now. But actually, I think I'm split about 50/50. I mean, a boy would be terribly convenient. And if God intends for me to have 3 boys I'd much rather have them 3 in a row. But that would mean that we'd have at least a 4th child ... or maybe a 5th! :) Which leads to my next point. If we have a girl, hubby wants to call it quits. And honestly, I'm just not ready to make that decision. I certainly don't anticipate having another baby 18 months after this one, but to never, ever experience
this
again. Ah, I shudder to think of it. Of course, I may change my mind in about 6 months, but I'd like to cross that bridge when we come to it.
So what's your guess? Vote on the poll in the upper right column and we'll find out in two weeks who is right!