Growing up I used to label certain days in my journal as "Top 10 Days" because, as someone with a non-committal, indecisive personality, I was afraid of saying that just one day was the best one ever, but wanted to make sure my future-self realized how fantastic the events of that day really were. A little later I believe I increased it to "Top 20 Day" because, yet again I didn't want to limit myself to just a few super, incredible days. I'm sure I've had more than 20 wonderful days in my lifetime. But now that I'm older and learning to be more assertive, I think it's safe to say there's a 3-way tie for the VERY BEST day of my life. And those would be March 25 - our wedding, October 12 - Jack's Birthday, and April 20 - Jude's birthday. And I have a feeling we'll be adding another day to that list come this fall.
But Jack is still young, hasn't yet married the love of his life, hasn't yet experience the thrill of parenthood, and really can't even communicate that one particular day is better than another. So I'll do it for him. I'm quite positive that, in the past 2.6 years of his life, this past Saturday (or the weekend as a whole) was a "Top 10 Day."
As I said before, the boys and I went up to Pennsylvania for the weekend to give Jon a nice, quiet study break. I was a little nervous about the 230 mile drive by myself but it actually went quite well. There were a few difficult moments, but really much better than expected. We made it up and back with only one stop each way and in just around 4 hours. Definitely two of our better road trips. But anyway. One of the main reasons I came home was to partipate in my parents' neighborhood yard sale. And we actually made out quite well. It was the most I've made in a yard sale yet (which isn't saying that much but still good)! Of course, I managed to spend half of that amount on some adorable baby girl clothes, but our kids' clothing budget is one of the reasons we have a yard sale so it worked out quite well. And I'll just say that my mom and I had a grand time picking out dresses, bonnets, bloomers, flare-legged jeans and floral patterned shirts. It was so good that I went back to the same sale a second time since I was up half the night just dreaming about all the cute clothes I saw. But enough about Baby Girl, this was Jack's "Top 10 Day."
Anyway, rather than try to manage running a yard sale with two boys underfoot, Nonnie volunteered to take them overnight and watch them in the morning. So Jack's weekend started off with a slumber party at Nonnie and Poppie's. Jude's been having some sleep issues lately and since Jon and I both were up with him the night two different times this past week ... well, he got rejected for the slumber party. Which was fine with him, he tends to prefer to be within slapping distance of his mama these days. So I hugged and kissed my firstborn goodbye for the night. I saw a little bit of something in his eyes when he realized I was leaving and he was staying there, in his pajamas, with plans to sleep in the "big boy bed." But it was only there a second before he was off to chase the cat one more time. My tough guy was fine the whole night and next day, and had a great time with his Nonnie. I do believe there was one lamp-shattering incident (unfortunately Jack's second this year at Nonnie's) which involved Jack locking himself in a room with shards of glass. And resulted in a sliced finger and blood-stained carpet. But other than that all went well. And Jack was all too proud to show off his boo-boo, which just so happened to be on his middle finger, to anyone who cared to notice.
The rest of the weekend we spent at Marmie and Poppa's, where Jack's favorite activity is jumping on the trampoline, with Poppa of course. He's like the energizer bunny on that thing, just keeps going and going and going.
Even the rain didn't deter him.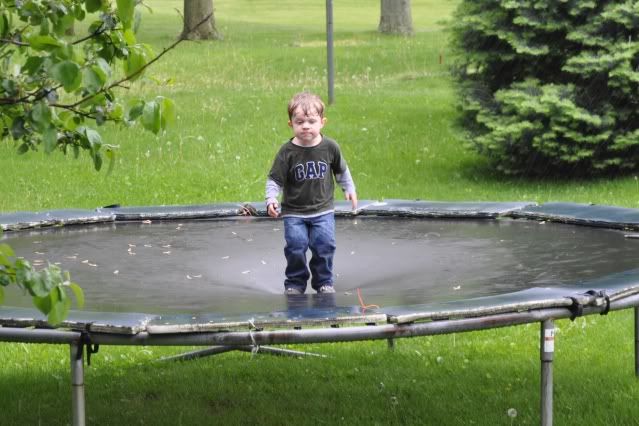 But the one thing that Jack may like even better than the trampoline is fishing. And Poppa had big plans for Jack's first fishing experience. Jack was so excited he could hardly finish his pancakes. Just mentioning the words "fishing clothes" had him jumping out of the chair, clapping his hands. He knows his boots are for jumping in puddles, but the hat is what really got him going. I don't think I've ever seen Jack keep a hat on that long before. But he knew it was for fishing and that's what he wanted to do. And then Poppa brought out the fishing rod. A real, bona fide fishing rod. Just Jack's size (because it's really for ice fishing.) It took a few panicked "No, no-ing" before he finally figured out he's not to touch the hook, but he was one proud 2.6 year old.
The sad part of the story is that the fishing derby Poppa was planning to take Jack to was canceled because of all the rain the previous day. But, knowing he couldn't disappoint his grandson after all the morning's hype, Poppa took him to my great-aunt's farm where there are several ponds with starving fish that bite at anything you throw them. Perfect for a little boy's first outing. Sadly, I could not be there. I would have loved to snap a few shots of our proud little guy holding up his first fish - or should I say first 20 fish! It was a very successful day! But I was working the yard sale. And honestly I don't have the patience to stand outside in the sun all day baiting worms and unhooking fish. And it was a long day. Because everytime Poppa asked if Jack was ready to go, to see Marmie, to get some lunch, to get a drink of water!! ... the kid refused. He just wanted to fish. What can I say, he's a die-hard angler just like his grandfather.
Photo Credit: Poppa (and his cell phone)
After several hours of no food and drink, Poppa finally dragged him home for lunch and a nap, oh and a few more minutes on the trampoline. Which was all followed by yet another highlight of the weekend, an evening at Knoebels. Now, I've mentioned this place of "fun, food and fantasy" on my blog before. I used to be shocked when I met someone that had never heard of it. But then I realized that there's more to the world than Central PA. Of course, Jack doesn't know what the word "Knoebels" means either. So we just told him it is a really fun park. And that's what he's called it ever since - the "fun park." And I love that I have a child old enough to just start enjoying all the "fun park" has to offer.
You know Poppa was having just as much fun as Jack.
He learned how to get the helicopter up in the air right away!
Seriously, he's just a baby. I can't believe they let him on these rides!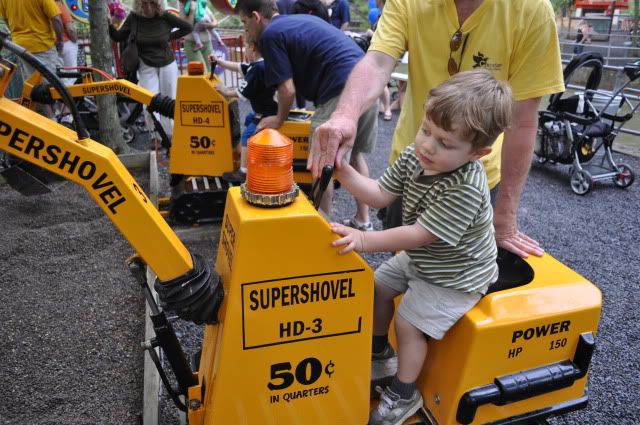 A thunderstorm rolled through while we were there and unprepared for rain. But after a break for pizza the skies cleared again and we had time for a few more rides. I love how timeless this little place is. I have memories of riding these same cars as a kid myself.
He really thought he was driving ... too bad he couldn't even see over the steering window.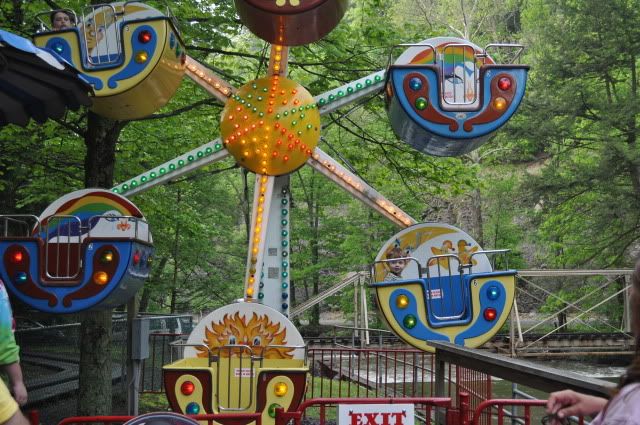 I can't wait until Jude is on there with him!
Needless to say, Jack was on Cloud 9 all night. Like most people, I've always said I'll never spoil my kids (I try to leave that to the grandparents) but now that I actually have some of my own, it's easy to see why people do. I LOVE seeing my boys happy. I LOVE watching them enjoy life. I get a little Mommy high whenever they smile, giggle, wiggle with sheer joy. And it's a good thing Poppa had a pocketful of free tickets leftover from last year because I would have shelled out big bucks just to watch my little guy soak up one of his "Top 10 Days." I guess I'm just a sucker for happy kids.
I think he thought it was a race, he kept looking back to make sure he was still in front of the kid behind him.
We thought we had worn them out. We thought the fishing, jumping, scorching sun, torrential downpour and "fun park" activity would have them knocked out as soon as we reached the car. We were wrong. Jack and Jude spent the entire trip back to the grandparents yelling, jabbering, kicking, throwing things, and head banging their carseats. Marmie and Poppa had forgotten what traveling with kiddos is like. But now they remember. So what's my secret to surviving travel with two littles? How do I keep my sanity after 4.5 hours on the road? Food and binkies. I just keep handing them back there as the volume rises. Oh, and having a DVD player helps.
And so we are home. Or "home." I don't even know what to call it anymore. This temporary place that holds all our stuff. And of course our husband/daddy, whom we missed greatly these past few days. Our home for now. For the next 20 days and counting. And then we're off to the new home. And the making of new "Top 10 Days."