Happy Halfway point baby! It's hard to believe we're so far along already. It feels like that fateful day in January was FOREVER ago, and yet I still wonder if this pregnancy hasn't fully sunk in yet. And I don't even want to think about how fast this last half is going to go. But alas, I realize I never debriefed you all on our feelings of having a girl.
Don't ask me how I feel about the "princess" balloon. That's not really how I roll, but it was all the Dollar Store had apparently.
See, our little family found out last Wednesday, but since Jon's parents were out of the country until Friday, we decided to keep it a little secret. Well sorta, we did allow ourselves a few spills just to get it out of our system. We had thought about not telling until this coming weekend, when I'm in Pennsylvania to share the news in person, but well, we didn't feel the good news could wait. So we made up a little video and sent it out to our family the moment my in-laws feet hit American soil. Okay, so we sent it out to my family.
Someone else's
family was too anxious to wait and so they were told immediately over the phone.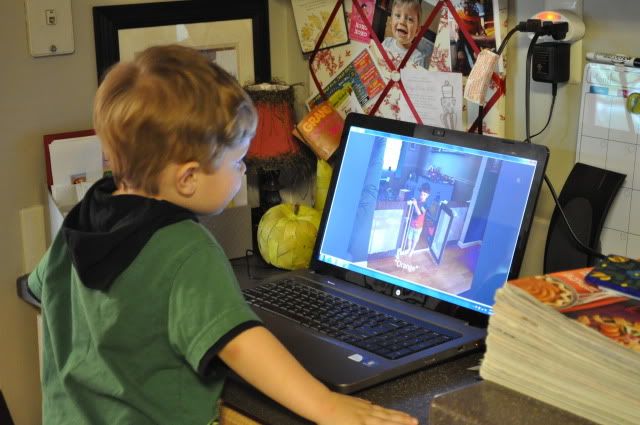 Jack LOVES the video by the way. He asks to watch it every day. Several times a day. I've resorted to just putting it on repeat.
He's calculating how having another sibling is going to cut into his "special treats."
Anyway, we're very excited. Jon especially has been wanting a little girl. And Jack, well he's very protective of his balloons, which are still flying high in the playroom, under his watchful eye: "No Jude, no touching Sister Ballons!" Poor Jude. After Jack goes down for his nap I let him play with the strings to his heart's content. And naturally, our families are very excited. Nonnie and Poppie finally get an "east coast grandaughter" and on my side, I just realized on Friday, I'm about to officially be ousted as the "only girl in the family" for the past two generations. But that's okay, some things are nice to share.
And I think that's what I'm most excited about, sharing. Sharing my favorite girly movies, reading Anne of Green Gables and Little House on the Prairie together. Teaching her the sacred family recipes. Giving sewing lessons. Finally having someone to pass on all my dolls to (see I knew it was good I held on to them!!). But I know most of this is a long way off. It's just nice to know that will happen for sure ... or at lesat with 80% surety. :) In the meantime I'll just busy myself with learning how to french braid and preparing her nursery.
Ah the nursery. I've only been thinking about it for years now!! So of course, the opportunity finally arises right when we're going to have another half million house projects going on. All I've wanted since we've been married is a room of our own to decorate without asking anyone else's permission ... well starting in June I'll have several! After our announcement and celebratory dinner at Cracker Barrel, I convinved Jon a trip to TJ Maxx was in order to hunt up some little girl treasures ... Instead we walked out with a cartload of nautical things for the boys' room. Hmm this is going to be tougher than I thought!
In an effort to stray from the stereotypical pink or purple, Baby Girl's room is going to be Tiffany blue (or Robin's egg blue, however you like it) and red. I'm a little leery of blue, just because I already have two boys with lots of blue stuff, but the red is a must. Since there will no longer be a playroom in the new house I needed a new home for my favored red and white polka dot rug and the red curtains. Plus we'll be moving the changing table to her room, and that has red bins. Since we are using blue, I'm trying to make this as obviously feminine as possible. Which means flowers and birds and butterflies. And since I haven't seen any kind of crib bedding that resembles what I have in mind, I'm going to try my hand at sewing my own. This oughtta be good. Here is our little girl's "inspiration pile":
And I would just like to mention here that I have not bought a single article of girl clothing yet ... ever! And that's saying something since I have a number of friends, with no girls, that already own at least a box of "dream clothes." I've been holding off until I can hit some good yard sales. But, in some sort of strange twist of fate (or angel delivery perhaps), Jon found an entire garbage bag full of pinkish clothes on the road outside our house the very day we found out baby was a "she." Apparently it was just lying in the middle of the cul de sac. It appears to be leftover from the community yard sale we had last weekend, but the weird thing is there were no yard sales on our street, nor are there any baby girl neighbors. And there's no reason for anyone to drive down towards our house unless they live down here. So anyway, we left it out by the road for 3 days and no one came back for it. Score one big bag of clothes for us!
Trust me, I'm just aching to get out there and by some hair bows and bloomers. But it's been busy in our house. Big changes are coming, not the least of which is the addition of a bit more estrogen. But there is so much to get done before then and not as much time as I'd like to sit and dream about our sweet little one, already practicing ballet on my bladder... now off to pack for the weekend!