Mother's Day this year started out just like any other day lately. One of the boys was up earlier than he should have been. (Why can't they coordinate their wake-times a little better!!). Jack started yelling that he lost his Monka-binks a little after 6am. I did my best to ignore him, which didn't make any difference since it's hard to sleep with your toddler yelling in the next room. Finally Jon went to get him a little before 7, plopped him in bed next to me, and then promptly fell asleep for another hour. (How do men do that?!) Jack, on the other hand, was ready to play and decided Jude should be too.
I love that my boy brings me flowers now!
And breakfast was just like most mornings lately. I put Jude in the highchair and give him a banana to keep him quiet until I can get something around. This lasts about 5 minutes. Yes, Jude typically eats an entire banana in about 5 minutes. And then starts yelling and banging his tray for more food. Jack requested a smoothie, like usual. And was already pulling the blender our of the closet. But before I could even get the ingredients out he was in the fridge retrieving leftover pancakes. And then he couldn't understand why I wasn't producing a smoothie out of thin air while also magically re-heating, cutting and preparing pancakes ... all at the same time and all immediately. While Jude continues to yell and bang his tray because breakfast is taking too long.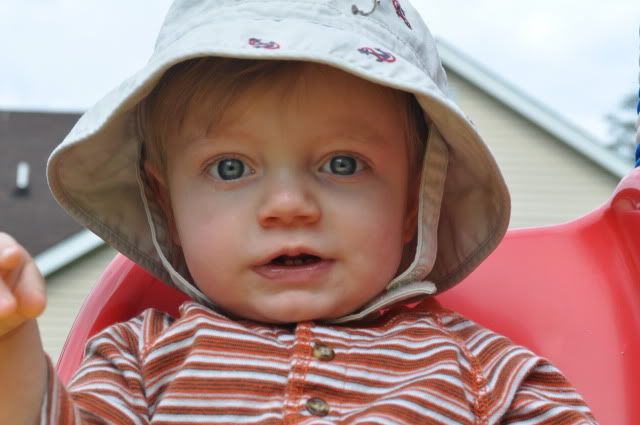 Finally, everyone has food in front of them that they are happily devouring. I just sit down with my own breakfast and usually Jack drops or spills something, Jude is finished eating and pushes his sippy cup off the edge to get my attention and when that doesn't work he poops. Because no mama can fully enjoy breakfast with that smell wafting over her shoulder. So I push my plate aside, clean off Jack, plop him in front of the Disney Channel, and whisk Jude upstairs to get change and cleaned off. And then a few minutes later Jack has to go potty and wants to change his clothes. Thirty minutes later I finally come back downstairs. And, if my husband is home, the kitchen is magically cleaned ... and my unfinished breakfast in the trash.
And that is my typical morning. Except Sunday was special because the morning ended with a lily from my boys for being their mama. Sunday was also special because Jack was being his crazy, wild self ... times 10. I realize my kid is on the active side, but it's days like this when I realize that it could be much, much worse. For instance, he could be like this every day. He could be caught pulling miles of floss out around the bathroom one minute, climbing the pantry shelves for a snack the next, and jumping off his bed only a moment later. I'm just barely stopping him from one thing before he's off to another. Even gating him up in the playroom doesn't keep him from throwing balls in the general direction of Jon's still-wet living room paint job.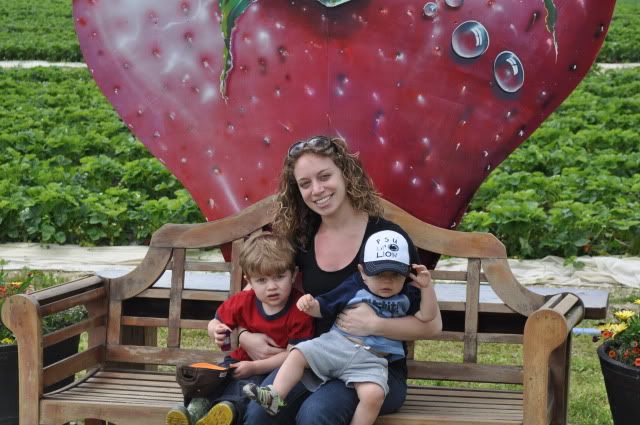 So Jack was just a little excited this day because I made the mistake of telling him that morning that we would be going to a farm and picking strawberries later that day. He didn't stop talking about it until long after we got there. Note to self (again): Stop telling Jack about big events until approximately 5 seconds before they happen. He literally did not stop jumping/talking/moving until we got into the car. And then he kicked the back of my seat for 15 minutes until we pulled in the long, dirt lane and spotted some cows.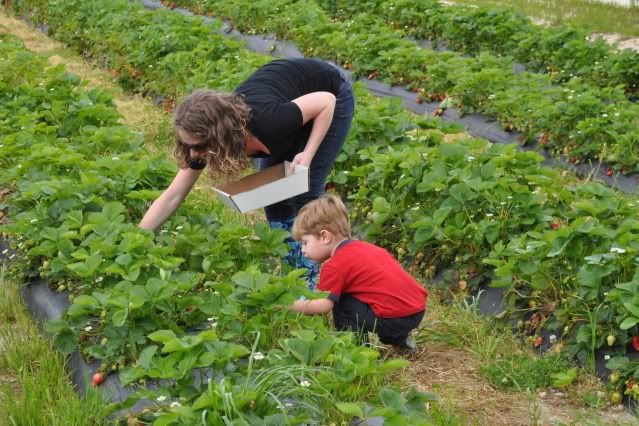 So yes, the strawberries at our local farm came in-season this past week. I knew I wanted to take the boys picking but also knew I couldn't do it without Jon's help. So I pulled the "it's Mother's Day we're going to do what I want" card and next thing I knew we were enjoying a picnic out by the fields. It's amazing how well the boys eat when we're outside, they have a pre-packed lunch ... oh, and they starving because lunch is an hour later than usual.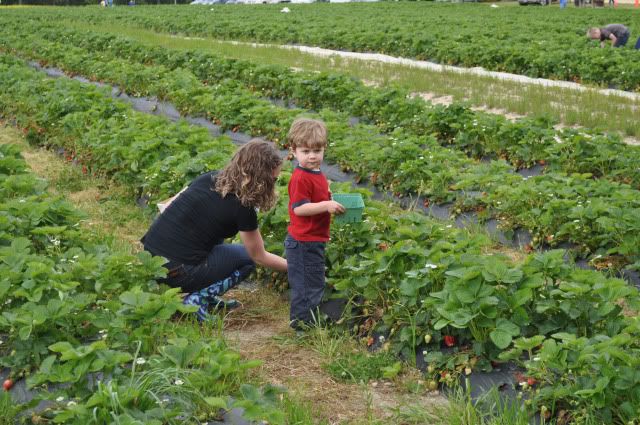 Then we hit the fields. This was more of a for-fun activity but after we realized how quickly and easily one can pick a gazillion strawberries, we got serious. We just figured we'd "fill up the box" and figure out what to do with them all later. All I can say is, "Wow, a box of strawberries goes a long way!"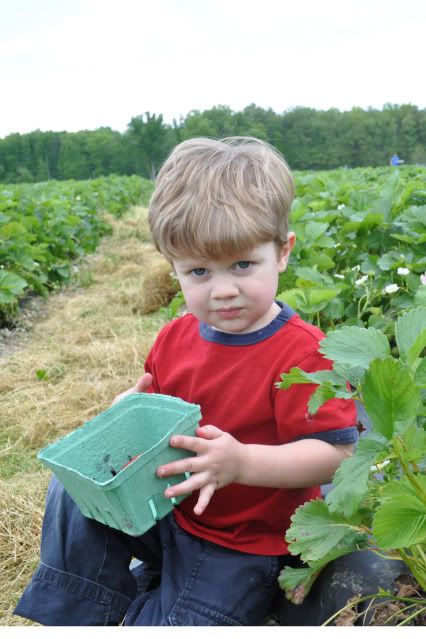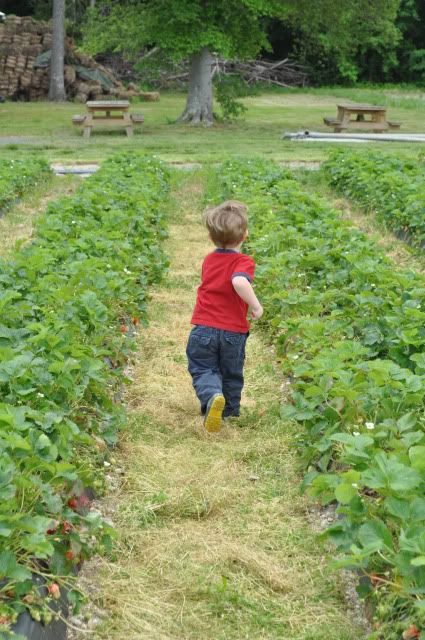 Jack ran laps up and down the field.
It was interesting with Jack. He was oddly drawn to either green or rotten strawberries. So I'd try to point a good one out and then he'd pick it and put it in the box. And then he'd get all excited and start jumping and strawberries would start rolling out of the box...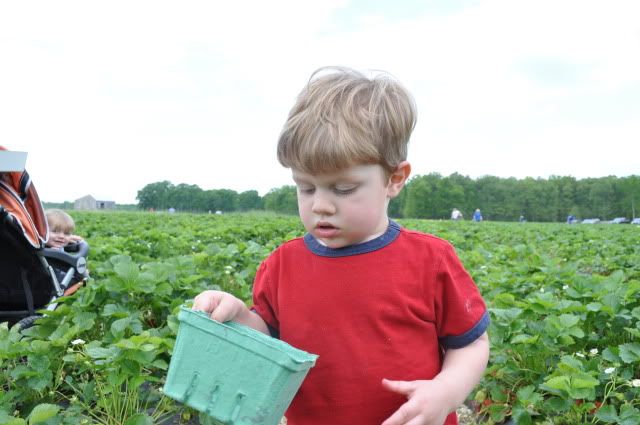 Poor Jude, he just wants in on the action!
Always trying to keep track of what big brother is doing.
He soon got tired and wanted to go back and see the hens. Jack loved the chickens. He got down on his haunches (at a safe distance) and made his own chicken noises and said "hello" a dozen times. And then made sure to say "See ya later chickens!" when it was time to go. And I loved it. I love that right now, he thinks chickens are cool. I just don't ever want him to grow up!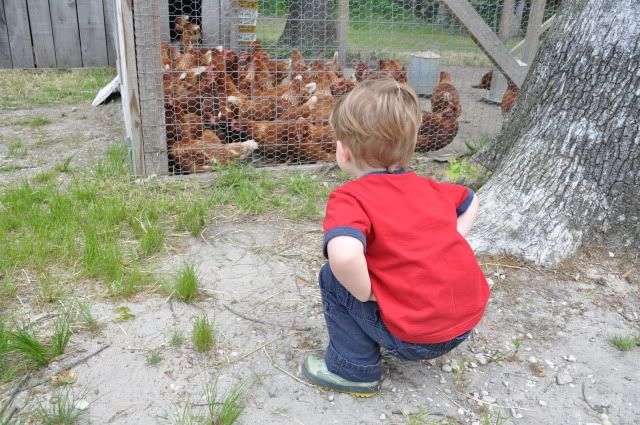 I was hoping the fresh air and sunshine would wear my boys out, one in particular. And I was right. Jude was practically in a trance the whole way home, and Jack kept saying he was tired and ready for "nigh nigh." We made a quick stop for gelati's at Rita's, which temporarily woke them right up. Jon's lucky. He's the driver and just keeps his gelati until we get home and he can enjoy it in peace. I, on the other hand, end up splitting mine three ways amongst two little birdies constantly chirping "my turn, me bite" from the backseat.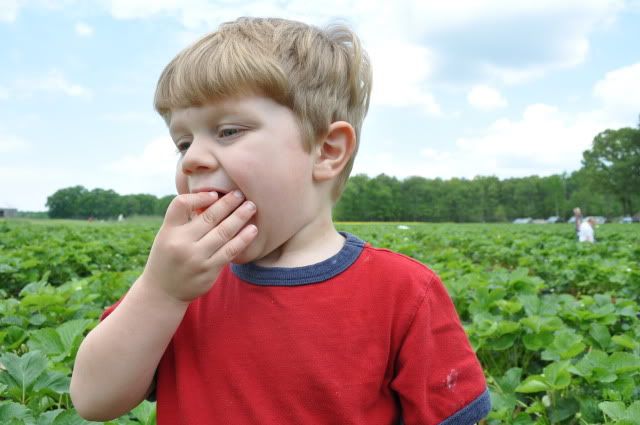 The boys went down for naps as soon as we got home and I set to work making strawberry jam and strawberry shortcake. Jude was up a little later to give me a hand i.e. pull all the pots and pans out of the cupboards causing me to about break my neck a few times. Four batches of jam, one strawberry shortcake dessert, and two little boys with wandering fingers later ... and we still have about half of our strawberries left. Next on the list: strawberry bread, strawberry ice cream, chocolate covered strawberries and lots of smoothies!!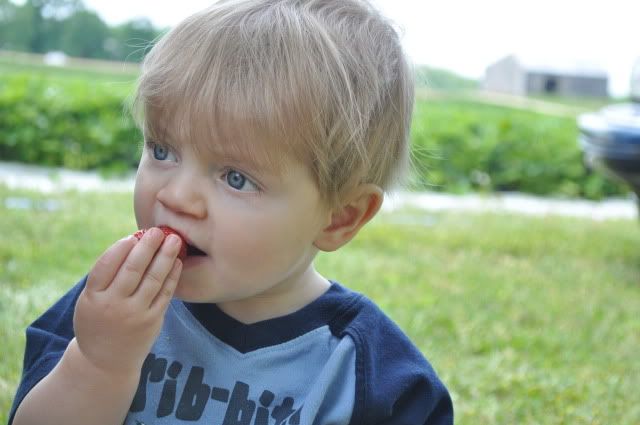 Jude gets his first sample.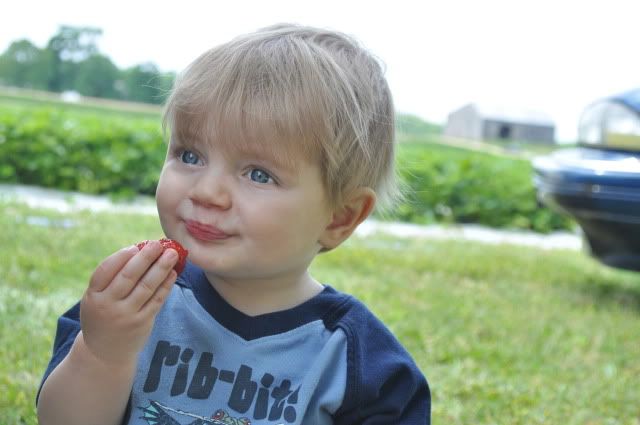 Ooo he must've got a tart one!
Jon made a delicious steak on the grill and we had dinner al fresco. Which we've been doing a lot lately with this fine mild weather. Let's just say, outdoor eating makes after dinner clean-up with two little boys much more desirable. Jon just hoses off the patio! And then he finished off the day with the most perfect Mother's Day card a girl could ask for.
This is my third Mother's Day, and it was wonderful. Even though my boys don't understand a thing about it yet (although I did spy Jack reading through Martha Stewart's Kid's Guide to Mother's Day) I love to celebrate with them. I love being a mom, and I love my boys (all 3 of them!) for giving me the opportunity. I can't wait to share the mama-love with this next little one!