That has been our life this past month. Pack, unpack, do laundry, buy groceries, eat up all groceries before we leave, pack, unpack, buy more groceries... We packed and unpacked a house, packed and unpacked for Pennsylvania twice and just finished dumping the sand out of the bottom of our bags from our beach vacation last week.
Which would explain the sorrowful neglect of my blog recently. Believe me, there is plenty to talk about. I realize I am long overdue for another installment of "Our Story." I know I've been remiss in posting pictures of our new house. And I've certainly got some fun bits about our life at the beach these past few days. But first, Mama needs to rest her feet ... and her belly. I'm convinced Baby Girl doubled her weight this past week, and I'm feeling every bit of her stuffed between my ribs and pelvis, and crushing on my lungs. But judging from her movements she still has plenty of space to rock 'n roll. Between Little Miss's 11pm dance parties and Jude-bug's 5am coughing fits, I'm one tired Mama.
The good news is, we hereby embark on two weeks of husband-on-leave before he starts his new job. Oh wait. Stop the presses. Did I fail to mention that he finished his thesis on Wednesday?! Well he did folks! Three drafts later my Coastie is officially done with his graduate program and will soon be earning his second Master's degree. I'm a proud wife. And a happy one. Because now we can start working on the house, settling into our new lives, and hopefully revamping the blog a bit.
But until then, I give you ... BEACH HAIR CUTS!
You may or may not remember, I am married to "Sir-cuts-his-hair-every-10-days-on-the-10th-day." My man takes his grooming seriously. And he feels the same way about our boys. I, on the other hand, have a slight affinity for the long, shaggy look. So we tend to waiver between Jon insisting the boys get haircuts and me insisting we let it grow out immediately afterwards. It's a happy medium. But the pendulum was well on Jon's side at this point.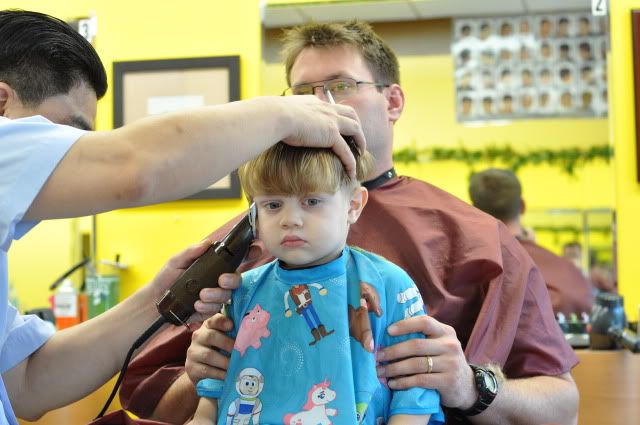 Oh, I spot "serious face."
And the barber agreed.
I was actually pretty pleased with the progress of the new barber ... until he said, "I always take extra inch or two off what parent say. Baby hair grow fast." Humph, whatever happened to "mother knows best"?
He also thought he was doing u a favor when he gave Jack not one, but two lollipops for good behavior. That was two times more sugar than is necessary an hour before bedtime.
This was Jude's first haircut at a barber shop.
I was shocked the little wiggly dude sat so still.
And it certainly helped having a funny barber.
I should have known it was all too good to last.
But he was quick to recover when he got a glimpse of the final results.
Handsome dude!
Stay tuned for beach pictures and stories this week, and plenty of other updates, I promise!