Ahh the beach. It doesn't matter that I lived there for 4 years, it still hasn't lost its novelty. And the salt and sand have been sorely missed this past year. So we headed east for my family's annual vacation in South Bethany Beach, Delaware. This is where we go every year. In fact, we figured out we've been heading to this area of the coast for at least 17 years now. And we can only remember one year that we didn't go (it was one of the year's we were living in Virginia Beach and everyone opted to visit us instead ... a few times). We love this beach. It's quiet and private, but conveniently located between Rehoboth and Ocean City. Family friendly (I counted at least 3 other preggos just within our block). And they don't have a lot of rules - so we can set up volleyball, horseshoes, bocce ball, KanJam, bean bag toss, ladder golf, and all those other beach games. Okay, there's my plug for South Bethany.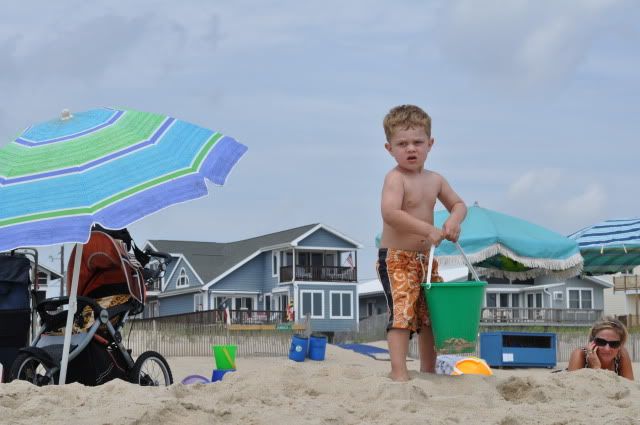 Everyone had plenty of opportunities to fill Jack's water bucket.
But the best part about this year's vacation? It was only a two hour drive. Okay, well it would have been. Except everyone else was headed the same direction we were. So even though we more than doubled our time, at least we know that if we ever go there in the future (and leave at 3am) it will only take us 2 hours. Nice!
We were crammed. Folks, we have a nice, large, family-friendly SUV. With a rooftop carrier and a bike rack. And the back seats folded down. And stuff packed between the boys' seats and around their feet. And we didn't bring any groceries. And we still had no room to spare. All we kept thinking about was, "What are we going to leave behind next year so we can bring our new baby?"
The boys did fairly well. We just didn't anticipate being on the road during lunch, or in the middle of cornfields for that matter. So we made a stop at the first shady gas station we could find (and everyone else as well since there was a line for the porta potties) and fed the kids junk until we could reach a more healthy destination.
We were getting close, very close. Landmarks were looking more familiar and I could almost smell the salt in the ocean. And then I smelled something very, very different. I turned around to find poop oozing out of Jude's diaper. And before I had a chance to stop him he had reached his little paddy down there and started painting his car seat and moving dangerously close to sampling his own waste. There was no place to pull over so for 10 minutes I reached around the front seat and held his hands up in the air, away from the mess. It was bad, like roll down the windows and breathe through your mouth bad. And Jude just thought the whole thing was really rather funny. We finally found a grassy spot to deposit Jude and assess the damage. A new diaper and half a pack of wet-wipes later, we were back on the road.
"Uncle Jerd" the skim boarder.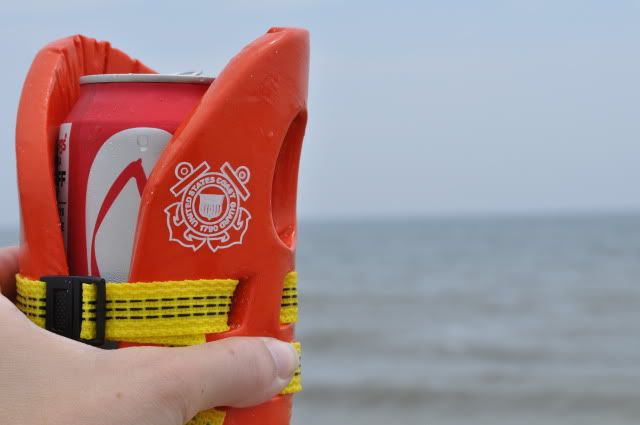 Coast Guard represent!
We'd been prepping Jack for this trip for a little while. We've learned our lesson about telling him things too early. Or at least, I thought we did. Jon accidentally let slip on the previous Saturday that we were going to the beach in a week. So when Jack got up the next morning and saw Mommy laying out his "church clothes" he started wailing and crying that he wanted to go to the beach, not church. Try explaining "6 days" to a not-quite-3-year-old. We reminded him of our plans the night before we left, in hopes to encourage him to get to bed. "Tomorrow we're going to the beach. We're going to see Marmie and Poppa and Nonnie and Poppie and Uncle Micah and Uncle Jared ..." To which he responded, "I love the beach! I love Marmie! I love Poppa! I love Nonnie! I love Poppie! I love Unca Micah! I love Unca Jerd!" The kid doesn't miss a beat.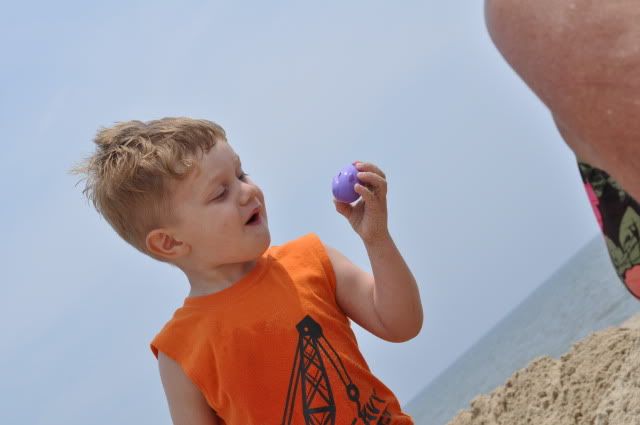 Marmie and Nonnie set up a little "Easter" egg hunt in the sand.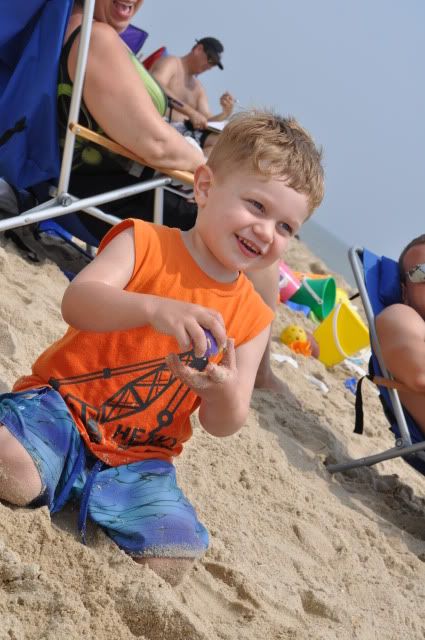 Jack's been asking to hunt eggs ever since.
And yes, Jon's parents joined us for the first half of the week, so the boys got to enjoy time with
both
grandparents on this vacation. And I gotta admit, that's what I'm missing most now that we're back - 6 additional adults to lend a hand. A ratio of 4 adults to one child. Not bad.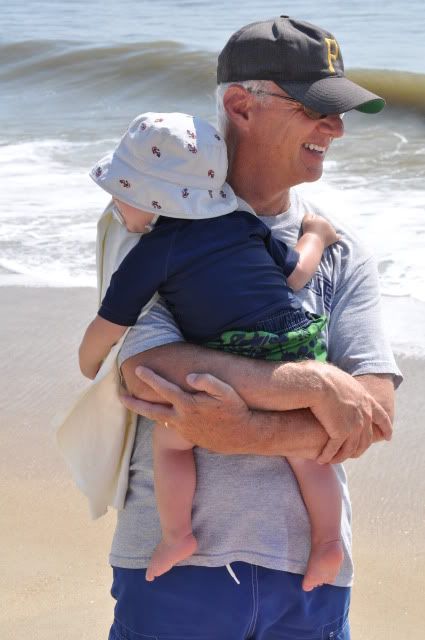 It's official, Jude prefers his Poppa to me when it's time for a nap.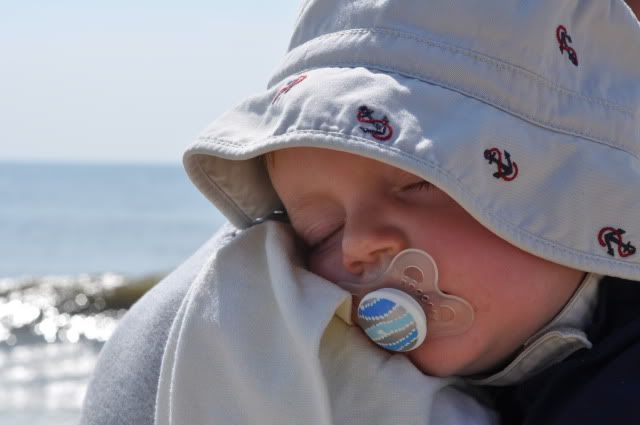 You'd think with all the help I would have topped
last year's book reading record
. Alas, 'tis not so. I only read 1.5 books this year. Actually, we did a lot less this year than in years past. I think the difference last year was that Jude was still in the easy baby stage. Now he requires more attention. Plus he's still taking two naps a day. Ocassionally we'd just let him fall asleep on one of us in the morning if we wanted to head to the beach earlier, but most days we'd just wait until he was up before hitting the sand. And then it was back to the house again a few hours later to put both boys down for naps. And not that I'm a real stickler for naptime on vacation. I would have been more than willing to let Jack skip a day or two, or just take a short snooze under the umbrella. But he wasn't interested. Almost every day he would practially beg to go back to the house for a nap. He's a creature of habit.
Speaking of which, you introduce Jack to one thing, one time, and it's suddenly a habit. For instance, I decided to pack the boys' lunches in sectioned plates with lids this year. And our first day out we sat both kids down on their chairs, set a bucket upside down to use as a table, and then put their plates on top of it next to their chair. From that day forward Jack insisted on eating his lunch the same way. The one day I didn't bring plates, just bags of fruit, cheese, crackers, etc. The little guy was practically lost wondering how he was going to eat lunch. And when he was ready for lunch (which was typically by 10am!) he would say "Ready to eat!" and then drag his chair over, set down a bucket, and go wash his hands off in the water. What can I say, he's a rut dweller just like his Mama!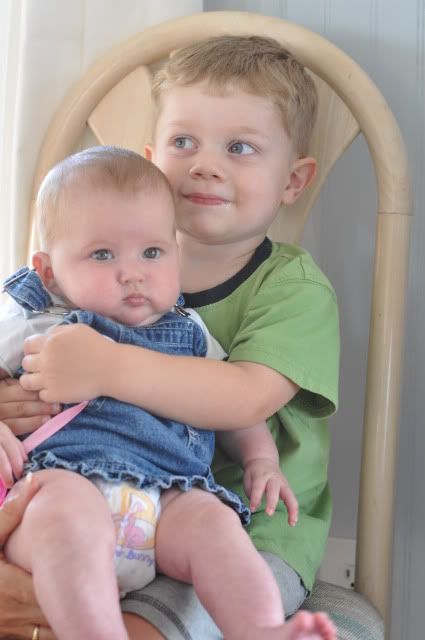 We had dinner with some friends and their baby "Ella." Jack thought it was "Baby Sister" and was demonstrating that he can indeed be gentle ... on occasion.
We had more rain this year than in vacations past. Thankfully, it was typically just passing storms. So we'd either end up going to the beach later in the day, or coming home earlier to wait it out. And then a few nights we ended up staying in to play games instead of venturing to the boardwalk. The fireworks were rained out the first night, but we were able to watch the show the following evening. We just walked right out to the end of our street and parked our chairs in the sand. It was a good show, but far enough away that you didn't hear any booming. Which felt a little strange to us adults, but it was probably a better option for the kids... who both fell asleep by the finale.
We also introduced Jack to glow sticks.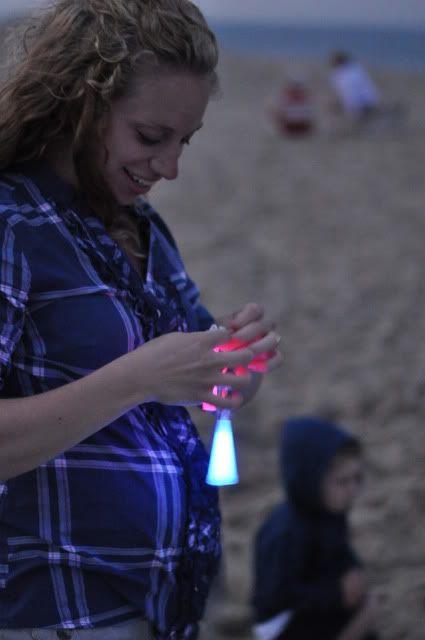 The only picture of the Little Miss and I from the whole week, ergo I've included it here. For posterity.
And sparklers. Eh, that was a little frightening. I almost got singed a few times but Jack managed to go through a whole pack without injury.
But even more difficult than assisting a 2-year old with a sparkler was getting 4 little boys to smile at the camera.
Notice the space between my boys and Brody and Carter ... and notice the look on Jude's face.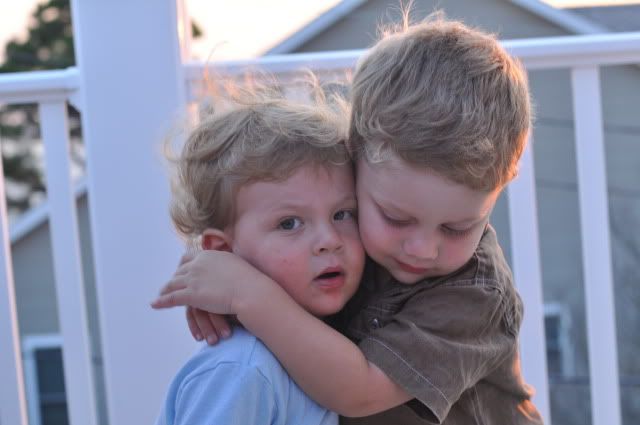 Brody was understandably apprehensive of the "Jack hug."
Some old besties of mine were vacationing just a few blocks down the beach from us and we all got together for dinner one night. You may remember us from
the last round of pregnancies
. Well I'm happy to report I'm not alone in this current endeavor either. Erin and I are both expecting little girls within 3 weeks of each other. And we're pretty excited to re-live our friendship between them over the coming years - dress-up weddings, tea parties, forts-in-the-woods and all! We should have taken a picture of the two bellies, but alas we did not. Stupid preggo brain always getting in the way!
Story time with Uncle Micah!
But I'm making every attempt to put this brain to good use this summer, whether or not it's marinating in a scary hormonal concoction. Because there are rooms to paint, local hangouts to explore, friends to be made and two active little boys that are just begging their mom to come up with new and creative ways to keep them occupied. So even though I still come across small piles of sand on our floors, and Jude's hair still smells like sun lotion and Jack has the cutest little tanline where his swimsuit wouldn't stay up - vacation is over. It's time for Operation: Settle In. And if all goes as planned perhaps we can reward ourselves with a Babymoon this fall back to Bethany.