We've been in our new home for 6 weeks now ... wow, it seems like longer! And we're finally feeling settled in. Even though it still smells like someone else's house (does that ever go away?!), it's definitely
our
house to us. And can I just say how much we love being homeowners!? I mean, maybe this is still the "honeymoon" phase, but we've already been to Lowes' more times than we can count, dumped more money than we expected to at this point, have wasted more time on seemingly
little
projects that no one will ever notice, haven't got to any of the
big
projects we intended to by now ... and we still LOVE it.
And that's just the house. I can't say enough about the charming little neighborhood, the convenient shopping, the pleasant local grocery store, and our wonderful new church! But I'm gushing, aren't I? I suppose I should provide a little balance and let you know that the mosquitos are awful here, we have a mole problem in our yard, I have yet to see the neighbors to the right of us (and the neighbors on the left have only waved once), and our latest power bill was OUTRAGEOUS. But hey, we OWN that central air unit, and the air it pumps out, and all the rooms it cools off ... and that's pretty cool!
Back to the house. Just in case you're curious, we painted all the rooms but two (which I'll explain later), not necessarily because the colors were bad or because we wanted to drop hundreds of dollars on paint, but mainly because the former walls were dingy, the previous owners had triplet boys who left fingerprints and scratches in a number of places, and by the time we finished repairing and patching all the holes from pictures, curtain rods, random decorations, etc. the walls definitely needed freshening up. Plus we wanted to make it our own. I'm just saying that because I'm so afraid someone out there is going to be all like, "Why would she change from that lovely color to
that
hideous shade?!" Eek! More on all those "shades" later.
But moving on to pictures, because I know that's what you've all been waiting these past 6 weeks for. Even though things aren't quite where we want them yet ... we realize it could be months, or years, before that happens. So here we go, photos of the fourth nest we've shared as a married couple, the VERY FIRST home we've "owned" and living proof that I have very little decorating skills ...
The Living Room
Before:
After:
Before, the room was a beige color. We went with a light yellow. I never intended to have a yellow living room, but we wanted it to look okay against the dining room (which is next). One of the first things we did was remove the drapes. It helped brighten up the room, but I still think we need something there to keep it from looking so plain. The previous owner stopped by a few weeks ago to pick up some mail and I was so afraid she'd notice the missing drapes (I made Jon pull them out of the trash can before she came). Instead she just said, "Is that yellow? I love yellow!" Phew.
That's a gas fireplace which we cannot wait to use this winter. Jon is thinking of converting it back to wood burning, and I can't say I disagree with a nice crackling fire. We love the picture window. It does feel a little bit like we're living in a fishbowl, especially when we forget to shut the blinds at night, but the boys love hanging out on the couch and watching for Daddy, the mail truck, the garbage truck, and everything else that drives, walks, bikes by. And of course, we can't live in such proximity to "The Sailing Capital of the World" without paying proper homage to the sea. So this is where all the nautical stuff went.
Dining Room
Before:
After:
They carried over the beige and burgundy look. Not bad, just not us. We took down that drape too. My Blue Willow dishes were passed down from my Aunt Jani, and I've been dreaming of a goldish-yellow dining room for ages now. Not long after we painted we realized those are Naval Academy colors, too. :) That's the hutch we picked up whilst antiquing shopping over our anniversary this year. I'm so glad we were able to find a place to fit it in this house!
Kitchen
Before:
After: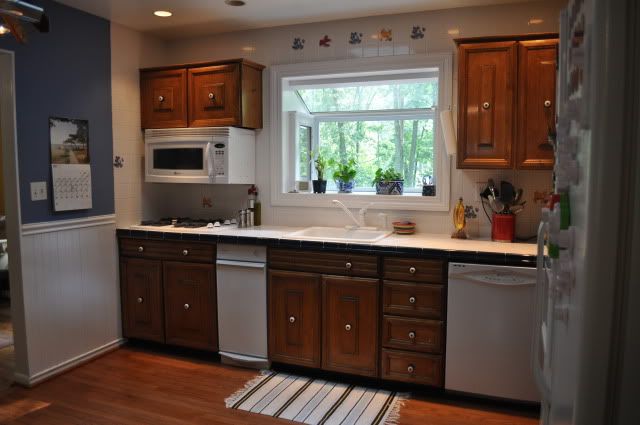 This is one of the rooms we haven't done anything with. Our plan is to do a big renovation sometime in the next year. The kitchen's not bad, but it's not great either. And our big thing is
re-sale
. I love how bright and sunny this room is (there's a sky light you can't see), and the big greenhouse window over the sink, which makes it nice to watch Jack while I'm washing dishes. The previous owners had a table in here for an eat-in kitchen, but our plan is to add more cupboards and counter space against that wall and just eat meals in the dining room.
Office
Before:
After:
I know, I know, who's the one that works from home here? Clearly, this is not
my
office. But every man needs his cave ... and a place to display all his Coast Guard paraphanalia. And hubby was generous enough to give me a little nook over in the corner. It's been great, and I've got a lot of work done at my quiet little desk. It was a little weird unpacking my "office box" since most of it was stuff I had packed up back when I had a "real" office, you know, at my place of employment. All my pictures were of baby Jack, since I've been working strictly from home since Jude was born. Looks like my frames could use a little bit of updating. I think this is one room where I prefer the old color to our choice, but I do think the gray/blue suits Jon's style a bit more.
Spare Room
Before:
After:
This is the other room that we haven't done much with. The previous owners used this as their theater room ... but they took the screen and sound system with them. We would much prefer a guest room. So we're currently seeking a contractor to demo the theater wall and put in a double closet. But for now this room is just a mess.
Deck
And then there's the deck. We love this whole outdoor-living area... Well, we would like it a lot more if it wasn't for the bugs and the heat wave! But come cooler temperatures we'll be eating out here more often, and roasting marshmallows will become a regular occurence. There's also the fabulous "playground" that
you've seen before
. Basically, the yard is what sold us. It's big and lush and flat, with lots of mature trees ... which will produce many piles of leaves this fall I'm sure! The landscaping is going to be one of our major projects over the coming months. And by "we" I mean "Jon." While it isn't horrible, it's a bit more "wild" than we'd prefer. I think if we can cut some things back and tone it down a bit, the yard will seem even bigger. And Jack needs all the space to run that we can muster.
I think that's enough for now, stay tuned tomorrow night for pictures of the other two floors!