Did you know I had a birthday last month? That's okay. It just kinda slipped in and out amongst the move, funeral, great sickness, and all around chaos that was late-June. And that's all right. Not every birthday can be as bombdiddlyawesome as my 12th one, or as monumental as my 16th, or as sacred as
my 26th
. Some just come and go like breezes in the trees. We rustle our branches a little and then go right back to the way things were. And I'm totally okay with that.
But a little acknowledgement is nice too. So when my parents postponed their birthday visit to this past weekend, and my mom offered to bake a pie to celebrate my birthday, I was all too willing to accept. Even if we're about 11 months out from my next birthday. She also helped water all the flowers they bought me for my actual birthday that I've apparently been neglecting this past week. And then she let me beat her in Bananagrams (twice!), which was a present from my older brother.
Jon got me a fancy frame for my Master's degree (I think he was feeling guilty that all his degrees are hanging up on the wall and mine are shoved in a stack of papers in some filing cabinet). And my little brother is working on a special surprise which you will all experience very shortly. Oh, and Jack even wished me a happy birthday, after some pre-breakfast prompting from his father. And that was a cool experience. Hearing "Happy Birthday Mom!" directed to myself for the first time ever. So all in all, not a bad year. The only thing lacking is a date with my man. But that's been lacking for some time now. Just one of those things that comes with the whole "move all the time never have a babysitter" territory. But we're going to change that real soon, it's all part of Operation: Settle Down. More on that later.
Jude walks like the Tin Man. He always has one arm down at his side and the other bent at just the right angle.
So yes, my newly retired parents were able to squeeze a long weekend into their busy schedules. We loved that they could come on a Thursday and stay until Monday, without having to take vacation. And we love to make fun of their new "busy" lifestyle. Bring on the retirement jokes!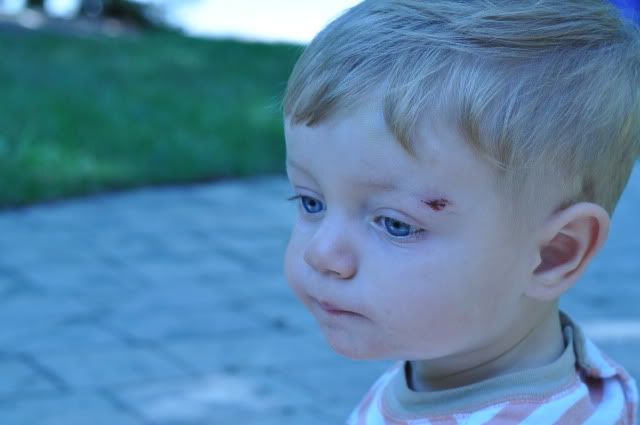 All I'm gonna say is "It wasn't on my watch!"
But really it was a huge blessing to have them come visit because, yet again, we were in desperate need of some childcare. Jon had outpatient surgery at a military clinic almost an hour away on Friday that I needed to take him to and from. And what we thought would just be a few hours ended up being a 5am wake-up and a 2pm return-home. Long day. I was bored out of my mind for most of it so I'm more than grateful I wasn't attempting to entertain little ones in a hospital waiting room all day. They preferred a day with Marmie and Poppa anyway.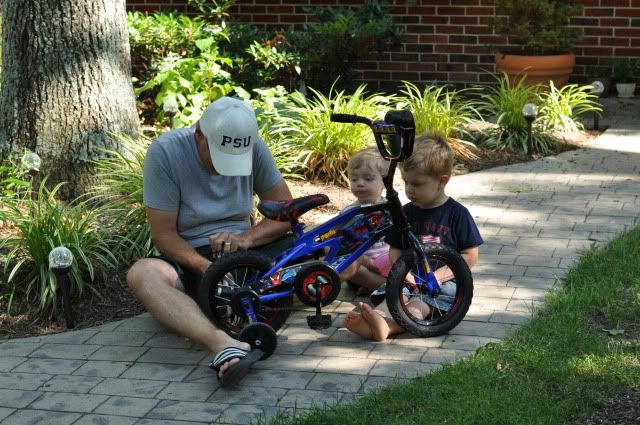 Poppa has no shortage of helpers.
The grandparents were feeling brave and decided to give Jack some bike-riding lessons. I don't think it was too successful. How hard can it be with training wheels? Apparently harder than I thought. Jack never quite got the concept of "pedaling". But hey, at 2.5 we won't hold it against him.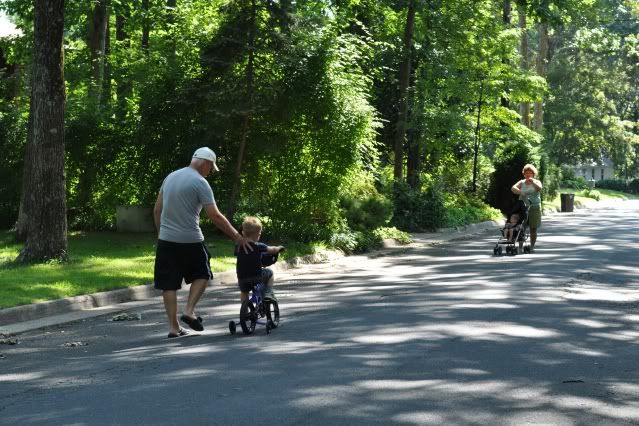 Check out Marmie's air pedaling demonstration.
On Saturday we ventured to downtown Annapolis and started our visit off with a picnic lunch at the Naval Academy. It was a perfect day!
I've never been before and wanted to check things out. It's a beautiful campus, with amazing architecture. And lots and lots of weddings. We literally saw one after the other during our afternoon there. We also fit in a visit to the museum and then took turns in the Visitor Cetner or sitting in the air conditioned car while the kids napped. Of course, Jude was suddenly wide awake when Jack was just starting to drift off. So we transferred him to his favorite nap location - Poppa's shoulder. Ah life with littles.
Jack pledging his allegiance.
Once the boys were refreshed we walked around City Dock and ate dinner at Buddy's (kids eat free, need I say more?). And as any hot day in July, this one called for ice cream cones. We enjoyed ours by the water.
Ah a boy and his balloon. Jack was thoroughly enjoying his green one... until it popped. Just randomly out of nowhere it, in his eyes, disappeared into thin air. I thought maybe he'd cry but no, he just appeard thoroughly confused. Fortunately, a pirate ship was sailing by just at the moment. So we simply explained that Captain Hook must have shot the balloon. He figured that sounded about right. And so the entire way back to the car and home, we got to hear him yell, "Hey, Cap'n Hook, gimme my boon back! ... Hey, Cap'n Hook, gi' it back!" Oh Jack, never a dull moment with you around.
My parents got a chance to visit our new church on Sunday morning. The service doesn't start until 10am, which is later than what we've been used to the past few years. So this is the second Sunday in a row Jon and I have been all ready to go with time to spare. On this particular day we attempted a family photo. We've been in our house over a month now and I hadn't yet sent out change of address notices to our family and friends. And even though a simple email would suffice, well I like to keep up the tradition of "family in front of the house" pictures to send along with it. And considering we'll have plenty of opportunities for similar photos in the future, I think it will make a fun scrapbook. So finally everyone is healthy and home, and we have someone else around to take a picture. Then again, that someone else was Marmie, who's photography skills are best remembered as an entire roll of film of Prom 2002 pictures with everyone's head cut off. So I set up the tripod and had everything ready to go so that she could just push the button.
And let's face it, "pushing the button" makes it sound way simpler than it really is. Two kids, staying still, looking pleasant, at the same instant. Nearly impossible. I have so much appreciation for people with real photography skills, but I have even more appreciation for those who are able to perfectly capture that one moment in time. A little bit of a chance, and maybe a little bit of Photoshop. Which would explain why I never have those kind of pictures. Still, we'll take what we can get.
We were able to do some more local exploration on Sunday evening when we took the kids to a park and public farm. Jack practiced talking to each of the animals in their "langage." And Jude just practiced talking.
That was one huge pig.
They're acting like brothers a little more each day!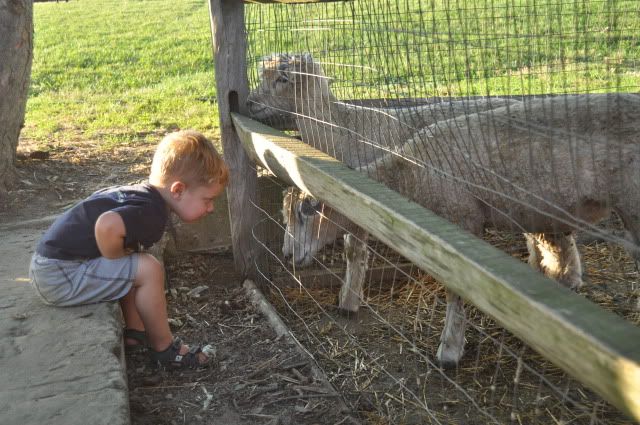 Ba-ram-ewe, Ba-ram-ewe!
And finally, we closed out our weekend with s'mores. The quintessential summer snack. I mean really, what child does not need a hefty does of marshmallow and sugar immediately preceding bedtime?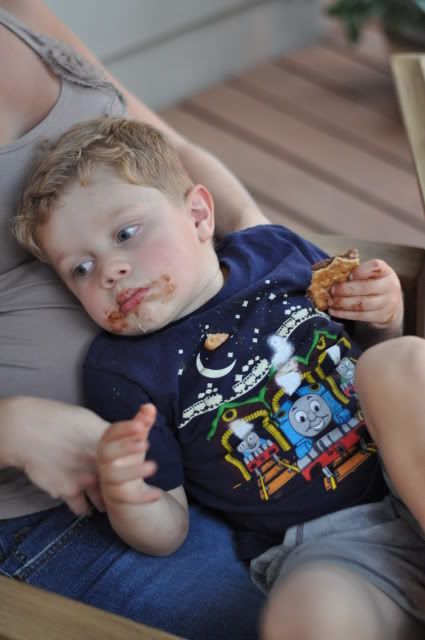 Both boys are lovin' the elevated pillow on mommy's stomach. Sister? Not so much. She just kicks in protest.
A good weekend. I almost said a good start to summer but hey, it's the end of July! We're still in the "don't have to worry about back-to-school" stage, but it won't be long until we're dreading the onset of August and school supply shopping. But for now, for now we'll just enjoy July for what it is - smack, dab the middle of summer. A month for lazy days by the swing, getting drenched in the slip and slide, having s'mores by the fire, and celebrating birthdays a month late.