Grandy Camp is something that's been under discussion since we first found out we were pregnant with Jack. Both Jon and I love our home state and all the simple pleasures it has to offer. Since we probably won't be raising our children there like I used to dream we would, the least we can do is send them to the grandparents' for a week each summer to experience a piece of a childhood like their mom and dad's. My parents were totally on board with our plan, we've been tossing ideas back and forth over the past 3 years. But one stipulation has remained - all Grandy Camp attendees must be potty-trained. Well, Marmie and Poppa's newly retired state has left them with some extra time on their hands and they've been missing their Jack-Jack. So they made an exception and welcomed my partially-trained firstborn for a week of toddler bliss in the mountains of Pennsylvania.
Naturally, I was a bit nervous. Jack and I have never been apart for more than two nights, and that was when I was in the hospital having Jude. I knew I'd miss him like crazy. But I'm a big girl and can handle my emotions. I really didn't know what to expect from him. I was afraid that he'd either get homesick and not last more than two days or that he'd have so much fun, he'd forget about the rest of us and not want to come back. Much to my relief, neither happened. Jack had a momentous 5 days with his Marmie and Poppa (that was my limit, I needed my boy back!). And, like any dutiful son, kept his Mama apprised of his daily activities (thanks Marmie!):
Sunday, August 14, 2011
Dear Mommy and Daddy,
I had a great tubby time. Then Marmie read my favorite truck book. She turned off the light at 9:11 and I am sleeping peacefully in the gray room. After Marmie left the room she heard me say on the monitor: "Marmie I hear lots of crickets!" I will write more tomorrow. P.S. The rain gauge said we had 2 inches of rain today!
Love, Jack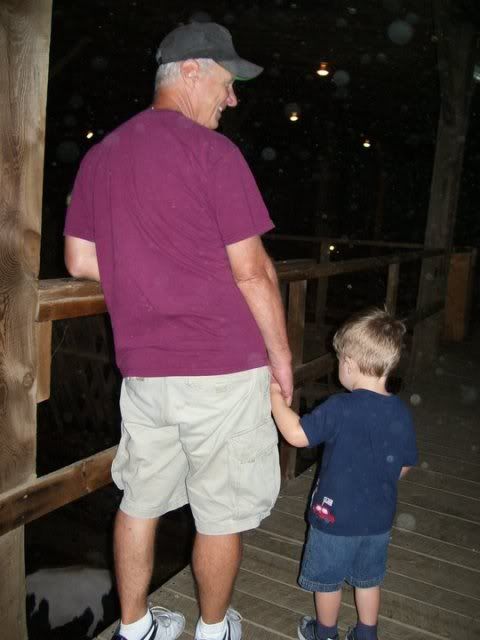 Looking at cows at the Dewart Animal Auction.
Monday, August 15, 2011
Dear Mommy and Daddy,
I had a great sleep. Got up at 7:56 and talked a little to myself. Then we went to the potty and changed my clothes before breakfast. I sat on my turtle seat and ate one pancake and half a peach with a cup of diluted juice. I reminded Marmie about my vitamins. Then I announced I had to do a BIG poop. Marmie wanted to take a picture because she thinks it may have been a Guiness record! I brought down my little vacuum and ran it on Marmie's rug and Poppa and I put together one of my new puzzles that was supposed to be my birthday present (Marmie caved in and gave it to me early :) ). Now we are on our way to the Dewart animal auction with the camera since it is raining here and we cannot go fishing or to the park. I will write more later, when I can fit it in my schedule.
P.S. You wouldn't believe how fast the garbage truck zoomed right by Marmie and Poppa's house without stopping! Country life is sooo different...
Love, Jack
Mid-morning stop at McDonald's Play Place.
Chocolate milk and cinnamon rolls!
Tuesday, August 16, 2011
Dear Mommy and Daddy,
As we were getting ready for a day trip to Ag Progress Days near State College, Marmie decided to run upstairs for "just a minute" when I yelled to her, "Uh-oh Marmie, Jack make a mess." Marmie assumed I spilled something on her fairly new couch and came running down the steps to see thousands of little white styrofoam balls all over. I had decided to see what makes the laptop "pillow" so soft!!! And out of my little "peek" hole spilled the stuffing. Soooo I got to run the sweeper... which really wasn't much of a punishment and Marmie turned off my favorite pirate show. The rest of the day I was a perfect angel. (See a little vacuuming can bring out the best in any man - no matter how small!!)
Love, Jack
Ag Progress Days
Tuesday, August 16, 2011 (part II)
Dear Mommy and Daddy,
We have been very busy here at Grandy Camp. We spent almost four hours at Ag Progress Days near State College. I really liked climbing up on the big machines and pretending to drive them. A big man gave me a free cap to wear too. I turned it backwards "just like Daddy" does. Marmie and Poppa and I went through a corn maze. They let me be the leader. I liked saying "go left, go right" and wore my hat to keep the sun out of my eyes. We saw so many cows and huge horses. One lady opened her horse's pen and he came over to my stroller so I could pet him, but I put on my scared-to-death face! We had little cups of delicious chocolate milk and some yummy corn-on-the-cob. I even got a green balloon. Poppa said the pirates gave it back from when we were in Annapolis!
I tried to keep awake, but when Marmie lowered my stroller seat back, I was out for over an hour. Poppa picked me up and put me in my carseat and I just kept right on sleeping in the nice air conditioning. After I ate a big supper, we all went for a bike ride to a nice playground near where Everett lives. I really loved the diggers and turning the gears to make little metal balls move inside a see-through box.
You should have seen me walk across the giant rope bridge just like a pirate! I'd rather go UP the slides than slide down them too! We went for ice cream next and I had a baby cotton candy cone. Can you guess what I did to the bottom of the cone? Of course I had a tubby and read my favorite truck book before I went to bed.
Love, Jack
Wednesday, August 17, 2011
Dear Mommy and Daddy,
We decided to take a Beach Day and went to our closest beach ...Half-Way Dam, alias R.B. Winter State Park. I was expecting waves, but loved the water even though it is always a hair above freezing to Marmie! I was a little inventer, using a funnel stuck in the holes of a whiffle ball to be my "ball catcher" when Poppa and I played "Keep Away." Marmie loves my laugh!
Soon Poppa had a little girl named Brooklyn join us. She was so good with us and we all played for about 45 minutes. I tripped a couple of times but just got right back up and never cried. I spent a long time just hauling buckets of water up to a hole Poppa made. Then I dumped each bucket and missed most of the hole. Then I would jump in the mud puddle... over and over again.
I also took the plastic spike from the horseshoe game and pretended it was a giant pencil and would stick it under the water and write messges. Marmie could hear me telling the story as I wrote. She said it was adorable! At one point I even shared two of my sand buckets with a family that had nothing to play with. I handed them over and said "thank you." I ate and ate and really liked Great Uncle Carl's sweet pickles!
When it was nap time, Marmie made a little tent with a beach chair and beach towels over a quilt. I was sound asleep in minutes. That gave Poppa and Marmie time to play 500 Rummy and 21... Marmie won big time! Marmie said as they sat there enjoying the peace and quiet, they both realized just how blessed they are... She said "Life is good!"
The beach should really be renamed "Grandy Beach", because almost every kid was with a grandparent!! We headed home after I slept for almost 2 hours. I took a Big Boy shower and we were off to Nonnie and Poppie's for their small group picnic. We sat at a table for four with a new couple and they were so impressed with how well I ate. I had seconds on Kaelie's macaroni and cheese and really liked the Rosa Marina Marmie made. I was so proud of my turtle seat that we took along and somehow managed to not get any food on me the whole meal. (Marmie has been puting one of her smaller aprons around me at breakfast just to keep my clothes clean. Twice she took a paper towel and ripped a v-neck on it and then taped it on me and told me I couldn't take it off.) Aunt Rachel stopped by and I played with Tyler, Ryley, Ethan and Alex on the Gator all night. We left at 8:30 and I fell asleep at 9:00 and woke up at 8:00. It was the best Grandy Camp Day so far!
Love, Jack
Thursday, August 18, 2011
Dear Mommy and Daddy,
We just had to get a fishing trip in...
So I put on my dinosaur boots and Gone Fishin' shirt and we headed off to Great Uncle Bill's pond. It was another perfect day. The skies were crystal clear and there were butterflies all over the fields. Good thing we took our new bug catcher along and Marmie's butterfly house! The pond is nestled way back in the fields. I had such a good time reeling in the blue gills and sunnies.
I caught over twenty fish! I out-fished Poppa who kept busy taking the fish off my hook (since Marmie forgot her fish-glove!) Then I got brave and even held up a worm for the camera, but only after Poppa broke it in two so it was not so BIG! We fished for three hours with lunch under the canopy Bill built. It is really nice there.
I even got to reel in a big bass that Poppa hooked. Marmie said it was so cute seeing me with an adult-sized rod instead of the little ice-fishing rod I usually use. I kept backing up instead of reeling.
At one point Marmie mentioned, "Gee these fish must be really hungry." So I pulled off a big blade of grass and when I caught the next fish, I tried to feed it the grass so it wouldn't be so hungry!
We managed to catch three butterflies, even though the dollar store was out of butterfly nets. These butterflies just landed on you and you could scoop them up. I loved the little bug catcher house Marmie and Poppa got me, and especially the bug-picker-upper thing that looks like a pair of scissors but with litle cups at the ends. Definately not the best way to catch a butterfly but it kept me occupied for quite a while! After naptime today, Poppa wants to turn the sprinkler on the trampoline.
Tonight is Uncle Matt's birthday party and tomorrow we hit the road early. See you after lunchtime!
Love, Jack
Jack was an excellent road traveler for his grandparents, he read books the entire way home! Jude and I were SO excited to see him when he pulled in the driveway. He jumped out of his seat, ran into my arms and said "Mommy, I home ... I missed you so, so much!" And he's been saying the same thing at least once a day ever since! Marmie and Poppa reported that he was a very good boy and everyone seemed to enjoy the experience all around. So good on you Jack for earning an invitation back to Grandy Camp next year! I think we're all looking forward to it, but for now I'm going to hold my oldest a little closer. I'm convinced he got taller, smarter and more talkative in just 5 short days and I don't want to miss any more of it!