As many of your know, my Handsome Coastie finished his second Master's degree this summer. Although we've been celebrating the end of this era for a few weeks now, he just recently had his graduation ceremony.
Jon's parents joined us for the festivities. It was a lovely, hot summer day, in a beautiful church about an hour away. In typical military fashion, the ceremony started at 10am, and we were told to be there by 9am. And in typical Coastie Family fashion, we were there at 8:45am. The good news: we had great seats. The bad news: we had over three hours in pews with our two little tikes. I thought ahead and packed snacks, drinks, "quiet" toys, puzzle and books. My kids were tired of the toys, ate all the snacks and spilled their drinks before the first note of the National Anthem sounded.
Pre-ceremony lip smacking!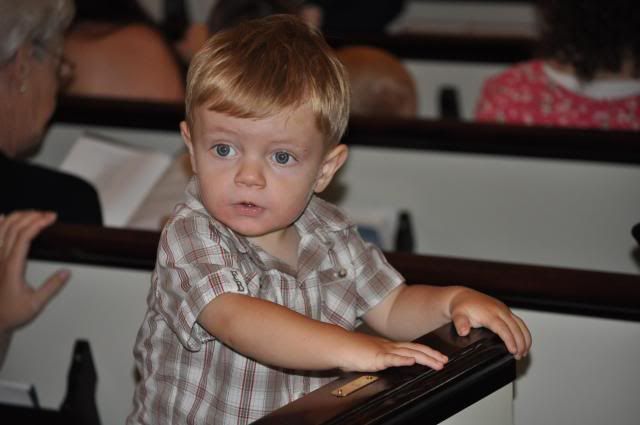 Pre-ceremony pew slapping.
Once Jack got over the wonder and awe of servicemembers marching in uniforms and flags and music, and we all sat down to speeches, the real work began. It was also about this time that Jude kept trying to touch the tattoo on the lady in front of us while exclaiming, in his cutest yet loudest baby voice, "Uh-oh, uh-oh!" So I took the boys to the back foyer where the rest of the parents with kiddos were hanging out. This was all well and good until Jack started running over the babies and not minding his mama. Thankfully, Nonnie stepped in at this point to take Jude off my hands and I got to experience dragging a toddler out of church - kicking and screaming.
Now we all know where Jack gets his "seriously excited" face from!
We quickly discovered a "reflection garden" with peaceful fountain and breezy-set bench. I read through the public journal tucked under the bench seat while Jack splashed in the fountain. Okay, while Jack got thoroughly drenched in the fountain. When he started re-arranging the actual structure and pumping mechanism, I figured it was best to move one. So we walked the gardens in an attempt to dry off Jack's clothes. We were just starting to approach that point when he found yet another fountain to dunk in. The child knows no moderation.
Soon the speeches were over and it was time for the actual awarding. Poppie came to relieve me of my charge so I could watch Hubby receive his degree and rest my poor, pregnant ankles a little. He brought our small brood back into the sanctuary while they were handing out awards. Jack ran up to our pew, said "Hi Mama, I back!" and then crawled up next to me. In a split second, conveniently timed just when the presenters had taken a break from speaking, he stood up next to me, slipped forward, and banged his head on the pew in front of us. There was silence, a slight gasp from the people sitting around us, a sucking in of air by Jack himself, followed by
the wail
. Thankfully, Poppie had scooped Jack up and whisked him back down the aisle by the time
the wail
was in full force. But it was still loud enough that Jon, sitting on the other side of the church, turned to his classmates and whispered, "That's my kid."
Family Portrait Fail. But this perfectly describes how my boys were feeling at this point.
It was the kind of event where one probably should not have brought small children. But we did anyway, along with lots of other people. And it was the kind of event after which one vows to never again attempt bringing small children to anything involving non-Sunday church ceremonies, quiet speeches, long waits, and dressing up... And then we drove up to New Jersey the next day with our boys to attend Jon's cousin Jackie's wedding.
Photo Credit: Nonnie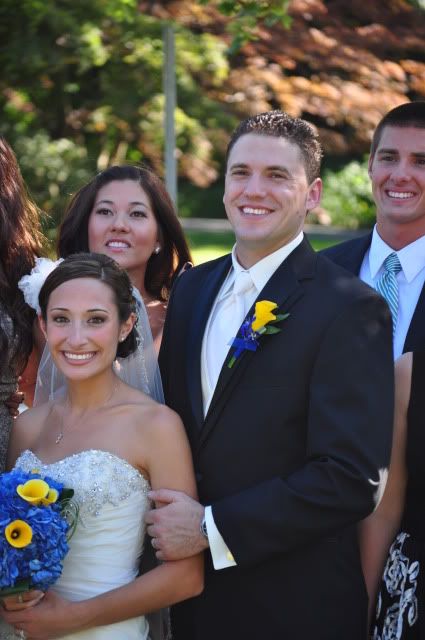 Photo Credit: Man holding Nonnie's camera.
The boys were adorable in their ties and vests. And although I know you shouldn't brag about how little you spend on clothing, I just have to add that I found Jack's entire ensemble on clearance for $6. Awesome! Despite the results of the previous day, I yet again assumed that a few toys and snacks would keep my kids quiet during a short wedding ceremony. Notsomuch. A few moments before the wedding party was about to walk down the aisle, Jack started racing down the pews and, because kids are so good at being loud during all the quiet moments, Jude began pointing at the candle above our heads and exclaiming yet again, in his cutest yet loudest baby voice, "Uh-oh, uh-oh!" Things had gone far enough. I whisked the boys off to the nursery and we watched the rest of the ceremony on closed-circuit TV.
After some Rita's (right outside the church, best idea ever!) and family pictures we decided a slow, quiet drive to the reception was in order.
Somehow "Monkey" managed to fanangle his way into the big Bride's family portrait.
Just as hoped, both boys zonked out by the time we pulled into the parking lot. Jon and I gave each other silent cheers, leaned the seats back, cranked up the AC, pulled out our books and settled in for a nice little pre-reception quiet time. Ah, how much life has changed these past 5 years. Eventually Jon decided he should scope out the hors d'ouvres while I held down the fort.
After naptime ended, the boys had a nice little romp in the grass and fresh air with their cousins. And then I realized, you can dress 'em up but you can't take 'em out.
Within seconds Jack had found the biggest, baddest stick he could carry and was attempting to go "fishing" or take out a few cousins, or dig in a few mud puddles. And I'll confess, at this point, I didn't really care.
While we thought we were being proactive in arriving at the reception early and giving our kids naps and playtime, what we didn't realize that hors d'ourves were scheduled to last 2 hours, that we wouldn't be able to sit at our table until 8pm, or that dinner wouldn't be served until 10pm. Eek!
Barefoot and pregnant, attempting to take photos that involve as little bending and crouching as possible.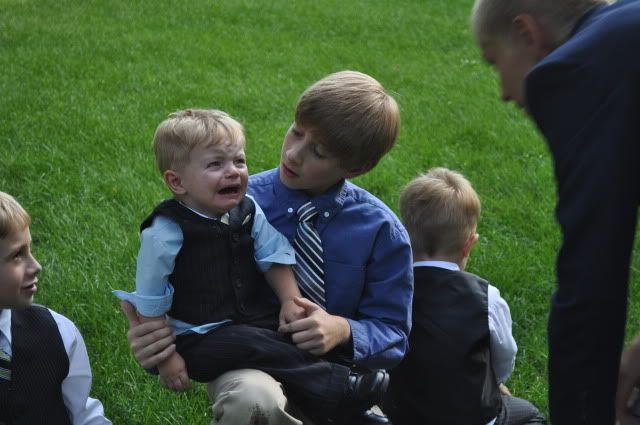 All I wanted was one picture of the handsome cousins all dressed up. Apparently that was asking a little much of my wee one. This is the best I got.
Let's just say, we had a LOT of playtime. We attempted some time
in
the reception hall, but after chasing kids in and out of the the crowd and watching Jack nearly trip more than one poor lady in heels, we decided to spend the rest of the evening basking by the waterfall.
A serene moment by the water.
The littlest cousins had fun wrestling in the grass, throwing rocks and making their way into the background of other people's nice photos. And then Jon caught Jack taking a swig of cousin Connie's "adult beverage." It was cold and clear, the poor child just thought it was water. Fortunately, he remained unphased.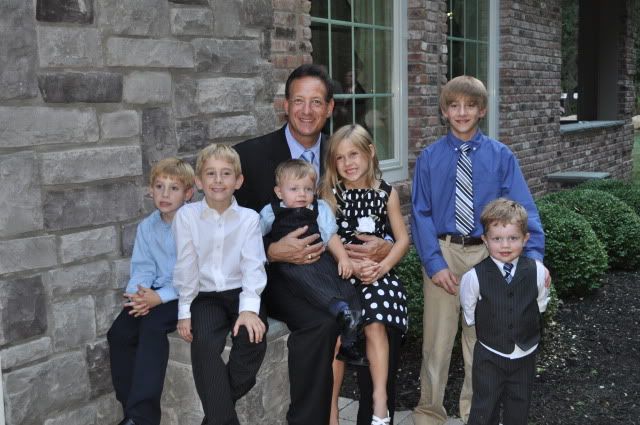 Poppie and his grandkids! (minus Ryley and Gabe)
Nana and Papa and the great-grandkids. Note our Chicken Little in the middle.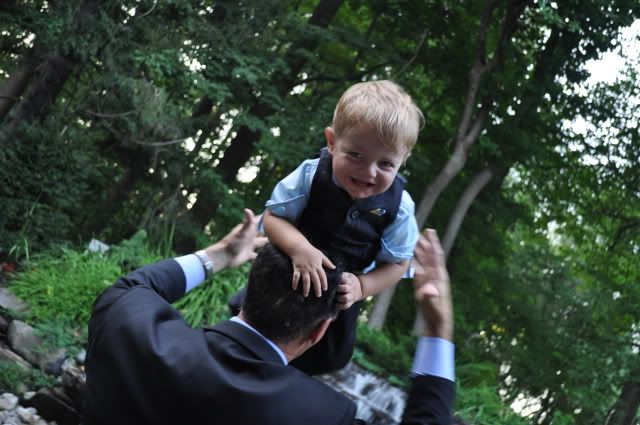 Getting tossed in the air by Poppie will offset any "shorter than usual" nap day.
By the time we were seated, my preggo ankles had long been protesting an entire day in heels. And the boys were beyond tired. So while the rest of the crowd was letting loose out on the dance floor, Jon and I were along the back wall attempting the "sleep sway" with each of our boys. By the time dinner was served our little guys could barely keep their eyes open. We shoved a few bites into them, scooped them back up for a quick goodbye to the family, and were out the door before we could catch a glimpse of the cake we were missing out on.
And I'll admit, sometimes it stinks. Being out on the fringes. Feeling like your whole life is centered around naps, snacks and whatever toy you can scrape out of the bottom of the diaper bag. But I'm really okay with it. This is just a phase of our life. Our kids won't be this much work forever ... and they won't be adorable, sweet little boys forever either. Lately I've been noticing Mama's that are a decade or two ahead of me. I see them in church, at graduation ceremonies or weddings, perfectly put together, able to actuallly spend more than a hot second on their hair and make-up, enjoying the moment, kids off doing their own thing. Honestly, for the first time ever, "mid-life" has its appeal. I think I'm looking forward to being in my 30s and 40s, but not enough to race there. Because this age is pretty good too. And right now my kids don't ask me for money, or video games, or roll their eyes when I tell them to do something. Instead they put their head on my shoulder when they're tired, they run up to me with their hands in the air when they need a snuggle, and they bop to the music. So I'm going to enjoy it while it lasts ... and while they still let me capture it on camera.