Well, in case you haven't heard, last week was a little crazy here on the east coast. Hubby was out of town again, visiting all sorts of places around the country. Meanwhile I was holding down the fort and feathering the nest. Actually, I was busy admitting last-minute applicants into my program. You know, talking on the phone with all the panicked people that decided they wanted to start grad school
after
the semester had already started... yeah.
So both boys were napping and I had just hung up the phone when the rumbling started. I stood up, shocked that my toddler had finally attempted to get out of bed and run laps around his room. And then I realized the shaking was much more than even my Jack could create. And it wasn't stopping. By the time I made it out of the office into the dining room all the dishes in the china cabinet were rattling. I reached my hand out to keep the candlesticks from falling over. And now, looking back, I have to wonder why my first thought wasn't to run upstairs and throw myself over my boys. Apparently the candles were more imminent. But hey, this was my first earthquake and I had no idea what was going on!
It seemed like it would never end and, once I guessed it had to be an earthquake, I kept wondering how much worse it would get. Finally, the rumbling died down. I checked on the boys and both were still soundly sleeping in their beds. And then I opened the front door and actually talked to two of my neighbors, who were standing outside their doors as well wondering just what had happened. It was a crazy experience to say the least. Too bad Jon missed out. He didn't even know anything had happened until he got out of his meeting in Florida an hour later and glanced at the news. He had nothing to fear though, I had everything under control!
But I was still very glad to have him home in time for the upcoming hurricane. A girl can only handle so many natural disasters on her own. Unlike the earthquake, we actually had a fair warning that Irene was on her way. And thankfully, she wasn't as bad as we had anticipated. At least, not in our neck of the woods. We actually ended up going out to dinner in the middle of the hurricane. The boys were driving us crazy and I didn't feel like cooking. So we put on our galoshes, busted out the umbrellas and went to Chipotle where there wasn't even a line! We got home just in time to hear a huge limb fall on our roof and shake the entire house. But thankfully it didn't cause any damage. We never lost power for more than a second and didn't have any flooding. Now tree branches and leaves ... we had plenty of those.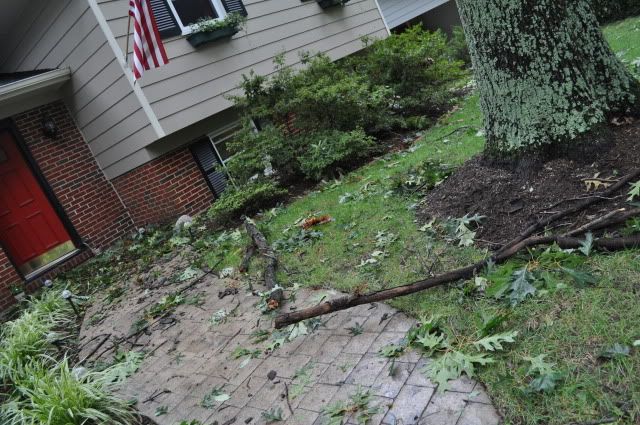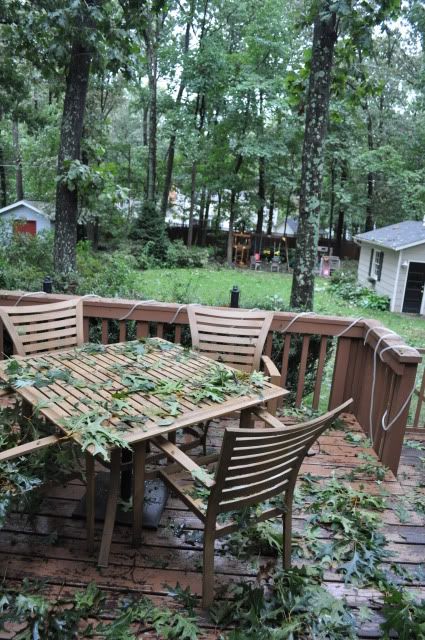 For the first time since we moved I was actually not so thrilled about our yard. It's taken us days to clean up the mess. But I have a feeling this is just a taste of what we're going to see this fall.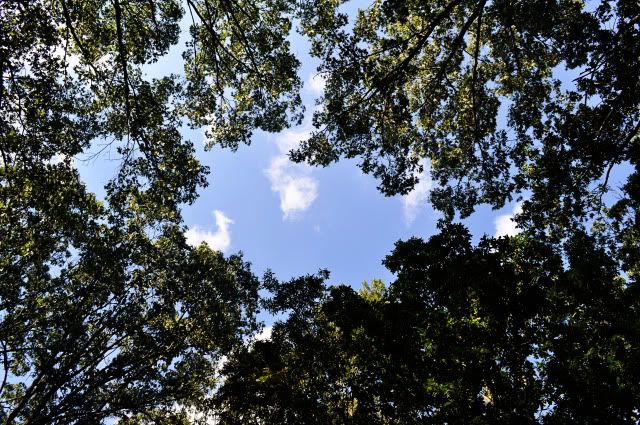 The view from our yard, the hole in the trees is where our house sits.
The boys and I got right to work Saturday morning. It was still a bit cloudy and windy, but the fresh air was good for us. The kids actually weren't much help at all. Jack kept running through the leaf piles and Jude just kept running off.
I came across a suffering baby mole in one pile of debris and was skittish the rest of the day. I was certain I was stepping on baby birds or that snakes were crawling over my toes. So when Jon momentarily forgot my current state and requested I
pick up sticks
before raking the leaves, I decided to put in my two minute notice. I stuck to managing the man made disasters my two boys were wreaking inside the house, and Jon spent the next few days cleaning up the yard just the way he wanted to. And that is why there is a very large pile of leaves behind our shed and next to that a very large and neatly stacked pile of sticks...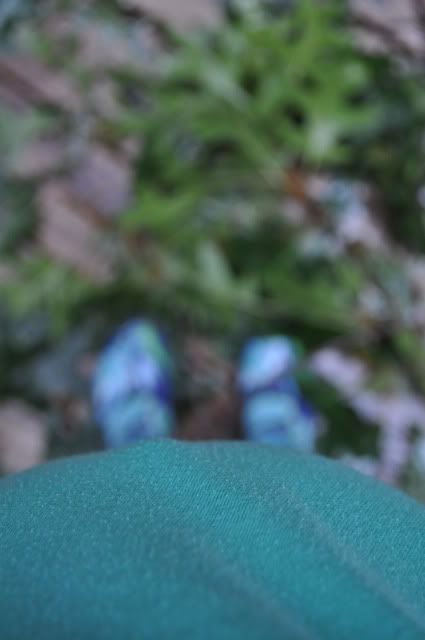 Picking up sticks isn't what it used to be.
So yes, Tropical Storms Jack and Jude have taken over the house. I don't know if things have gotten worse, or if I'm just having a harder and harder time keeping up. Just this evening we have decommissioned the dining room rug, a wedding gift we bought ourselves with gift cards. After 2 years of constant scrubbing I'm done waging the war over dinner-on-the-floor. After Jude threw his bowl of yogurt last week I realized that he's not so different from his brother and the best thing to do at this point is give up. We've had a bare floor under the table for a total of 10 minutes now and I've enjoyed every second of it.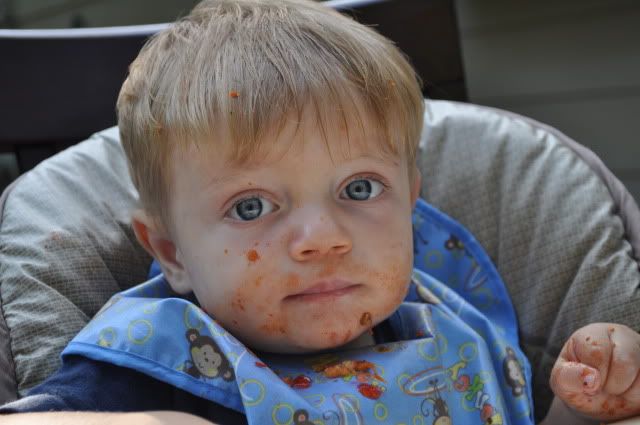 Not-so-neat Jude.
I was a little nervous about managing the two little tornados on my own this week, so thankfully Marmie and Poppa were willing to lend a hand. Three days after bringing Jack back from Grandy Camp they were back in our guest room (which is officially complete I might add!). And the best news is they didn't come empty-handed. Marmie had spent the whole time in-between cooking and baking so that I would have a freezer-full of goodies come Baby's arrival. It's been difficult not to delve into the stash too early, but I'm happy to say I have never been this prepared for a child's birth before. And I still have 6 weeks to go!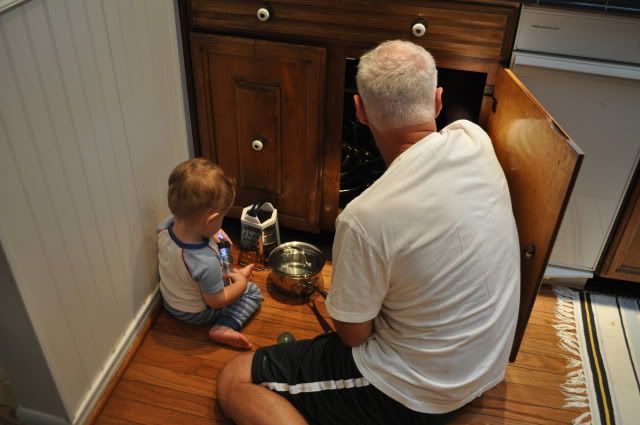 Good thing Poppa was around to help Jude fix the stove.
Marmie and Poppa kept the boys occupied so I could get some work done. They spent some time hunting down bugs in the yard: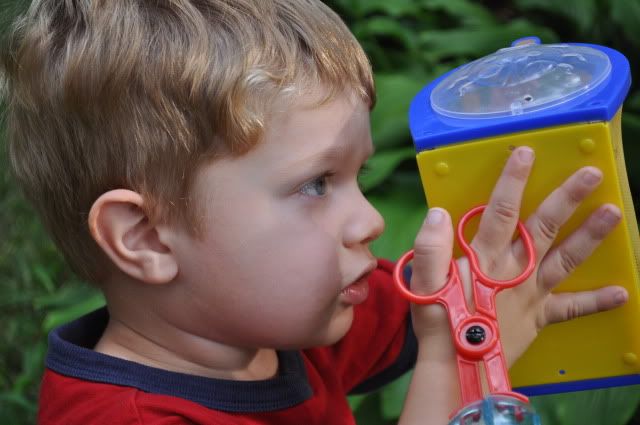 And there were also plenty of bike rides and trips to the park:
But the highlight of the visit, at least for me, was a trip to the local beach.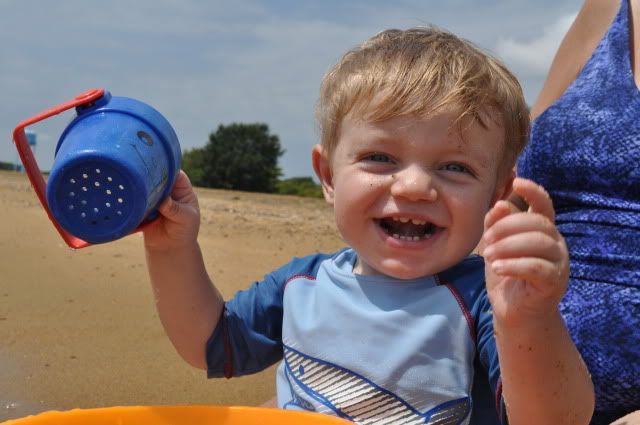 Sister and I needed some Vitamin D. And I was just longing to sit in the sun with a good book. Thankfully the grandparents made it happen. After playing in the sand and water and enjoying our packed lunch, Marmie and Poppa managed to get both boys to sleep under some shady trees. They have the grandparent touch! And so I scored a quiet hour on the beach with just a book and the sound of lapping waves.
Speaking of waves, this was the bay and obviously not very turbulent. Perfect for little boys just getting their feet wet. I was so happy to see Jack enjoying the water again.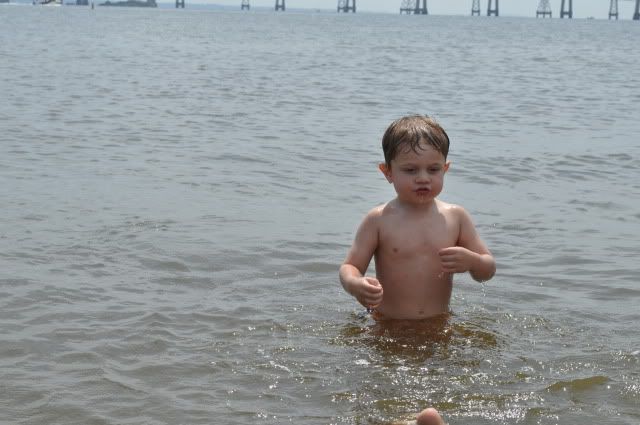 He even got his face wet a few times and came up saying, "I okay, I okay!"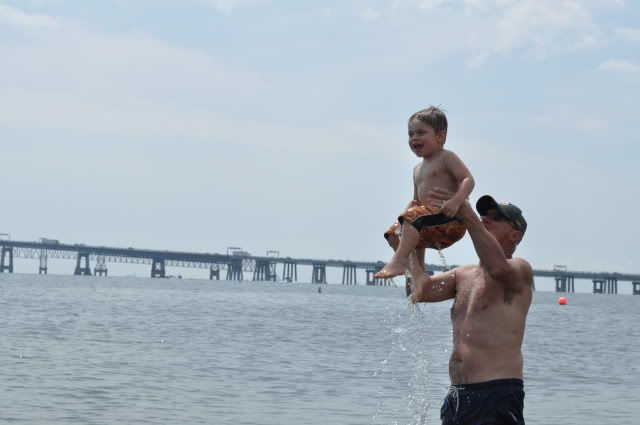 We practically had to drag him out when it was time to go.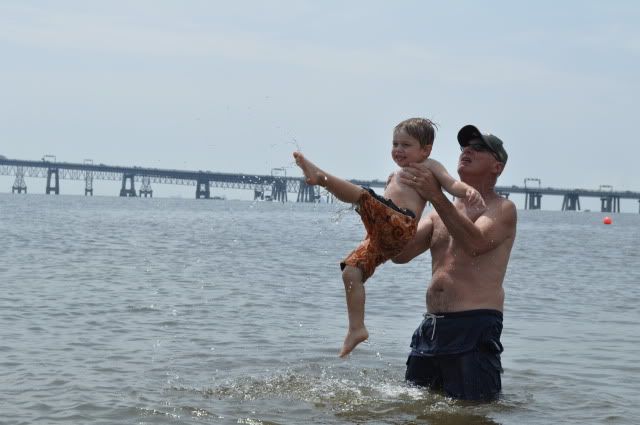 And while this guy can't quite stand on his own in the water yet, he was more than content sitting by the water's edge and filling buckets with sand.
He's definitely becoming more independent and even ventured down the beach on his own on several occasions.
But he also likes to be close to his Mama. I wonder if he's even noticed that he can't get as close to me as he used to.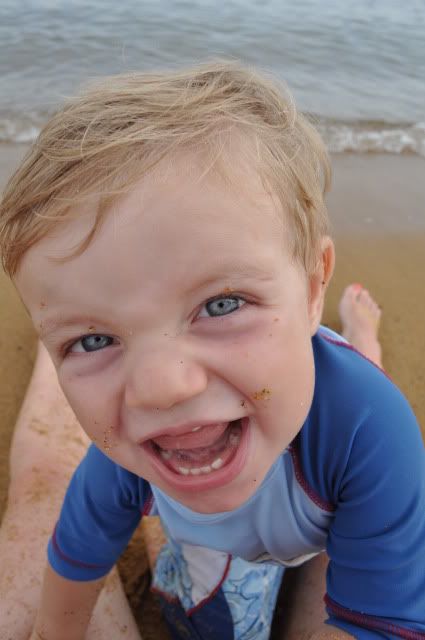 Oh Jude, you are in for a big surprise in a few weeks!