Things have been going really well lately, too well. I'm totally enjoying this little lull in our family life. Not that it's all quiet and calm or anything - we're busier than ever. But suddenly I'm able to manage the schedule, and these two boys, and have an organized grocery list and meal plan with dinner on the table every night, and dishes all washed and the kitchen cleaned before it's time to give the boys baths and put them to bed. And work is going well, and I'm starting an awesome women's Bible study and Jon and I just started the Love and Respect seminar at our church. And we have people coming to visit almost every weekend again like we used to back when we lived in cool Virginia. And so on and so forth. Life is good.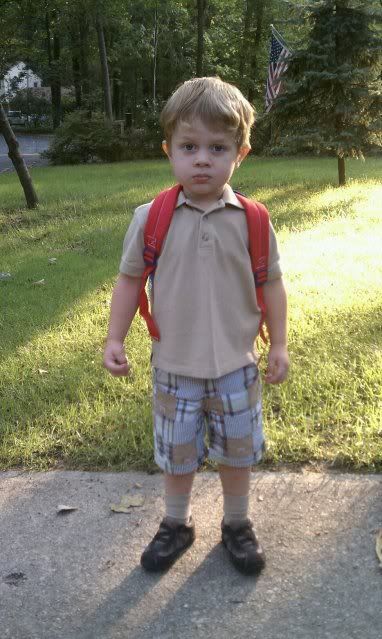 More on-our-way-to-school pictures, because he doesn't just look cute on the first day ...
And preschool is going well too. I was a little skeptical in the beginning. Especially when Jack's teacher started giving us bad reports. As in, the first day of school he got put in time-out for being rough with other kids and not listening to the teacher. A few more days like this and the teacher finally said she didn't know what to do. And as a mom that's just a bit discouraging. I knew we'd have problems in this area, and I was really hoping preschool would be a good experience for our social little guy. I just didn't expect a teacher that would run out of ideas so quickly. I offered to come in for the day and discipline whenever there was a problem, but she decided to give it one more week and see how things went after that. And ever since then he's been a model pupil. I'm wondering if it was just a stimulation thing. My little guy is SO EXCITED about school. He can't stop jumping, skipping, smiling as soon as his brand new sneakers hit the parking lot pavement. And every day we walk in the door, and every day he flips around and shows anyone in his path his "pack back" (even though we've all seen it a dozen times before). And then he hop/skip/smiles all the way to his classroom door where he drops his "pack back" to the floor and runs to see what exciting new activity his teacher has for him.
And this is where stern Mommy calls him back, gets down on his level, says "Jack, remember to be a good listener and kind to others."
"Yes, Mommy!" *hugs*
"I love you!"
"Lub you!"
And he's off!
Meanwhile his other classmates are trying to crawl up their parents' legs, or crying at the door, or running the other direction. And it makes me wonder why my child is the only one overly-anxious to leave me. But he's always glad to see me come back too.
Once again, it's the same thing every day. Jude and I walk into his room, Jack jumps up, wraps his arms around me and says, "Mommy you came back! You came back! I so, so missed you!"
And then I ask him how his day went and he usually says something like "I go in time-out" or "I pushin' kids." And then his teacher steps in and says that actually he didn't do any of those things and had a very good day. To which Jack and I high-five, grab hands, and hop/skip/smile our way back to the car where he further explains "I have so much fun! ... You came back! You always come back!"
Oh yes, I'm enjoying this preschool thing too. I thought it would be difficult getting the kids up and out the door by 8:15am, only to have to come back to pick him up 3 hours later. But it's going quite well. Being committed to something in the morning keeps us moving and on our toes. And the 3 hours Jude and I have alone have been more productive than I had imagined. Sometimes we'll do a quick Target run while it's still early in the day and Jude can freely run up and down the aisles. Sometimes we'll stop at the farm near Jack's school and pick up some produce for dinner. Once we even discovered a Goodwill nearby. And most days we just head on home for Mommy to pound out a few hours of work while Jude tears about the kitchen, and living room, and dining room... and then throw things in the toilet. And usually right about the time when I start missing my other little ball of energy it's time to leave to go pick him up again.