Like many mamas, one of my favorite Christmas songs is "Breath of Heaven." The longer I'm a mother, the more I feel like I can relate to Mary, and the more this song becomes the song of my own heart. In fact, one of the first things on my "to-do" list when I get to heaven is to track down the mother of Jesus and swap birth stories. Sure hers is one of the greatest stories ever told, but I want to hear ALL the details. I must say, from the little we do know, it somewhat reminds me somewhat of my own.
I mean, Mary had an advantage many of us don't get – she KNEW the moment she got pregnant. There was no mistaking her due date. And yet she decided to travel anyway. Maybe Jesus showed up early. I can just imagine what all that walking and donkey-riding would do to a pregnant woman. I bet all the other ladies in the caravan were telling her how good she looked, that there was "no way" she was due that month, how she carried so small, "must be a tiny baby like his mama" kind of comments.
I have traveled many moonless nights,
Cold and weary with a babe inside,
And I wonder what I've done.
Holy Father, you have come,
And chosen me now to carry your son.
And then they reached Bethlehem, and by now Mary is starting to feel a little different. "Nah," Joseph says, "The baby's not coming yet." And they go from door to door, inn to inn trying to find a place to rest. Meanwhile Mary's breathing is getting faster and faster, and position on the donkey is becoming more and more uncomfortable.
I am waiting in a silent prayer.
I am frightened by the load I bear.
In a world as cold as stone,
Must I walk this path alone?
Be with me now.
Be with my now.
Joseph tries to explain that their situation is desperate, but the innkeeper's wife takes one look at Mary and just shakes her head, "No, you're too tiny, you're not ready to have a baby yet" or "You sound too calm, go have a glass of wine, take a nice long bath and come back when you really think it's time."
Breath of heaven,
Hold me together,
Be forever near me,
Breath of heaven.
And just as the final door is shut yet again, Mary knows like only a woman can know. She braces her feet against the donkey's straps, arches her back and yells for Joseph to "Hurry, it's time!" And I'm sure Joseph starts crying out to God at this point. He's probably wishing he had paid more attention to the midwife when she came to visit, trying to remember just what exactly he's supposed to do in an emergency situation. He tries to get the local midwife but she's sleeping and doesn't get the page.
Breath of heaven,
Lighten my darkness,
Pour over me your holiness,
For you are holy.
Breath of heaven.
So he does the only thing he can do. Finds a nice warm place for Mary to rest, starts digging in his cloak for something to wave down help, and then turns around to find Mary already catching her new little one. She nuzzles him close, not even bothering to confirm it's a boy, catches her husband's eye, and they both laugh. I'm sure neither of them have ever felt more alive than they did at that moment.
Do you wonder as you watch my face
If a wiser one should have had my place,
But I offer all I am
For the mercy of your plan.
Help me be.
Help me.
And as she rests against the manger I'm sure the weight of her new responsibility settled on her shoulders. What a blessing, what an honor, what a task was set before her. She was now a mother, not just of any little boy, but the Savior of the World. Like so many mamas, I often feel unqualified to the task. I can only imagine what was going through Mary's mind that night, and the many nights to follow as she thought about raising Christ the King. Suddenly, giving birth in a stable seemed so easy.
Breath of heaven,
Hold me together,
Be forever near me,
Breath of heaven.
Breath of heaven,
Lighten my darkness,
Pour over me your holiness,
For you are holy.
Breath of heaven.
What a story, what a life!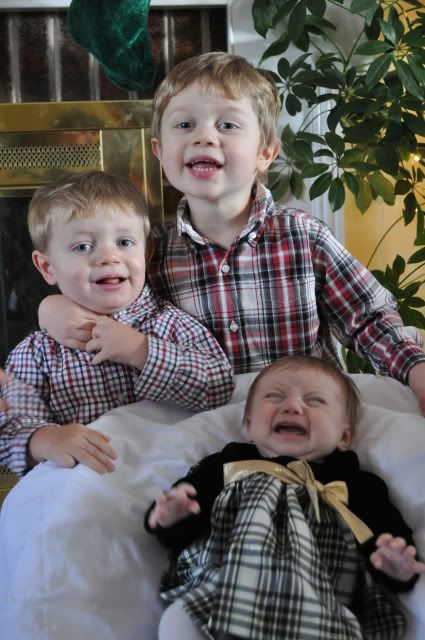 Best Christmas picture ever!!
From our family to yours, may your day be full of light and love. May your little ones continue to make you feel more and more alive. May the celebration of our Savior's birthday fill your heart with awe and wonder.
Merry Christmas!