It is a truth universally acknowledged that fall is my favorite season. But all the good things must come to an end. And for once, I am ready to wrap up fall. It was a good run. Much better than I had anticipated knowing I'd be in hibernation mode for the better part of the autumn. But Baby Girl has only made this past season even more savory. And so the last of the leaves have been raked (no small task in this quasi-forest of a neighborhood) and the pumpkins and leafy twigs have been replaced with twinkly lights and pine garland. And boxes of wintery decor to go with it.
Someone likes the Christmas lights.
And right up there with autumn, I love me some real Christmas tree. Fraser fir to be exact. And I love the whole experience. I have fond memories of the whole family bundling up, piling into the mini van, getting trampled on by our dog "Cody" (who was so hyper that we never took her out in public except on Christmas tree hunt day), treking around the woods seeking out the tree that would fit most perfectly in our pre-determined corner, and arguing over who had found the best one. And then there was the sawing, the dragging, the tying it to the roof of the car, and bringing our treasure home. Of course, our eyes were always bigger than our ceiling and most years my dad had to cut a little (okay, a lot) off the top and bottom to make it fit. In fact, there's still a brown scrape on my parents' ceiling where we squeezed one too-tall pine into the house. And then there's music and decorating and hot chocolate and cookies ...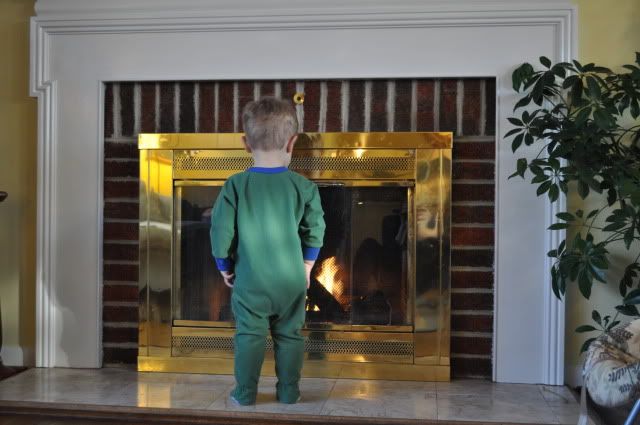 Cozy winter fires ... Just another thing for Jude to inform us is "HOTTT!"
Taking hot chocolate to a whole new level!
We haven't quite reached that place in our little family yet. Especially the hyper dog part. Who needs a crazy lab when you've got two toddler boys!? But we are working on creating our own family traditions. After growing up in an artificial tree household, I think my husband has finally crossed over into the "real" side. He doesn't even put up a fight anymore when I bring up "the hunt." Although this year's search, as has been typical lately, didn't quite play out like I thought it would. With all the traveling we have going on this month we knew we wouldn't get to enjoy our tree and decorations for very long, so I really wanted to get things going soon after Thanksgiving. We didn't have the time, or energy, to visit a cut-your-own farm. So when we found out our favorite produce stand/pumpkin patch/local farm has a Christmas tree lot, we decided to go there to find something that would rival
the majestic tree we found last year
.
So we loaded the kids up quick one night after Jon got home from work. It was dark, and cold. And there was no Christmas music or hot chocolate (why didn't I think of these things ahead of time?!). There weren't even any freaky stuffed animals hanging in the trees like at our favorite
Virginia Beach tree lot
. The boys had fun decking in and out of "the woods." But my fingers were so cold I could hardly snap pictures.
We settled on the second tree we looked at. It's very nice. Perfectly shaped. A little shorter than what I had hoped. And it's from North Carolina. And nothing against North Carolina or anything, but your trees don't smell. At all. I mean, that's my favorite part of a real tree. I certainly don't go through all this just to have sticky, sappy hands at the end of the night. I want my nostrils to scream "CHRISTMAS" when I first come down the steps in the morning. I want my botanical masterpiece to rival the best candle Yankee has to offer. I want my couch cushions to be infused with that fraser-y smell for the rest of the winter. Hmph. Maybe next year. Maybe next year we'll realize how much money we could save by cutting down our own tree in Pennsylvania and driving it back down to Maryland. Because, sorry Maryland/North Carolina/Pumpkin-Patch-That-Thinks-It's-A-Tree-Lot, you don't know Christmas trees!
But since I'm trying to be a good mama and teach my boys about love and acceptance, we'll just go right ahead and enjoy the tannenbaum we have.
Heaven knows it's taken a real beating over the past week.
Do you see the baby?
Jon suggested "we" decorate the house last Saturday. And then he sat in the office doing work while I attempted to teach two toddlers how to hang ornaments. Jack kept getting distracted and playing little imaginary games with the ornaments and Jude's idea of decorating was to throw them at the tree. I think we *only* ended up with about 5 broken ones that day. Fortunately, none of them were too important. But I haven't been keeping track of our daily average since then. If it wasn't ornaments it was the other decor, the tangled mass of Christmas lights, or the boxes. I've been so good at storing all our decorations in their original boxes to keep them all neat and tidy. Well, not anymore. Those boxes were crushed at the hands and feet of two excited little boys.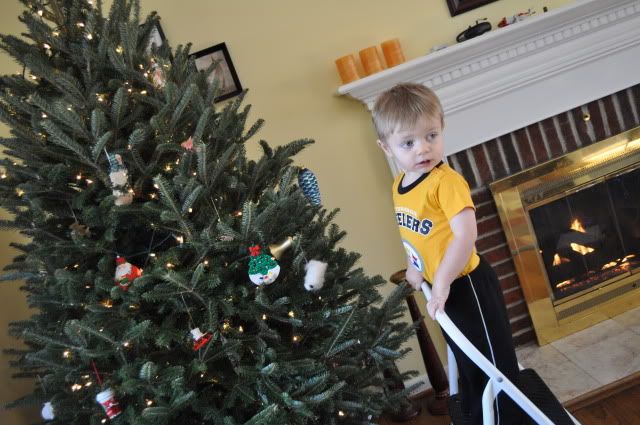 A boy and his stool.
Thankfully, the precious nativity that I inherited from my G'Ma hasn't suffered.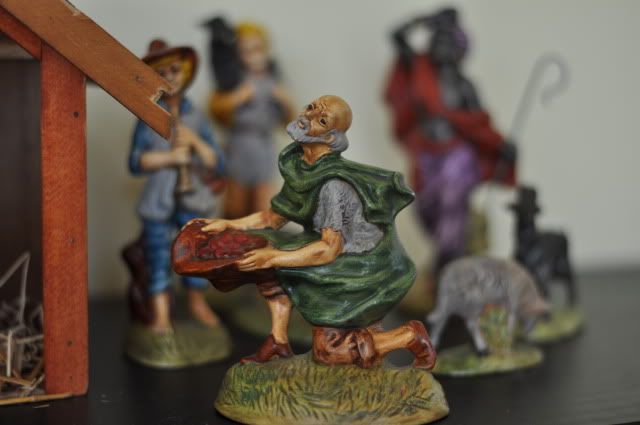 Anyone know who this guy is? A shepherd?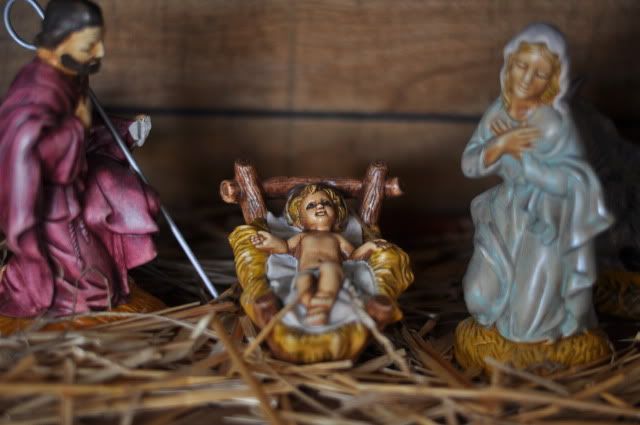 Just to clarify, Joseph's hand was gone when I got him out of the box, it wasn't from the boys...
Naturally, I'm very strict about this one. Jude likes to point at it and tell himself "No, no!" and Jack likes to tell people that "he's looking with his eyes" (not with his hands) whenever he's around it. He's actually quite enamoured with it all. We've been reading some different versions of the Christmas story. His favorite part is the angel. I overheard him walking around the house the other day saying, "Glory to God in the highest ..." And I have to say, it's moments like that where I feel like I may be doing some small thing right.
Here's hoping that THIS is the week we score a family Christmas card photo. I'm starting to think three separate pictures of three kids is the way to go. And I'm also starting to think, if we continue at our current pace, we may end up doing New Year's cards instead. It's okay, she's totally worth it. :)