I love snow. And I'm all about cozy, blizzardy winters but I also know what it's like to spend the longest, darkest months cooped up in a house with small children. So when Mother Nature throws you an unseasonably warm afternoon, you take it. You
carpe diem
that bad boy.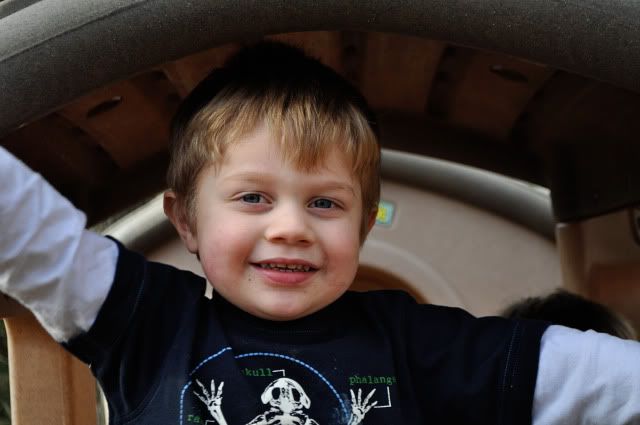 "The Smolder" - 20 years from now he's going to use this look on some poor girl and she'll be his for life.
And that's just what we did this afternoon when the average temperature of all my weather sources came out to somewhere in the upper 50's. After rounding up children, socks and sneakers. Doing potty runs and diaper changes. Making sure all perishable goods had made it back to the fridge after lunch. And strapping a baby onto my chest, in twice as much time as it used to take me to pack for an entire road trip in my single days ... we managed to trek all the way to our backyard.
Good thing it was warm enough that we didn't have to add "find and zip up coats" to our list. Even so, the trip was well worth the effort. All of our gazillion trees are bare, and despite the fact that our days are shorter, they seem so much brighter now that the sun can shine through. Even the house is extra-sunny during the middle of the day. And even a pile of dirty dishes can't diminish the cheer of a sunny, warm kitchen!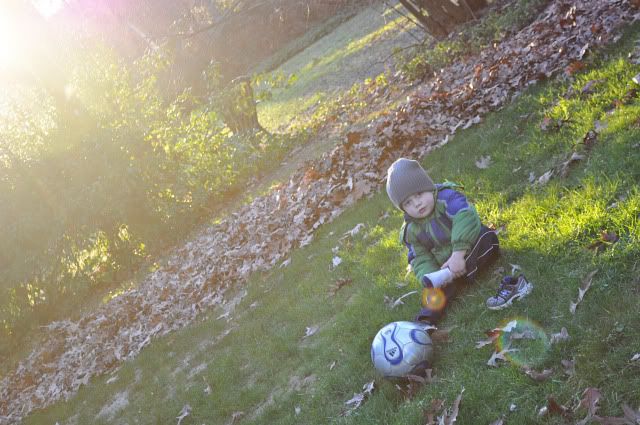 We were playing so hard he lost a shoe.
Jack is really in to soccer these days. And Jude is in to anything his older brother is in to. We're still working on the "don't pick up the ball with your hands" rule. But kicking, oh we're good! I'm usually wearing Julia in the carrier when we're outside which makes kicking and chasing balls even more interesting.
A shot of the girls. Wonder how long it will take her to realize that if you want to show up in pictures, don't hang too close to mom.
It also makes lifiting 24 and 40 pound toddlers into their swings interesting too. But when I'm standing there, pushing Jude in the swing with my left hand, Jack in the swing with my right, and lulling my baby girl to sleep at the same time ... I feel pretty accomplished. It's also nice to know that I don't have to worry about any objects getting lost or broken or anyone getting hurt for a few minutes out of the day, because all three of my children are strapped down for the time being. Ah yes, just another reason to enjoy the sunshine.
Do you know how hard it is to snap a picture of a baby who is attached to you?
Jon was in Texas this week so my oh-so-helpful parents came down for a few days. Poppa and the boys had some outside adventures of their own. They came back in the house smelling like fresh air and full of stories about pirate ships, beaver dams and buried treasure. Jack's been looking for treasures ever since. And I'm now the proud owner of a nice growing collection of rocks, seashells and golf balls that he's "discovered" in our backyard. I gotta say, I love his little imagination. I just wish he wouldn't bring it to the dinner table where bread bitten into the shape of a boat sails across a "lake" of spilled milk where a fishing rod looking very much like a fork catches a shark made out of cheese ... It's no wonder he's always the last one left at the table.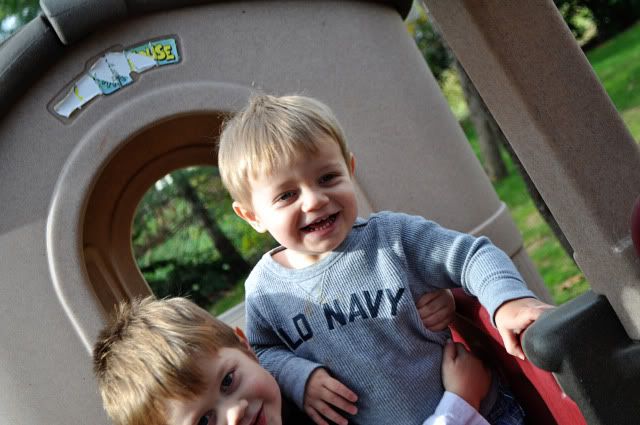 Marmie and Poppa headed home early yesterday morning, and left behind yet another freezer full of meals. I tell ya, when the baby is fussing, the boys are running circles around the kitchen and your husband calls to tell you he won't be home until much, much later that night ... it's so nice to not have to worry about making dinner. Which is exactly what we did tonight. And I even got to eat half of my food while it was still hot.
Julia is doing better during the day. We're starting to get a good routine going. Yesterday she took all 4 naps in her crib. She's an excellent napper in the morning, despite being interrupted by preschool runs, but by the end of the day she's down to catnaps. And by 7pm, even though she'll be sleeping solidly in my arms, she's awake and upset the moment I set her in her crib. And then we reach 10pm and it's like someone hit the reset button, because I can lay her down to sleep wide awake and chatty, and she'll contentedly suck on her fingers until she falls asleep, and stay there all the way until morning. I just don't get it. But I guess I don't need to.
I finally took the pack 'n play out of our room. It's been very useful as a giant laundry basket for the past week but it was time to part ways. Julia's been doing so well in her crib at night, and Jon and I like having our room back to ourselves. Still, it makes me just a little sad to know that phase is over. Oh, I'm sure there will be many, many more nights to come of some mommy/daughter bonding time. But those newborn nights, those nights where you lose track of being awake or asleep, where you wake up in darkness and panic because you can't remember where you last put the baby, those I-want-to-sleep-close-enough-to-hear-her-breathe-all-night nights, are passed.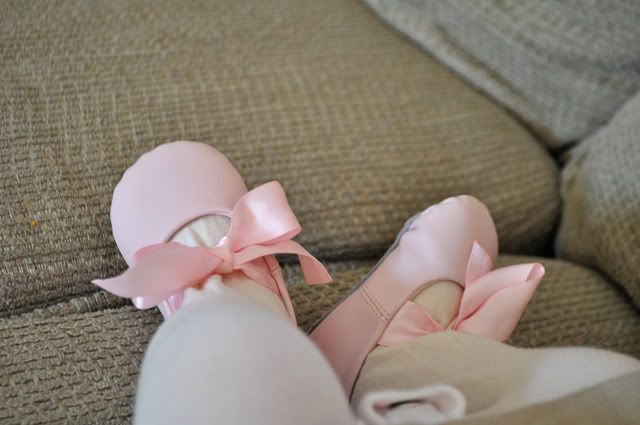 I just love these little ballet slippers from Nonnie!
And just like those good times are gone, so too shall these evenings where I get nothing done but hold a baby. Unless the hubby happens to be home and offers to hold her for me. And just like an unseasonably spring-like day in the middle of December, I'll take it. I'll
carpe diem
that two-hour time slot. I'll clean the kitchen, fold the laundry, wrap some presents and then plan out a grocery list ... or maybe I'll just blog about treasure hunting in the backyard and folding up the pack 'n play. Yeah, that sounds good.