I seem to have blogged a lot about Julia lately, because she's just so darn sweet.
But there's a lot to be said about life with two toddler boys too. I mean, we've only been a family of 5 for 6 months now, but there's already quite the division - on one side we have Julia, our easy-going, mild-mannered, smiling sweetheart. On the other side, we have THE BOYS. I smile and laugh more raising these guys than I ever did in my previous jobs, but sometimes I also want to rip my hair out. So I've decided to call this time
funstrating.
Most people, I think, realize that little boys are a completely different species. Well, these two are just CRAZY.
No, catch that. They are
each
crazy, and together they are DOUBLE CRAZY. They just feed and bounce of each other and the craziness just multiplies and resounds until I start to think that maybe I'm the crazy one - "someone put me in an institution!" This is typically the point where I order them both outside in hopes the craziness will dissipate into the wild, open spaces ... at least until lunchtime.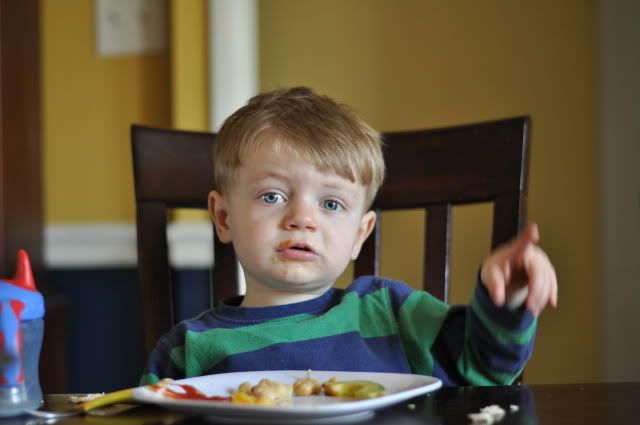 What ya'll see - sweet, innocent, doe-eyed Jude trying to tell his Mommy what he wants.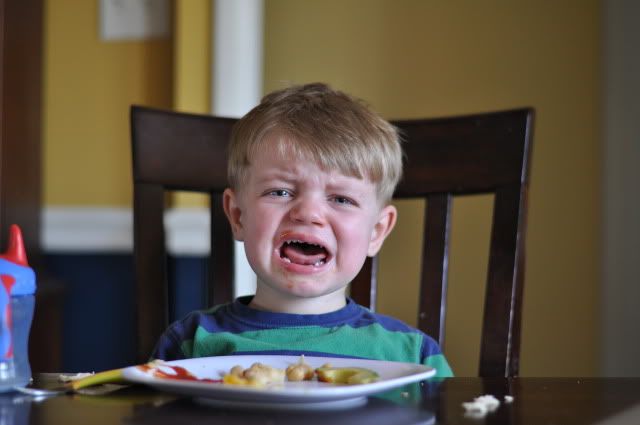 What I get to see - a 2 year old that is still learning how to communicate. And that doesn't seem to understand why he can't have a "gah-goo-gull" (popcicle) when he hasn't eaten his dinner yet.
Which is exactly what happened yesterday. We were expecting our friend Jori for lunch, I was
trying
to get the house in a presentable state, and everytime I'd get one thing cleaned up a new mess would suddenly appear right behind me. "That's it, you're done, OUTSIDE NOW!" And, like the giddy little puppies they practically are, the boys happily ran/puhed/tripped/fell over each other out the back door. Julia and I looked at each other, smiled and set about finishing our chores. Okay, I finished the chores and she silently cheered me on. It didn't take long, it never does. Once you have kids, and you experience a moment or two when they're not underfoot, you realize just how quickly you can accomplish menial tasks. So maybe ten minutes later I look out the window. I don't see the boys, but I can hear them laughing. Squealing is more like it. I walk out onto the deck and there they are. Hose spraying, puddle making, mud dancing, dirt flinging, having a grand ole' time in Daddy's nicely landscaped mulch.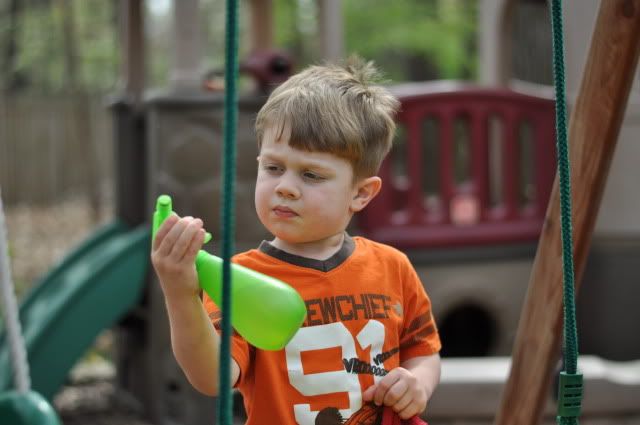 They like to play "cleaning." Okay so maybe it's most like squirt guns but I like to pretend I'm training them to be caring, responsible citizens.
I have a lunch guest due to arrive any minute, and 2/3 of the J Team is covered in black mud up to their waists, water dripping off their hair, specks of dirt clinging to the wrinkles around their eyes, made even more pronounced by two HUGE smiles. They know it, but it was totally worth it - they've been caught.
Ah, just another day in the Coastie House. Good thing I just finished a half dozen loads of laundry and the washer is free again. Good things the neighbors weren't out when I stripped my sons naked on the deck (oh they thought that was
really
cool) and attempted to clean them up with a 30 second spit wash. Good thing it was tubby night anyway. Oh wait, that's every night lately.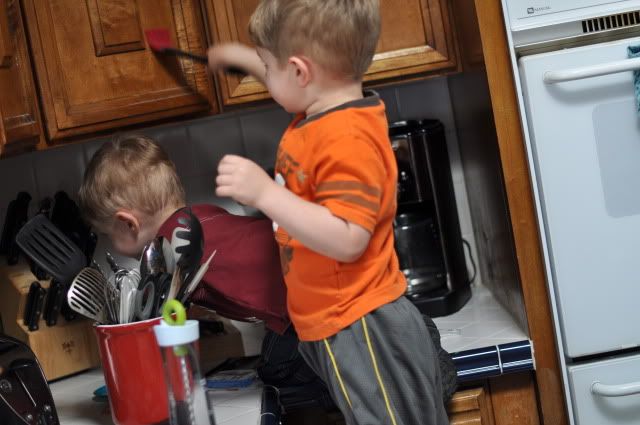 Making dinner together i.e. Jack "paints" the cupboards...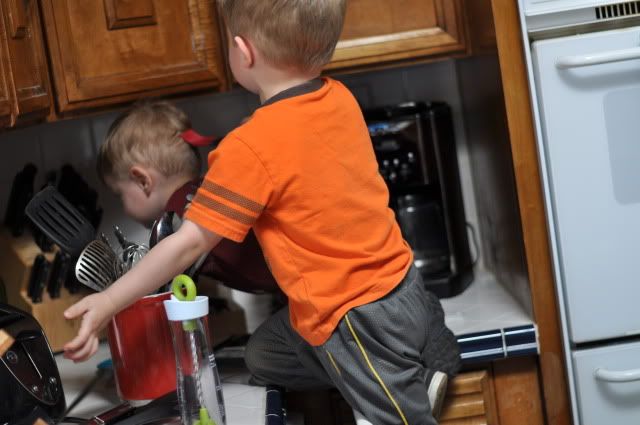 ... and then Jack "paints" Jude.
Boys.
Please know, I have attempted to reign these fellas in. I mentioned the little conference I had with Jack's preschool director last week. She (and Jack's teacher) were concerned that he won't like school anymore because he spends so much of his day in time-out. One thing she suggested was offering a daily reward. Another idea she had, to help keep things consistent, was to use the same type of behavior management tool that they use in school. Enter: the traffic light.
You can see we've included Jude on this one too. Poor kid, he has no idea what it means. But I didn't want Jack to feel like he was being singled out. I'm not a huge fan of the whole traffic light thing. I'm not even sure I fully understand it. The way we use it is green is good, yellow is a warning/time to settle down and if you end up on red you get a consequence. But I'm not sure what comes after that. I've decided that in our house, we'll start over at that point. While it has certainly helped make Jack more aware when he's headed "downhill", I'd much rather find something that gets to the heart of the problem. A thermostat, if you will, rather than a thermometer.
Actually, I tried something like that last fall. Not long after Julia was born we were having issues with Jack being mean to Jude (okay we still have those issues but it seemed worse back then). So I created The Star Chart to emphasize being kind to others.
I was trying to keep things positive, so I listed all the ways that Jack could be kind. If he wasn't being kind, he'd lose a start. But by intentionally being kind, he could earn stars back. At the end of the day, if he had 3 stars, he got a reward. I thought it was genius. And it did work fairly well for a little while, I mean the child got genuinely upset when he had to take a star down. But it got to the point where he would start using
kindness
to make up for his earlier bad behavior. For instance, he would push Jude and lose a star. So soon after he'd just randomly start saying "Thank you mom ... thank you for my lunch. Thank you for combing my hair... Thank you for reading my story (That's good manners!)" Nice, but real life doesn't exactly work that way. I didn't want him to think he could erase bad decisions with good ones.
Also, his 3 year old mind tended to misinterpret my feeble attempts at illustrating kindness. For instance, don't be alarmed if you hear Jack telling himself: "I be kind when I play with my truck, play soccer and give hugs..." Almost buddy, almost.
It wasn't entirely a bust though. Jack is often very polite, and he always remembers to let us know when "that's good manners." The best part is, his politeness is rubbing off on Jude. If Jude cuts me off, or bumps Julia, he's quick to say "sarry." He's also master of "peeeeze ... 'nack peeeeze?!" And he's quick to cut in with "scue me" or "scue you" anytime someone burps or passes gas. And heaven knows with two boys we've got plenty of that going on around here.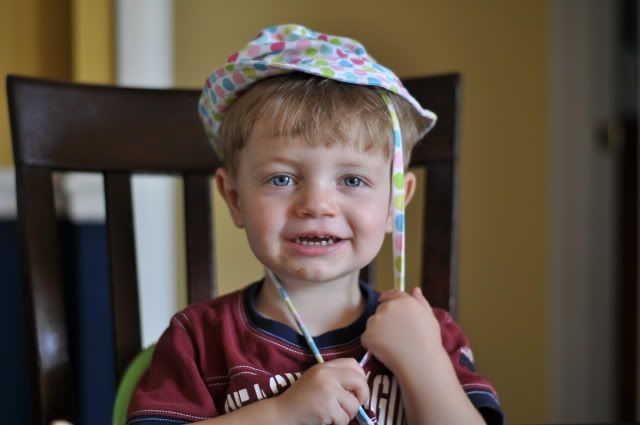 "Cheeeee!!"
I'm Just thankful that they get along, for the most part, and that no one has permanently injured anyone else. Because that would make things awkward as they get older. And I will give boys credit for something we females are noT so good at - they don't hold a grudge. One minute they've got each other in a choke hold. The next they're giggling and trying to hold hands on the swing.
Boys. They're so funstrating.