Jon and I celebrated our 6th wedding anniversary a week ago. I was fully intending to write something lovely about our special day, but that post ended up just like the card my honey got me - not happening.
I did get something that some may argue is better than a card - booted out the door and sent to the mall for two hours of kid-free shopping. It's probably a good thing I only had two hours before I had to get back to feed Julia, because that was more than enough for me to have a very successful trip.
It was nice to get out of the house by myself for a bit too. The previous week has been very difficult. I can't really remember all the reasons why, but there was more than one moment where I just laid my head and the table and wondered just what I'm doing wrong this time. And it certainly didn't help when I got called into a conference with Jack's preschool director on Monday. Yeah, apparently shopping sprees can't fix everything.
Tuesday was quickly going downhill as well, but thankfully my parents showed up at lunch and helped turn things around just in time for my husband to whisk me away for a few days to - Virginia Beach! Okay, so maybe he had to go down there for work, and maybe I had some things to do for my job as well, and maybe we had to take a little someone along who isn't able to be away from mommy for, oh more than two hours at a time! ... but it was still a vacation. Still a chance to get away from the day-to-day routine that, as much as I truly love, can still wear a mama down.
So we set off on the 4.5 hour drive with the best little traveling companion ever. Seriously, hardly heard a peep out of her.
Which meant Jon and I could enjoy some quiet conversation while driving down the rural Eastern Shore at dusk, planning the future, discussing our dreams and setting some new goals. It didn't take long for me to utterly relax and destress. My boys were in good hands with their Marmie and Poppa, we were headed to one of my favorite corners of the world, and I could look forward to 3 days of not having to cook, clean, or change 1/2 as many diapers.
Since Jon was traveling for business we had to stay wherever he could get a government rate... like an oceanfront room on the boardwalk. I think this was my first oceanfront experience, and it was wonderful!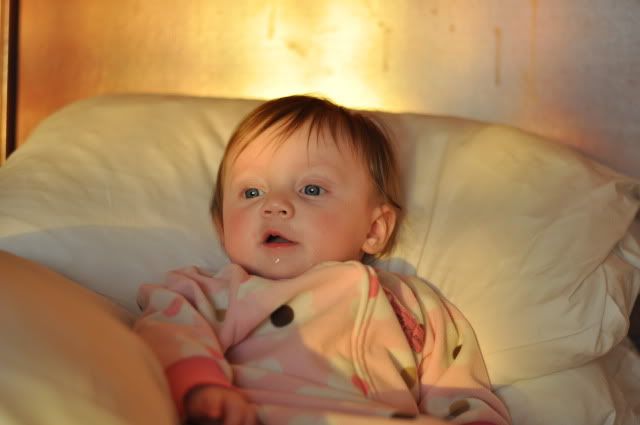 Morning sunrise, she "gets it."
Every morning, I'd hear Julia start to rouse in her Pack n Play. I'd tuck her in with me, and nurse her while sitting in bed and watching the sun come up. I wish this is one routine we could have continued to carry on at home. For three days I didn't mind being woken up before the sun at all.
Honestly, our trip wasn't really that exciting. Jon ended up working a lot. And when I wasn't in my office or meeting with my boss, I took advantage of the quiet hours to myself to also do work back at the hotel. We did visit our two favorite restaurants and I dropped by a fantastic little consignment store near our old place. One evening we spent about 3 hours over dinner with some of our favorite people, Brian and Janine. We ate outside on the dock and talked and laughed until long after the sun went down. If for some reason I get trapped in the house with my kids for the next month I at least know I stocked up on a good amount of adult conversation that night to get me through for a little while.
Lia and I got a lot of one-on-one time together while Jon was working. It was so nice to just focus on just one of my little ones. Julia is so easy-going, so content, that it's easy to leave her on her own while I'm trying to get things done. Sure, she gets me all to herself when it's eating time, but it's not the same.
I love playing with her fingers, making her laugh, kissing those cheeks and trying to smooth down that hair! And with the way she's growing, there's just not enough hours in the day to do enough of all that! So we both enjoyed the extra mommy/daughter time last week.
I will say, Girlfriend is like a clock. At precisely 90 minutes after she wakes up, she starts to fuss. Nothing serious, just a few little noises to let me know she's ready for bed.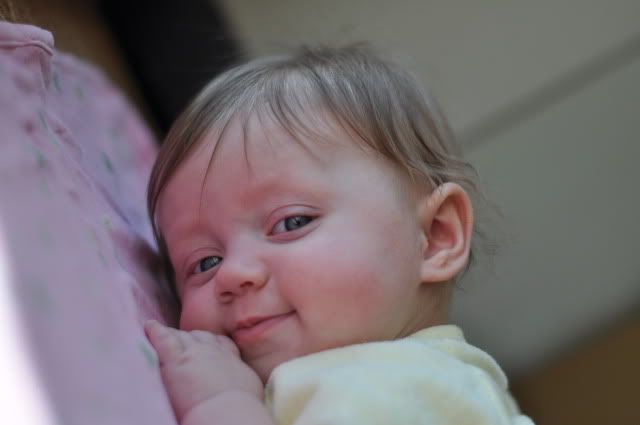 Is anyone else seeing that sorta-kinda curl above her left ear? I've been watching it for a week now, there is hope for a curly-headed offspring!!
Normally at home I'd lay her down in her bed and that would be the end of it, but that didn't work so well in the hotel. So I spent a good amount of time bouncing, swaying and pacing the darkened hotel room, listening to my baby's breathing and the ocean waves outside the window, until she finally gave in to slumber.
And then I'd lay her down, grab my phone, run to the bathroom and start making work calls with a towel over my head to help muffle the noise. Ah, fun.
Julia making her two favorite noises - gurgline and raspberries.
Work or no work, it was good to be back in Virginia Beach. I have really missed that place. Although two days of driving in Hampton Roads rush hour traffic has me appreciating our current neck of the woods a bit more. Or maybe it's just the fact that I'm only on the road for preschool and grocery runs... Anyway, no matter where we live, there will always be bits and pieces about each of our "homes" that I'll carry with me. I'm just happy for the opportunity to travel back and relive the memories every so often!