We went up north for Easter this year. I know I always talk about how much I love being less than 4 hours from "home" but this was actually the first time we've been back to Pennsylvania since Christmas. I guess Marmie and Poppa are just too willing to come to us these days!
PA was a beautiful and perfectly springy Easter weekend. Jon and I had talked beforehand about possibly getting in a family hike (we're bold like that when we're with the reinforcements). We wanted woods and sunshine, but also something kid-friendly and not too strenuous.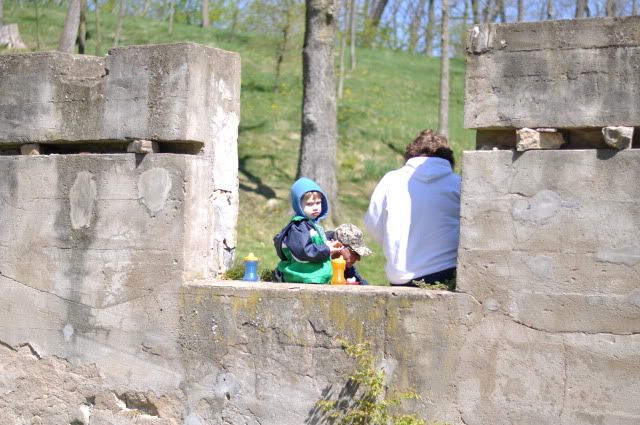 Picnic lunch on an old barn foundation, so PA.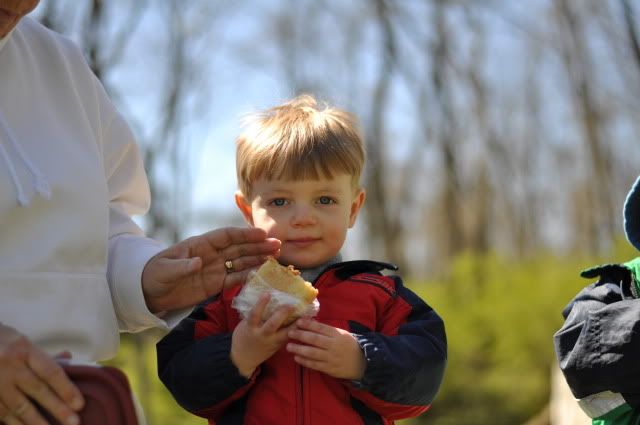 There it is - "the smolder." Toddler girls everywhere are swooning at this picture.
Poppa did a little research and came up with
Dale's Ridge
in Lewisburg, for all you locals. It was 2 miles, "mostly" flat, woodsy and scenic. In case you're wondering how we managed this as a family of five, this is how it all went down:
You blew it Jude, toddler girls everywhere are laughing at this picture.
Jack walked (and did quite well!), Jon carried Jude in the Chicco Backpack (he wasn't happy about this at first but soon warmed up to the idea), and I carried Julia in the Ergo. I've never worn her for this long or through this much activity, but I was pleasantly surprised. Not to sound like a saleswoman, but other than the fact that I didn't know where to put my hands half the time, I barely knew she was there. She was happy, and my back was more than happy. Despite lugging 15 pounds around for 2 miles, my back and shoulders never put up a protest. Okay, now off my soapbox.
No wait, one more Ergo plug. At one point over the weekend I took the older boys to the park and left Julia back with her grandparents. Girlfriend was obviously sleepy and having a hard time settling down. So what did the wise ones do? Strapped the Ergo onto Poppa! From what I heard, she fell asleep in seconds. And then she stayed that way for hours while the rest of us played cards. It's a miracle worker I tell ya!! Okay, now I'll really get off my soapbox.
Back to the hike. There was one stretch of the trail that went through a large open field. My first thought: "This makes me feel like Lizzy Bennet on her way to visit Jane at the Bingley's (without the hem 6 inches deep in mud)!" Jon's first thought: "Wish I had a four-wheeler right now."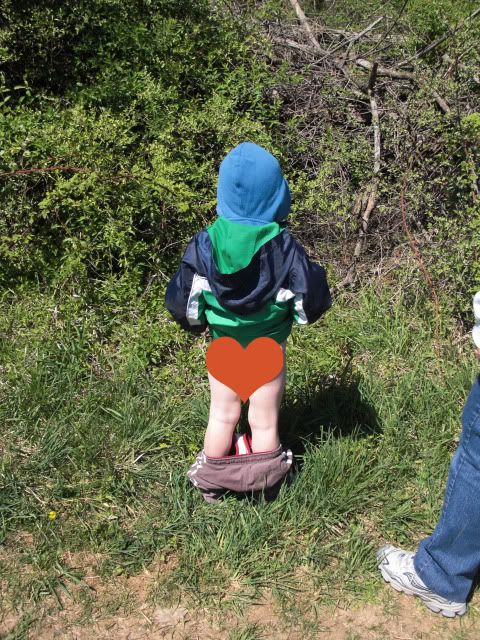 After weeks of telling him NOT to pee outside, he was elated when I hardily gave my permission to "water the plants".
The name of the trail is Dale's Ridge because ... it follows a ridge. And at the top, where there's a sudden break in the forest, you are awarded with some stunning views of the Pennsylvania countryside.
Be still my heart.
But, if you're like me, viewing this scenery at a distance just isn't enough. I want to be up close and personal with such dreamy dwellings. Good thing the trail also includes the Dale-Engle-Walker house. Unfortunately, it's only open on Sundays in the summer (we'll have to come back), but it was enough just to walk around the gorgeous stone dwelling and and hear Fanny Dashwood in my head: "Oh, a cottage! How charming. A little cottage is always very snug." (Okay, that's it for the Jane Austen references, I promise!)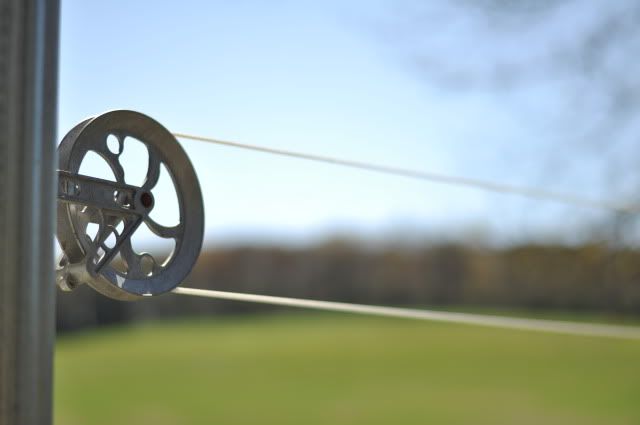 I'm enamoured with this clothesline. I want one just like it or Mother's Day/my birthday/I'm-just-thinking-about-you-today ... you get the picture.
Jack liked the house too ... because it was on a hill.
Amazingly, despite a two mile hike and frolicking around the fields and hills. This kid did not run out of energy. The first thing he wanted to do when we got back to the house was jump on the trampoline. It makes me tired just thinking about it! Moving on...
Easter dinner was at my brother's house on Sunday. The little ones were looking extra dapper in their "church clothes" (as Jack would say), but alas our attempts at photos did not go over so well. Something about waiting until after church, when everyone is hungry, and tired, and the sun is shining right in our eyes. I'm not even going to attempt to post the shots that include Jon and I. So here's my best samples of the boys:
It wasn't easy getting these boys out the door in the morning. We had to tell Jack that he looked just like "Uncle Jared" and then we had to repeatedly point out to Jude that both Poppa and Daddy were wearing ties just like his, I'm amazed he kept it on the whole day.
Jon's sister and her family also joined us for dinner so the cousins had a nice little reunion as well.
Marmie did an excellent job preparing an egg hunt. The kids were ready to go!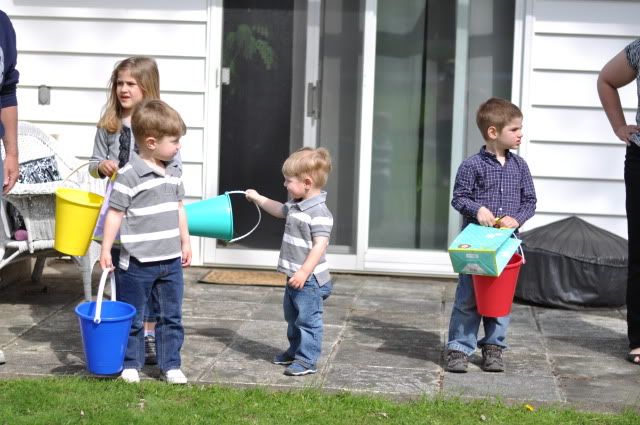 Photographic proof that lil' Jude is often THE INSTIGATOR!
Everyone found eggs, no one found too many or too little, and there were no tears! A total success!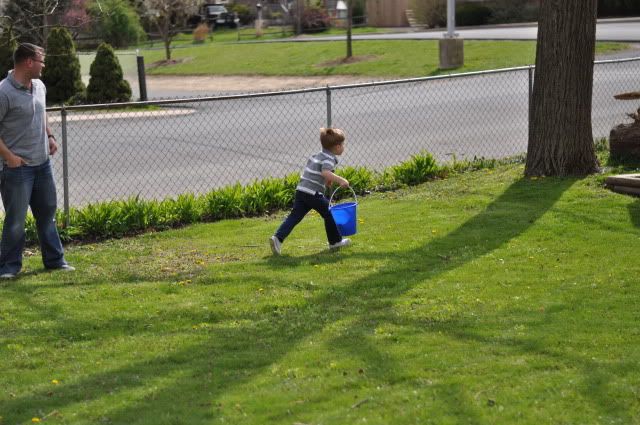 Photographic proof that Jack does wear jeans, but not without putting up a fight. Perhaps another post?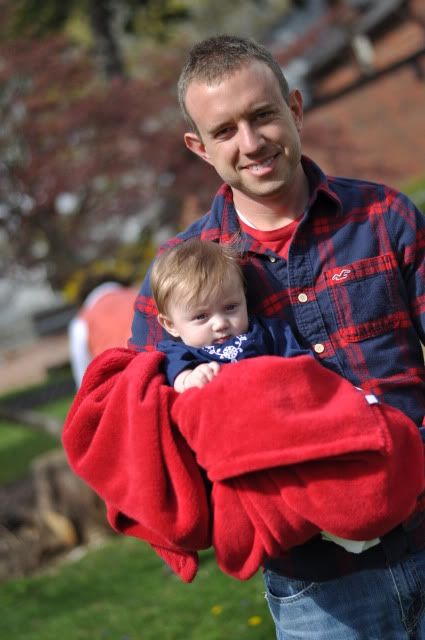 Lia and Uncle Micah.
Well, almost a success. Next year I think we'll leave fingerpaint out of the egg hunt.
Marmie was smart and did lots of "unconventional" treats - raisins, Bendaroos, little animals and cars ... and of course some candy.
After we got home we put all the candy in a basket on top of the refrigerator - the "treat basket." Jack's allowed to pick out a treat
if
he has a good day at school. Guess what? Jack hasn't had a bad day in two weeks. It's amazing what a little bribery can do. I'm certainly not going to get a best parent award for doling out sugary sweets when my child behaves, but at least I have a happy kid and, even better, happy teachers! ;)
So I guess the good news is that the trees aren't the only things turning over a new leaf these days. New leaves, new life, what's not to love about this time of year?!