We were honored to have Jon's grandparents come visit two weeks ago. I'm sure the 6-7 hour drive was tough enough, but then to spend 4 days with our clan? Well, let's just say the kids were just a tad excited ...
Look at that air!
Of course, anyone who has visited us before knows how Jude works. He starts out at Jack's level of excitement and often he'll be the first one out the door, but generally changes his mind about halfway down the driveway.
Julia is still getting lessons on how to say hello.
Prior to their arrival I was working on some grape jam from the bounty of Uncle Jared's vine. Jude was helping, as usual. We had just finished up the batch and left the jars to cool on the counter when the Grands arrived and the fesitivities began. Oh, and one other thing. Jack pulled out a jar of pepper jelly from the pantry earlier that day. I believe I said something along the lines of "put that back, it's for Daddy" and he somehow interpreted it as "this is a special treat for Daddy and Grandpa" because one of the first things he did when Grandpa arrived was tell him about the pepper jelly. And then he ran inside and was showing Grandpa the jar of jelly before he even had a chance to say hello to the rest of us.
And then there's the little brother, who doesn't want to be left out. He decides he needs to show Grandpa his own jelly and goes to grab a jar sitting on the counter. A jar that is still cooling and doesn't have a lid. A jar whose contents he sends flailing down the wall and onto the floor. So, instead of greeting and hugging the grandparents upon their arrival, I was scooping up handfuls of hot jam off the floor.
And THAT was the start of our fun-filled long weekend.
I think the grandparents brought some of the cool fall weather from New York down with them. One of the first things we did was light a fire and we kept it going all weekend. Since we hadn't seen Grammie and Grandpa since Christmas, we had a lot of catching up to do. And next to the crackling logs was the perfect place for chatting.
In fact, most of our time together consisted of just plain old visiting.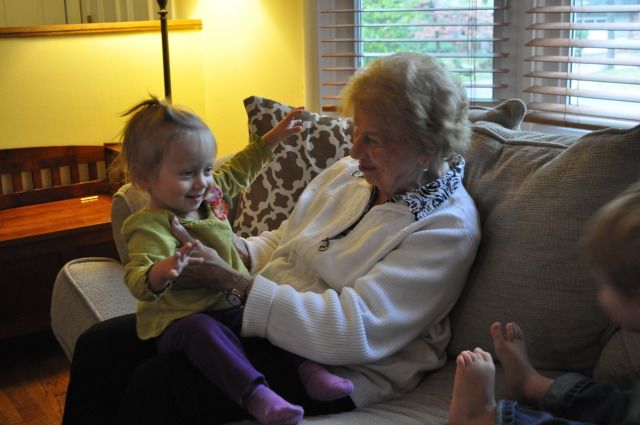 Grammie and Julia have a little game they play - Grammie moves in close and Julia whacks her in the face.
And of course watching the little ones.
Grammie and Grandpa put up with a LOT this weekend.
Or doing both at the same time. Goodness, they're entertaining. And just a little excited ... even after the third day.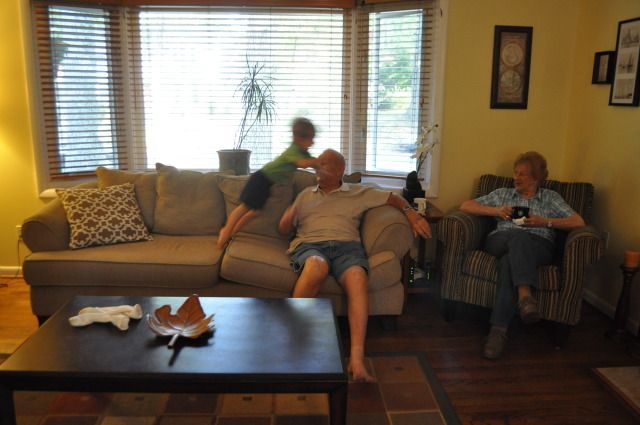 Good thing Grandpa is tough!
During their stay, we invited Grammie's cousins over for dinner. Grammie has some extended family in the area that she visits when she comes to see us. Since we had never met, and since it's a lot harder for us to take our little brood places, we decided to have everyone here. Jon's been looking for an excuse to do a seafood boil and we finally had our chance. And let me tell you, when my huband offers to do the cooking, I just step back and let him have the kitchen.
He did a phenomenal job. We used three different recipes but
this one
has the gist of it.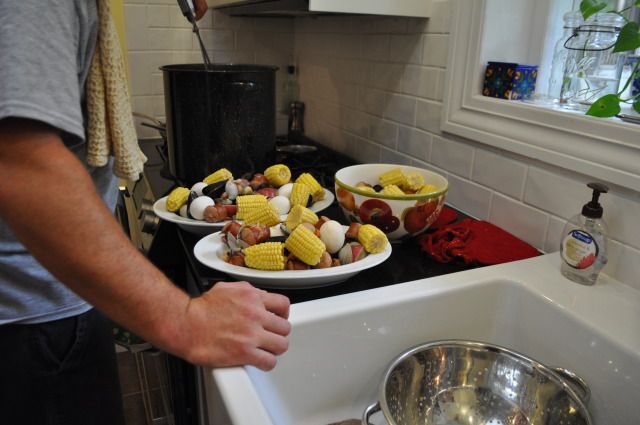 Clams, muscles, shrimp, sausage, potatoes, corn and eggs! My mouth waters just thinking of it!
But no meal with Jon's grandparents would be complete without finishing it off with a slice of Grammie's famous pecan pie. She never comes visiting without one!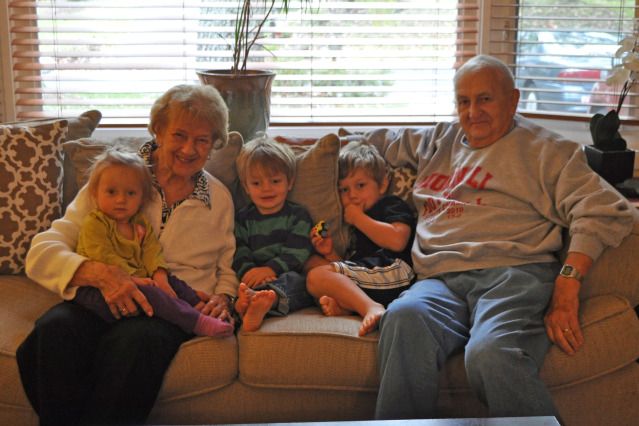 We had a wonderful time celebrating the many generations in our family and look forward to our next encounter!